---
This REI Co-op Outward Side Table is a very easy to use strong folding all-metal side table with wood handles.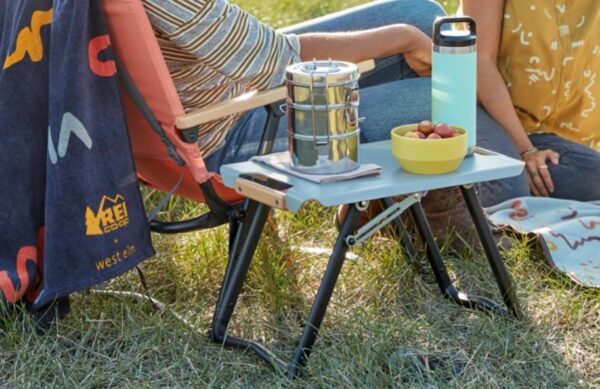 ---
Key features & benefits
Folding table.
Very easy to use.
Very strong construction.
All-metal.
Wood handles.
---
What this is about
Here you have a very typical folding table that needs no assembly. You simply unfold its two U-shaped legs and it is ready in a couple of seconds.
It folds so that it becomes very thin, only 1.6 inches (4 cm). But it remains large in two dimensions, this is basically the size of its tabletop, see the picture: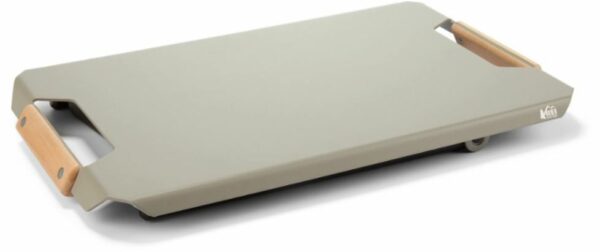 This is all-metal construction, a combination of aluminum and steel. So you can put anything on its tabletop, I have seen people asking about hot items. So no worry this is a powder-coated metal surface.
I particularly like the legs design. This is because of the transverse bars that support the 4 legs. Even if the feet sink in a soft ground, those bars will prevent any further sinking. So you can use it even on the sand and it will remain stable.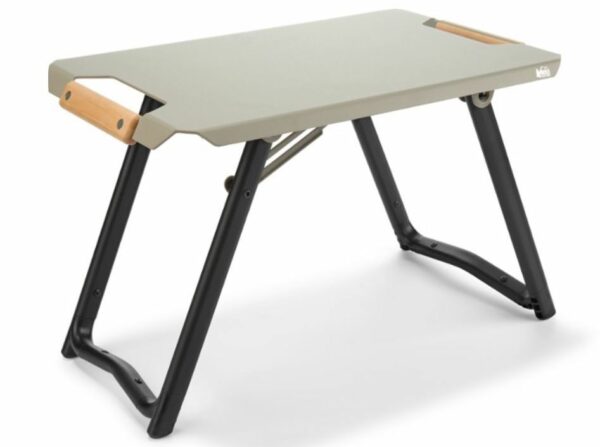 ---
Who is it for
Regarding the weight, the table is very light in an absolute sense but a bit heavy for its overall size. It weighs 5 lb 2 oz (2.3 kg). The packed size is also such that you would not carry it long distances. So this is a camping table for places with a motorized access.
Note that it is still lighter than this GCI Outdoor Compact Outdoor Folding Table Large 25. But if you need something for the trail, better check this Mountain Summit Gear Feather-Lite Table.
Regarding the dimensions, you have the tabletop that measures 19.5 x 11.8 inches (49.5 x 30 cm). It is 12 inches (30.5 cm) tall, so this is just a side table, you would not use it for anything else. But being metal, you can do some simple cooking on it, this is still more convenient and easier than cooking on the ground.
Note that they also give its capacity, it is 50 pounds (23 kg). I do not think this is particularly important, and people become puzzled when they see capacity given for a table. I have had a number of comments here in the site regarding this question.
Obviously, you do not need this number, you will never put so much stuff on such a small table that its capacity becomes an issue. But this is up to the manufacturer who gives this value. I guess this is either as a marketing strategy, with the intention to say how strong such a table is, or to tell you that you should not use it as a chair, it is not strong enough for such a purpose.
---
Specifications
Type: folding table.
Best use: camping side table.
Weight: 5 lb 2 oz (2.3 kg).
Capacity: 50 lb (23 kg).
Dimensions (L x H x W): 21.3 x 12 x 11.8 in (54 x 30.5 x 30 cm).
Folded size: 19.5 x 11.8 x 1.6 in (49.5 x 30 x 4 cm).
Material: aluminum and steel.
Handles: wood.
---
Rating, pros & cons
Please see some pros & cons and how this table stands against my usual rating criteria:
Very reliable and strong side table.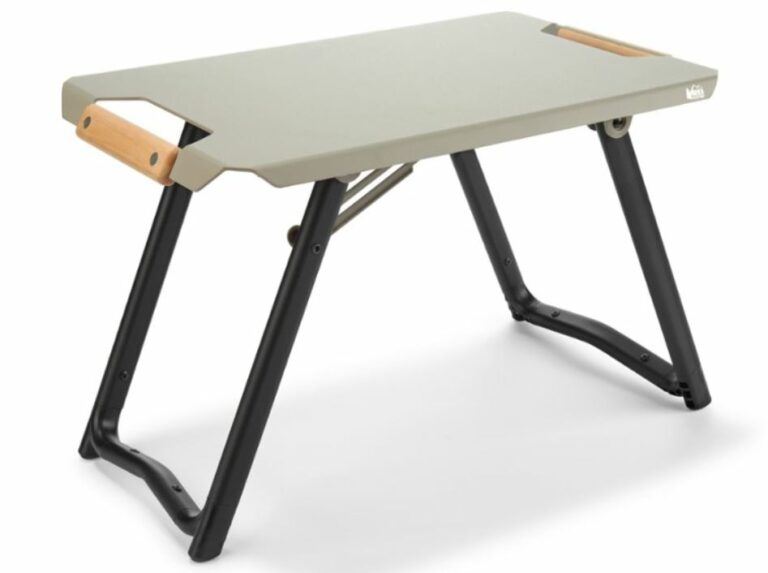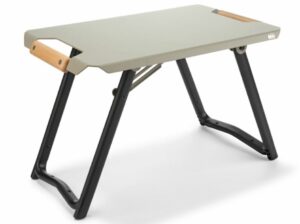 Product Name: REI Co-op Outward Side Table
Product Description: This is a very easy to use and reliable all-metal side table suitable for any outdoor activity.
Brand: REI
SKU: 168773
MPN: 168773
Weight -

9.2/10

Dimensions -

7/10

Packed size -

4.5/10

Craftsmanship & features -

9.5/10
Summary
The table is a bit bulky when packed but its overall rating is still Good.
Pros
Great materials.
Very durable & reliable.
Great capacity.
---
Final thoughts
To summarize this REI Co-op Outward Side Table review, what you have here is a nicely built side table designed to last long. There are no week parts here, this is all metal combined with pleasant wood handles. It can be used as a side table for any outdoor activity. The size is such that it is most suitable for one person. I have included it in my list of best folding camping tables.

For more options please check under the category Camping tables here in the site. You have plenty of tables presented in detail, in all shapes and sizes. In particular, check this unique Nemo Moonlander Dual Height Table.
Bookmark this site and come again. This will keep you informed because we add texts here on a regular basis. Thank you for reading. Let me know if you have questions or comments, there is a comment box below.