---
The Coleman Living Collection Folding Table offers two heights and a wood tabletop, it is easy to use and with a carry bag included.
---
Key features & benefits
Folding construction.
2 Heights.
Wood tabletop.
Easy to use.
Carry bag.
---
Overview
This Coleman Living Collection Folding Table is from their Collection that includes 5 products in total. Some of them are presented here in the site.
So this is a table that comes ready to use, there is no assembly. You open it or close in seconds. For transportation the tabletop folds width-wise in half, and its legs fold inside, so it becomes relatively narrow and thin as shown in the picture.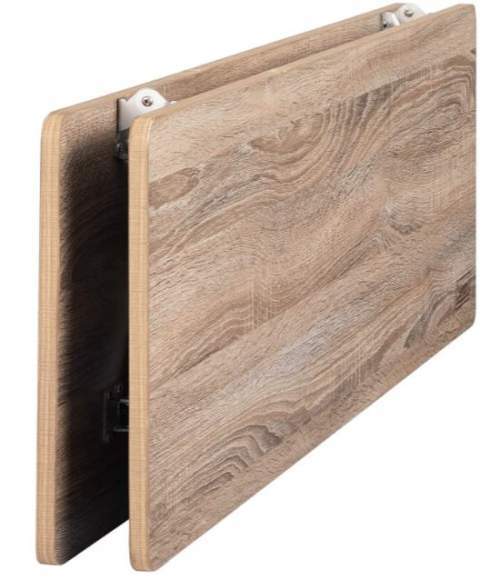 When folded, its dimensions are 47.2 x 14.17 x 4.5 inches (120 x 36 x 11 cm), and it fits easily in its included carry bag: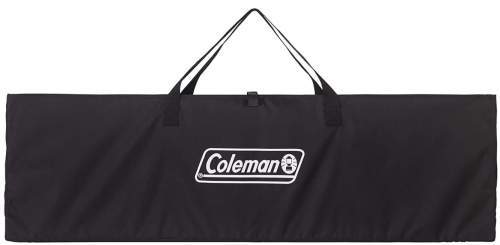 Materials
The frame is a lightweight aluminum, and the legs are telescopic. This means they allow for two different heights. The top picture above shows it in the higher setup when it works as a dining table.
Below you can see it in its low setup so you can use it as a side table. So this is a 2-in-1 design. Because of these features it is included in my list of best camping tables with adjustable legs.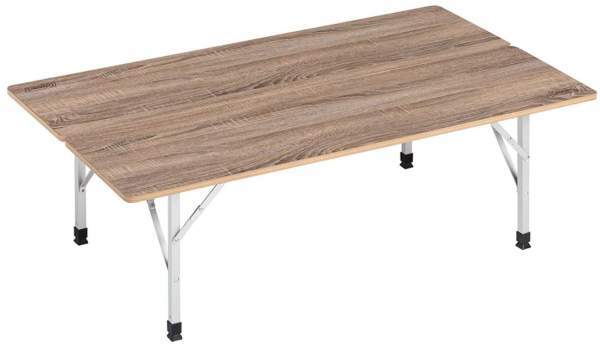 Particularly cool and attractive is its wood tabletop. 
---
Who is it for
Regarding the dimensions, the table is quite large, the tabletop measures 47.2 x 27.6 inches (120 x 70 cm). So this is plenty of space for 4 users. 
The two heights make it versatile, this is both a dining/cooking camping table and a side table.
Regarding the weight, the table is on the heavy side with its 12.5 lb (5.7 kg). This is due to its cool wood tabletop so the weight is justified.
You have already seen its packed size so you realize it is very bulky. All in all, this is a table for places with a car access.
Regarding the price, it is steep, and this holds for all the products in this Collection. But the wood tabletop is also behind this price.

---
Specifications
Weight: 12.5 lb (5.7 kg).
Dimensions (L x W x H): 47.2 x 27.6 x 27.6 in (120 x 70 x 70 cm).
Folded dimensions: 47.2 x 14.17 x 4.5 in (120 x 36 x 11 cm).
Frame: aluminum.
---
Rating, pros & cons
Below you have summarized my rating and some pros and cons. Note that you can rate the table from your side, there is a rating bar available.
Two heights & a wood tabletop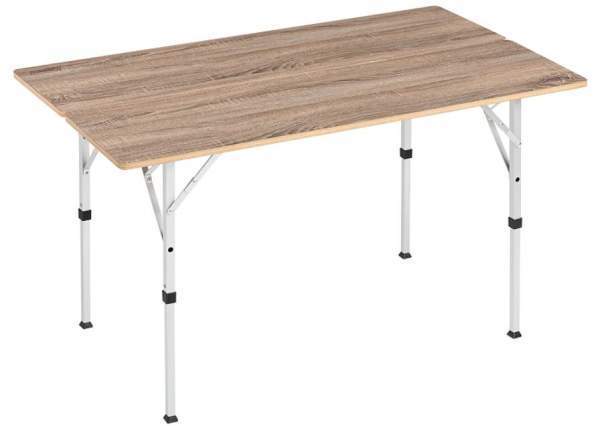 Product Name: Coleman Living Collection Folding Table
Product Description: The Coleman Living Collection Folding Table Offers Two Heights and a Wood Tabletop, It Is Very Easy to Use and with a Carry Bag Included.
Brand: Coleman
SKU: B08YKGLQV9
MPN: 2149987
Weight -

6/10

Dimensions -

9.6/10

Packed size -

5/10

Craftsmanship & features -

9.3/10
Summary
The table is bulky but the overall rating is still Good.
Pros
Wood tabletop.
Carry bag.
Easy to fold.
Two heights.
---
Final thoughts
So this Coleman Living Collection Folding Table is versatile in the sense that you effectively have two tables in one, a dining and a side table.
The wood-grain finish on the tabletop looks stylish. The table is equally great for the patio and for the campsite. When not in use, you can keep it clean from dust in its carry bag. It is included in my list of best rated folding camping tables.
Best places to buy:
Please check in my separate list Coleman camp tables if you want to see more tables from this brand, or check under the category Camping Tables for more options to consider.
Bookmark this site and visit it when you find time, this will keep you informed, you have new texts added here on a regular basis. Let me know if you have questions, there is a comment box below. Thank you for reading and have a nice day.