---
The Core 4 Foot Outdoor Table with FlexRail is a feature-rich and functional outdoor table with several possible heights, suitable for cooking, dining, and for use as a side table.
---
Key features & benefits
Folding table.
Very thin when packed.
Several different heights.
Patent-pending design.
Storage element.
Cup holders.
Bottle opener.
Paper towel holder.
---
What this is about
The Core Equipment brand is best known for its excellent family camping tents, but they occasionally launch some other pieces of outdoor equipment. This 4′ Outdoor Table with FlexRail is a great example.
So what you have here is a very functional and easy to use purely folding outdoor table. This means there is no assembly of any kind, this is all one single piece which you can have ready in seconds.
The word FlexRail is about the blue rail that you see on the perimeter, to which some attachment elements are added.
For transportation, this table transforms into an elegant package shown in the picture. Note that it is very thin, so it fits in narrow spaces, and you also have a carry handle on the side.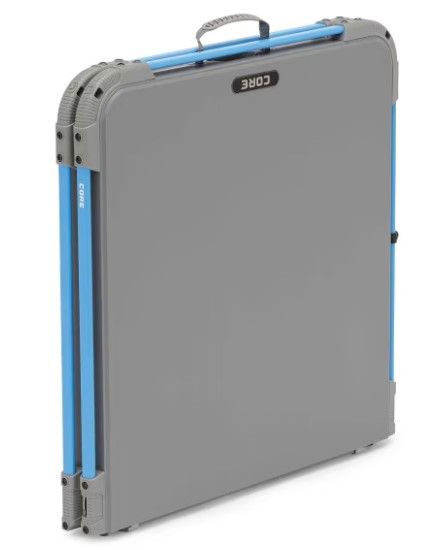 Height adjustable legs
You have multiple options for legs height and this is all easily changed. So this allows for using it for everything, as a side table, a cooking table, and a dining table.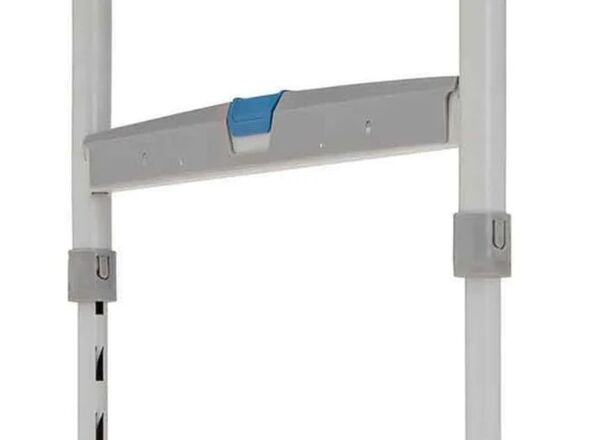 Note that you have to push both legs at the same time, and this is where I see people have some issues and complaints. The adjustment may be a bit stiff in the beginning, but after that it goes more smoothly.
The blue release button is on the bar between the legs. Because of this adjustability, I have included it in my list of tables with adjustable legs.
Observe also that all the buttons are in a different color than the rest of the structure so they are easy to identify. They are oversized and pinch-free, and they automatically lock securely every time.
Other details
This table comes with a large organizer on the side, shown in the picture below. You have several separate pouches to keep small items at hand.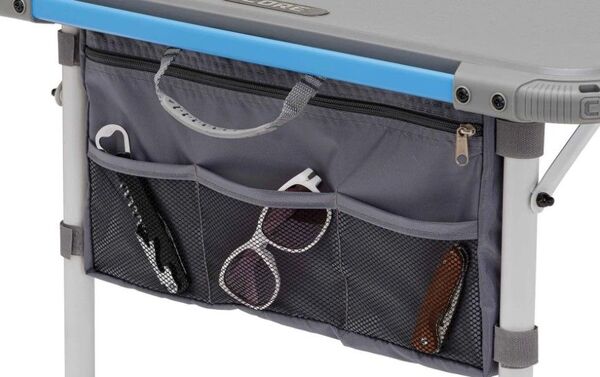 There is also a bottle opener and a paper towel holder on the side, see the picture. You can use the latter to hang anything else, this may include a cloth towel, etc. It can be rotated and kept in various positions.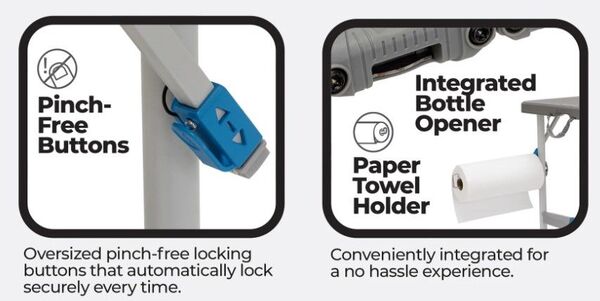 Note that the bottle opener is with a magnet that holds the bottle cap, simply amazing.
There are also two cup holders, so here you can keep beverages, a coffee mug, a glass bottle, and similar stuff. Note that you can move them and attach where it is most suitable to you. That is due to the mentioned FlexRail.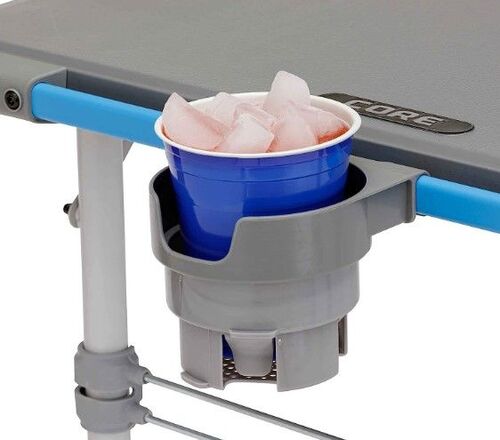 Hooks: So you have them 4, and they are double sided for hanging anything. This is indeed a small but useful detail, again because of the FlexRail.
Materials
The frame here is a powder-coated steel, and they claim it is designed to withstand the elements.
The tabletop is an HDPE, a sort of hard plastic. It is lightweight, and stain and UV-fade resistant. But this surface is not for hot items, bear this in mind.
I particularly like its molded corner bumpers, see how they look in the picture below. Soft plastic is also on the carry handle. Attention to details here is truly remarkable.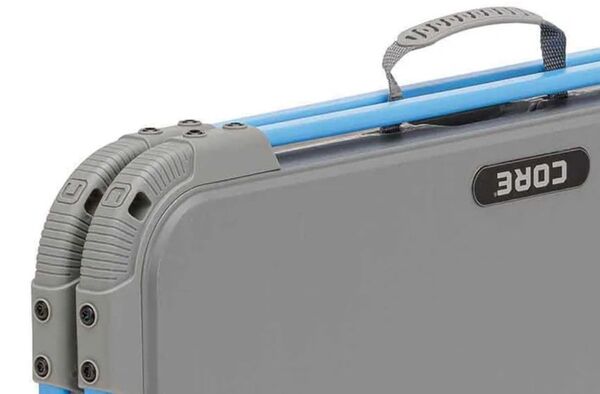 Please see more in this video:
---
Who is it for
Regarding the dimensions, from the numbers shown below you realize that this is a long table, perfect for 2-3 people. If this is about two people, then you can use any type of camping chairs sitting face to face.
Its different heights, plus all the attached elements make it suitable for various activities. So this can be cooking, dining, etc.
Regarding the weight, it is quite heavy, but it has lots of elements included and this all makes it so functional.
This table folds in half its length. But it remains a bit large in two dimensions when folded for transportation, bear this in mind, the numbers are given below.
Regarding the price, it is fair for such a quality item. There are several sellers listed below, so make sure you check their current prices.

---
Specifications
Weight: 21 lb (9.5 kg).
Capacity: 200 lb (91 kg).
Dimensions (L x W x H): 50 x 26 x 22/24/29/34/36 in (127 x 66 x 56/61/74/86/91 cm).
Folded dimensions: 27 x 26 x 4 in (69 x 66 x 10 cm).
Frame: steel.
Warranty: 1-Year Limited Warranty.
---
Rating, pros & cons
Below you can see how this table stands against my standard rating criteria. You can rate it from your side as well.
Versatile & Feature-Rich Outdoor Table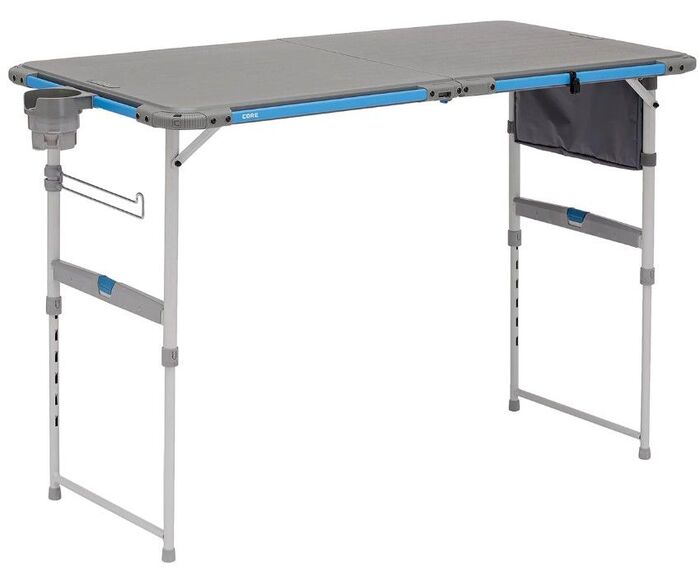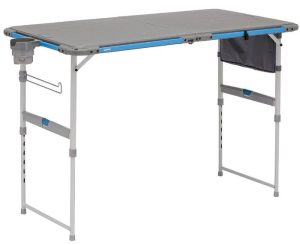 Product Name: Core 4 Foot Outdoor Table with FlexRail
Product Description: Enhance Your Outdoor Experiences with the Core 4 Foot Outdoor Table with FlexRail, Folding, Height-Adjustable, Feature-Rich for Cooking, Dining, and More.
Brand: Core Outdoors
SKU: B0BC23JZ4Q
MPN: 40243
Weight -

3/10

Dimensions -

9.9/10

Packed size -

5/10

Craftsmanship & features -

9.6/10
Summary
The weight negatively affects the overall rating which is still Good.
Pros
Long.
Multiple heights.
Versatile.
Lots of useful features.
Easy to use.
Cons
A bit heavy.
Heat-sensitive tabletop.
Final thoughts
In conclusion, the Core 4 Foot Outdoor Table with FlexRail is a highly versatile and innovative outdoor table designed to enhance your camping and outdoor experiences.
Its folding design and various adjustable heights make it incredibly convenient to set up and use in just seconds. The addition of the FlexRail and multiple attachment elements, such as the cup holders, bottle opener, paper towel holder, and storage organizer, adds further functionality and convenience.
The attention to detail is evident in the thoughtful design, from the pinch-free, oversized buttons to the molded corner bumpers and soft plastic carry handle.
The use of high-quality materials, including the powder-coated steel frame and durable HDPE tabletop, ensures its longevity and ability to withstand the elements.
With a generous capacity and suitable dimensions for 2-3 people, it accommodates various activities like cooking, dining, and serving as a side table. Fully recommended. It is included in my list of best folding camping tables.
Best places to buy:
For more options, please check under the category Camping Tables, you will find them many here in the site, and in all sizes and shapes.
Bookmark this site and visit it when you find time, this will keep you informed, you have new texts added here on a regular basis. Let me know if you have questions, there is a comment box below. Thank you for reading and have a nice day.