---
The iKamper AIOKS All-In-One Outdoor Kitchen System is a unique product on the market, with 4 tables in total and 2 integrated stoves.
---
Key features & benefits
4 Tables in one set.
Two 7500 BTU burners engineered by Kovea.
Waterproof birch plywood tabletop.
Aluminum frame.
6 Adjustable legs.
Storage box.
---
What this is about
The letters AIOKS are in fact an acronym and it means All-In-One Outdoor Kitchen System. So indeed this is a full set for outdoor use, and when expanded, it offers no less than four tables shown in the picture below.


This is a sort of a folding and collapsible design. This means it needs a simple assembly. But this means just unfolding those three tables on the right in the picture. Namely, they unfold like an accordion, and they are with hinges that connect them together. After that you add legs to them.
The table on the left is just the lid of the box. Note that all 6 legs are adjustable, you have clasps similar to trekking poles adjustability. One is shown below.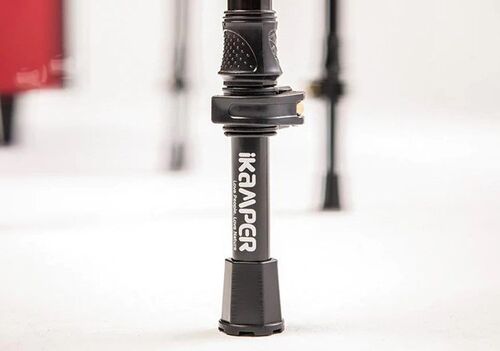 With this feature you can have your cooking and dining surfaces perfectly leveled on any ground. This is why I have included this set in my list of camping tables with adjustable legs.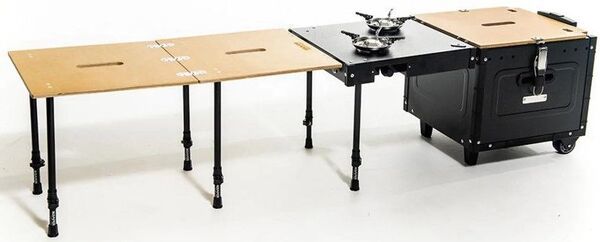 When it is time to go, you fold all tabletops, and you still have the box underneath it, see how this looks. So you can use this space for transportation of your food and dishes.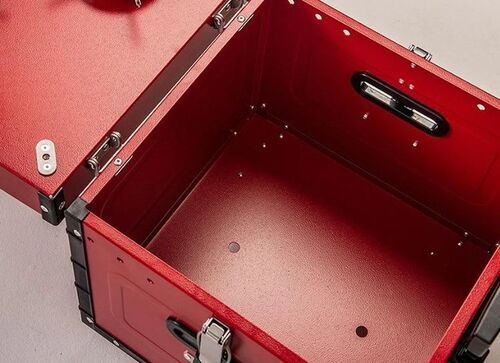 Below you see how it looks when closed. You have two steel clasps to keep all firmly closed. The box shown above is underneath the folded tabletops, all the tabletops are folded in the upper part.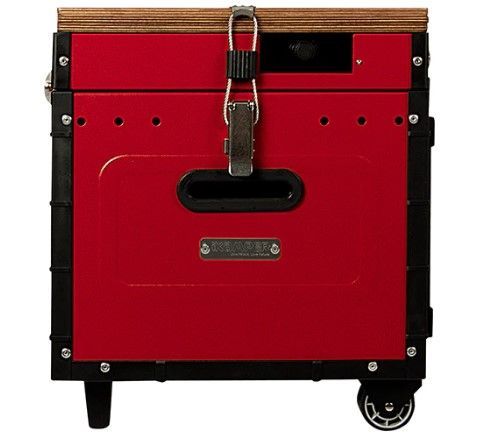 Note that you have two wheels for transportation, and they have also added a retractable handle. So it looks like a suitcase. The dimensions when closed in the box are (L x W x H) 17.75 x 17 x 18.75 inches (45 x 43 x 48 cm).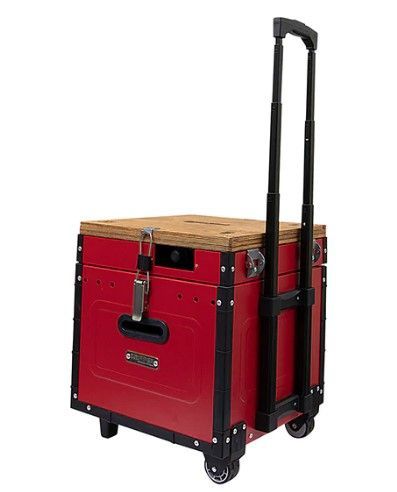 Integrated stoves
This is a great bonus here. The red tabletop in the pictures shown above comes with two integrated burners. The picture below shows how one of them looks.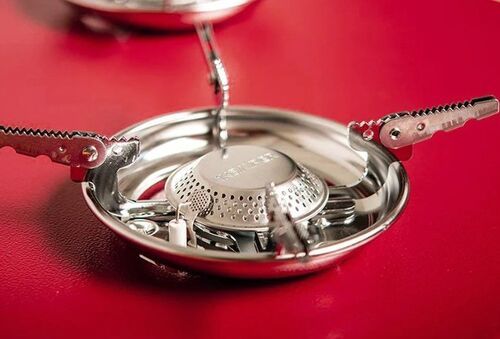 The burners are separated enough that you can cook two meals simultaneously. See the picture below.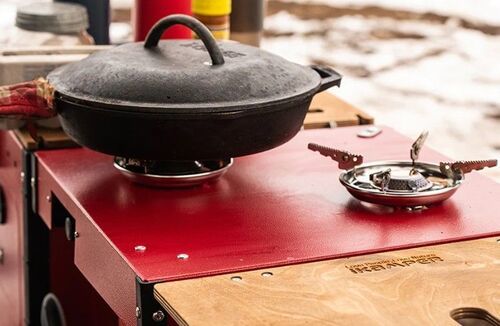 Here you can see how you attach fuel bottles, and you can also see the regulator for one of the stoves. You can use both butane and propane canisters.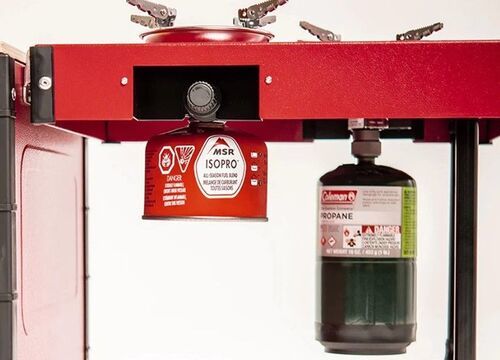 Materials
The tabletops are a furniture-grade waterproof birch plywood, and the frame is a powder coated 5052 aluminum.
All wires and hinges are a SUS 304 stainless steel. The two wheels are a double-injection rubber, see how they look: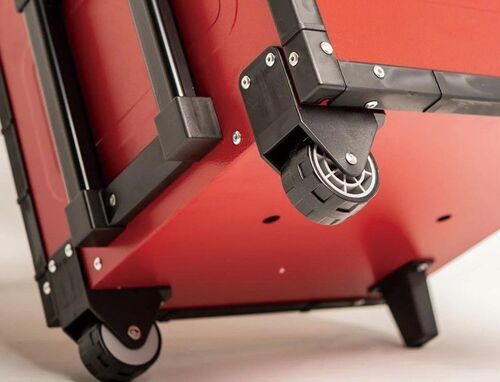 This set comes with the following certificates:
ISO 9001 Quality Management.
ISO 14001 Environmental Management.
Please see more in this video:
---
Who is it for
Regarding the dimensions and best use, all three surfaces give 64.5 x 17 inches (164 x 43 cm), see the picture below. So it is a long structure but not very wide.
Note also that the height is what corresponds to side tables, so for cooking it is quite low.
But this is still lots of space to prepare meals and for dining, you have enough room for 4 users at least.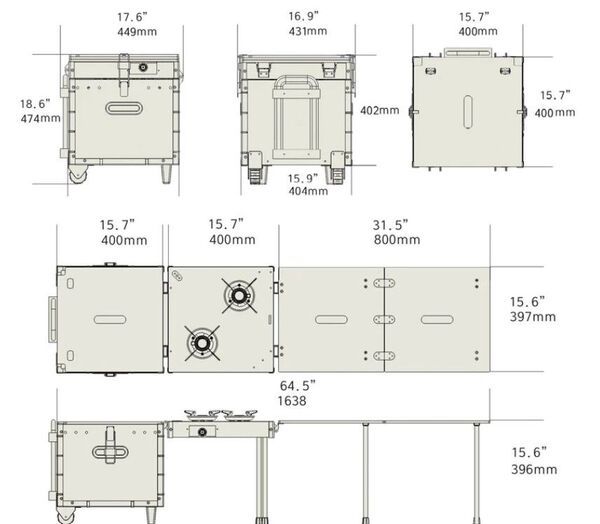 Regarding the weight, it is quite heavy with its 20 lb (9 kg), but this is far more than just a camping table, you have the storage space. With the wheels and the handle, the weight is not a big deal.
You have already seen its dimensions, and below you get some idea how this looks. It is a bit bulky, so my rating is low, I use the same criteria for all camping tables, but this is not an ordinary table.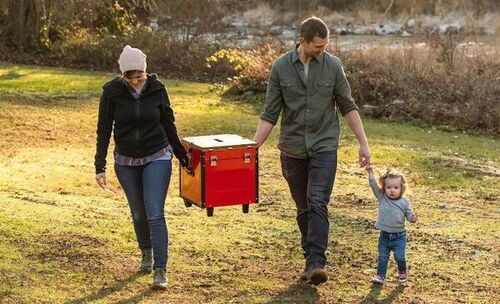 Regarding the price, it is very expensive, you have a link below to check for updates. But this is a high quality product.
---
Specifications
Weight: 20 lb (9 kg).
Dimensions (L x W x H): 64.5 x 17 x 15.5 in (164 x 43 x 39 cm).
Folded dimensions (L x W x H): 17.75 x 17 x 18.75 in (45 x 43 x 48 cm).
Frame: aluminum.
Warranty: 1-year warranty is included.
Made in South Korea.
---
Rating, pros & cons
Below you see how it stands against my standard rating criteria. So the overall rating is not very high but this is because the criteria are not really suitable for such a unique product. You can rate it from your side.
Unique and functional set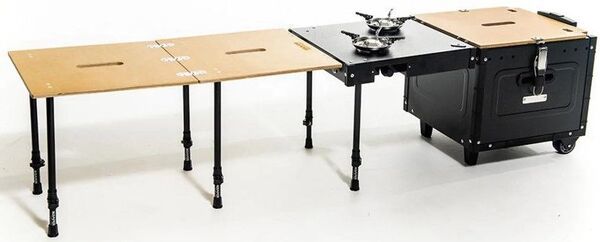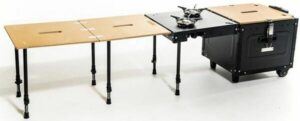 Product Name: iKamper AIOKS All-In-One Outdoor Kitchen System
Product Description: The iKamper AIOKS All-In-One Outdoor Kitchen System Is a Unique and Functional Set with 4 Tables in Total and 2 Integrated Stoves, Plus a Storage Box.
Brand: iKamper
SKU: NA
Weight -

4.5/10

Dimensions -

8.1/10

Packed size -

3.5/10

Craftsmanship & features -

9.7/10
Summary
The overall rating is negatively affected by the weight and packed size.
Pros
Unique.
Functional.
Adjustable legs.
Storage space.
Quality product.
---
Final thoughts
So the iKamper AIOKS All-In-One Outdoor Kitchen System is a completely unique product on the market, very reliable and functional.
It is difficult to rate it properly because of its specific features as you cannot compare it with anything. In any case, this is a quality product. Fully recommended.
Best places to buy:
For more options, please check under the category Camping Tables, you will find them many here in the site, and in all sizes and shapes.
Bookmark this site and visit it when you find time, this will keep you informed, you have new texts added here on a regular basis. Let me know if you have questions, there is a comment box below. Thank you for reading and have a nice day.