---
The Stansport Heavy Duty Picnic Table and Bench Set is a complete 3-piece set that includes a camping table and two detached benches, suitable for outdoor dining and sitting.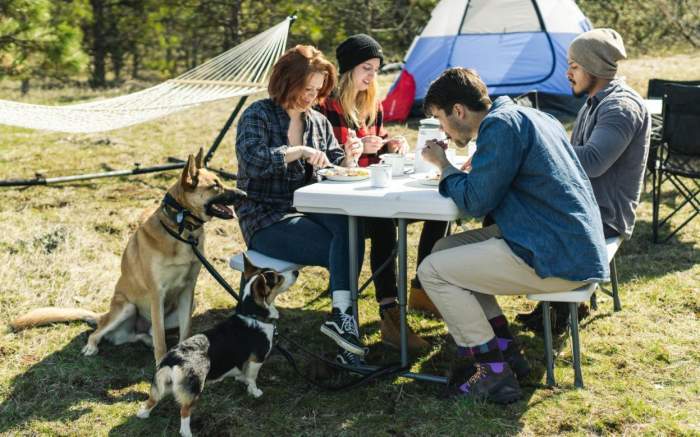 ---
Key features & benefits
3 Separate pieces.
Folding design.
Easy to use.
2 Heights.
Very good price.
---
Overview
This Stansport Heavy Duty Picnic Table and Bench Set has been on the market for many years already. This is a clever folding construction without any assembly, you simply open it in a couple of seconds.
Both benches are separate from the table, but they snap into the bottom of the table for storage and transportation, see how this looks: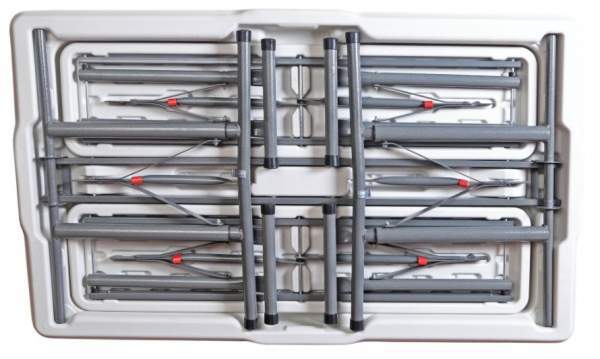 So the whole set is a bit bulky in two dimensions, but it is incredibly thin. The folded dimensions are 44 x 26 x 4.5 inches (112 x 66 x 11 cm). Below you can see how this looks when a person carry the set: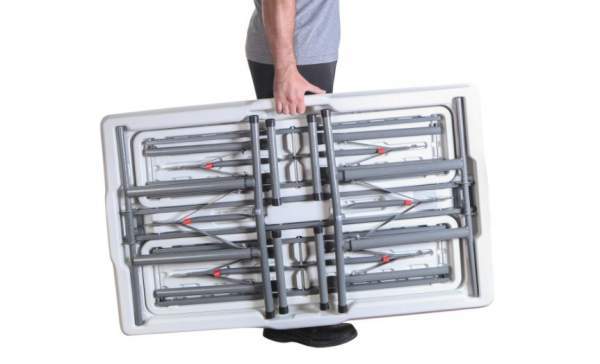 Note that they have designed a grab handle on the side to make it easy for transportation: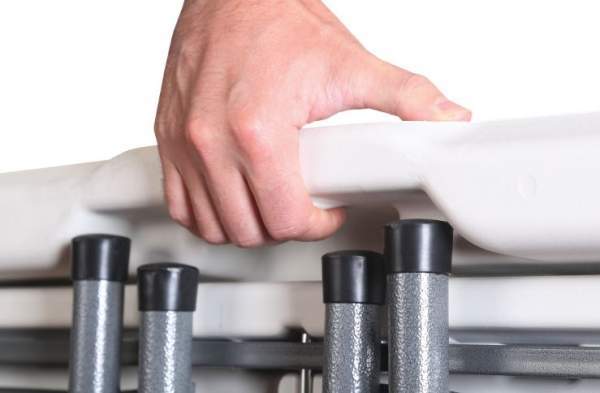 Materials & construction
The frame of the table and the benches is steel. Note that the legs of the table are telescopic, and there are two heights 19 and 28 inches. When you pull them to the desired height, you will have spring buttons that pop out and lock the legs.
The tabletop is a heavy duty high-density polyethylene (HDPE) construction and the same material is on the seats. So this material is weather-resistant and it does not matter if it is exposed to rain. It is easy to keep clean. But you should avoid placing very hot items on it.
Observe that legs and feet are nicely designed, so this is a very floor-friendly construction and you can use it anywhere. It will not sink in the ground because you have bars on the ground and the weight is distributed. You can even use it in a large family camping tent without problems with the tent's floor.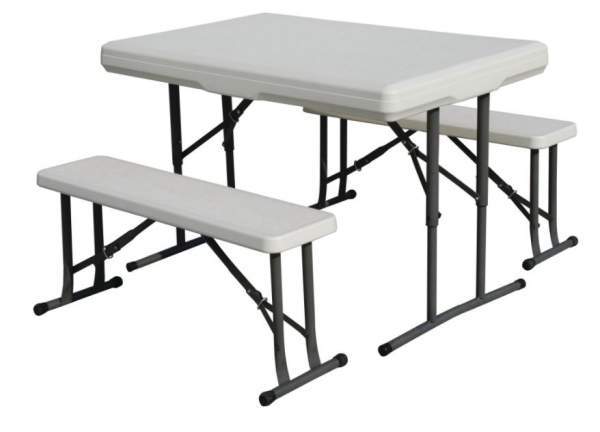 ---
Who is this set for 
Regarding the capacity, each of the benches is with official 500 lb (227 kg) weight capacity. So this should be fine for most of potential users.
Regarding the dimensions, the set is large enough to accommodate 4 adults easily. Each of the benches measures  (L x W x H) 37.25 x 9 x 16.25 inches (95 x 23 x 41 cm), and the table measures (L x W x H) 44 x 26 x 28 inches (112 x 66 x 71 cm).
So the benches are moderately high, and the table's height is appropriate for such benches.
Regarding the weight, this is a steel structure with lots of tubing so the weight is substantial 43 lb (19.5 kg).
But you can compare this with the Kamp-Rite Kwik Set Table with Benches and you will realize it is exactly the same weight although the constructions are completely different. So the weight is normal for a product of this type.
You have already seen its folded dimensions, so it is a bit bulky in two dimensions but it is thin and it fits easily into narrow spaces.  
Regarding the price, no doubt this is very reasonable for what you have here, note that this is a table and benches with places for 4 people. It would cost much more to buy a table with 4 camping chairs.  So this is great value for the money.

What is Stansport
You will want to know that Stansport has been around with its affordable camping gear since 1949. This is a family run company with a long history, and you know what you are buying.
---
Specifications
Weight: 43 lb (19.5 kg).
Capacity of each of the benches: 500 lb (227 kg).
Dimensions table (L x W x H): 44 x 26 x 19/28 in (112 x 66 x 48/71 cm).
Dimensions bench (L x W x H): 37.25 x 9 x 16.25 in (95 x 23 x 41 cm).
Folded dimensions: 44 x 26 x 4.5 in (112 x 66 x 11 cm).
Frame: steel.
Tabletop and seats: high-density polyethylene (HDPE).
---
Rating, pros & cons
Below you have summarized my rating and some pros and cons. As you see this product stands very good. Feel free to rate it yourself, there is a rating bar for this purpose.
Functional & versatile outdoor dining set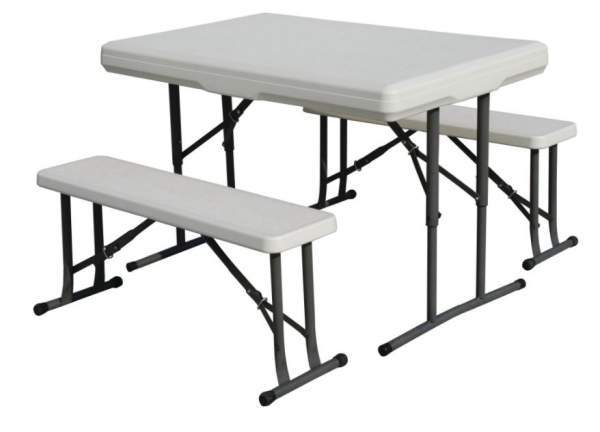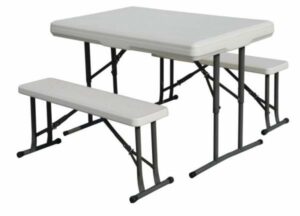 Product Name: Stansport Heavy Duty Picnic Table and Bench Set
Product Description: The Stansport Heavy Duty Picnic Table and Bench Set is a 3-Piece set of a Camping table and Two Detached Benches, Suitable for Outdoor Dining and Sitting.
Brand: Stansport
SKU: B004INKYV0
MPN: 616
Weight -

5/10

Dimensions -

9.4/10

Packed size -

7.5/10

Craftsmanship & features -

9/10
Summary
This set stands quite good with respect to all my rating criteria so the overall rating is Very Good.
Pros
Very functional.
Versatile.
Reasonable price.
---
Final thoughts, rating, pros & cons
In summary, this Stansport Heavy Duty Picnic Table and Bench Set is a really functional and versatile outdoor product, suitable for picnics, for camping, and for home use in the garden. You have a set of three items so you can use them together or separately.
It has been on the market for a number of years and it is very highly rated by Amazon customers, I would say with all the good reasons. The price is more than appropriate for such a product.
Best places to buy:
For more options, please check under the category Camping Tables, you will find them many here in the site.
Let me know if you have questions, there is a comment box below. You might want to bookmark this site and visit it occasionally. I am adding texts here regularly so this will keep you informed. Thank you for reading and have a nice day.