---
If you need an incredibly functional and easy to use outdoor cooking table with storage elements, this GCI Outdoor Slim-Fold Outdoor Cook Station review is the text for you. Keep reading.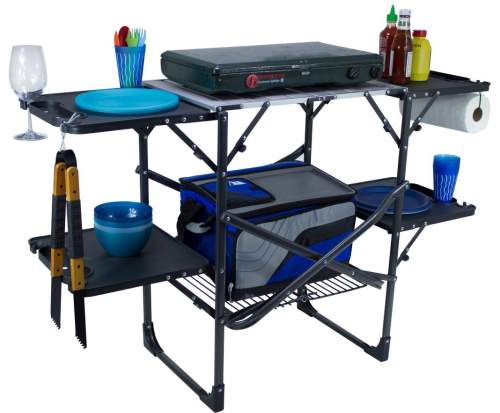 ---
Key features & benefits
Folding design.
Very easy to use.
Portable.
Multiple tables.
Storage options.
Steel frame.
Heat-resistant aluminum tabletop.
Patent-pending design.
---
Where to buy
This GCI Outdoor Slim-Fold Outdoor Cook Station is available on Amazon. They operate globally so please follow the link and check shipping conditions for your location.
You will find it also at Walmart.
---
So what this is about
Here you have an incredibly functional folding camping table. You open it and close in just a couple of simple moves, so there is no assembly although the structure may look complicated. Note also that it comes pre-assembled so there is nothing you have to do. I have added it to my list of best folding camping tables.
The words Slim-Fold in the name should be taken literally, when packed this table is with the dimensions 34.6 x 20.9 x 3.7 inches (88 x 53 x 9.5 cm). So as you see in the pictures below, it is quite large when packed but it is also very thin, and it will fit into narrow spaces when stored at home or when you transport it in your trailer.

But it is indeed large in the other two dimensions, see the picture, yet it comes with a carry handle and you can carry it short distances: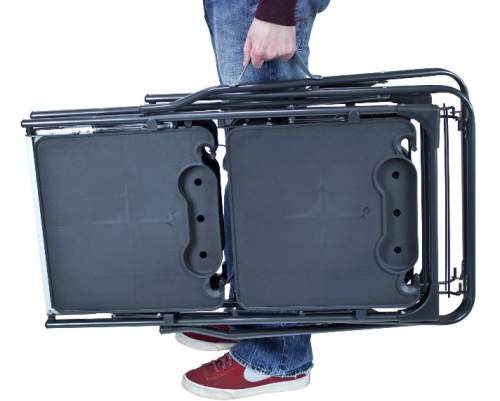 Incredibly useful tables and storage spaces
The top picture above demonstrates how much stuff you can put on all these tables and the storage rack.
Note that all the side tables can be folded independently. So you can fold any of the lower tables and use the upper side table as a dining table, see the picture below, while the main central table can still be with your grill or stove.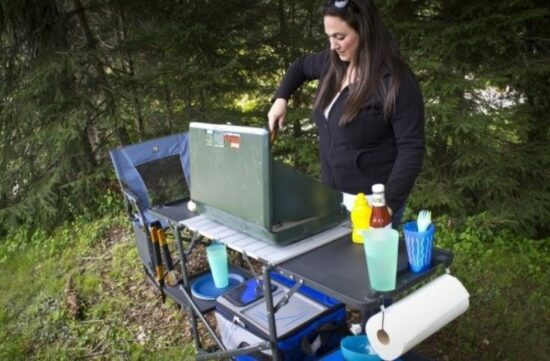 You have the space between the rack and the tabletop which is 56 cm high, so this is a huge space for storage. Those crossbars which you see in the pictures go up to almost half the distance between the rack and the tabletop. I have added this table to my list of best tables with storage elements.
How much stuff it can handle
So here are some numbers they give at Walmart:
Each of the side tables in the pictures is with the weight limit 30 lb (13.6 kg).
The storage rack can store up to 35 lb (15.9 kg).
The main top table is with the capacity 48 lb (21.8 kg).
So this gives 203 lb (92 kg), but on Amazon the declared weight capacity is 300 lb (136 kg). After checking with the manufacturer, it turns out that 203 lb is the correct number. In any case, this is a lot and it is indeed impressive for such a relatively light table.
The main top table is with the dimensions 24 x 16 inches (61 x 41 cm) and its height is 32.3 inches (82 cm). All four side tables can be folded so the structure becomes of the dimensions mentioned above. You might want to know this if you use it in some narrow space at home.
---
Materials & construction
The frame is a powder-coated steel and the main tabletop is a heat-resistant aluminum. The storage rack is also steel. This all is with a quality riveting and this is a very durable construction.
The side tables are some sort of reinforced plastic and they come with attachment elements which you see in the picture: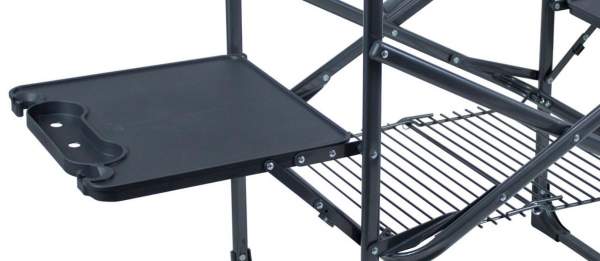 All of the 4 side tables have such extra details and you realize how many options for the attachment of stuff you have here.
Note also that you have several X-shaped support bars and locking braces. So the structure is very strong and without any wobble or sway.
But observe also that the distance between the legs is not so large while the table is indeed long when fully expanded, and the legs are bars so they require a flat surface. Also, if you put too much weight on one of the side tables, the structure can tip over.
Please see more in this video:
---
Price & rating
The daily updated price is given in the link below, and you can also see the rating by users. There are more than 550 reports as of the moment of writing this text and the rating is incredibly high 4.7/5.
My own rating is different but I have my set of criteria used for all the tables here in the site, so you can easily compare:
My rating of the GCI Slim-Fold Cook Station:
Weight -

3.5/10

Dimensions -

9.6/10

Packed size -

5.5/10

Craftsmanship & features -

9.8/10
Summary
My best rating here goes for dimensions, and craftsmanship & features.
Pros
Exceptionally functional.
Easy to use.
Portable.
Storage features.
---
Specifications
Weight: 18.9 lb (8.6 kg).
Weight capacity: 300 lb (136 kg).
Folded size: 34.6 x 20.9 x 3.7 in (88 x 53 x 9.5 cm).
Dimensions (L x W x H): 52 x 20.9 x 32.3 in (132 x 53 x 82 cm).
Top table size: 24 x 16 in (61 x 41 cm).
Frame: steel.
Tabletop: aluminum.
---
GCI Outdoor Slim-Fold Outdoor Cook Station vs Camco Deluxe Foldable Outdoor Grilling Table
I thought you might like to see these two tables side by side. They share some features and both are designed for camp cooking. But there are differences as you realize. The GCI Table has more total surface than the Camco Table which is with two side tables. The GCI table is a bit lighter, but it is also a bit more expensive. Please follow the links for more.
Top Table Dimensions
(L x W x H), in (cm)

GCI Outdoor Slim-Fold Cook Station
24 x 16 x 32.3
(61 x 41 x 82)

34.6 x 20.9 x 3.7
(88 x 53 x 9.5)

Camco Deluxe Grilling Table
26 x 16 x 33
(66 x 41 x 84)

37.7 x 20.4 x 6
(96 x 52 x 15)

Final thoughts
This GCI Outdoor Slim-Fold Outdoor Cook Station is truly well-built, reliable, functional, and easy to use. What you cannot store on its 5 tables/shelves, you will be able to hang and attach on the sides of them where you have a variety of holders and even an anchor for a towel roll.
This table is a great option for camping, beach use, or tailgate parties. This is a great value for the money, fully recommended. I have added it to my list of best outdoor tables for grilling and best portable camp kitchen.
You might want to see also their GCI Outdoor Slim-Fold Table which is a quite different construction.
The GCI brand is well-known for its outdoor products, and there is a number of their camping chairs presented here in the site. In fact, the letters GCI mean 'great chair innovation'. Check their GCI Outdoor FirePit Rocker Chair and also GCI Outdoor Slim-Fold Director's Camp Chair with Side Table.
This is not a sponsored text, and I am not paid by the brand. I love to hear from you, so please use the comment box below.