---
The Sportneer Adjustable Height Camping Table with Mesh Layer is an ultralight, versatile, and functional folding table, nicely packable and incredibly affordable. 
---
Key features & benefits
Easy to use folding design.
Three heights.
Adjustable feet.
Ultralight.
---
Overview
Here you have a folding table that folds into itself and in this state it looks like a very thin box with a carry handle on the top, the two larger dimensions are 15.7 x 11.8 inches (40 x 30 cm). See how it looks, note that its legs are inside: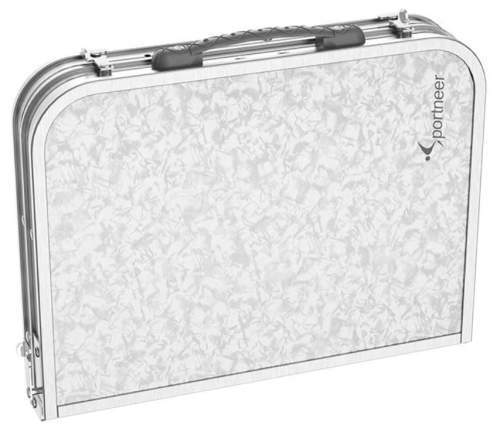 When you need it, just unlock the latches and unfold the legs. The pictures below show the details of how this is done.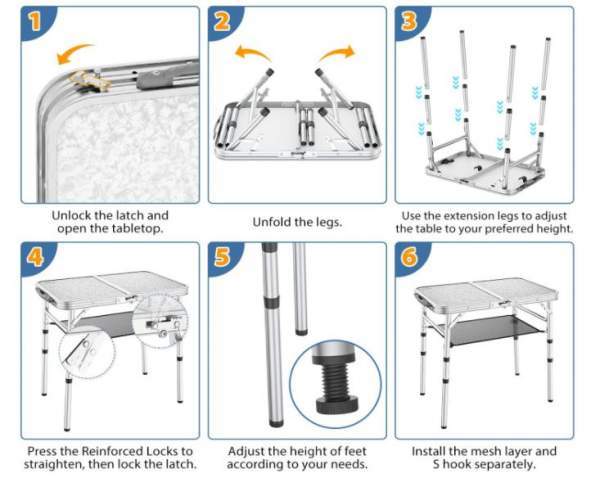 As mentioned in its official name, you have adjustable height or it is better to say changeable height. More specifically this means 3 different heights shown in the pictures below: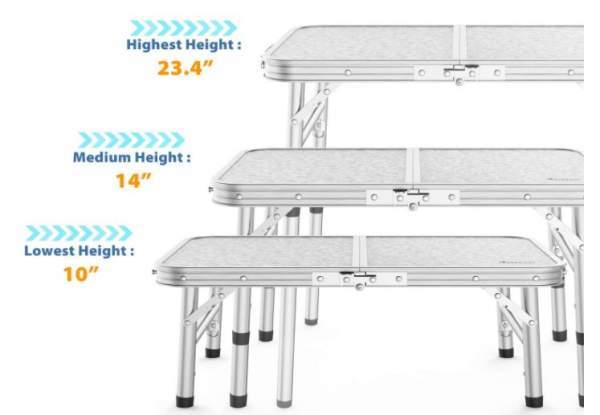 So you have options for two different side-table heights, and one height that is good enough to be used as a dining table. The overall dimensions are shown below. Because of these features I have included it in my list of camping tables with adjustable legs.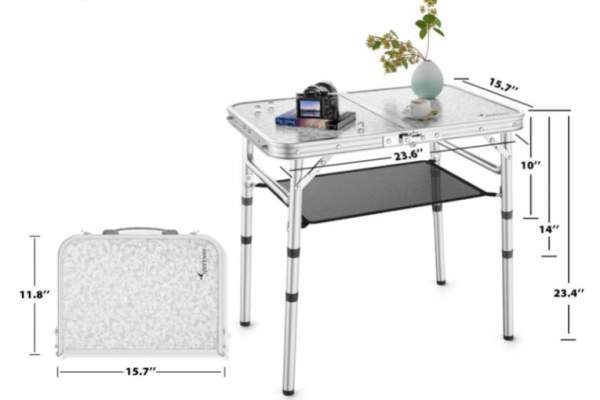 Apart from this adjustability, you also have fine tuning on the feet, see the picture below. This is very useful to have with any table, and this holds in particular for outdoor tables.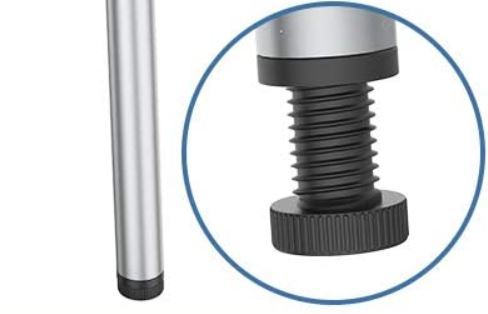 Locks, latches, and other features
The tabletop folds in half, and they have added a security latch in the middle, it is shown below. There are also locks in the corners that stabilize the table against lateral movement, one is shown below on the right.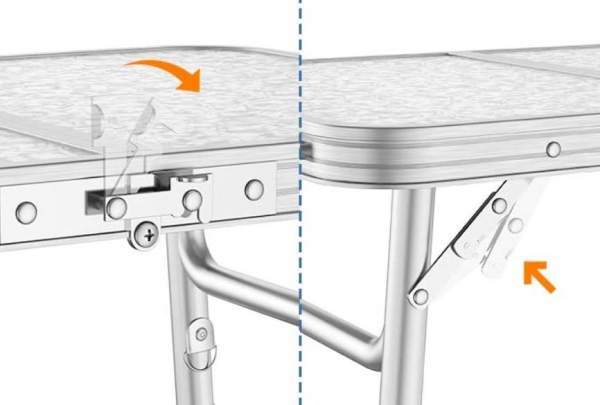 The table has several storage details. This includes a large net shelf underneath the tabletop, you can see it in the pictures. There are also useful S hooks on the sides to hang your cooking stuff.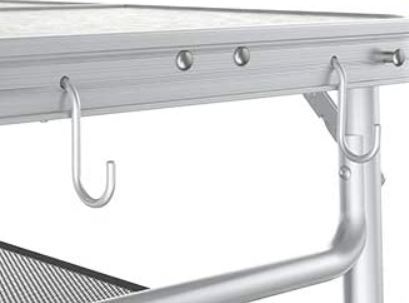 Materials
The frame is a premium aluminum alloy, the tubes are 0.98 inches (2.5 cm) diameter. Note that its official weight capacity is 70 lb (32 kg) so this is more than enough for a table, but do not sit on it.
The tabletop is a medium density fiberboard. Note that it has a raise in the middle so it is not completely flat.
The tabletop looks folly waterproof but I would not expose it to the rain because water might eventually enter from the sides where the tabletop has an aluminum frame, it is visible in the picture above. The overall structure is very similar to the Coleman Store More Cupboard Table.
---
Who is this Sportneer Adjustable Height Camping Table for
Regarding the dimensions & best use, note that the table is not really large. The top surface is 23.6 x 15.7 inches (60 x 40 cm). So this is maximum for two people.
Also, even at its highest set, it is not very tall, you have 23.4 inches (59 cm). This is hardly a dining table height. So it is more or less just a side table.
Regarding the weight, in view of its 5 lb (2.27 kg) this is definitely an ultralight camping table. But bear in mind its overall dimensions, they are partly behind such a weight.
Regarding the price, the table is incredibly affordable and this is a great value for the money.

---
Specifications
Weight: 5 lb (2.27 kg).
Capacity: 70 lb (32 kg).
Dimensions (L x W x H): 23.6 x 15.7 x 23.4 in (60 x 40 x 59 cm).
Folded dimensions: 15.7 x 11.8 in (40 x 30 cm).
Frame: aluminum alloy.
---
Rating, pros & cons
I use the same criteria for all the camping tables and I apply them consistently for easy comparison. See how it stands:
Very functional & easy to use camping table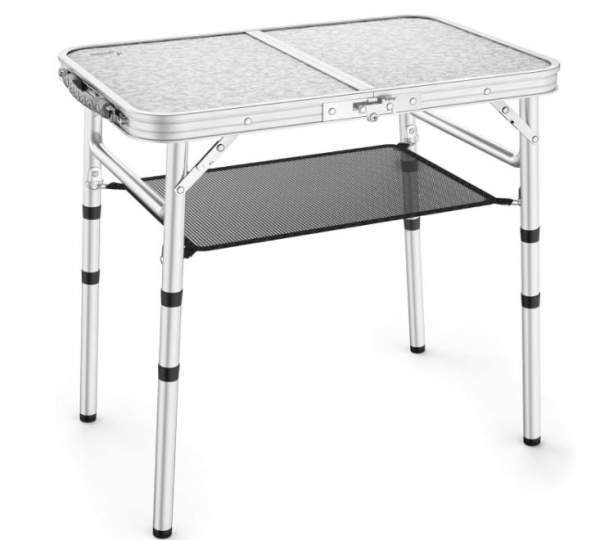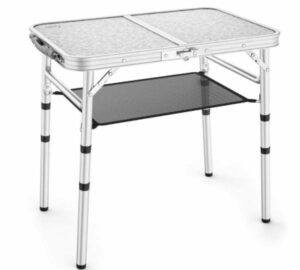 Product Name: Sportneer Adjustable Height Camping Table with Mesh Layer
Product Description: The Sportneer Adjustable Height Camping Table with Mesh Layer is an Ultralight and Functional Folding Table, Nicely Packable and Incredibly Affordable.
Brand: Sportneer
SKU: B08R8VK4W9
Weight -

9.2/10

Dimensions -

7.4/10

Packed size -

7.4/10

Craftsmanship & features -

9.2/10
Summary
The overall rating of this table is Very Good and it is well-deserved.
Pros
Great design.
3 Heights.
Feet height tuning.
Storage features.
Great price.
---
Final thoughts, rating, pros & cons
So the Sportneer Adjustable Height Camping Table with Mesh Layer looks really cool. Its different heights make it versatile and the mesh shelf adds to its functionality.  
The table is easy to use, incredibly light, and very affordable. I have plenty of reasons to include it in my list of best folding camping tables.
Best places to buy:
For more options, please check under the category Camping Tables, there are many of them presented here in the site. Check in particular this Snow Peak Single Action Low Table with its ingenious design.
Bookmark this site and visit it occasionally. This will keep you informed, you have new texts added here regularly. Thank you for reading.