---
The GCI Outdoor Slim-Fold Table is an all-aluminum, versatile and large outdoor item. It is easy to fold and unfold, and it can be used as a dining, cooking, and grill table.

---
Key features & benefits
Two sizes, R & XL.
Folding design.
Aluminum tabletop.
Aluminum frame.
---
What this GCI Outdoor Slim-Fold Table is about
This table should not be mixed with its famous cousin, the GCI Outdoor Slim-Fold Outdoor Cook Station which is a completely different design, although they have somewhat similar name.
This table here is also slim-fold and this means it packs nicely and becomes very thin. Note that they build it in two sizes, you have a regular (R) and an extra large option (XL).
You will see all the numbers below, here just to stress that both become 3.5 inches (9 cm) thin when folded. The picture below shows that it remains quite large in the other two dimensions. But there is a carry handle to move it short distances.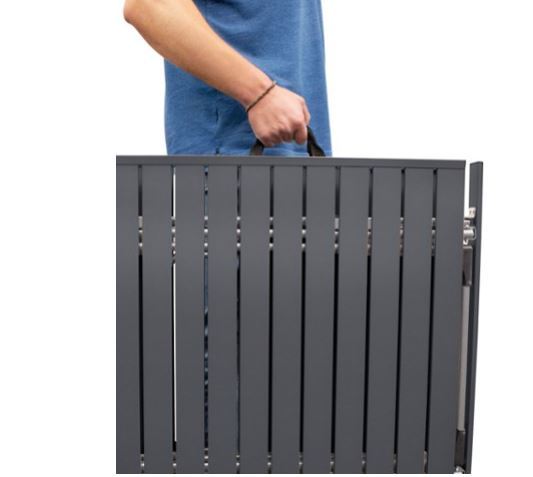 The table is folding type, so there is no assembly. Its legs at the two ends fold under the table and then the tabletop folds in half. This is how it becomes so thin as in the picture above, but see how it looks here: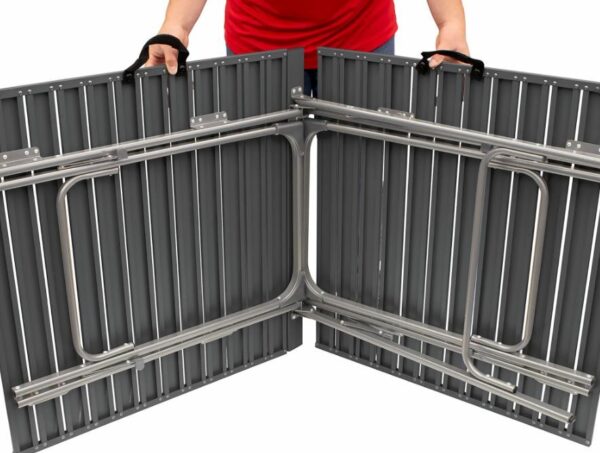 Below you can see that you can fold only half of it and use the other half for dining. This may be convenient if you do not have enough space around or simply you do not need the whole table.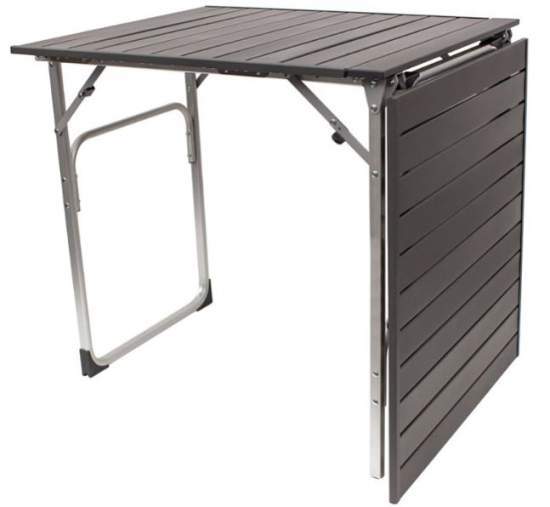 Note that there are 6 folding locking bars under the tabletop, and there are also horizontal stabilizing bars. See some details in the picture: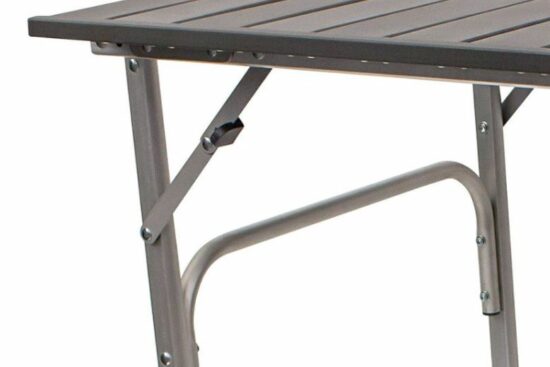 Materials
This is an all-metal construction. You have already seen a bit of its frame, so this is aluminum. The tabletop is also a heat-resistant aluminum.
The legs at the two ends are with bars on the ground, and all three pairs have extra cross-bars for stability. So with such a design the chair will work great on any surface. It can be safely used even in a floored family camping tent.
---
Who is it for
Regarding the dimensions and best use, this table is very long and it can easily accommodate at least 4 people. Note that the length is 138 and 154 cm for the two options.
But you have seen that it can be used as a nice table for two as well, with the half of it folded down.
The height is such that you can use any type of camping chairs when the table is used as a dining table.
The heat resistant tabletop adds to its versatility, so you can use it also as a cooking or grill table. Even if you put a stove or a grill on one half, you can still have a proper dining table for two on the other half.
Manufacturers usually do not provide the weight capacity, but here you have it. The table is strong enough to support the weight of up to 125 lb (57 kg).
Regarding the weight, you will see the numbers below for the two sizes. So it is heavy, but the size is impressive and the weight is justified.
Both versions are quite bulky when folded, but the table fits into narrow spaces.
---
Specifications
Weight:
– R: 14.6 lb (6.6 kg).
– XL: 16.4 lb (7.4 kg).
Capacity: 125 lb (57 kg).
Dimensions (L x W x H):
– R: 54.3 x 24.2 x 26.8 in (138 x 61 x 68 cm).
– XL: 60.8 x 30 x 30 in (154 x 76 x 76 cm).
Folded dimensions:
– R: 27.2 x 24.2 x 3.5 in (69 x 61 x 9 cm).
– XL: 30.5 x 30 x 3.5 in (77 x 76 x 9 cm).
Frame: aluminum.
---
Rating, pros & cons
Below is summarized my rating and some pros and cons, I use the R variant for rating. This is just for comparison with other tables here in the site because rating criteria are applied consistently.
All-aluminum versatile and large camping table.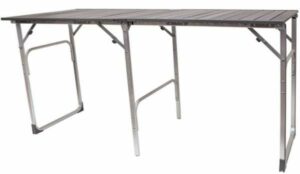 Product Name: GCI Outdoor Slim-Fold Table
Product Description: The GCI Outdoor Slim-Fold Table Is an All-Aluminum, Versatile and Large Outdoor Item Suitable to Be Used for Dining, Cooking, and as a Grill Table.
Brand: GCI Outdoor
SKU: 205046
Weight -

5/10

Dimensions -

9.6/10

Packed size -

6/10

Craftsmanship & features -

9.4/10
Summary
The table is a bit bulky and heavy but see its other features.
Pros
Quality craftsmanship.
All aluminum.
Versatile.
Large.
---
Final thoughts
So this GCI Outdoor Slim-Fold Table is indeed versatile. Its aluminum tabletop is easy to maintain and to keep clean. The table can be used for camping and also in the backyard. Fully recommended. I have included it in my list of best folding camping tables.
Best places to buy:
For more options, please check under the category Camping Tables, you will find them many here in the site, and in all sizes and shapes.
Bookmark this site and visit it when you find time, this will keep you informed, you have new texts added here on a regular basis. Let me know if you have questions, there is a comment box below. Thank you for reading and have a nice day.