---
Here you have the list with ultra-lightweight backpacking tables in the weight range 1.6-3.2 lb (0.73-1.5 kg), collapsible and versatile, suitable for any outdoor activity like camping, hiking, fishing, etc.
What is in the list
All the tables are so light that you could carry them on the trail. This may look like an unnecessary luxury but wait to see their features. These are very useful items to have at least on some shorter hikes, and also in all outdoor situations where you would not carry them in the pack.
I am an active mountaineer and know that preparing meals on the ground is not always so great. I find ants most annoying. Also, if the ground is wet (as it frequently is in my area) then having a table changes a lot.
Note also that these tables are usually low enough that you can use them by sitting on the ground, so no need to carry an extra chair on the trail. But if this is close to your car, then a low camping chair is surely a nice addition.
An important feature here is that they are all hardtop tables. I think this is essential if you want a table that can be used to prepare food and to have meals served on them.
So here is the list with all collapsible camping tables ordered by weight, from heavier to lighter:
---
1. Kelty Linger Side Table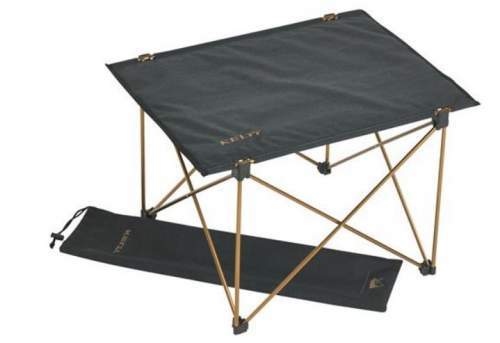 I shall start with a few numbers to show why this table is here. So the weight is 2 lb 14 oz (1.3 kg), and for such a light item the weight capacity is impressive 150 lb (68 kg).
The tabletop is 22.5 x 14.5 inches (57 x 37 cm) and it is 17 inches (43 cm) above the ground. The packed size is also very good 24 x 4 x 4 inches (61 x 10 x 10 cm).
The frame is anodized aluminum and all the segments in it are shock-corded so you cannot lose anything. The tabletop is accordion type collapsible aluminum structure. The picture above shows its included carry bag.

---
2. ALPS Mountaineering Dash Table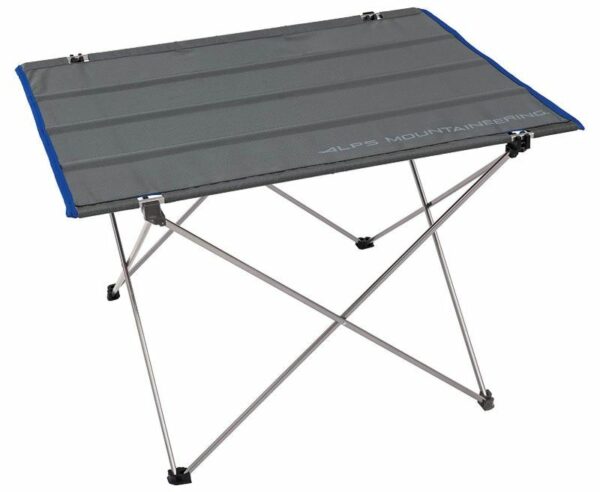 This ALPS Mountaineering Dash Table is a new item on the market. With its 2 lb 4 oz (1.02 kg) of weight, this is definitely an ultralight backpacking table.
But note also that for such a weight, its dimensions are impressive (W x L x H) 29.5 x 21.5 x 20.5 inches (75 x 55 x 52 cm). You will realize this if you compare it with the other tables here in the list. You might want to know also that this table is incredibly affordable.

---
3. Big Agnes Woodchuck Camp Table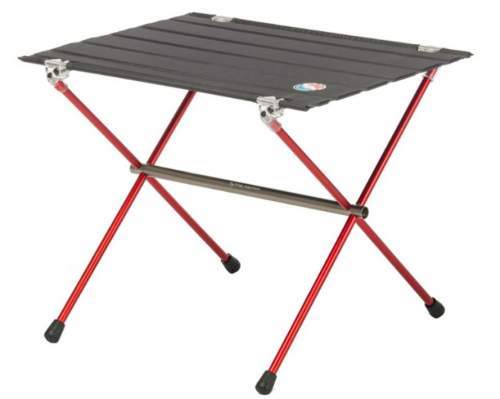 Here you have a top-notch ultralight backpacking table, collapsible and hardtop table with a shock-corded frame. The weight is only 2 lb 3 oz (992 g).
Its packed size (L x D) is 21.5 x 3.5 inches (55 x 9 cm) and it fits nicely in its included carry bag with handles on the sides.
The picture above shows that the frame is without plastic elements. This is a patented design and what you have here is an aircraft aluminum structure with a weight capacity of 90 lb (41 kg). The hardtop size is 21.5 x 15.4 inches (55 x 39 cm).

---
4. Helinox Table One Hard Top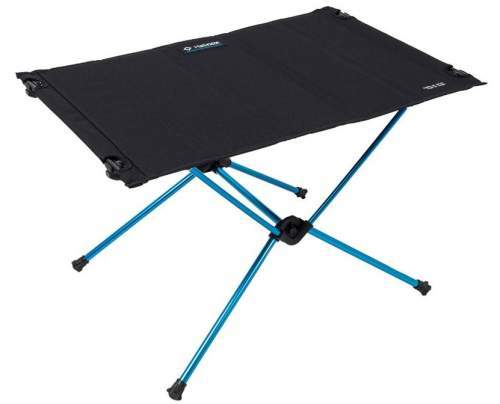 If you are looking for something ultralight for the trail, then you should know that there are no many tables that could beat this Helinox Table One. The weight is only 2.14 lb (970 g).
As the name suggests, this is a hardtop version (they have a soft top version as well), aluminum elements with some synthetic cover. The weight capacity is 110 lb (50 kg).
The tabletop size is 23.5 x 15.7 inches (60 x 40 cm) and this is remarkable for such a weight. The packed size is equally great 15.7 x 5.1 x 4.7 inches (40 x 13 x 12 cm). Please follow the link to read more.

---
5. Sportneer Portable Camping Tables with Mesh Storage Bag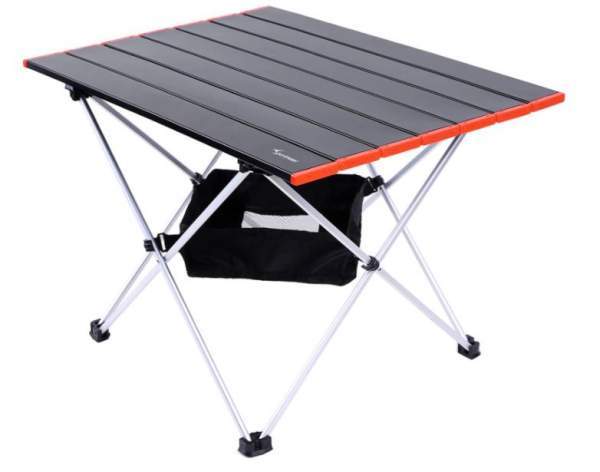 The word Tables in the name means that there are three of them, so only the smallest of them is truly ultralight with the weight of 1.98 lb (0.9 kg).
This is a collapsible and compact construction with ultralight aluminum frame and aluminum tabletop. The dimensions are (L x W x H) 15.35 x 13.58 x 12.6 inches (39 x 34 x 32 cm).

---
6. Ledeak Portable Camping Table
This Ledeak table is both ultralight and ultra-affordable. So the weight is only 1.8 lb (0.85 kg).
Yet its maximum load capacity is 50.7 lb (23 kg).
This is a heavy-duty aluminum alloy construction and as you realize it is among the lightest here in the list. Its packed size is equally impressive 16 x 5.5 x 2.5 inches (40 x 14 x 6 cm). So now you understand the meaning of the word 'portable' in its name.
You might want to know also that this is an Amazon's Choice product. This means that Amazon recommends it as highly rated, well-priced, and available to ship immediately. The rating by Amazon customers is incredibly positive and it has scored 4.4/5 average rating as of the moment of writing this text.

---
7. Trekology Portable Camping Side Table

So you see it correctly, you have three tables here with the weight range 1.8 – 3.2 lb (0.85 – 1.5 kg). To the best of my knowledge, the smallest of them is currently the lightest side table on the market.
All of them are with the same weight capacity 50 lb (23 kg), and they all have only two elements, the frame and the hard top. Note that this is a painted aluminum hardtop, so there is no synthetic cover on it.
The packed size of the smallest of them is 16 x 5.5 x 2.5 inches
(40 x 14 x 6 cm). One more thing that makes them different from the others is that they are very affordable. Please follow the link to check for updates.

---
8. Mountain Summit Gear Feather-Lite Table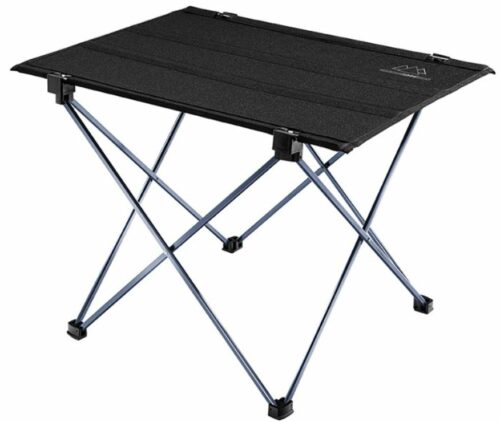 This Mountain Summit Gear Feather-Lite Table is obviously ultralight, it weighs only 1 lb 9.6 oz (726 g) so it is hard to find something lighter on the market. It is also incredibly packable and very affordable.
I see it as very suitable for backpacking and hiking, and this also means for practically any other outdoor activity. The dimensions are 16 x 22 x 16 inches (41 x 56 x 41 cm).

---
How to choose a backpacking table
This is about tables which you are supposed to carry on the trail, so there is no much choice, they must be:
Ultralight, the lighter the better.
Ultra packable, the smaller packed size the better.
Everything else is of secondary importance, but there are some other features to bear in mind. Ease of use is one of them, but luckily all the models in the list here are nicely designed and easy to use.
Hardtop would always be my choice, you need a stable surface to prepare and eat your meals. I would not carry a soft tabletop table on the trail just for playing cards.
Then there is the price issue, and here you can have huge differences. There are famous brands here and also those that are less known, and this makes the difference in the price.
But there may also be big differences in the warranty conditions, so they affect the price. When you buy the Helinox table, you have 5 years of peace of mind; now you know why it is so expensive.
---
Final thoughts & Editor's Choice table
So this was my list with ultra-lightweight backpacking tables, it will be updated regularly and new tables will be added whenever I find something that deserves to be in the list. You might want to bookmark this text and check occasionally for updates.
Editor's Choice
My rating of the ALPS Mountaineering Dash Table: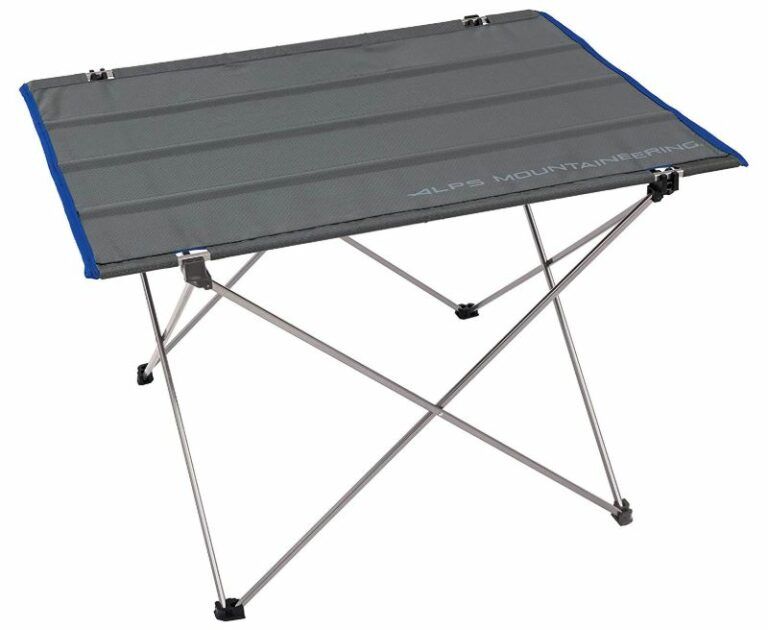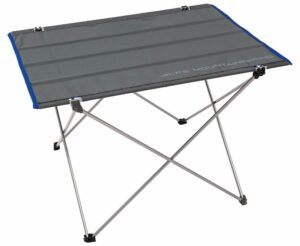 Product Name: ALPS Mountaineering Dash Table
Brand: ALPS Mountaineering
SKU: B0842S2C3G
Weight -

9.9/10

Dimensions -

7.8/10

Packed size -

8.2/10

Craftsmanship -

9.8/10
Summary
My rating for the dimensions may look low, but compare it with its backpacking competitors and you will realize it is much higher. All in all my rating is Excellent:
Pros
Incredible price.
Incredible weight.
Great size for such a type.
Reliable.
Thank you for reading. Please use the comment box below if you feel I have missed to include a good table.
---