---
REDCAMP Aluminum Folding Table 6 Foot is an impressive outdoor dining table with an aluminum frame, easy to use, nicely packable, and incredibly affordable.
---
Key features & benefits
Huge tabletop.
Folding design.
Adjustable legs – two heights.
Easy to use.
Incredible price.
---
What this is about
This REDCAMP Aluminum Folding Table is a part of their series that includes tables of various sizes, and it is the largest, you can see some of them here. You will hardly find anything larger of this type on the market.
When I say 'of this type' I mean such a folding type. This is a structure that folds twice, and when packed it looks like an elegant and thin box which you see in the picture. It is very easy to use in spite of its dimensions, so I have included it in my list of best folding camping tables.

So imagine, a 6-foot long table reduces to a box that measures 24 x 24 x 4 inches (61 x 61 x 10.2 cm), and with a nice carry handle shown below. It is so thin that it will fit in narrow spaces, useful for transport and for storage at home.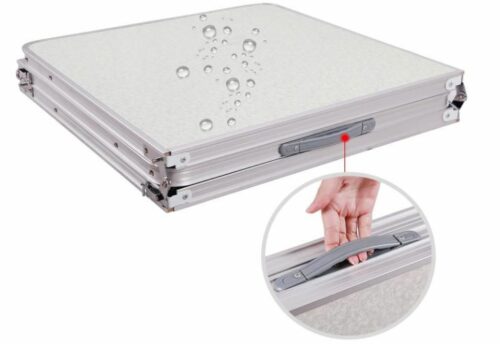 Adjustable legs
This is yet another useful feature, the table allows for two different heights. You have 21.5 inches (69 cm) and 27 inches (55 cm) heights. There is also an option for fine-tuning on the feet, this is useful in the camp and at home. This is why I have added it to my list of tables with adjustable legs.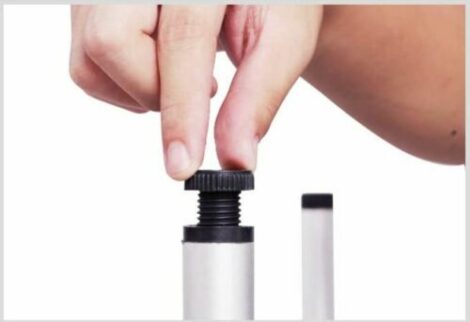 Materials
The frame is aluminum, the tubes are thick and strong and you have some support elements in the corners, one is shown below. Because of such a length, there are 6 legs in total with three horizontal bars for stability. There are also security latches on the sides (see the picture) that keep the two adjacent tabletop elements locked together.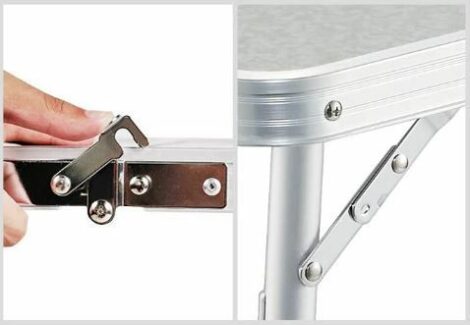 The tabletop is a waterproof medium-density fiberboard with an aluminum frame around, you can see it above. The surface is some sort of plastic typical for tables with such a material. I would not expose it to heat.
Also, I know from my previous experience that you should not allow water to get behind this side frame. When this fiberboard gets wet inside, it swells. So it is best not to expose it to water at all, no matter what they claim.

---
Who is it for
Regarding the size and height, this table is so huge that it can easily accommodate at least 6 people. The height is such that you can use any camping chairs and use the table as a dining table.
Such a large area you can use as you wish, one part for cooking and one for dining. You can use it for camping, for BBQs, for picnics, and you name it.
Regarding the weight, the table is not particularly light but you have seen its size. Note also that the tabletop is 3.8 cm thick. The weight is 16.5 lb (7.5 kg) so this is portable to short distances.
Regarding the packed size, you have seen the numbers above, so the table folds like a book. The two dimensions remain a bit large but it is incredibly thin.
Regarding the terrain, note those bars on the bottom, they add a lot to the stability, but they also prevent sinking if you use the table on soft ground. So there are 6 feet with some plastic caps, and they can sink in the sand, but the bars will stabilize the table and prevent any further sinking. In other words, you can use this table on any surface.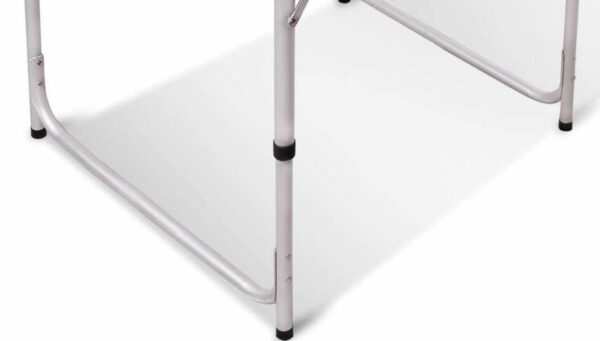 Regarding the price, in view of its size and overall quality, this table is truly affordable.
---
My rating, pros & cons
I have my standard set of criteria and formulas for rating, and I use them consistently for all the tables here in the site. This helps if you want to compare the tables. So see how I rate it:
My rating of the REDCAMP Aluminum Folding Table 6 Foot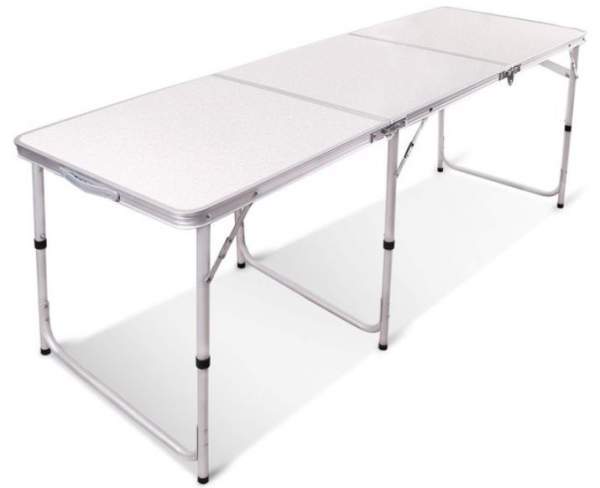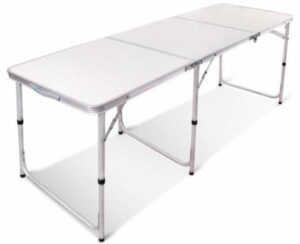 Product Name: REDCAMP Aluminum Folding Table 6 Foot
Product Description: REDCAMP Aluminum Folding Table 6 Foot is an impressive outdoor dining table with an aluminum frame, easy to use, nicely packable, and incredibly affordable.
Brand: REDCAMP
SKU: B0811NZV58
Weight -

4.5/10

Dimensions -

10/10

Packed size -

6/10

Craftsmanship & features -

9/10
Summary
This table is very long and I have seen people complaining that it does not become flat when expanded. This may happen if the ground is not flat. My overall rating of this table is Good:
Pros
Great size.
Great price.
Light enough for its size.
Easy to use.
Reasonable packed size for its overall dimensions.
Cons
It may not create a flat surface on uneven ground.
---
Specifications
Weight: 16.5 lb (7.5 kg).
Dimensions (L x W x H): 72 x 24 x 27/21.5 in (183 x 61 x 69/55 cm).
Packed size: 24 x 24 x 4 in (61 x 61 x 10.2 cm).
1-Year limited manufacturer warranty.
Frame: aluminum.
---
Final thoughts
In summary, this REDCAMP Aluminum Folding Table 6 Foot is impressive in size and for such its dimensions, it is very easy to use. Note that they sell it on Amazon at the same place with several of its smaller cousins. So if you want something more compact, check some of them.
If you need more options and more features, check under the category Camping Tables here in the site.
Note that we add texts regularly so bookmark this site and visit occasionally. Stay informed and subscribe to our weekly newsletter, there is a subscription form below. Have a nice day.