---
The REI Camp Prep Table is a folding, sturdy and stable all-metal structure, easy to use, with adjustable telescopic legs and aluminum tabletop, and with a carry bag included.
---
Key features & benefits
Adjustable legs height.
Aluminum tabletop.
Folding design.
Carry bag included.
---
Overview
The REI Camp Prep Table is a folding all-metal construction with an aluminum slatted top and a powder coated aluminum frame around it (the picture below), and supported by steel legs.
There are cross bars and stabilizers in the corners that make the table incredibly sturdy and stable, see the picture: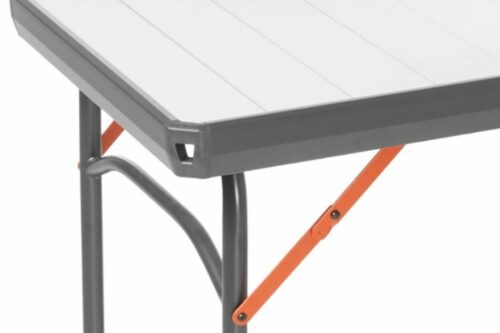 The top folds in half its length together with the legs that fold underneath it. There is a locking push button in the middle on the side for this purpose. When folded, you can easily store it in its included carry bag shown below. The folded dimensions are substantial 24.5 x 24 x 4.25 inches (62 x 61 x 11 cm), but you realize it is very thin.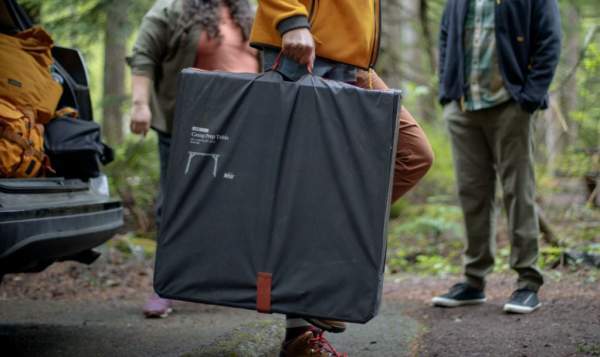 Telescopic adjustable legs
All four legs of this table are independently adjustable, see the picture below. This is an easy to use lever locks system similar to those on trekking poles. I would say this is one of its best features.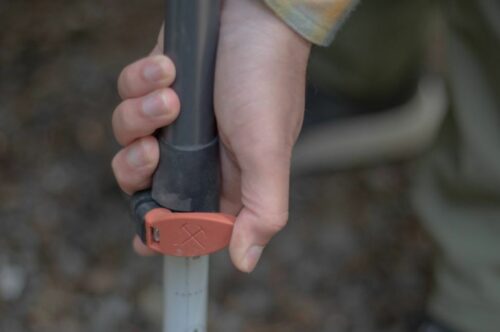 You have the adjustability range 22 to 31 inches (56 to 79 cm). So you can have maximum stability when the ground is uneven, and you can level your table on practically any surface.
The top picture above shows it in its highest position, and below you can see it with the legs shortened.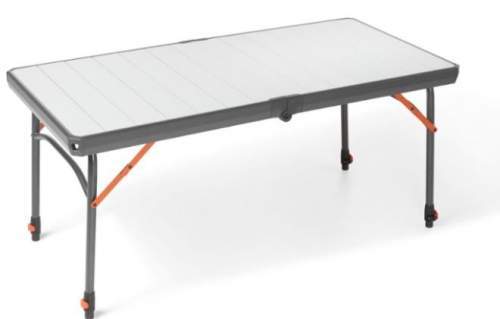 Note that in any position, there are no annoying support bars on the longer sides of the table. Those locking bars in the corners do not take much of the length. So you can easily use it with camping chairs and have plenty of space for knees and legs. Because of all these features, it is in my list of best folding camping tables with adjustable legs.
Materials
This is all metal here. As mentioned, the tabletop is all aluminum, and the legs are steel. The table is built to last.
It is easy to expand the table, simply open it and extend the two halves and they will lock in place. After that you unfold the legs and make sure that the reinforcement braces in the corners lock in place. This all is done in under a minute.
You have seen in the pictures that it comes with corner holes which you can use for some hanging storage. This can be a trash bag loop or dish towel hanger, etc.
---
Who is it for
Regarding the dimensions, the table is quite large. You have the tabletop that measures 49 x 24 inches (124 x 61 cm). This is lots of space for cooking as you realize from the picture.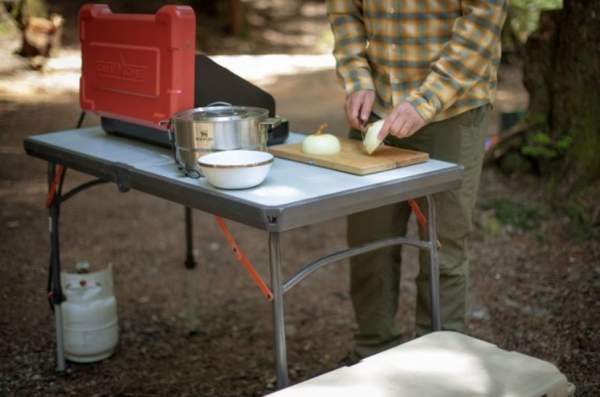 If used as a dining table, this should be enough for up to 4 people. In the lowest position you can use it as a side table.
Regarding the capacity, not many manufacturers provide the official capacity, but here you have it. The table is for the weight of up to 100 lb (45 kg).
Regarding the weight, the table is heavy with its 19 lb 11 oz (8.93 kg). But this is a metal structure and its size is impressive. Telescopic legs have overlapping tubes that add weight, but this is an excellent feature and the weight is justified and immaterial.
You have already seen its packed size, so it is bulky. All in all, this is a car camping outdoor table.
Regarding the price, it may look steep, but this is a very specific design and the table is worth the money. You will have a link below to check for updates.
---
Specifications
Weight: 19 lb 11 oz (8.93 kg).
Capacity: 100 lb (45 kg).
Dimensions (L x W x H): 49 x 24 x 22/31 in (124 x 61 x 56/79 cm).
Folded dimensions: 24.5 x 24 x 4.25 in (62 x 61 x 11 cm).
Frame: steel.
---
Rating, pros & cons
Below you have the summary of my rating and some pros and cons. I use the same criteria for all the tables so you can easily compare.
Great size and adjustable legs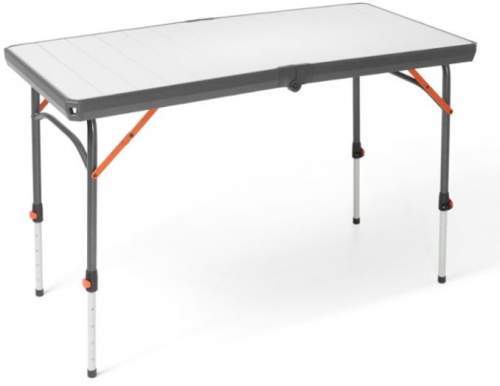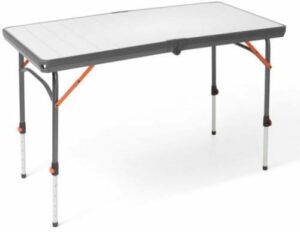 Product Name: REI Camp Prep Table
Product Description: The REI Camp Prep Table Is a Folding, Sturdy and Stable All-Metal Structure, Easy to Use, with Adjustable Telescopic Legs, and with a Carry Bag Included.
Brand: REI
SKU: 186019
Weight -

3.5/10

Dimensions -

9.7/10

Packed size -

5.5/10

Craftsmanship & features -

9.5/10
Summary
The folded size and weight negatively affect the overall rating but it is still Good:
Pros
Adjustable legs.
All-metal construction.
Great size.
Great capacity.
Carry bag.
---
Final thoughts
So the craftsmanship of this REI Camp Prep Table is at a high level. Its size is impressive and the independently adjustable legs make it suitable for any ground. You can always make it perfectly leveled.
It is also easy to use, but indeed it is bulky when folded and a bit heavy. The table is of a general purpose and you can use it for cooking, for grilling, as a dining table and as a side table. Fully recommended. I have included it in my list of best folding camping tables.
Best places to buy:
For more options, please check under the category Camping Tables. You will find them many here in the site, and in all sizes and shapes.
Bookmark this site and visit it when you find time, this will keep you informed, you have new texts added here on a regular basis. Let me know if you have questions, there is a comment box below. Thank you for reading and have a nice day.