---
The Snow Peak Single Action Low Table is an incredibly easy to use and ingenious folding construction with a bamboo tabletop and an aluminum frame.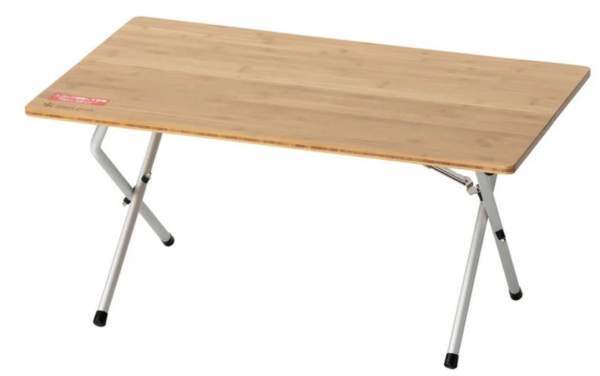 ---
Key features & benefits
Unique folding design.
Bamboo tabletop.
Aluminum frame.
Carry bag included.
---
What is in the name
This table has been on the market for many years, probably a decade or so. It is designed in Japan, and it comes with an ingenious folding design. You open this table in one single move, and this is behind the words Single Action in its name.
So the tabletop that you see in the top picture above, folds in half its width, and the legs also fold inside. The picture below show how it looks when folded, and also the carry bag which is included:
The packed size is 33.3 x 9.8 x 2 inches (84 x 25 x 5 cm). As you realize, it becomes incredibly thin when packed. The picture below shows its side view from the narrow side, with the locking mechanism in place.
Materials
So the tabletop is a multilayered laminated bamboo. I would not put very hot items on it. It is supported by a unique sturdy yet lightweight aluminum frame. The legs are with plastic caps, and this is a floor friendly material so you can use it even in a floored family camping tent.
The mentioned carry bag is a nylon fabric. The picture below shows its view from the narrow side, with some details visible.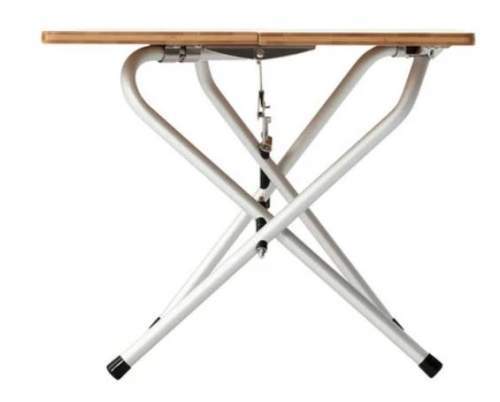 Please see how to open this table, it is hard to believe how easy this is:
---
Who is this table for
Regarding the dimensions, this table measures (L x W x H) 33.3 x 19.5 x 15.7 inches (84 x 50 x 40 cm). So you realize it is low and this makes it a side table. Now, for a side table it is very large, this is plenty of space for 2-3 people. With such a low table you will need some low chairs, so check these TravelChair Larry Chair and REI Co-op Outward Low Padded Lawn Chair.
Regarding the weight, I would describe it as moderately heavy with its 12 lb (5.5 kg). This is not surprising in view of its pleasant bamboo tabletop.
You have already seen its packed size, and you realize that it becomes incredibly thin when folded. But in any case, this is a table for places with a car access. 
Regarding the price, the Snow Peak is not known for its low prices. Their products are very expensive but they are of the highest quality and craftsmanship. Note also that with their products you have a lifetime warranty, so you know what you are buying, and this has a price.
---
Specifications
Weight: 12 lb (5.5 kg).
Dimensions (L x W x H): 33.3 x 19.5 x 15.7 in (84 x 50 x 40 cm).
Folded dimensions: 33.3 x 9.8 x 2 in (84 x 25 x 5 cm).
Frame: aluminum.
Tabletop: bamboo.
---
Rating, pros & cons
Below you can see how this table stands against my usual set of rating criteria. I apply them consistently so you can easily compare with some other tables here in the site. You can rate it yourself, there is a rating bar below.
Bamboo tabletop & aluminum frame.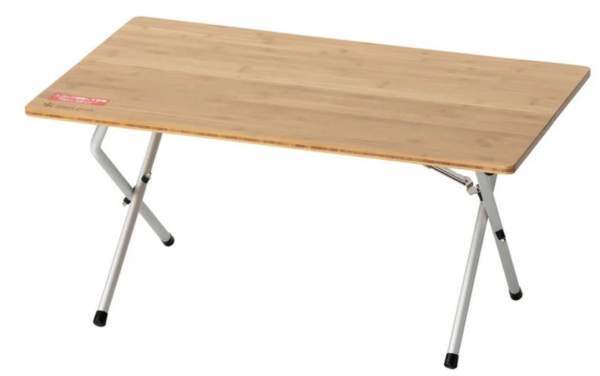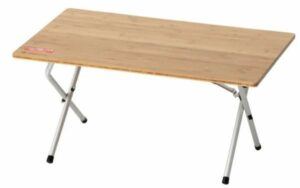 Product Name: Snow Peak Single Action Low Table
Product Description: The Snow Peak Single Action Low Table Is an Incredibly Easy to Use and Ingenious Folding Construction with a Bamboo Tabletop and an Aluminum Frame.
Brand: Snow Peak
SKU: LV-100TR
Weight -

6.5/10

Dimensions -

7.6/10

Packed size -

8.2/10

Craftsmanship -

9.7/10
---
Final thoughts
So here you have again a very functional Snow Peak product. This Snow Peak Single Action Low Table comes with an incredibly ingenious design that makes it very easy to use.
The bamboo tabletop makes it very pleasant, though this also adds lots of weight. But this is a camping item so the weight is not a big deal. Fully recommended. I have included it in my list of best bamboo camping tables.
Best places to buy:
For more options, please check under the category Camping Tables, you will find them many here in the site, and in all sizes and shapes. Note that they have yet another round table with the same folding design, the Snow Peak Single Action Round Table Low LV-071TR.
Let me know if you have questions, there is a comment box below. Bookmark this site and come again, I add texts here on a regular basis so this will keep you informed. Thank you for reading and have a nice day.