---
This Coleman Pack-Away Deluxe Portable Kitchen in an incredibly functional aluminum portable and nicely packable system for outdoor cooking.
---
Key features & benefits
Removable sink.
Side stand.
Side basket.
Storage shelf.
Lantern holder.
Collapsible design.
Aluminum frame.
Paper towel holder.
---
Where to buy
So what type of camping table is this
First, this table should not be mixed with yet another from the same brand and with a similar name, the Coleman Pack-Away Portable Kitchen. Although the two tables share some features, there are differences in features.
This Deluxe Table is a collapsible construction, and this means it packs in itself but it also needs some simple assembly when you want to use it. You will see this in the video below. So I have added it to my list of best collapsible camping tables.
The pictures below show the whole system when closed and packed, you can see its two sides:
When you open the box, the top working area with many attachment elements is ready to use. The legs fold and pack to the other side of the box as you see from the picture above. You have nice carry handles on the side.
This is a complete camp kitchen as its name suggests and it includes many elements, to mention just the most important ones:
Removable side stand
This part can be detached and it folds and packs together with the main part of the table. Its top dimensions are 26.4 x 15 inches (67 x 38 cm) and here you can put any of Coleman stoves and coolers.
To top of this space is a wire-grid and this is around 27 inches (69 cm) above the ground. The picture below shows one of Coleman camping gas stoves on the grid-top, and the area underneath it can be used to store a Coleman camping cooler.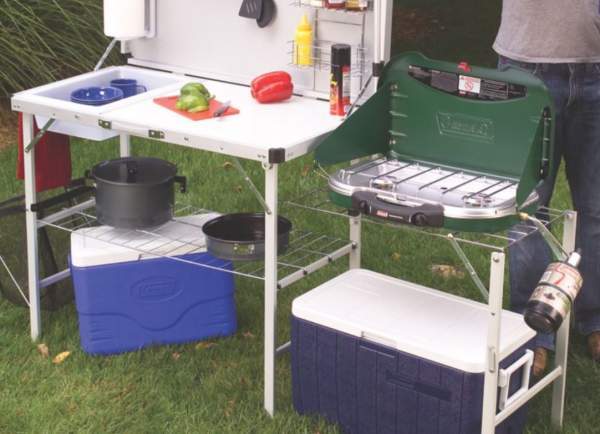 Tabletop with sink
This is the food prep area with lots of space for slicing meats and chopping vegetables. The size is 39.4 x 19.7 inches (100 x 50 cm) and this includes the space where the sink is positioned (the picture below). The sink itself is around 14 x 10 inches (35 x 25 cm) and around 4 inches (10 cm) deep.
The sink is a simple plastic tub and it cleans up easily. Note that the sink is without a hole to drain it out. You just lift it out of its placement for discarding the water. You can use the sink also simply as a storage area close at hand. So it deserves to be included in my list of best camping tables with sink.
This all top area is around 32 inches (81 cm) above the ground so this is quite tall.
The material used for the tabletop and for the vertical the lid which serves as the base for attachment elements is a moisture-resistant MDF.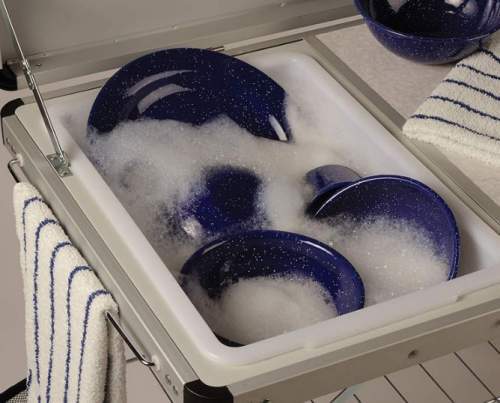 Attachment elements
When you open the table one half serves as a windscreen or as a wall with several useful attachment elements which you always need in a camp kitchen. So you have hooks and wire shelves plus a paper roll holder. The picture below shows how this looks: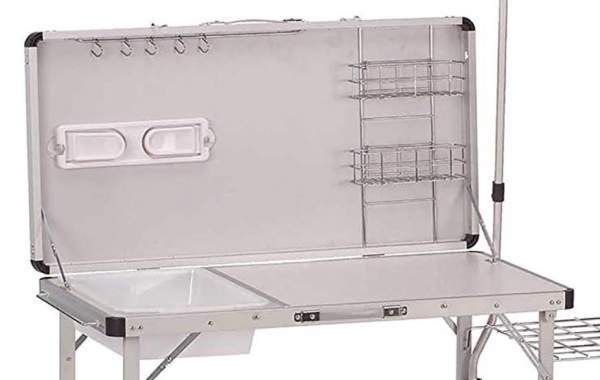 Lantern holder
You can see its base in the picture above, so this is a removable part that attaches to the sides of the frame. The picture below shows how it is used with a lantern. See also the paper towel holder in use.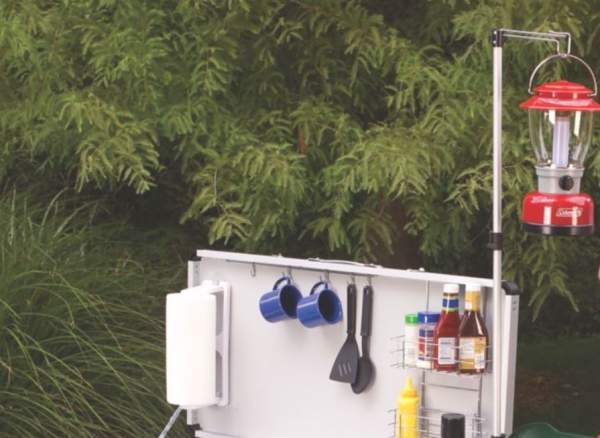 Side bin
The picture below shows how it looks. So it is off-ground and at hand, and you can use it for any purpose you want. If you put a liner bag inside, you can use it for trash, or you can also store vegetables and other stuff inside. Observe the towel hanger on the side above it.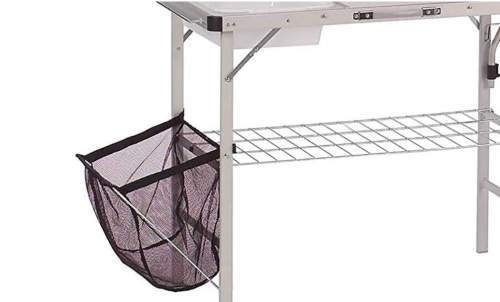 ---
Materials & construction
All the metal parts here is aluminum so in spite of so many elements the structure is still reasonably light and it packs thin. The legs are with cross-connecting bars for stability, and they have also added braces for added support. Some nice and stylish plastic guards are on the corners of the two main sections of the box.

How to set it up and pack away
You will see below in the video how this is done. So simply expand the aluminum frame and snap on the surfaces. Expand and attach the side stand.
Do the opposite when it's time to pack up, it all collapses and folds in itself. There are small latches on each side to keep everything together. Note that there is no carry bag that would keep the things safe from dust and for transportation, pity.
Please see more in the video:
---
Who is it for
Regarding the weight and packed size, this is a bit heavy but still portable item with its 33.07 lb (15 kg) of weight and its packed size of 39.5 x 20 x 7 inches (100 x 51 x 18 cm).
So it is quite large when packed but it is thin to fit into narrow spaces for transportation and storage at home.
Regarding functionality and features, this is a very versatile item, obviously designed for camping, but you can use it in any situation where you would prepare food outdoors.
Note that you do not have to us all the elements all the time. This holds for the side stand, and also for the lantern hanger.
---
Specifications
Weight: 33.07 lb (15 kg).
Dimensions when unfolded (L x D x H): 73.3 x 19.7 x 79 in (186 x 50 x 200 cm). This height is with the lantern hanger extended to the maximum.
Prep surface dimensions: 39.4 x 19.7 in (100 x 50 cm).
Side table dimensions: 26.4 x 15 in (67 x 38 cm).
Packed size: 39.5 x 20 x 7 in (100 x 51 x 18 cm).
---
Coleman brand
Have you noticed the logo of this brand? So this is a lantern. The company started more than 100 years ago by W.C. Coleman who was plagued with a very poor vision. But after seeing a brilliant light in 1900 in a drugstore window, which was bright enough so that he could read, he started a lighting service.
The rest is history and this is now a leading company in the outdoor industry.
---
Final thoughts, rating, pros & cons
So this Coleman Pack-Away Deluxe Portable Kitchen is with so many features and functionalities, and it is hard to find a camping table that would match it.
The price may look steep but this system has lots of features and elements included, so this is a normal price. I have added it to my list with best portable camp kitchen.
The table is also incredibly popular, and on Amazon alone you will find many hundreds of customers' reports. The average rating is very high. Now, my own rating is a bit different, please have a look.
My rating of the Coleman Pack-Away Deluxe Portable Kitchen
Weight -

2/10

Dimensions -

10/10

Packed size -

2.5/10

Craftsmanship & features -

9.8/10
Summary
My overall rating of this camping table is Good. I use my standard set of criteria and apply them to all the tables in the site. The packed size and weight negatively affect my overall rating.
Pros
Incredibly functional.
Large cooking area.
Easy to use.
Cons
A bit heavy.
Bulky when packed.
Please check in my separate list Coleman camp tables if you want to see more tables from this brand, or under the category Camping Tables if you need more options to consider.
Thank you for reading. Please use the comment box below in the case of comments or questions.