---
Portal Outdoor Folding Portable Picnic Camping Table with Adjustable Height is an incredibly nicely built and reliable all-aluminum outdoor item and with a great price tag.
---
Key features & benefits
Collapsible design.
Independently adjustable legs.
Storage elements.
Carry bag included.
Aluminum tabletop.
Great price.
---
What this is about
Here you have a great example of a collapsible camping table, with all good and bad that comes with it. The good is that it packs to a relatively small size and it remains large in one dimension only. The packed size is 35.4 x 7.1 x 5.1 inches (90 x 18 x 13 cm).
The bad is that it needs a simple assembly when you plan to use it. But this is easily done in just a few moves and without any extra tool. The picture below illustrates the steps which imply the following:
Expand the frame.
Expand the accordion-type tabletop on the top of the frame.
Press it at places with clips so that it firmly attaches to the frame, job done.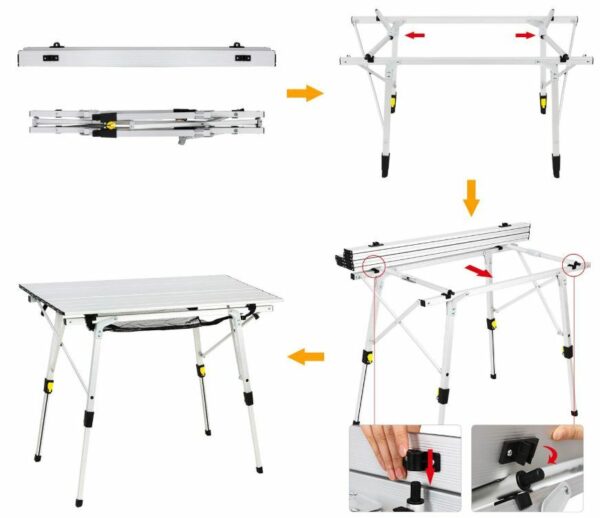 Note that you have only two main pieces here, the folding frame and the accordion-type roll-up tabletop. Both fit nicely in its included carry bag shown below in the picture: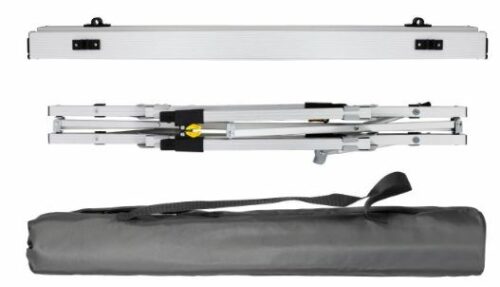 Because of such a nice design, I have added it in my list of best collapsible camping tables.

Adjustable legs
Here you have one of the best legs adjustability system on the market. This is because of the following features they integrated in the design:
The legs adjust independently. This is important for camping where the ground is rarely flat and you need this to have a stable table.
The legs adjust to any length in the range of 17.7 – 27.5 inches (45 – 70 cm). So again, no matter how the ground can look, you can have a perfectly leveled table.
This is a continuous system, so the legs can be fixed at any height in the given range. This makes it very different from those tables where you have only several specific positions which makes independent adjustability practically useless. So what you have here is an excellent design.
There is a simple and easy to use locking mechanism for each of the legs, see the picture below.
The picture shows how the legs are adjusted. In view of such a great design, I have included it in my list of best camping tables with adjustable legs.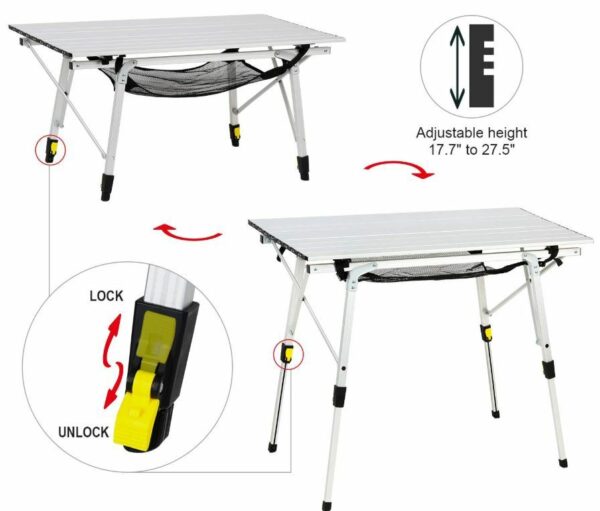 With such a height difference, you might use it even with one pair of legs on a stair and still have a horizontal table surface.
Versatility
The picture shown above suggests that this is indeed a very versatile table. On the lowest position of its legs, you can use it as a side table in the camp, to play cards, to drink your coffee or anything similar.
On the highest legs position, you can use it as a dining or cooking table. The height is not bad though not perfect, the tabletop sits at 27.5 inches (70 cm) above the ground.
Storage feature
It is not much here, but they have added a storage net that you can attach underneath the tabletop. So it is removable and very useful, you can use it in any of the described heights of the table. You can see it in the pictures above.
This is a small but nice detail that adds to the versatility of this table. I have added it to my list of camping tables with storage features, so follow the link to see more, some offer huge storage options.
---
Materials & construction
This is all good stuff used here, aluminum legs and aluminum tabletop, this is reflected in the weight which is 9 lb (4.2 kg). This may look a lot but bear in mind that such legs imply overlapping sections so there is some extra material in their construction to make them so functional.
There are also a few supporting bars that stabilize the table against side movement. You have non-skid feet, see the picture below.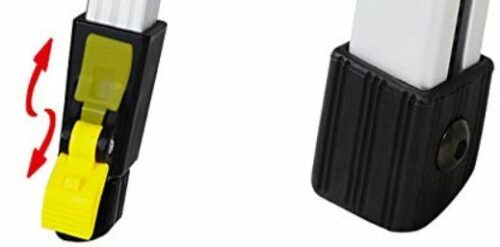 This is a strong construction and its weight capacity is 66 lb (30 kg). I doubt you will ever need more.
---
Who is it for
Regarding the weight and packed size, obviously this is a camping table for places with a car access. As mentioned, it is a bit long when packed, but this is a thin tube that will fit easily anywhere in the car or your trailer. It is probably too long for a motorbike.
Regarding the functionality, as mentioned above, this is a versatile item and you can use it for camping, picnics, at the beach, it is great for tailgating, and also for backyard use.
Regarding the materials, this is a true outdoor item, and it will behave well when exposed to elements. The tabletop is heat-resistant so that you cook on it.
---
Specifications
Weight: 9 lb (4.2 kg).
Weight capacity: 66 lb (30 kg).
Dimensions (L x W x H): 35.4 x 20.9  x 17.7/27.5 in (90 x 53 x 45/70 cm).
Packed size: 35.4 x 7.1 x 5.1 in (90 x 18 x 13 cm).
1 Year warranty.
---
Rating, pros & cons
As of the moment of writing this text, this is one of the top best-selling camping tables on Amazon. There are many reports already and the average rating is incredibly high.
Now, I have my set of criteria which I consistently use for all the camping tables here in the site so that you can easily compare. Please have a look:
My rating breakdown of the Portal Outdoor Folding Portable Picnic Camping Table:
Weight -

7.5/10

Dimensions -

8.4/10

Packed size -

7.5/10

Craftsmanship & features -

9.7/10
Summary
My overall rating of this camping table is Very Good:
Pros
Top craftsmanship
Great legs adjustability.
Quality materials.
Very good price.
Carry bag.
---
Final thoughts
So you have seen it, this Portal Outdoor Folding Portable Picnic Camping Table with Adjustable Height is a very functional and easy to use outdoor table with some very useful features. Its legs adjustability is among the best you can find on the market.
The materials are of high quality, and the price is more than appropriate, fully recommended.
Thank you for reading. Please note that this is not a sponsored text, and I am not paid by the manufacturer. I love to hear from you so please use the comment box below. Have a nice day and pleasant camping.

---