---
VINGLI 4 Foot Folding Table with Adjustable Height is an easy to use and incredibly affordable camping dining and cooking table.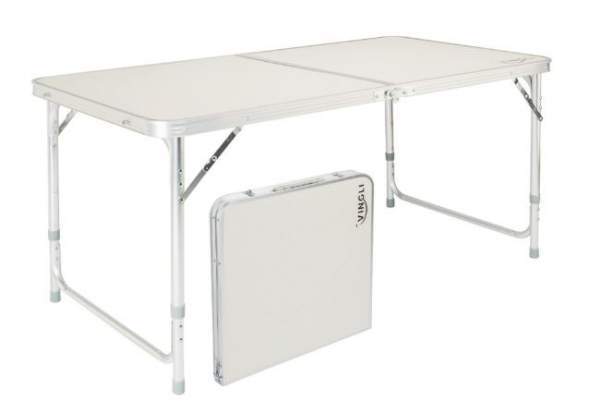 ---
Key features & benefits
Folding table.
Adjustable height.
Very large tabletop.
Incredible price.
---
Where to buy
This VINGLI 4 Foot Folding Table is available on Amazon. They operate globally so please follow the links and check the price and shipping conditions for your location.
---
What this is about
Here you have one of folding camping/picnic tables. So when packed it remains large in two dimensions, but it is very thin. The packed dimensions are 23.6 x 23.6 x 2.7 inches (60 x 60 x 7 cm).
The picture below shows how it looks when folded. As you realize, there is a handle on the side which helps in carrying it short distances. The legs fold inside and it looks like a thin box.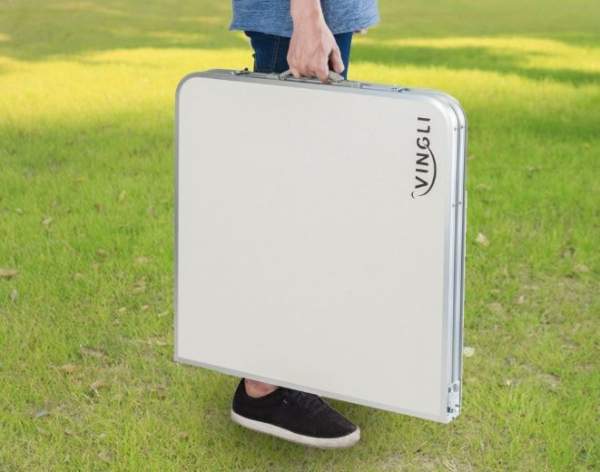 Adjustable legs/height
This is a design with adjustable height. So the legs can be extended or shortened and you have three specific heights available, 21.6, 23.6, 27.6 inches (55, 60, 70 cm). This allows for using it as a side table with its two lower heights, and also as a dining or cooking table in the highest position.
Observe that the legs can only be adjusted in pairs. I have included it in my list of best tables with adjustable legs.
Materials
The frame and all metal elements are aluminum. The tabletop is MDF, so this material should not be exposed to rain for an extended period of time. Some of the details in its construction are shown below. You have stabilizers in the corners under the tabletop, and a latch to make the surface flat and stable

---
Who is it for
So you have seen its packed size, it is large in two dimensions, and if you use it as a camping table, this is for places with a car access.
But you can also use it at home for your party or barbecue events in the garden. When not in use, fold it and store somewhere, being so thin it will fit in narrow spaces.
Regarding the tabletop size, this is a large table, big enough to be used in the camp as a dining table for 4 people.
---
The price & rating
I mentioned its incredible price and you can see it below. So it is hard to find any table of this type on the market which would come close to such a price.
Please see how I rate this table using my standard set of criteria. This will allow you to compare it easily with any other table here in the site:
My rating of the VINGLI 4 Foot Folding Table:
Weight -

6.5/10

Dimensions -

9.2/10

Packed size -

7/10

Craftsmanship & features -

8/10
Summary
My total average rating is:
Pros
Functional design.
Easy to use.
Portable.
Three heights.
Incredibly affordable.
Cons
Not fully water-resistant tabletop.
Large when packed.
---
Specifications
Weight: 12.2 lb (5.5 kg).
Dimensions tabletop: 47.2 x 23.6 in (120 x 60 cm).
Three heights: 21.6, 23.6, 27.6 in (55, 60, 70 cm).
Packed size: 23.6 x 23.6 x 2.7 in (60 x 60 x 7 cm).
---
VINGLI 4 Foot Folding Table with Adjustable Height vs Competitors
It is always a good idea to see how such a table stands when compared with its closest competitors. This may help in making an informed decision.
So here I give it side by side with the Redcamp Aluminum Folding Table and the Coleman Pack-Away Table.
All three are with the same tabletop material and all are folding. If you follow the links you can read more. You will see that Coleman's table is much more versatile, while all three are very affordable.
Dimensions
(L x W x H), in (cm)

Vingli 4 Foot
Folding Table
47.2 x 23.6 x 27.6
(120 x 60 x 70)

23.6 x 23.6 x 2.7
(60 x 60 x 7)

Redcamp Aluminum Folding Table
35.4 x 23.6 x 27.6
(90 x 60 x 70)

23.6 x 17.8 x 2.7
(60 x 45 x 7)

31.5 x 31.5 x 31.5
(80 x 80 x 80)

31.5 x 16 x 3
(80 x 41 x 8)

---
Final thoughts
So you have seen it all, this VINGLI 4 Foot Folding Table with Adjustable Height is indeed functional and with great dimensions. The adjustable legs make it even more versatile because you can use it as a side table as well. The price is without a match. I have added it to my list of best rated folding camping tables.

If you would want more options, just check in the category Camping tables here in the site. You will find them in a variety of sizes and designs. Check this Timber Ridge Foldable Table built in the same style but with extra storage elements.
Note that this is not a sponsored text, and I am not paid by the brand. Please use the comment box below in the case of questions or comments. Have a nice day.