---
The Snow Peak Single Action Round Table Low LV-071TR is a unique folding design with a bamboo tabletop and an aluminum frame.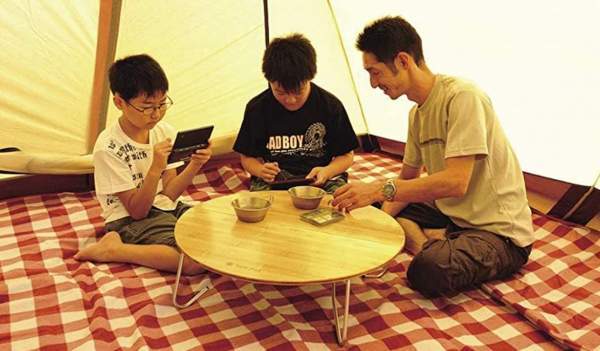 ---
Key features & benefits
Unique and folding design.
Very easy to use.
Bamboo tabletop.
Aluminum frame.
Carry bag included.
---
Overview
This Snow Peak Single Action Round Table Low LV-071TR is designed in Japan, and it has been on the market since 2008 as far as I know. But this is a renewed version, hence the letter R in its product number LV-071TR. It appears that only the tabletop color is slightly changed.
This is one of several tables from this brand that have the words Single Action in the name. The meaning is that it folds in half its width, and the legs fold together in one single smooth move. The pictures below show how this looks:
The carry bag in the picture is made of nylon and its dimensions are 25.6 x 10.2 x 2 in (65 x 26 x 5 cm). So you see it is very thin and the size is half the size of the table.
Materials & construction
Obviously, the best part of it is its bamboo tabletop. This is why I have included it in my list of best bamboo camping tables.
The picture below shows what you have underneath the tabletop, so these legs all fold as shown above. This is an aluminum frame with steel brackets.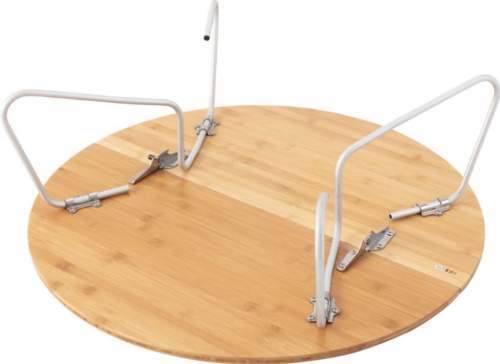 There is a locking mechanism here, it is shown in the picture below. You simply press the button visible here and this allows the table to fold.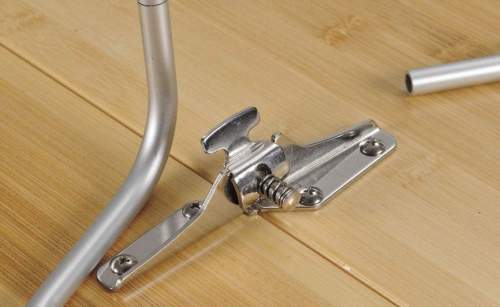 The legs are floor friendly so you can use the table anywhere and this includes also floored family camping tents, see how they look: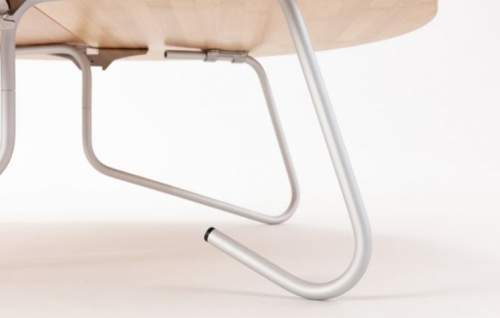 ---
Who is this table for
Regarding the dimensions, this is a round table with the dimensions (D x H) 25.6 x 8.3 inches (65 x 21 cm).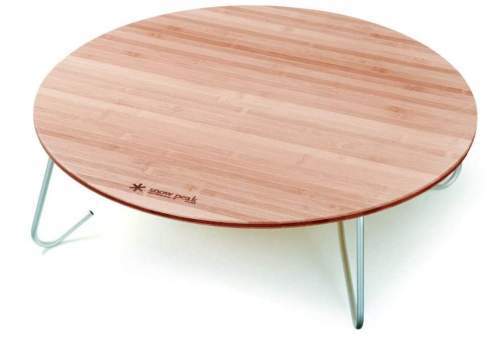 You realize it is very low, and it is most suitable for people who are used to sit around such low tables with crossed legs. This is very typical in Japan and in a big part of Asia, but for westerners it is best to use some very low camping chairs and use it as a side table. You will see some of them in my list of best beach chairs.
Regarding the weight, it is on the heavy side with its 8.4 lb (3.8 kg). However, this is why you have such a nice and pleasant bamboo tabletop. In fact, I am surprised that it is not heavier.
The packed size shown previously in the text also tells you that this is a car camping table. But it looks so good that you can use it at home as well.
Regarding the price, it is steep as usual for this brand. There are several links below where you can compare some options.
---
Specifications
Weight: 8.4 lb (3.8 kg).
Dimensions (D x H): 25.6 x 8.3 in (65 x 21 cm).
Folded dimensions: 25.6 x 10.2 x 2 in (65 x 26 x 5 cm).
Frame: aluminum.
Tabletop: bamboo.
Warranty: lifetime warranty.
---
Rating, pros & cons
The table below summarizes my rating and some pros and cons. There is a rating bar for you so you can rate it from your side:
Unique design & bamboo tabletop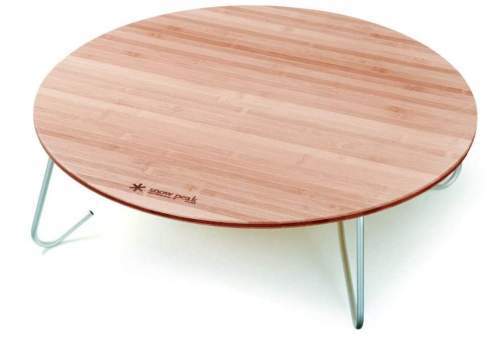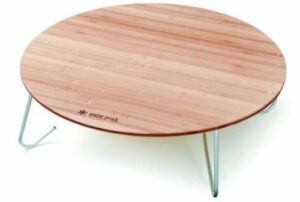 Product Name: Snow Peak Single Action Round Table Low LV-071TR
Product Description: The Snow Peak Single Action Round Table Low LV-071TR Is a Unique Folding Easy to Use Structure with a Bamboo Tabletop and an Aluminum Frame.
Brand: Snow Peak
SKU: B07VHJ6VGY
Weight -

8/10

Dimensions -

7.2/10

Packed size -

9/10

Craftsmanship -

9.7/10
Summary
The table is quite low and this affects the overall rating bit it is still Very Good.
Pros
Great warranty.
Ingenious design.
Top quality.
Great craftsmanship.
Carry bag.
---
Final thoughts
So this Snow Peak Single Action Round Table Low LV-071TR is a typical product of this brand. By this I mean an ingenious design, top-level craftsmanship, ease of use, and a great warranty that should put your mind at ease. But this all comes at a price.
You can use it on your day trips, picnics, and for car camping, but it looks great and suitable for home use as well. I have included it in my list of best folding camping tables. Fully recommended.
Best places to buy:
For more options, please check under the category Camping Tables, you will find them many here in the site, and in all sizes and shapes. If you would rather have a rectangular table with the same folding design, please check their Snow Peak Single Action Low Table.
Let me know if you have questions, there is a comment box below. Thank you for reading and have a nice day.