---
This Bushtec Adventure Sierra Canvas Camp Cupboard & Camping Table is a nicely built and versatile outdoor piece of furniture, easy to use, and functional.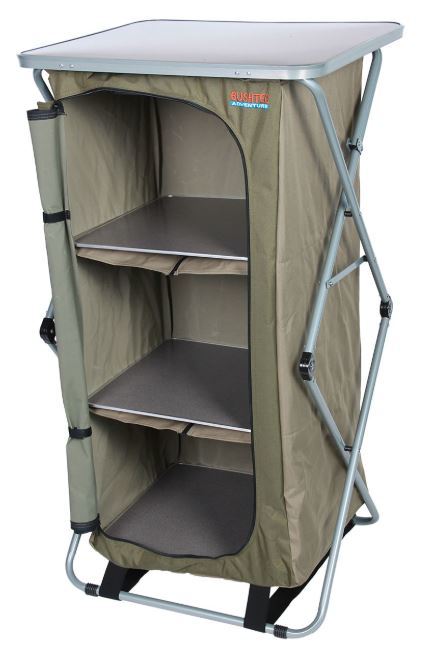 ---
Key features & benefits
Multiple-purpose storage.
Great quality.
Carry bag included.
---
What this is about
This item is also on the market under the name Bushtec Adventure Sierra Single Camp Cupboard, and the word Single makes it different from their another double-wide Bushtec Adventure Sierra Double Canvas Camp Cupboard built in the same style.
So this Bushtec Adventure Sierra Canvas Camp Cupboard is a versatile item with several possible functions. The top picture above shows it in the configuration with its shelves.
In this configuration, it is up to you how to use such a space. This can be a camping table for cooking, the tabletop is large enough for such a use, it measures 26 x 22 inches (66 x 56 cm).
In this case the shelves can be used as a great storage space, and this is why I have included it in my list of camping tables with storage. Note that you have 3 levels for storage so you can store all your dishes and pots inside, and food as well.
Note that even with shelves you can use it in the tent as a piece of camping furniture where you can store your underwear and other small items like books etc.
But the picture below shows its another function with the shelves removed and with a bar underneath the tabletop. So you can use it again as a wardrobe and hang your clothes. Observe that it is tall enough for such a use, you have 47 inches (119 cm) of the vertical space inside.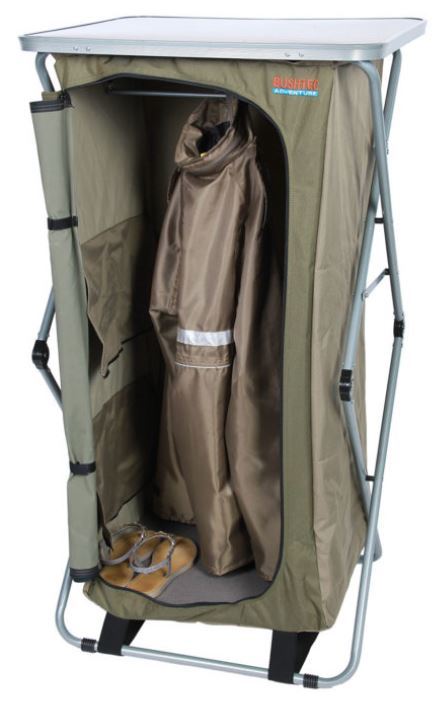 Note that the legs are just two bars, so no matter where you use it this is a floor-friendly structure. It will not damage tent's floor.
The materials
This is a steel folding construction, and from the pictures you realize how the frame folds. Observe those long sections, this is why it is so large when packed. The tubes are 19 mm in the diameter and 0.8 mm thick. So this is a very strong structure.
The tabletop is some sort of plastic and you have an aluminum frame around it. Inside is probably some sort of engineered fiberboard material. The same stuff is used also for the shelves.
The fabric is a durable 600D polyester. So there is nothing one could object to these materials. The carry bag is included as well.

---
Specifications
Weight: 24 lb (10.9 kg).
Weight capacity: 55 lb (25 kg).
Dimensions (W x L  x H): 26 x 22 x 47 in (66 x 56 x 119 cm).
Packed size: 37 x 28 x 7 in (94 x 71 x 18 cm).
Frame: steel.
---
Rating, pros & cons
It is a bit difficult to properly rate such a product because this is not just a camping table, it is more than that. But it is quite heavy and large in two dimensions when packed, so this affects my overall rating because I use the same set of formulas and criteria for all the tables here in the site.
It is bulky when packed but it is also very thin so it fits into narrow places. The weight is not a big deal because this is a car camping item.
Functional and versatile piece of camping equipment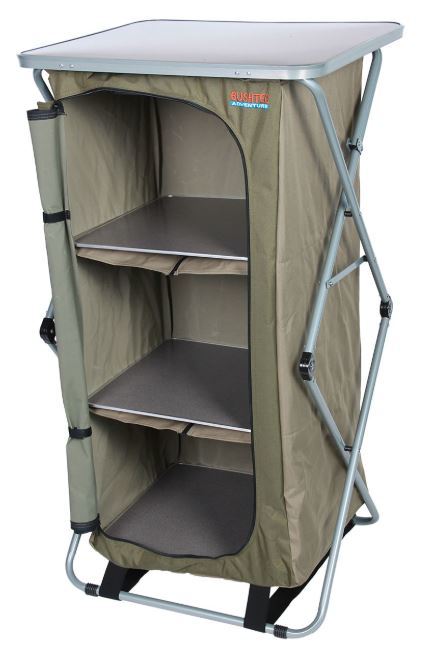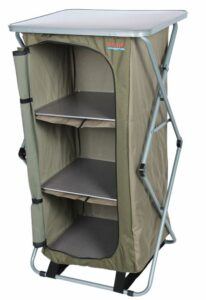 Product Name: Bushtec Adventure Sierra Canvas Camp Cupboard, Camping Table or Outfitter Cupboard, Table
Product Description: This Bushtec Adventure Sierra Canvas Camp Cupboard & Camping Table is a nicely built and versatile outdoor piece of furniture, easy to use, and functional.
Brand: Bushtec Adventure
SKU: B01LWACR9C
MPN: CB041W
Weight -

2.5/10

Dimensions -

8.9/10

Packed size -

2/10

Craftsmanship & features -

9.8/10
Summary
This item is large when packed and it is also very heavy. The weight means it is sturdy and stable so it is not necessarily a bad thing. My overall rating is Good.
Pros
Quality craftsmanship.
Quality materials.
Versatile product.
Carry bag included.
Cons
Large when packed.
Heavy.
---
Final thoughts
In summary, this brand is globally known for the quality and durability of their products and this Bushtec Adventure Sierra Canvas Camp Cupboard & Table is not an exception. It is nicely built, functional, versatile, and elegant. Fully recommended.
If you need more options, just check under the category Camping Tables here in the site. Check this Timber Ridge Camping Foldable Cook Table built for the same purpose.
Thank you for reading. Note that I add texts here regularly, so bookmark this site and visit occasionally. Stay informed and subscribe to my weekly newsletter, there is a subscription form below. Have a nice day.