---
This GCI Outdoor Master Cook Portable Folding Camp Kitchen review is about an incredibly functional camping cooking station with plenty of useful features for cooking in the camp. So keep reading.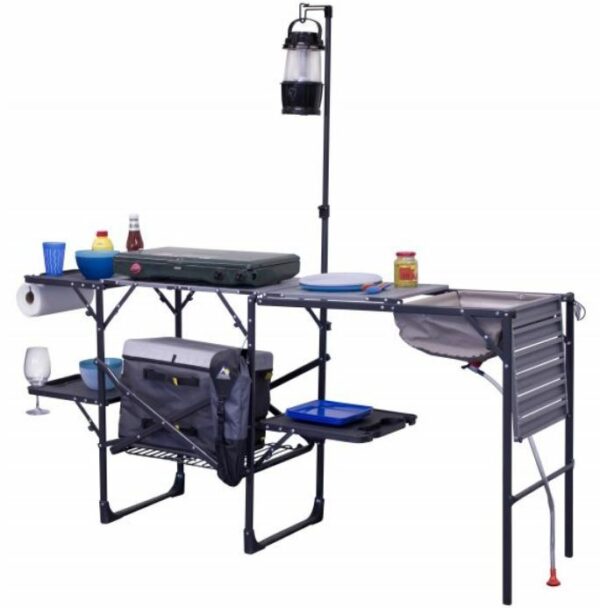 ---
Key features & benefits
Space for grilling.
Sink included.
Lantern hanger.
Multiple storage shelves.
Steel frame.
Aluminum tabletop.
---
What this cooking station is about
So here you have a folding design, namely, the bigger part of this station is a folding construction which you see in the picture below. It is very easy to use, just unfold and it is ready.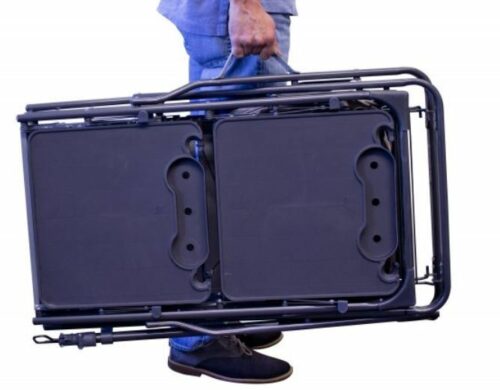 This is their patent-pending Slim-Fold Technology and the system sets up and breaks down easily. So I have added this item in my list of best folding camping tables.
Here are a few words about its main components.
The tabletop
The tabletop is at 32.3 inches (82 cm) above ground so this is a proper height for a kitchen system.
Now, you can use it with the sink closed and the sink open. The whole length is around 56 inches (142 cm) when the sink is closed, and you have around 42 inches (107 cm) of the tabletop width when the sink is open. The surface is a heat resistant aluminum. So this is a system that can be used for cooking and also as a grill table.
When you open the side table, you have around 70 inches (178 cm) width in total. This extension is plastic but this is a huge area in any case.
The sink
The sink is not removable, it is built of a soft material, and it is equipped with a drain. It simply collapses easily when the unit is folded up. As mentioned, you can close it and have a larger tabletop space. See how it looks.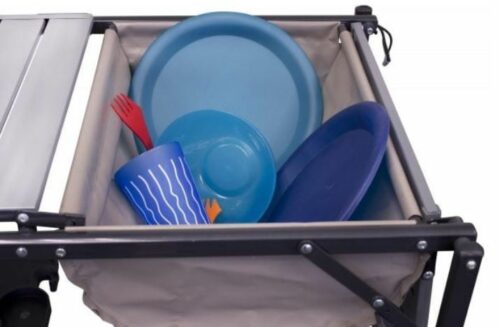 Because of this feature, I have added it to my list of best camping tables with sink. The picture below shows the whole system with some cooking stuff. Observe the sink's lid on the side, this is how you open it: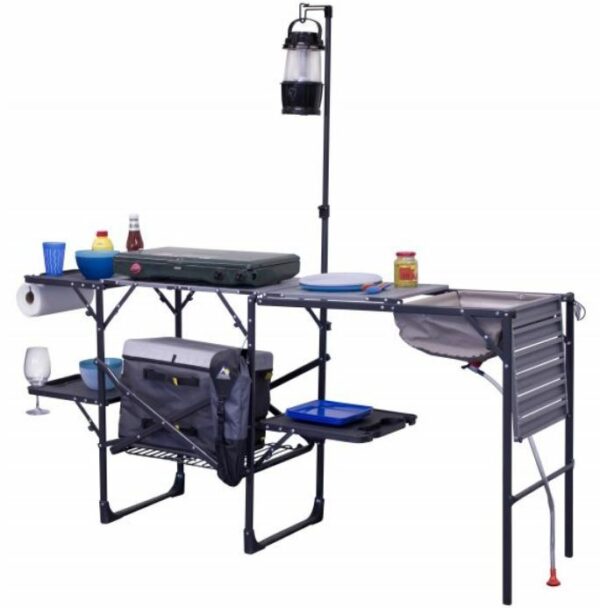 Storage elements
Steel rack: There is a steel rack underneath the tabletop, with a huge weight capacity (shown below):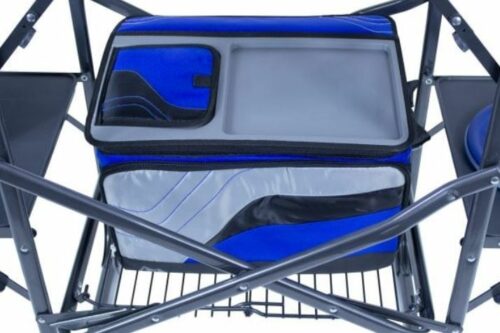 The side tables: The 3 plastic side tables are there, and they are with integrated beverage holders, stem glass holders and hooks that can be used as a garbage bag or paper towel holder, and also to hang cooking utensils, see the picture below. They all fold flat.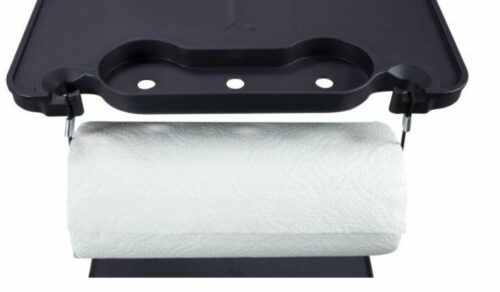 You also have a telescoping lantern pole. In view of all these features, I have added it to my list of camping tables with storage elements.

Huge capacity
There are many elements here and each has its own weight capacity, you will see the numbers for some of them in the specifications below. On the whole, the station can hold more than 170 lb (8o kg) of weight in all its tables and racks.
See how to use it:
---
Who is it for
Regarding its features, this is a great camping cooking station, but you can use it also for picnics and for tailgating parties.
Regarding its weight and its packed size, if you use it away from home, this is for places with a car access. The structure is indeed large in two dimensions when packed, but it remains very thin, only 15 cm.
Regarding the price, it is a bit expensive, but this is a quality product and with so many useful features. So it is worth the investment.
---
Rating, pros & cons
Please see below how I rate this coking station, the same criteria are used for all camping tables here in the site, so you can easily compare:
My rating of the GCI Outdoor Master Cook Portable Folding Camp Kitchen
Weight -

2.5/10

Dimensions -

10/10

Packed size -

2.5/10

Craftsmanship & features -

9.7/10
Summary
The weight and packed size negatively affect the overall rating, but see its dimensions and features. Overall this is Good:
Pros
Huge size.
Great weight capacity.
Great features.
Very easy to use.
Top-level craftsmanship.
Cons
Heavy.
Bulky when packed.
No carry bag.
---
Specifications
Weight: 22.7 lb (10.3 kg).
Dimensions (L x W x H): 22.2 x 70 x 68.3 in (56 x 178 x 173 cm). This is with the hanger up.
Packed size: 34.8 x 21.7 x 5.9 in (88.4 x 55 x 15 cm).
Tabletop weight limit: 48 lb (21.7 kg).
Storage rack weight limit: 35 lb (15.9 kg).
Weight limit per side table: 30 lb (13.6 kg).
Frame: powder-coated steel.
Limited lifetime warranty.
---
Final thoughts
In summary, I hope this GCI Outdoor Master Cook Portable Folding Camp Kitchen review has been useful to you. This station is easy to open, setup, and close. It brings the kitchen outside for a variety of activities like camping, picnics, tailgating, and outdoor parties.
It also folds flat for storage, and it has a convenient carry handle. This is a top-quality product and a patented design, fully recommended.
There is yet another camping table from this brand here in the site, the GCI Outdoor Slim-Fold Outdoor Cook Station, have a look and compare.
Thank you for reading. Note this is not a sponsored text and I am not paid by the brand.
We add texts regularly, so bookmark this site and stay informed. There is a subscription box below for our weekly newsletter. Have a nice day.