---
This REDCAMP Aluminum Folding Table Review is about a portable camping table with adjustable legs, with fiberboard top, and an incredible price.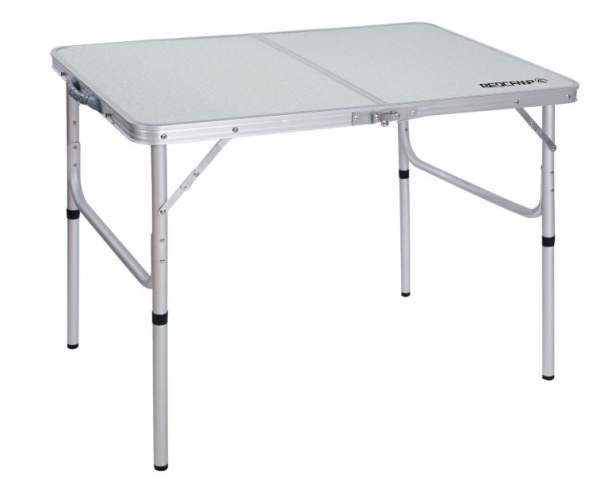 ---
Key features & benefits
Aluminum frame.
Fiberboard hardtop.
Folding design.
Adjustable legs length – 2 heights.
Several table sizes to choose from.
Great price.
---
Where to buy
This table is available on Amazon's camping tables department and also in their department with folding tables. They operate globally so please follow the links and check shipping conditions for your location.
---
What type of a camping table is this
So this REDCAMP Aluminum Folding Table is what its name says, a folding type and this implies that you close it like a book and close as a thin suitcase to carry around. See the pictures: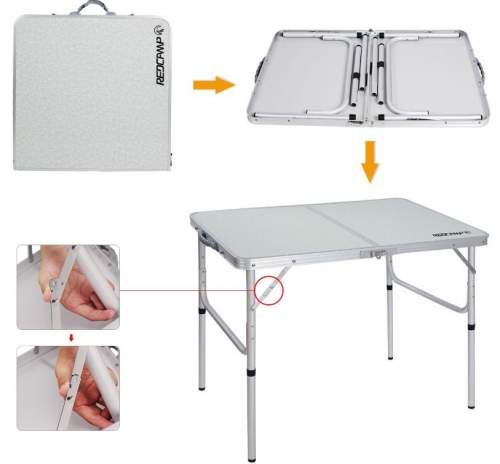 So as you realize, this table packs into itself and its packed size is half the tabletop 23.6 x 17.8 x 2.7 inches (60 x 45 x 7 cm). It becomes thin when packed so it can fit in narrow spaces at home, or in the car and trailer. There are nicely designed carry handles on the side, see the picture: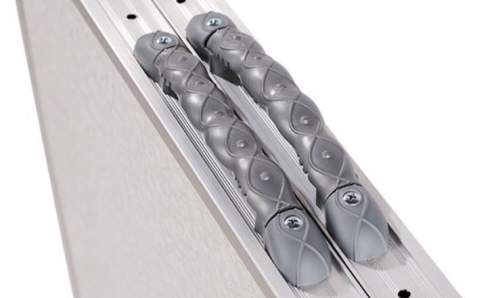 Several sizes of the table
Note that they sell several sizes of this table, all at the same spot on Amazon, so this is a whole series. The smallest is only 40 x 30 x 6.5 cm when packed. I focus on one particular size here in the text, but they all share more or less the same features.
The smallest table in this series is shown in the video below, but they all work on the same principle, please have a look:
Adjustable legs
There are two separate things here:
The main 2-length legs adjustability.
Additional fine-tuning with its anti-slip feet (see the picture below). This allows for a few centimeters of adjustment. You will need it in the camp, the ground is never perfectly flat.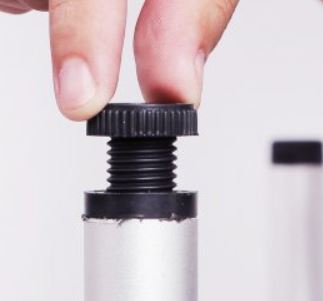 The mentioned main 2-lengths give you the table with the height 15 and 27.6 inches (39 and 70 cm). This means you can use it as a side table, and also as a standard dining and cooking table. This 70-cm height is the height of the tables at home.
When you add extensions, you will hear a click and a pop-up button will lock the extension in place. I have included this table in my list of best camping tables with adjustable legs.
Note that you have security locks in all the corners under the tabletop (shown below). In addition, the two parts of the tabletop also lock to each other with a latch shown in the picture below:
Materials
The frame and all metal elements is an aluminum alloy. The tubes used for the legs are wide, around 1 inch in the diameter.
The hardtop is made of medium-density fiberboard. It has an aluminum wraparound, see the picture below. Note that the letters MDF are used for such a fiberboard material. This is a sort of engineered wood obtained by breaking down the wood into its fibers and then mixing it with vax and resin. So this is a very hard and durable material.
There are also 4 hooks on the sides where you can attach some small items in the camp, one is shown in the picture above.
---
The price & rating
The table is on the market with the price available in the link. So these are incredibly affordable tables, no matter which size you choose.
There is a number of reports by customers on Amazon and the average rating is exceptionally high 4.5/5. It turns out that my own rating is quite close to this value. But note that I use my standard set of criteria and apply them for every table here in the site so you can compare easily:
My rating of the REDCAMP Aluminum Folding Table:
Weight -

9.2/10

Dimensions -

8.6/10

Packed size -

8/10

Craftsmanship & features -

9.7/10
Summary
My total average rating is:
Pros
Excellent price.
Easy to use & transport.
Quality craftsmanship.
Lightweight.
Portable.
---
Specifications
Weight: 4.5 lb (2.1 kg).
Tabletop size: 35.4 x 23.6 in (90 x 60 cm).
Height: 15/27.6 in (39/70 cm).
Folded size: 23.6 x 17.8 x 2.7 in (60 x 45 x 7 cm).
Warranty: unconditional 365-day manufacturer warranty.
---
REDCAMP Aluminum Folding Table vs ALPS Mountaineering Camp Table
I thought it might be interesting to see how these two tables stand when compared side by side. Note that the Alps Mountaineering Table is collapsible and this means it needs some simple assembly, but it packs a bit better.
The Redcamp Table is considerably lighter although its tabletop is slightly bigger, and this is a true dining table. Plus, it has adjustable legs. Both are very affordable.
Dimensions
(L x W x H), in (cm)

Redcamp Aluminum
Folding Table
35.4 x 23.6 x 27.6
(90 x 60 x 70)

23.6 x 17.8 x 2.7
(60 x 45 x 7)

Alps Mountaineering
 Camp Table
28 x 28 x 27
(71 x 71 x 69)

---
Final thoughts
So I hope this REDCAMP Aluminum Folding Table review has helped you to understand the features of this incredibly affordable camping table.
As you realize, it is very portable and easy to use. This makes it a versatile outdoor item which you can use as a camping or picnic table, but also as an emergency serving table at home and in the garden, for outdoor dining, at the beach, or at your fishing spot. I have added it to my list of best rated folding camping tables.

Please check under the category Camping Tables here in the site if you need more options to consider. See for example this Coleman Pack-Away 4-in-1 Table which is also folding type but it included two tables in one.
Note that this is not a sponsored text, and I am not paid by the brand. Please use the comment box below in the case of questions or comments. I wish you a nice day.

---