---
This text is about off-ground sleeping tools and I give double camping cots presently available on the market, all collapsible & folding, with a sturdy construction, and capable of supporting two grown-up people.
What is this about – why this text
There are many single camping cots on the market and some of them are presented in this site. It is hard to follow all new models that appear almost daily.
However, the situation with double wide camping cots is completely different, there are not so many and I have done my best to present those that are available.
Below, I also give examples from yet another category, double tent-cots (or cot-tents), all are described in detail within this site, so here I only give links. This all is just for completeness, to have all of them in one place, and to make an educated choice if you are in search of a tool of this type.
---
My list of camping cots for two people
Here is my list of double cots given in alphabetical order:
All models are collapsible, which means they pack to a relatively small package, with only one long dimension. This makes them essentially different from foldable cots where you always have two long dimensions.
Such a collapsible design means that they require minimal storage space at home or in the car. So you will love to have it at home in the case of overnight guests. The Coleman models are clearly bulkier, but this is because they include the air pads, these are complete sleeping systems.
---
1. Coleman Queen Airbed Cot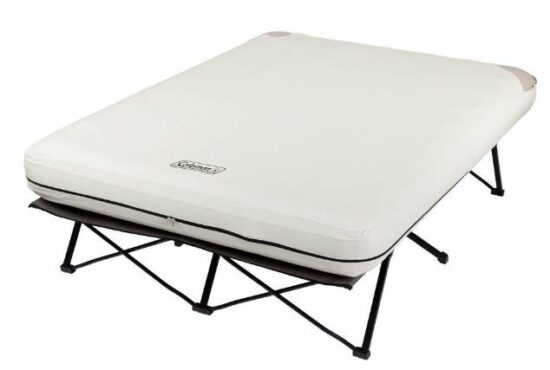 Coleman writes about taking the comfort of an indoor bed with you when you sleep outside, and this is true with this cot which includes a thick air mattress as well, just see the picture.
You have the bed with 78 x 59 inches (198 x 150 cm). So clearly, this is suitable for tall people and the width is without a match. The most important features are:
All in one system, cot, and mattress.
Very comfortable.
2 side tables with cup holders.
Included pump.
Strong construction.
Double Lock Valve on the air pad.
Pad cover included.
This is a very strong steel structure here, with a huge weight capacity of up to 600 lb (272 kg).

---
2. Coleman Airbed Cot Twin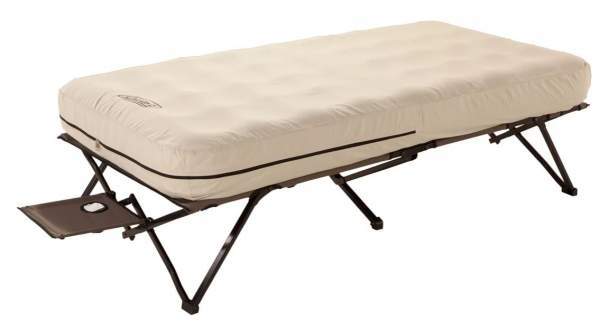 This is a smaller brother of the Queen cot presented above. So indeed, you have the bed size here 74 x 40 inches (188 x 102 cm), and the weight capacity is 300 lb (136 kg). Clearly, it may be good for a mother and a child, or for two children. The features include:
All-in-one system, cot, and mattress.
2 side tables with cup holders.
Included pump.
Strong construction.
Double Lock Valve on the air pad.
Pad cover included.

---
3. Coleman Queen Frame Airbed Cot with Side Tables and Built-In Pump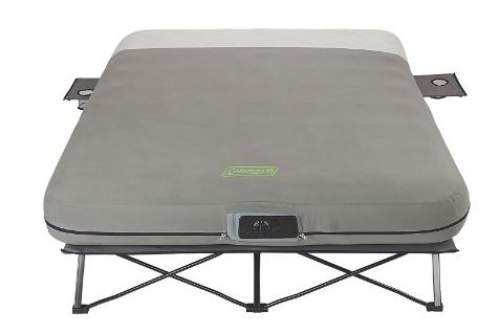 As the name suggests, this cot comes with a built-in pump while the bed size is the same as the Coleman Queen AirBed presented above. The most important features are the following:
A complete sleep system.
Included 2 side tables with cup holders.
Mattress sleeve/cover included.
Integrated built-in pump.
Very large and comfortable.
Strong construction.

---
4. Disc-O-Bed Large With Organizers
Here you have something totally unique, a system that can be used in several different ways. So you have a bunk beds system, a double cots system, and a bench. This all is nicely packable and portable.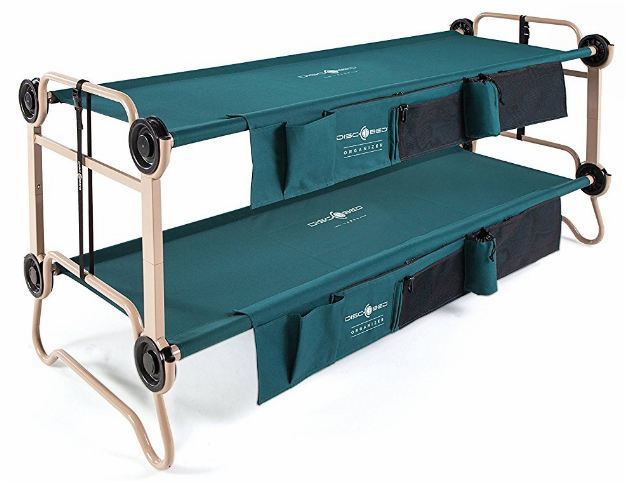 So as you realize, this system is far more than just a double camp cot. The two cots can be used side by side and then you indeed have a double cot, but you can use them also separately, and different places.
The picture above shows numerous storage pockets attached to each of the beds separately. So they can be used with beds when they are separated from each other.
This is a rather expensive system but totally worth the money, there is nothing even remotely similar to this. They sell several variants, with various additions for storage of stuff, please see more in the link below.
Weight of bunk: 63 lb (29 kg).
Capacity: 500 lb (159 kg) per single cot.
Dimensions (L x W x H): 81.75 x 32.25 x 36.5 in (208 x 82 x 92.5 cm) – per single cot.

---
5. Disc-O-Bed Youth Kid-O-Bunk with Organizers
So this is a version for kids, from the same brand as above. All functionality is the same, the system is for two kids and it is suitable for home and outdoor use.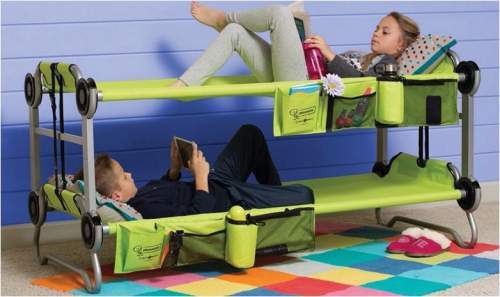 The structure of this type is particularly suitable for larger family camping tents of the cabin type. This is because of their tall and straightened walls. Such bunk double cots fit nicely in such a design.
Weight: 34 lb (15.4 kg).
Capacity for each cot: 200 lb (91 kg).
Packed size in the carry bag for each bed separately (L x W x H): 32.5 x 14 x 3.5 in (83 x 36 x 9 cm).

---
6. Insta-Bed Ez Queen Raised Air Mattress with NeverFlat pump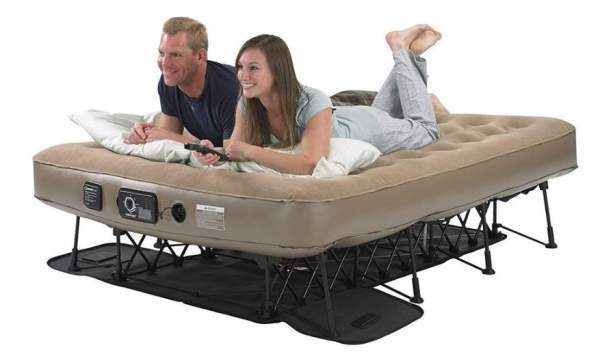 This Insta-Bed is a queen size type so you have 78 x 60 inches (198 x 152 cm) and the air mattress is 9.5 inches (24 cm) thick.
The bed is equipped with two pumps. The primary pump inflates or deflates the mattress in 2 minutes. The other is what they call NeverFlat (given in the name), so this is a quiet pump with sensors that activate automatically if the pressure is reduced.
The frame is steel and you have no less than 28 legs, but this all packs to a nicely designed carry bag which is 37 x 18 x 17 inches (94 x 46 x 43 cm).

---
7. Ivation EZ Bed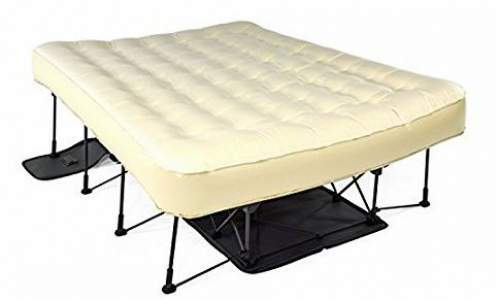 It is difficult to imagine anything more comfortable than this bed. What you have here is a system that deploys automatically, and the air mattress inflates in the process. The same automatic process is when you take the bed down.
So you guess, it works on electricity and therefore it is not just for any camping place. This is also a great extra bed at home for sudden guests.
Note that they build this system in two sizes, Queen and Twin, and both work on the same principle, the size and weight are the only differences. Please follow the link below to see a video, you must see it to believe it.

---
8. Kamp-Rite Double Kwik Cot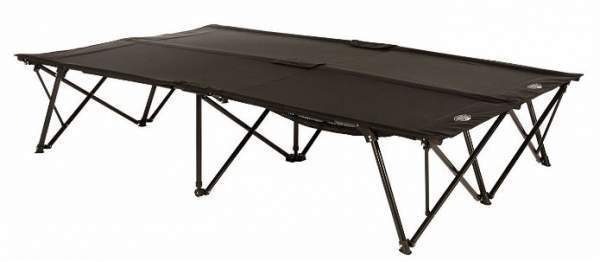 This cot packs to a really small tube of the size (L x D) 42 x 11 inches (107 x 28 cm), see it in the picture. The most important features are:
Very easy setup.
Very long and wide.
It comes with a carry bag for easy and clean transport and storage.
Very reasonable price.
This is a sturdy and solid construction with no less than 9 legs, see the picture. It is designed for the weight of 500 lb (227 kg), but it can probably be used for much more, so do not worry if you and your partner are plus size.

---
9. KingCamp Double Camping Cot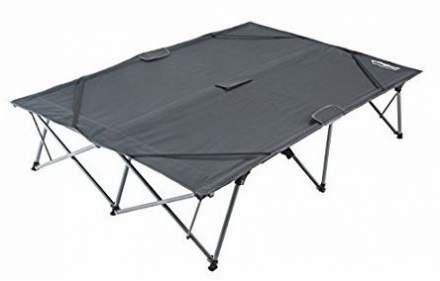 This is an oversized camping cot that offers a lot of space for two adults. So you have  84.6 x 55 inches (215 x 140 cm) of the bed size here. You might not believe it, but this huge structure needs no assembly. This is a fully collapsible construction that you set up by simply spreading it out like an umbrella.
When not in use, this cot packs to its nicely designed carry bag. Obviously, for outdoor use, you will need a larger tent, so have a look here, you have plenty of choices.
Weight: 35.3 lb (16 kg).
Capacity: 550 lb (250 kg).
Packed size (L x D): 45.3 x 11.8 in (115 x 30 cm).

---
10. MegaDeal Double Kwik Tent Cot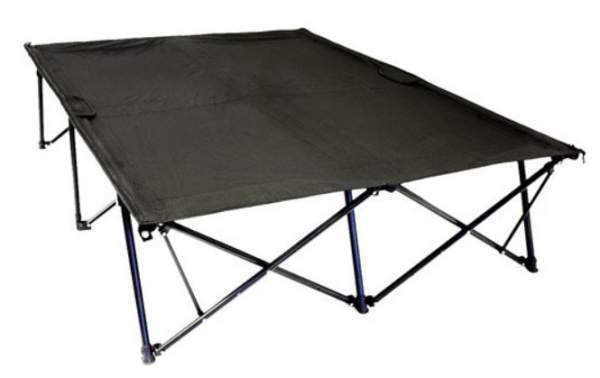 This MegaDeal Double Cot is very similar to some of the cots here in the list, with a bed size of 82 x 55 inches (208 x 140 cm). So this is a really big off-ground platform with plenty of space for two adult users.
Note that the structure is with a central longitudinal bar, I have seen people asking about it so just to know. So you do not sleep in the middle even if you use it solo.
The height is 19 inches (48 cm) and you have plenty of space to store your gear underneath it. But obviously, you will need a big camping tent for such a bed and you can choose many of them here.
The packed size is roughly 4 x 1 x 1 ft (122 x 30 x 30 cm) and this is quite similar to some other cots in the list. The weight is 56 lb (25 kg) and the capacity is 550 lb (250 kg). So you will need a car for transportation and quite some space in it.

---
11. Outsunny Compact Collapsible Portable Camping Cot Bed Set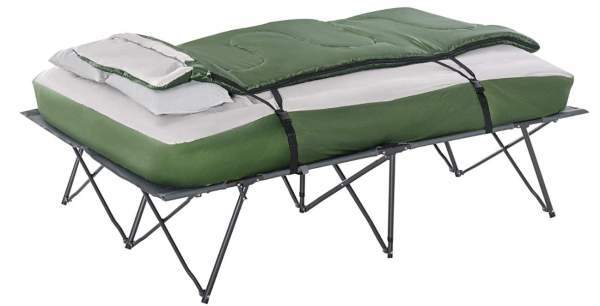 This Outsunny Compact Collapsible Portable Camping Cot Bed Set is what its name says, a full system of 9 elements.
So you have a double-wide camping cot, a 20 cm thick inflatable double-wide mattress, 2 pillows, 2 pillowcases, a sleeping bag, a textile cover, a foot pump, and a carry bag.
So this is a compact outdoor sleeping system for two people. The bed size is 74.75 x 54 inches (190 x 137 cm). The weight is 44 lb (20 kg), and the capacity is 352 lb (160 kg). Note also that this all is very affordable. 

---
12. Outsunny 76″ Two Person Double Wide Folding Camping Cot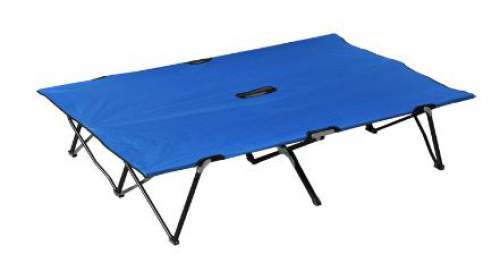 This is again a portable and collapsible double cot, quite lightweight for its size, 26.4 lb (12 kg). It is smaller than the Kamp-Rite Double Kwik Cot presented above, you have the bed size 76 x 49.2 inches (193 x 125 cm). So bear this in mind if you are a tall person.
The frame is steel, and the bed fabric is a durable 600D PVC oxford fabric, designed to be mildew-free, resist fading, and keep heat away. It can hold up to 440 pounds (200 kg).
The whole structure is very similar to the Kamp-Rite Double Kwik Cot, with 9 legs again, and again very packable.

---
13. Outwell Centuple Double Sleep System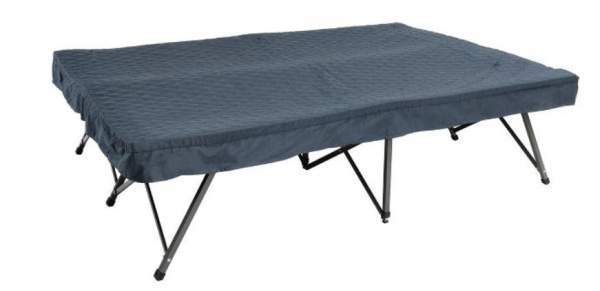 Here you have an an easy to use double-wide folding cot with the bed size of 76.4 x 52.8 inches (194 x 134 cm).
It comes with a pleasant cotton cover with an integrated pad in a sleeve. The cover is machine washable. This is why it is included also to my list of best padded camping cots.
The whole set weighs 35.5 lb (16.1 kg) and the capacity is for both beds together 551 lb (250 kg). 

---
14. Outwell Posadas Foldaway Bed Double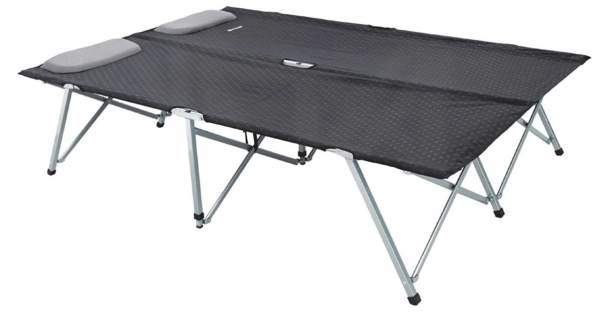 This double-wide cot is an easy to use steel construction with the bed size that measures 75.6 x 52 inches (192 x 132 cm). Note that there are no end bars here.
It comes with integrated padded headrests and a carry bag to keep it clean when not in use. The weight is 29.8 lb (13.5 kg).

---
15. Serta EZ Bed Queen Size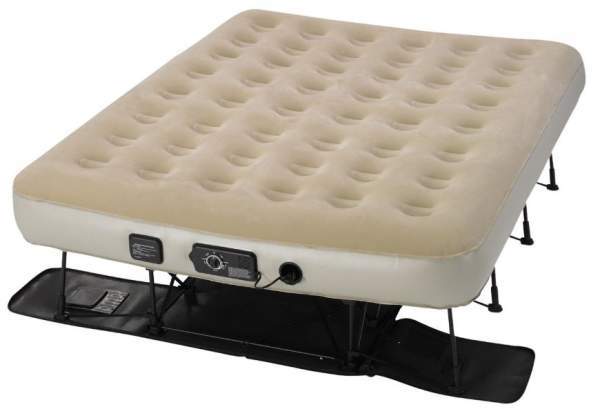 The Serta EZ Bed is rather similar to some of the airbeds above, but there are differences regarding its deployment and the pumps.
So you have two pumps here, a primary and a secondary electric pump. The primary pump deploys the bed automatically, and it also deflates the bed. The secondary pump is there to keep the pressure at the desired level.
This is a rather large and comfortable bed, the size is 78 x 60 inches (198 x 152 cm). But it is a bit bulky when packed and it weighs 50 lb (22.7). Though it comes with a nice carry bag equipped with a handle and wheels.

---
16. Tangkula 2-Person Outdoor Camping Tent Cot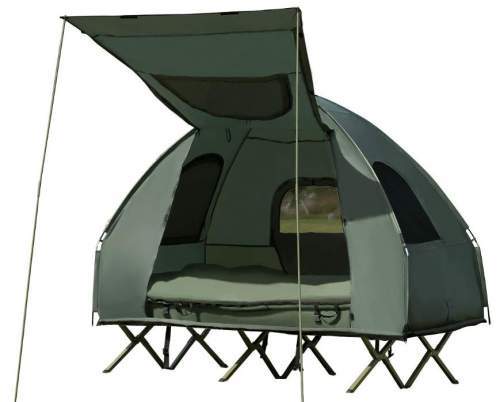 The reason for adding this item here is its double-cot. But this is a complete outdoor sleeping system that includes a double-size cot, a 2-person tent, 2 sleeping bags, 2 pillows, a sleeping pad, covers for the sleeping pad and pillows, and a foot pump.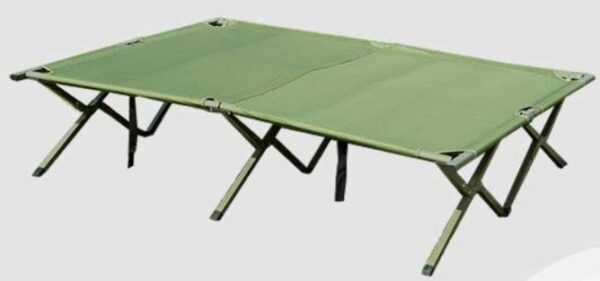 The mentioned 2-person cot can be used separately when you need it, see the picture above, just like any other cot, and this is why this system is here. The bed size is 76 x 57 inches (193 x 145 cm) and the whole set weighs 50.5 lb (23 kg). Please follow the link for more.

---
17. Timber Ridge Stacking Cot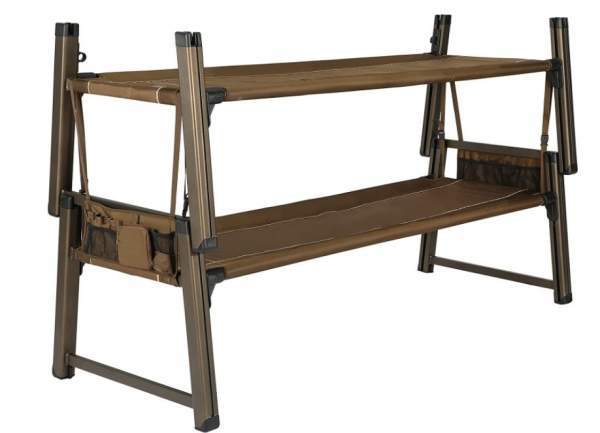 This is an incredibly versatile 4-in-1 set. So you can use it as a stacking cot shown in the picture, or you can use the two cots separately, and side by side. The upper cot can be put on the back and the set transforms into a large bench with a backrest.
The capacity for each of the cots is excellent 500 lb (227 kg). This is why I have included it also into my list of cots for heavy people. The whole set weighs 68.2 lb (30.9 kg).

---
Alternatives: double cot-tents or double tent-cots
The double-wide camping cots presented above imply that you use them inside of a tent, unless you sleep under the stars. So obviously, large tents are needed for such comfort.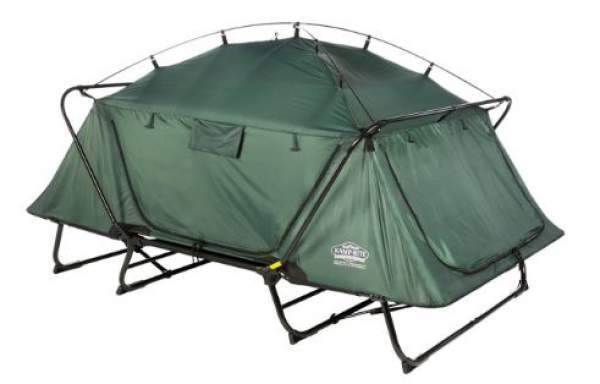 But this site is also about cot-tents or tent-cots if you prefer such a term, i.e., the structures where you have a cot and tent mounted on it, see one great example above.
So there are several double size tent-cots presented in the site:
All these tools are either foldable or collapsible, all have their own tent attached to the cot, and those are typical camping tools to use at places with a car access.
So clearly these tools have certain advantages with respect to the cots presented above, you might want to consider them as well. To see more just follow the links, all are described in the site. I have summarized their features in my separate text.
---
Double sleeping bags
For the double-wide camping cots described here, you might want to have the corresponding double sleeping bags. This may be convenient for couples, and also for people who feel claustrophobic in ordinary sleeping bags. I am one of those and trust me, I know what I am talking about. Every single bag is simply small for me, and yes I am a short guy.
The weight and volume of such bags should not be an issue; the camping cots for two people are used in camps with car access, so having a bigger bag is not an issue in any case.
Anyhow, many of such double bags are described in my separate text, so please follow the link to see more.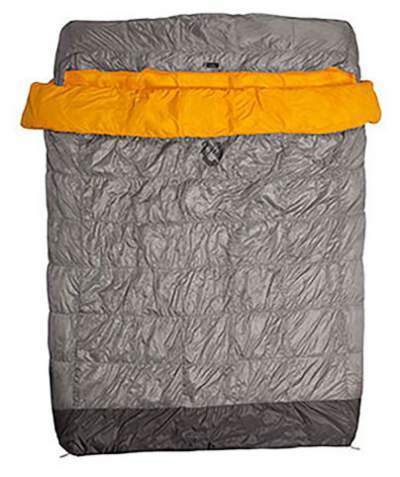 Note also that some single sleeping bags can be zipped together, and in such a combination they fit nicely with the camping cots for two people. See these pleasant Teton Sports Celsius bags zipped together: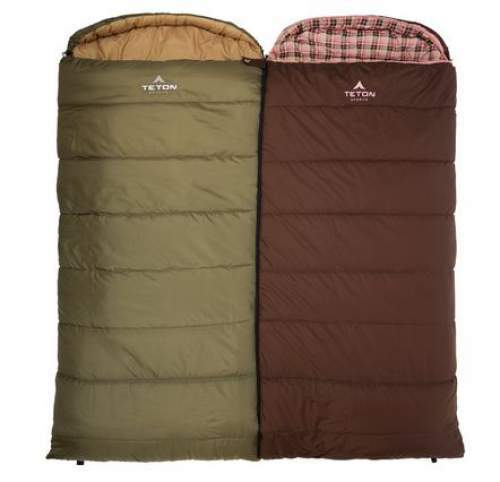 ---
Double sleeping pads
The two Coleman camping cots for two people have their own pads included. But the other two do not have them, so you might need them for comfort and protection.
There are some great models available on the market. They fit perfectly both the double camping cots and the corresponding double bags. But they can be used with two single bags as well. See some in the picture, and more in my separate text with pads:


---
Summary 
So these are more or less all double camping cots presently available on the global market. You have many options to chose, plus several options for the cot-tents.
All cots presented here are with exceptionally great price tags. All of them have positive and negative sides, but the fact is, sleeping on the ground can never match the comfort of off-ground sleeping, even if you have some top-notch pad for the ground sleeping. I have discussed this issue in my separate text.
They all pack to a reasonably small size, but there are differences in the bed size and this is important if you are a tall person. In such a case, the Kamp-Rite Double Kwik Cot should definitely be your first choice as well as the MegaDeal Cot. As for the width, there are several really large cots here.
If you need a single cot for very heavy people, please have a look at this text with a very long list of cots with the capacity in the range 300 – 600 pounds (136 – 272 kg).
Thank you for reading, I hope this text will help. Let me know if you have questions and comments, I love to hear from you, there is a comment box below.