---
Disc-O-Bed Youth Kid-O-Bunk with Organizers is an incredibly versatile collapsible and portable sleeping system for two kids, suitable for home and outdoor use. Read more below.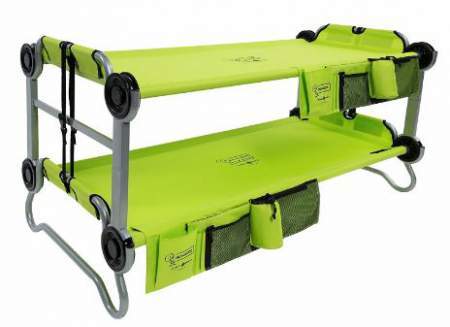 Key features & benefits
Completely unique system.
Kids love it.
Versatile.
Portable.
Great packed size.
Three use modes: bunk bed, two single cots, or bench.
Great colors.
No pads needed.
No tools required for assembly.
Powder-coated anti-rust steel frame.
2 side organizers included.
Carry bags included.
---
What type is this
Disc-O-Bed Kid-O-Bunk is a fully collapsible system which packs in two separate bags 32.5 x 14 x 3.5 inches (83 x 36 x 9 cm) each. Clearly, such a small packed size is a great feature. But there is a downside of this as well; this implies that the system needs assembly. Though this is a fun for kids and they will be happy to take part in the job.
This is a double system, with places for two kids, and I have included it in the double cots category here in the site, but the beds can be used separately as well.
---
Who is it for
This is a system for kids of course. In the specifications, they suggest that it should not be used for children 3 years old and younger. Also, when used as a bunk bed, the top bed should be used by kids ages 6 years and older.
The sleeping area inside the frame for each bed is the same and this is (L x W) 62 x 27.7 inches (157 x 70 cm). Note that the bed size is bigger, 65 x 32.5 inches (165 x 83 cm), but this is due to sidebars and end bars that make a frame. So they take a few centimeters on each side.
The system is great for vacations with children, ordinary camping, summer camps, travel sports teams, sleepovers, visiting grandparents, etc.
---
Versatility
When it comes to versatility, it is hard to find anything comparable to this Disc-O-Bed Youth Kid-O-Bunk. This is both outdoor and home tool and you can use it:
as a bunk bed,
as two single beds,
as a single bed,
as a bench.
Bunk bed
This setup is particularly suitable if you use it outdoor in a cabin-type tent with nearly vertical walls, like this Big Agnes Big House 6 Deluxe Tent or Kelty Camp Cabin 4. Such tents are tall and very suitable for bunk beds. With this, you spare a lot of space in the tent, and you can still store some stuff under the bunk bed.
The same is at home, for your kids' sleepovers. Such a bunk bed does not take a lot of space, see the picture: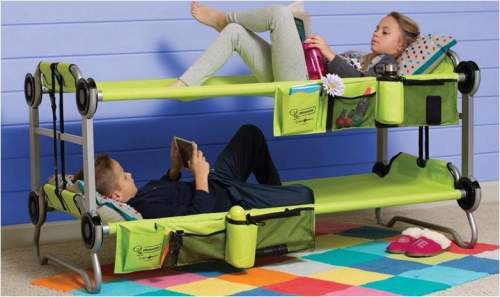 There is no guard rail. But you realize that sleep area is lower than the side rails so it is difficult for the kid to roll off.
Two single beds
This configuration will work well in any large tent, in particular those with the standard hubbed design where walls are not vertical, like Kelty Outback 6 or Big Agnes Tensleep Station 6. Though both of these are tall enough to accommodate bunk beds as well.
At home, this setup will definitely work if you have enough floor space.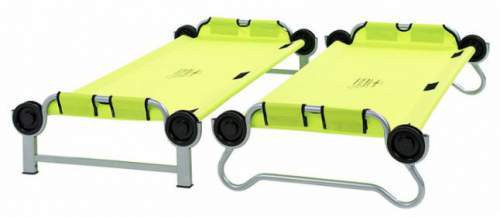 One single bed
As you realize, these beds are packed separately, so they can be used separately. Imagine you go with one kid somewhere, or the kid goes to visit friends; put one of the beds in the car trunk.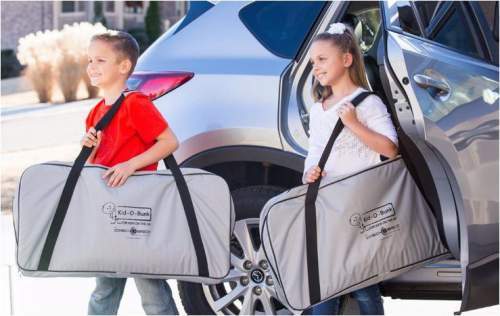 Use as a bench
The picture shows it best, and you will see it also in the video below: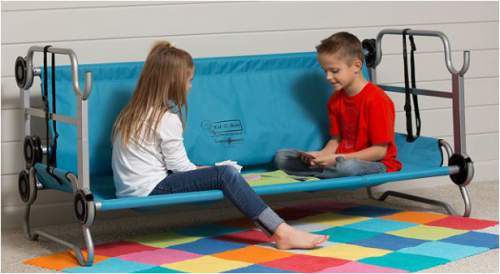 So this is something really useful, the beds transform in the sitting area which you need in such an environment, no need to carry extra chairs. In such a use, you can store sleeping bags and pillows under the cot, as you see there is plenty of space there.
This is a nice piece to be used in family camping tents like this Core 9 Person Instant Cabin Tent or the Nemo Wagontop 6 tent.
---
Bonuses
Each of the beds comes with its own organizer with multiple storage pouches, and even with a bottle holster, see the picture. They are removable and washable, and the same holds for the fabric of the beds.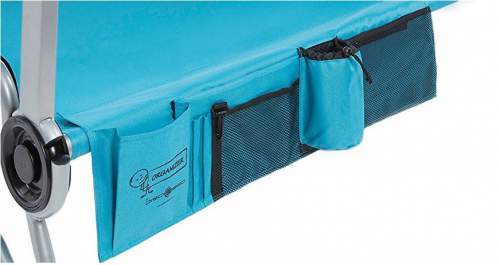 You will notice that the system includes locking straps that fix the upper bed to the lower one. This will put your mind to piece, all is fixed and secure here, see the picture.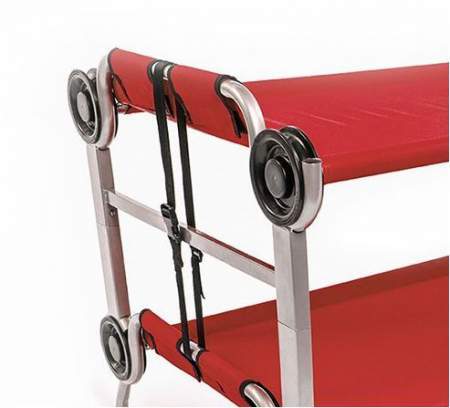 ---
Using the cots in tents
I have already mentioned above about this system used outdoor. Here, just to stress that the feet design is floor friendly. Kids are not heavy in any case, but with such a design you would not have issues in any case, have a look: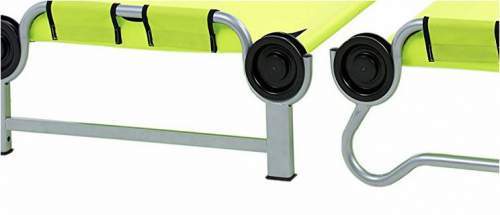 Using sleeping pads or not
In warm conditions you will not need it, except for extra comfort, so this holds both for home and outdoor use.
But in a cold environment, you might need some insulated pad. It may be tricky to find a proper size. Some top brands build pads in several sizes so here you would need the sizes S and P. Some are thin and flexible (but you may not need thick pads in any case, this is off-ground sleeping) and you can simply fold them if they are too big, like this Exped MultiMat.
---
Here is a short video about this system by the brand, have a look:
---
What is included
2 cots.
2 side organizers.
2 carry bags.
Set of stack adapters (2 in each bag).
2 locking straps (1 in each bag).
---
My rating, pros & cons
This system needs some work to put the pieces together. The total weight is 34 lb (15.4 kg), so divide by two and you realize it is heavy for small kids. Did they really need steel here?
The Amazon price for this cot is given in the link, it is updated daily. So this looks expensive, but you have two cots here. I find it appropriate for what you get.
There are hundreds of reports on Amazon and the average rating is very high. I am sure this is justified.
But my rating is different because I have a set of criteria and use them consistently for all the cots for easy comparison. See how I rate it:
My rating breakdown of the Disc-O-Bed Youth Kid-O-Bunk sleeping system
Weight -

7.4/10

Size -

8.5/10

Capacity -

6/10

Packed size -

7.6/10

Ease of use & features -

8.8/10
Summary
My overall rating for this cot is Very Good:
Pros
• Very reliable.
• Nicely packable.
• Unique design.
• Very versatile.
• Great colors.
Cons
• Needs assembly.
• A bit heavy.
---
Specifications
Weight: 34 lb (15.4 kg)
Capacity for each cot: 200 lb (91 kg). Twice this value for both.
Dimensions as stacked bunk beds (L x W x H): 65 x 32.5 x 32 in (165 x 83 x 81 cm).
Packed size in the carry bag for each bed separately (L x W x H): 32.5 x 14 x 3.5 in (83 x 36 x 9 cm).
Actual sleep area inside the frame (L x W): 62 x 27.7 in (157 x 70 cm).
In bunk setup distance (height) between cots: 18 in (46 cm).
Shipping dimensions with two bags packed together: 36 x 16 x 8 in (91 x 41 x 20.3 cm).
Not for children 3 years old and younger.
Top bed for kids ages 6 years and older.
Powder-coated anti-rust steel frame.
2 side organizers for storage of small personal items.
For indoor and outdoor use.
Floor-friendly design.
Kids-friendly design.
Flexible, adjusts to uneven ground.
Each cot disassembles into its own zippered carry bag.
No center beam – for true contoured body comfort.
Waterproof and machine washable sleeping deck.
No mattress or ladder required.
Patented lock-in disc system.
Fully disassembles for easy transportation and storage.
Rounded end frame to avoid ground sinking and to protect the floor.
---
Comparison with competitors
I usually compare similar items, this is the best way to realize and understand the differences. But there is nothing to put here, so I add this paragraph on purpose, to stress that this is a completely unique system. You will not find anything close to its features.
---
What is Disc-O-Bed
Disc-O-Bed is a family-owned business since 1988, committed to challenging conventional cot wisdom. They have patented this disc system which you see here. They build robust and transportable products that are simple to assemble, hygienic and that offer a quick and effective sleep solution.
---
Accessories
Note that they sell also a Cabinet which fits this sleeping system, you can see it here: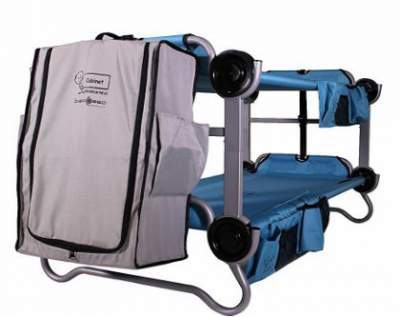 So this is a zippered, hanging addition with several interior shelves and 2 outer pockets. It will keep the kids organized. You can order it here.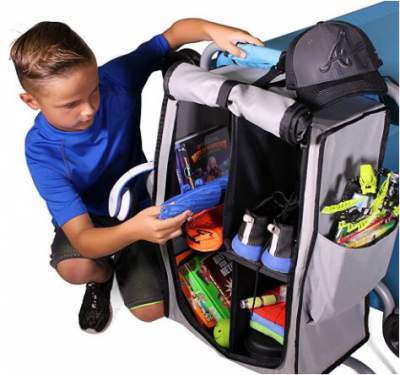 ---
Summary
In the conclusion of this Disc-O-Bed Youth Kid-O-Bunk with Organizers review, I must say that I am really impressed. This system is beyond comparison with anything on the market, incredibly versatile, reliable, and functional.
You can use it for several years, the fabric can be washed and it is easy to keep all clean. This cot is included in my list of best tent cots for kids.
Note that they have the same system for adults, in several variants and sizes. You can see some of them in the links below.
Thank you for reading. I love to hear from you, so please use the comment box below in the case of questions or comments. I wish you a nice day.