---
Outsunny Two-Person Double Wide Folding Camping Cot is a fully folding and nicely packable portable cot with a price tag that is hard to match.
---
Key benefits
No assembly, just spread it.
Great price.
Lightweight.
Carry bag included.
---
What is in the name – what type is it
This is a portable and folding double cot that needs no assembly. Indeed, it is quite lightweight for its size, 26.4 lb (12 kg) so you can carry it to short distances. The term collapsible implies that it reduces to a really small size of only 38.2 x 5.9 x 7.5 inches (97 x 15 x 19 cm), see the picture below.
It is formally a two-person cot, but its bed size 76 x 49.2 inches (193 x 125 cm) is not so impressive.
Note that they use the term 'folding' which is not the best choice of fords, this terminology is described in my another post.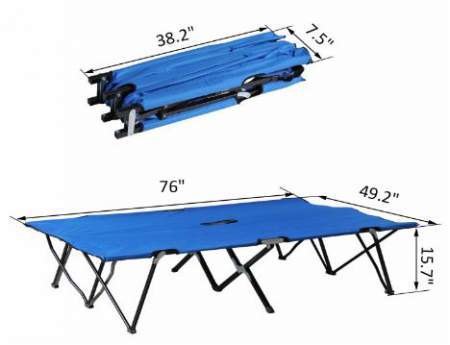 ---
Who is it for
The mentioned dimensions of the bed are such that it is not the best choice if you are a really tall person. It is perfect for a mother and a child, or for two people with a smaller body size in general.
The weight and the packed size imply that for outdoor use you will need a car for transportation. In this case, this is a great tool for any outdoor activity as long as you have a large enough tent for it, more about this below.
For home use, if you have two sleepovers, this cot will do the job. When not in use, just store it in its carry bag; it will remain clean from dust and it will not take much space.
---
Setup and construction
The cot is very easy to use, just spread from the center in all directions. When taking it down, grab the handle in the center and pull up, it will collapse in the reverse directions.
This is a very stable steel structure with 9 feet, flexible enough for any surface. The bed deck is 600D oxford, quite typical for the cots presented here in the site, and with a PVC coating. I love the blue color of the bed deck.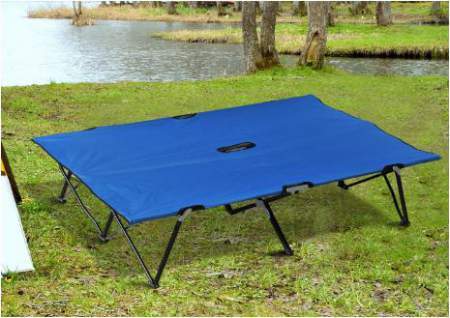 Note that there are no end bars in such a design, so the whole length is a useful length. There are no bars under any of the two parts, so you are safe from pressure spots. But there is the central bar as usual for such double cots.
---
Using this cot in a tent
You will need a big tent for such a double cot. In principle, it can fit in any 3-person tent, like this very new model, Sierra Designs Meteor 3 Tent. You have 40 cm clearance under the cot, plenty of space to store gear.
But you will have far more comfort in a bigger tent, in particular, cabin-type tents like this Kelty Camp Cabin 4, and also in such a masterpiece like Big Agnes Tensleep Station 4.
Note that the legs of the cot are with plastic caps, but they are small in size and in the case of a soft ground I would definitely add something extra for protection.
Sleeping pads and sleeping bags
Having a sleeping pad is not compulsory in a warm environment and for home use. But for extra comfort, you can use either single or double pads.
If you camp at higher elevations, at some high mountain passes as I do in the Alps all the time, you will need some insulated pad. But being off-the-ground, you do not need a particularly big R-value. Some of the double pads are available here.
As for the sleeping bags, here too you can use either single or double. See some double bags in my separate text.
---
My rating, pros & cons
I already pointed out that its size is not so impressive, and the same is with the capacity which is 440 lb (200 kg).
This is a really affordable double cot, and the daily updated price is given in the link below.
See how I rate it:
My rating breakdown of the Outsunny Two-Person Double Wide Cot
Weight -

8/10

Size -

7.9/10

Capacity -

7/10

Packed size -

9.6/10

Ease of use -

9.5/10
Summary
My overall rating of this cot is Excellent:
Pros
• The price.
• No assembly.
• User-friendly design.
• Nicely packable.
• No end bars.
• Reliable.
Cons
• Not very large.
• There is a central bar.
• Not so great capacity.
Specifications
Weight: 26.4 lb (12 kg).
Setup size (L x W x H): 76 x 49.2 x 15.7 in (193 x 125 x 40 cm).
Folded size (L x W x H): 38.2 x 5.9 x 7.5 in (97 x 15 x 19 cm).
Weight capacity: 440 lb (200 kg).
Carry bag included.
Materials:
– Fabric: 600D PVC oxford.
– Frame: heavy-duty steel.
Color: blue.
---
Outsunny Double Wide Cot vs competitors
Here is the Outsunny Double Cot side by side with two closest competitors built in the same style, all folding. To see more, please follow the links:
38.2 x 5.9 x 7.5
(97 x 15 x 19)
45.3 x 11.8 x 11.8
(115 x 30 x 30)
42 x 11 x 11
(107 x 28 x 28)

From the table, you realize that the Outsunny Cot provides less space and it is not for very tall people. But it packs better than its competitors, and it is lighter as well. Though this can be immaterial for you if you are a big and a heavy guy.
Summary
So the Outsunny Two-Person Double Wide Folding Camping Cot is a really nicely built reliable cot, and there is no other item on the market with the price to match it. But bear in mind its dimensions if you are a very tall person. There are bigger options on the market, you have seen them in the comparison table above.
Check on Amazon
Check at Walmart
This site is all about cots so please have a look around if you need something different. Check in the Categories on the left above. You might also want to compare this cot with yet another from the same brand, the Outsunny Compact Collapsible Portable Camping Cot Bed Set.
Please let me know if you have any question or comment, there is a comment box below. Have a nice day.