---
Disc-O-Bed Large With Organizers is an ingenious versatile and multipurpose sleep system with two large beds, fully collapsible and portable.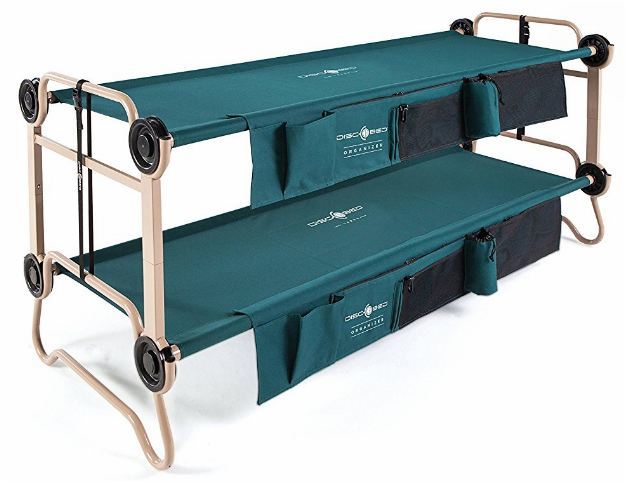 ---
Contents
Key features & benefits
Completely unique system.
Incredibly versatile.
4-in-1: bunk system, double-bed system, single cots, bench.
Portable & nicely packable.
2 bonus organizers included.
---
What type is this
The Disc-O-Bed is a collapsible sleep system. The meaning is that it collapses completely for transportation, so you have a bundle of 34 x 16 x 11 inches (86.4 x 40.6 x 27.9 cm) for the full system.
Clearly, the good side of this is that it can be transported easily. Less good is that it needs assembly, so it takes some time to have it ready. But this is done without any extra tool and without brute force.

Versatile 4-in-1 system
This is an incredible system that can be used as:
Bunk cots system shown in the picture above. This is a great option both for home use and for outdoor use because you do not need a lot of floor space. In fact, the system needs 81.75 x 32.25 inches (208 x 82 cm) of the floor space, so like a normal bed, but you have two of them here. So if you are in a cabin type tent (those are very high and can easily accommodate such bunk beds), this will give a lot of space for other gear.
If you have more space, e.g., you have a large family camping tent with separate rooms, you can use the system as a set of two cots, so you have a double-cots sleep system.

Here you have the two cots used separately and independently.

Each of the two cots can be used on its own as a single collapsible cot.
The bunk system transforms into a bench, see the picture below; so you can use it that way during the day in the tent, no need to carry extra chairs.

Here, the bunk bed is transformed in a bench.
How it works
It is best that you see this promotion video, you will get a clear idea:
Portable system
Both cots pack into their separate bags, with the total weight of 63 lb (29 kg). Each bag separately is around 34 x 16 x 5 inches, see how they look pcked in their carry bags: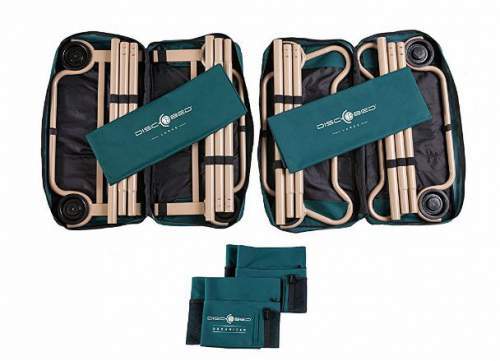 ---
Who is it for
The bed dimensions, i.e., the space between the side and end bars, are 79 x 27.75 inches (201 x 70.5 cm). So this is a great size suitable even for tall people. Note that there are no bars underneath the bed deck, so there are no pressure points anywhere.
The capacity of each cot is impressive, 500 lb (159 kg); so again this is even for very big guys.
These tools can be used:
At h0me as spare beds, each of them separately or as a bunk system.
As outdoor tools in tents, for a variety of activities, like open-air gatherings (festivals), in trailhead hotels, for summer family vacations, for fishing etc.
The carry bags are nicely designed and they fit easily in any car; the weight mentioned above is less impressive, so you need a car for transportation.
---
Setup time
If you are not skilled with it, it can take up to 30 minutes, otherwise, you can do this in half of this time. In any case, this is a tool that requires some time, but for such a camping tool, this is normal. You will do it only once when you get in the camp, and you will disassemble it once when you go home.
---
Bonuses
You have two organizers included in the package, so you attach them to each of the beds separately. They are nicely designed, with eight various open and zippered pockets, see the picture.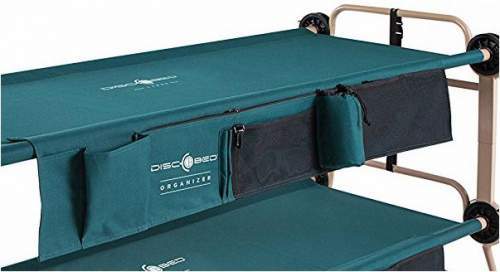 These 2 organizers are removable, you have Velcro tabs there, and they are washable. As you see, you even have a water bottle holster on each of them.
---
Using this system in a tent
This is a floor-friendly design, see the picture. But in the case of a soft ground, I would add something extra under the legs. A rug or a piece of hard cardboard will do the job. Note that they also sell pads for legs, you will see them in the Accessories below.

The bunk is actually quite low, only 36.5 inches (92.5 cm), so you do not need a particularly tall tent for such a system.
Observe that you have a clearance of 11.25 inches (28.5 cm) under the lower cot, so this is a lot of space and volume to store gear. This is what makes cots a better option in the tent than sleeping on the ground; you still have the area for storage.

How about sleeping pads
In a warm environment, you do not need any pad, except if you want more comfort. But if you camp at higher elevations or use this system in winter, you will need some pad with insulation. Please check here for many great models, with and without insulation.
But being off the ground, you need far less insulation than when you sleep on the ground. Just to know, you lose around 50 times less warmth when the air is under you.
---
Materials
You have great materials here. The frame is powder-coated, anti-rust steel, and the deck is a 600 denier polyester. The same material is used for the organizers.
---
My rating, pros & cons
The cots are indeed heavy, the surface/weight ratio is around 0.12 m²/kg. But this is due to such strong and durable construction, you have steel frame here, designed to last. This tool is designed to be transported by a car, so the weight is not a big deal in any case.

The price
I give this link which will show the daily updated price. But there are several variants of this bed so please follow the link to see more:
Observe also that this is an Amazon Prime item.

What users think
In spite of such a price, the Disc-O-Bed Large Bunk Cot is very popular and there are many reviews and customers' reports everywhere. On Amazon, the average rating is incredibly high. Please see how I rate it:
My rating breakdown of the Disc-O-Bed Large With Organizers
Weight -

4.8/10

Size -

9.3/10

Capacity -

9.5/10

Packed size -

8.6/10

Ease of use & features -

8.8/10
Summary
My overall rating of this system is Very Good:
Pros
Incredibly clever design.
Great size.
Storage space.
Great packed size.
Multiple configurations.
---
Specifications
Weight of bunk: 63 lb (29 kg).
Shipping weight (in box): 67 lb (30.5 kg).
Capacity: 500 lb (227 kg) per single cot.
Dimensions (L x W x H): 81.75 x 32.25 x 36.5 in (208 x 82 x 92.5 cm).
Sleep area (L x W): 79 x 27.75 in (201 x 70.5 cm).
Height of bottom cot: 11.25 in (28.5 cm).
Height of top cot: 32 in (81.5 cm).
Pack dimensions for both (L x W x H): 34 x 16 x 11 in (86.4 x 40.6 x 27.9 cm).
Frame: powder-coated, anti-rust steel.
---
Disc-O-Bed accessories
There are several elements that can be ordered separately and used with these cots, from the same brand. See some of them here:

---
Summary
In the conclusion of this Disc-O-Bed Large With Organizers review, I wish to stress again that I am truly impressed with this system. There is nothing on the market that would be close to its design; this is completely unique and so much versatile. I can fully recommend it.
Note that they have also the version for kids, the Disc-O-Bed Kid-O-Bunk system which kids love. They have also built Disc-O-Bed Steel Framed Trundle Cot which can be combined with this bunk bed as a third cot.
Thank you for reading. If you need something different, just look around, this site is all about the cots and tent-cots, and practically all models on the market are presented here in detail. Just search in the Categories above on the right.
If you have any question or comment, please use the comment box below. I wish you a nice day.