The HI-GEAR Double Folding Campbed is an easy to use and compact steel structure with enough space for two people.
---
Key features & benefits
No assembly.
Lots of space for 2 people.
Stable and sturdy.
Compact.
---
Overview
Here you have a very typical folding cot. This means that there are no separate parts, everything is pre-attached so you open it or close it in seconds.
This is also a type that folds into an elongated tube that measures only 39 x 9.8 x 6.3 inches (99 x 25 x 16 cm). For a double-wide cot this is indeed remarkable.
This makes it easy for use and for transportation, and when stored at home, it will not take much space no matter where you keep it.
Materials
The frame is a strong steel, and from the pictures you realize that it has 6 of those X-crossed support bars. The legs on two sides are angled outwards so the structure is stable for lateral movement.
The fabric is a polyester, this material is standardly used for such cots, but they do not provide more information about it.
---
Who is it for
Regarding the capacity, the two parts of the cots are officially for 242 lb (110 kg) each. No doubt this will be enough for most of potential users.
Regarding the dimensions, the bed measures 76.4 x 51.2 inches (194 x 130 cm). Note that there are no bars in the head and feet areas, so this is all a true useful length.
The width is also very impressive, but as always with such cots, there is a central bar. So the cot is for two adults, it can be used by one person of course, but you can only sleep on one of the two halves.
It is also very high, you have 18.5 inches (47 cm) from the floor, and in my view this is suitable for elderly users. On the other hand, you have a huge space underneath the cot to store your outdoor gear.
Regarding the weight, with its 30 lb (13.6 kg) this is a heavy item. But you have two cots in one here. Note that this is the same as the Outwell Posadas Foldaway Bed Double.
These two cots look almost exactly the same, most likely both are from the same factory in China.
Even the packed size of both cots are almost the same. But as mentioned above, for a double-wide cot, the packed size is very good indeed.
Regarding the price, it may depend on sellers but this is an incredibly affordable cot.
Using this cot in a tent
This cot is wide and high. So it will not fit in low tents. The width is such that it can be used only in a tent for three or more people.
The picture below shows the feet, they are with plastic caps, and there are 9 of them. But I would not use the cot without some protection in a floored family camping tent.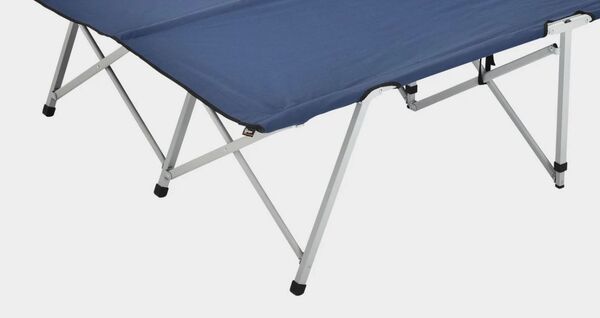 If you camp in a warm environment, you do not need a pad, but you can use one for extra comfort. In a cold climate, you have to use an insulated pad. However, when you are on a cot, you always need less insulation than when you are on the floor of a tent.
---
Specifications
Weight: 30 lb (13.6 kg).
Capacity: 242 + 242 lb (110 + 110 kg).
Dimensions (L x W x H): 76.4 x 51.2 x 18.5 in (194 x 130 x 47 cm).
Folded dimensions: 39 x 9.8 x 6.3 in (99 x 25 x 16 cm).
Frame: steel.
---
Rating, pros & cons
Below is summary of my rating and some pros and cons. As you see, it scores very good, you can rate it from your side as well.
Very large and easy to use cot for two adults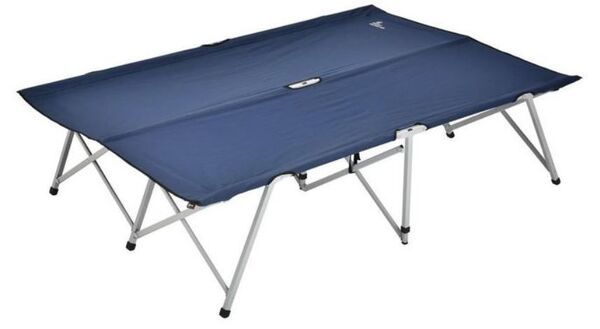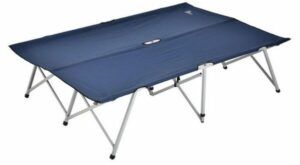 Product Name: HI-GEAR Double Folding Campbed
Product Description: HI-GEAR Double Folding Campbed Is an Easy to Use and Compact when Packed Steel Structure with more than Enough Space for Two People.
Brand: HI-GEAR
SKU: B08GPKJMG5
Weight -

7.8/10

Dimensions -

8.3/10

Packed size -

9/10

Capacity -

7/10

Ease of use & features -

9.5/10
Summary
The cot stands good in all separate rating criteria, so the overall rating is Very Good.
Pros
Easy to use.
Large.
Incredibly affordable.
---
Final thoughts
In summary, this HI-GEAR Double Folding Campbed is very easy to use in spite of its size. It requires no assembly, and this is all one single piece.
It offers lots of space for two adults, and because of the central bar, each of the occupants has its own side of the bed. This reduces chances for disturbance when one partner moves on the bed, and rolling into each other in the middle of the bed is completely avoided. I have included it in my list of best double camping cots.
Best places to buy:
For more options, please check under the category Double Cots, you will find them many here in the site, and in all sizes and shapes. Note that there is yet another one-person cot of this brand here in the site built in the same style, the HI-GEAR Folding Camp Bed.
Bookmark this site and visit it when you find time, this will keep you informed, you have new texts added here on a regular basis. Let me know if you have questions, there is a comment box below. Thank you for reading and have a nice day.