---
The KingCamp Double Camping Cot is an oversized tool with a lot of space for two adults. It is nicely packable and it requires no assembly. Read more below.
---
Key benefits & bonuses
Very large cot.
No assembly.
Carry bag included.
Reasonable price.
User-friendly construction.

---
What type is this
The KingCamp Double Camping Cot is what the name says, a double cot. So it is ideal for couples, or for a mother and a child.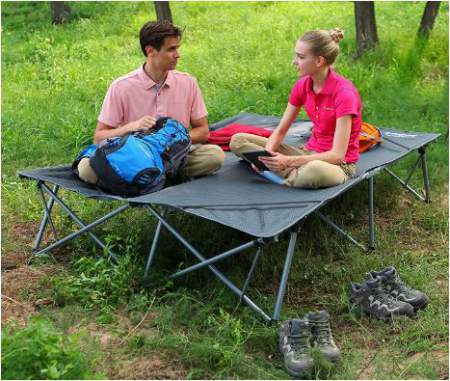 The cot is completely collapsible. It packs to a relatively small packed size of only 45.3 x 11.8 inches (115 x 30 cm). Now, some of the collapsible cots may imply assembly, but this is not the case here: this cot needs no assembly, you simply spread it from the center, and when you fold it, it collapses to the center, as the picture below shows.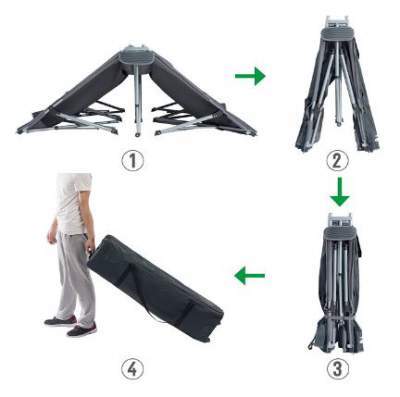 ---
Who is it for
This cot provides a lot of space, just see its bed dimensions, 84.6 x 55 inches (215 x 140 cm). Clearly, this is a cot suitable even for very tall people.
The cot's packed size is great, but it remains a bit long when packed, so you need a car for transportation. The same is about its weight, which is 35.3 lb (16 kg), so you would not carry it in hands. But it comes with a carry bag equipped with wheels.
So this is a cot:
For outdoor use at places with a car access. This can include a plethora of activities.
For home use in the case of sudden guests. You will keep it clean in its storage bag.
For any emergency situation.
---
User-friendly features
There are several details I wish to stress here, which show attention to details, and which make a lot of difference:
I already pointed out one: no assembly, no tools, just spread it.
This is the design without end bars. So the full length of the bed is a useful length, and you have no pressure spots.
All metal surfaces are covered. So you have flaps at places where you need to grab the bar when you set the cot up or you fold it down. The same is with corners that are completely covered, unlike many other cots on the market.
There are elastic bands in all corners, which are supposed to fix the mattress which you would put on the bed. See the picture:

Several user-friendly details.

The carry bag is nicely designed, with handle, wheels, and straps to carry on the shoulder. You can see this in the picture: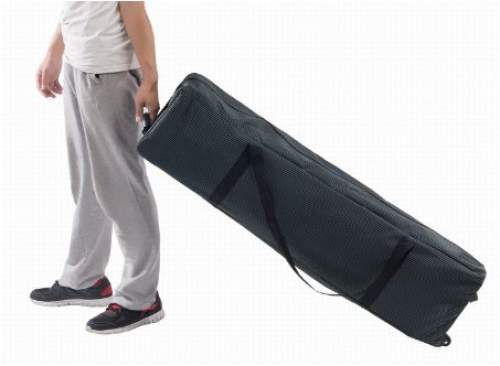 ---
Using the KingCamp Double Cot in a tent
No doubt you will need a big tent for such a cot. If this is about couples, I would warmly suggest so-called cabin-type tents, or any tent for four people or more. In this case, you will have plenty of space around the cot and underneath it, for storing your gear and to have your dog with you.
So check these Kelty Camp Cabin 4, Kelty Mirada tent, or this extraordinary Big Agnes Tensleep Station 4.
Floor protection
Note that the feet are with plastic caps for the floor protection. There are 9 of them, the weight is nicely distributed and this is perfectly enough for home use. But in the tent, you might want to add something extra in the case of a soft ground, so that the weight is distributed over a larger surface.
Using a sleeping pad
For warm weather and for home use, in principle, you do not need it. But in cold camping environment, you might want something insulated. So you can use two single pads or one double pad. See many of them here.
Sleeping bags or not
For home and outdoor use, you can take ordinary blankets and pillows from home, this is a real bed and anything can fit.
But you can use sleeping bags as well, single or double, see some great examples here.
---
Materials
Here you have high strength steel frame and 9 legs, so the structure is very stable and strong. The fabric used for the bed deck is exceptional, with 1200D this is something rarely seen.
But in spite of this, the overall capacity is 'only' 550 lb (250 kg). For a double cot, this is not so much, but this is normal, you will see this also from some other top models shown in the comparison table below.
---
My rating, pros & cons, price
The cot is a bit heavy but the weight is not a big deal, it is portable and movable from place to place, but you would need a car in any case.
But there is the central bar. Almost all double cots have it, so this is nothing exceptional, it must be there because the span between the sidebars is huge, no less than 55 inches (140 cm). So do not be surprised by it. Note that each participant has half of this width for him/herself. In the case of a very thick sleeping pad, you will not feel its presence.
The current price is shown in the link below. Note that this is an Amazon's Choice product.
 The cot has received many reviews by customers and the rating is high. See how I rate it:
My rating of the KingCamp 2 Person Oversized Camping Cot
Weight -

7.2/10

Size -

9.9/10

Capacity -

7/10

Packed size -

8.6/10

Ease of use & features -

9.6/10
Summary
My overall rating of this double cot is Excellent:
Pros
• No assembly, just unfold.
• User-friendly design.
• Nicely packable.
• No end bars.
• Comfortable.
• Reliable.
Cons
• A bit heavy.
• There is a central bar.
Specifications
Type: 2-person cot.
Weight: 35.3 lb (16 kg).
Capacity: 550 lb (250 kg).
Bed dimensions (L x W x H): 84.6 x 55 x 18.9 in (215 x 140 x 48 cm).
Packed size (L x D): 45.3 x 11.8 in (115 x 30 cm).
Fabric: heavy-duty, thickened 1200D Oxford.
Frame: steel.
Portable.
Color: black & grey.
Carry bag included.
---
Summary
In the conclusion of this KingCamp Double Camping Cot review, I would stress again that this tool is constructed with attention to details. I love its carry bag design, the price is reasonable, the bed size is huge, so I can fully recommend it.

But if you need something different, with a mattress included perhaps, please search in the category double cots. You will see a few exceptional tools with mattresses.
In any case, this site is all about cots so please have a look around and let me know if you have any question or comment, there is a comment box below. Have a nice day.

---