---
This Helinox Chair One XL is a new and much larger version of the award-winning collapsible backpack-portable chair. It is very easy to use and reliable.
---
Key features
Easy setup.
Very good packed size.
Collapsible chair.
Backpack-portable.
---
What this is about
If you are familiar with the celebrated Helinox Chair One (I was sitting in it just a day before writing this text), you will be surprised to see the dimensions of this XL Chair. Perhaps it is best that you see them side by side, so here they are: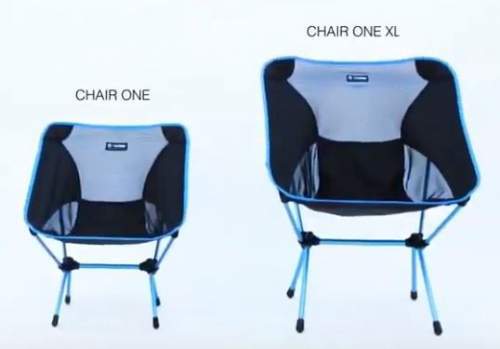 As you realize, the letters XL here describe a really big difference, this chair is enormous as compared to the Chair One.
Also, the seat height is very different. You have 13.5 inches (34.3 cm) from the ground in the Chair One and 18.5 inches (47 cm) in the Chair One XL.
But the basic design is the same, this is again a fully collapsible chair. The bigger size also means a larger packed size, and there is a considerable weight difference.
Note that they also have the Helinox Cafe Chair which is in between these two chairs for several parameters.
The carry bag is included, see the picture below, and it is with a zipper, loops on the sides, and a daisy chain, so you can attach it easily to a backpack.
All in all, the chair is versatile, suitable for camping, hunting, motorcycling, fishing, to use at a beach, for road trips, tailgate parties, sports events, etc.

---
Who is it for
Capacity-wise, the Chair One XL supports the weight of up to 320 lb (145 kg). So this is the same as in the Chair One, and this should be good enough for the majority of users.
Weight-wise, with its weight* of 3.52 lb (1610 g), this is still a backpack-portable chair that can be used by hikers on shorter tours, but this is NOT an ultra-lightweight chair. So I have included it in my list of the best collapsible camping chairs.
*Note, I am using the official data from the Helinox brand.
Size-wise, the dimensions of this chair are great, (W x D x H) 26.8 x 23.2 x 35 inches (68 x 60 x 89 cm). You have already seen the seat height, so it is not too low and getting in and out should not be a problem.
The back is high but you do not have a head support here, so if this is what you need please check my list of chairs with a headrest.
The packed size is 18.5 x 5.1 x 4.7 in (47 x 13 x 12 cm), so again, this can be attached to a backpack (see below the loops on its carry bag) and also transported on a bicycle and a motorbike.
Please see a bit more in this short video:
---
Materials & Construction
The frame is a durable DAC aluminum construction, so you have the best possible material used here. This is the collapsible technology similar to what you have in backpacking tents, but the poles are much stronger.
This is a special type, TH72M aluminum alloy, a technologically advanced alloy developed for maximum strength with minimum weight. The brand describes it as a major leap forward after several decades of development. It solved the issue of the phenomenon known as "stress corrosion cracking" that arises in very thin lightweight tubes.
They write that over 80 separate processes are needed to turn a raw alloy into the finished TH72M tubing. This includes high specialized extrusion, heat treatment, anodizing processes developed by DAC, specialist machinery, etc. The result is the outdoor gear that is light, strong, and compact.
The sling is a breathable mesh and a taffeta. The connectors (hubs) are a high-strength nylon 66.
The setup
You make the chair ready in seconds. All the poles shown in the picture are a single shock-corded structure, and they easily get in place (into those nylon hubs which you see below). After that, you just add the sling which attaches to the four ends of the poles, two on the back as shown here and two on the front.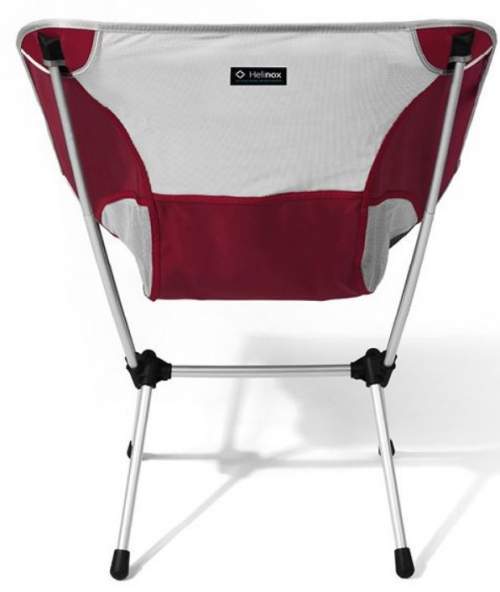 As you see, the feet are with caps for the floor protection. They currently do not have a groundsheet which you normally have for their Chair One to prevent sinking in the soft ground. I am not sure if they plan to introduce it or not.
Note that they have silicon ball feet for such a purpose so you can attach them to the feet.
---
My rating
You will see in the links given in the text that this is an expensive chair. If this is above your budget please check the alternatives in this list with collapsible camping chairs.
Please see how I rate it for the same criteria used for all chairs in the site, so you can compare them easily:
My rating of the Helinox Chair One XL Chair:
Weight -

8.4/10

Dimensions -

8.1/10

Packed size -

8.4/10

Capacity -

8/10

Comfort -

9.5/10

Craftsmanship -

9.6/10
Summary
My overall rating of this quality chair is Excellent:
Pros
Good packed size.
Very easy to use.
Versatile chair.
Reliable.
Lightweight.
Cons
Not for backpackers.
Expensive.
---
Specifications
Best use: car camping, hiking.
Weight: 3.52 lb (1610 g).
Capacity: 320 lb (145 kg).
Dimensions (W x D x H): 26.8 x 23.2 x 35 in (68 x 60 x 89 cm).
Packed size: 18.5 x 5.1 x 4.7 in (47 x 13 x 12 cm).
Colors: 3.
---
Helinox Chair One XL vs Competitors
You might want to see how this chair stands in comparison with some other backpack-portable collapsible chairs. This is a good way of understanding its features. So I give two chairs, both top-notch items from renown brands. I do not think that the basic differences are substantial, but this Chair One XL is a bit heavier.
Dimensions
(W x D x H), in (cm)

26.8 x 23.2 x 35 (68 x 60 x 89)

18.5 x 5.1 x 4.7
(47 x 13 x 12)

32 x 22 x 25
(81 x 56 x 64)

16 x 5.5 x 5.5
(41 x 13 x 13)

21 x 27.5 x 39 (53 x 70 x 99)

20 x 6.5 x 4
(51 x 17 x 10)

---
Final thoughts
In the summary of this Helinox Chair One XL review, what you have here is again a great product from this brand, a compact, strong, and still a lightweight chair. It may look similar to many other chairs of this type currently on the market, but advanced materials are used in its construction and this is what makes the difference. This is a reliable product.
If you need something different, please check under the category Camping Chairs here in the site. In particular, see this unique Helinox Incline Festival chair with adjustable front legs.
Note that this is not a sponsored text and I am not paid by the brand or related to them in any way. Please use the comment box below in the case of comments and questions. Have a nice day.

---