---
This Kamp-Rite Double Kwik Cot Review is about the largest double cot available on the market. This is a sturdy steel construction, incredibly packable, and with a great price.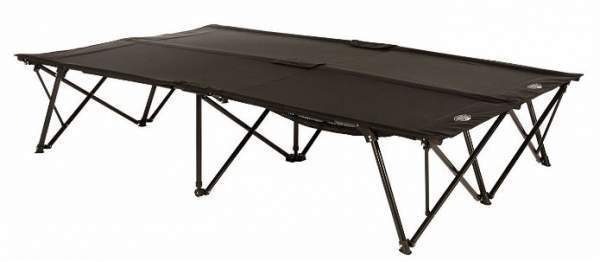 Key features & bonuses
One of the largest on the market.
Suitable for couples.
Very affordable price.
Secure mesh storage pocket underneath the cot.
Easy setup.
Incredibly compact when packed.
2 padded head sections.
Carry bag included.
What type is it
In the video below you will be able to see how incredibly compact this cot is when it is packed. It is hard to believe, but it packs to a tube (L x D) 42 x 11 inches (107 x 28 cm). Now compare this with the bed size when it is unfolded, 85 x 55 inches (216 x 140 cm).
So these numbers tell you that the cot you have here is a folding item without assembly, it is somewhat portable, and it can be transported to your camping place in a car.
See more in this short video by Kamp-Rite:
Who is it for
The bed dimensions, packed size, and weight determine the users of this pad. It will not take much space wherever you store it at home, it will not collect dust, and it will remain clean in its carry bag. So this is a great double bed for sleepovers.
Outdoors, it can be used at any camping space with a car access. Certainly, not everybody can carry it from the car to the actual camping spot, but it is doable for most grown-up people, 15 kg is not so much after all.
Description
If you check the cots on the market, you will realize that this Kamp-Rite Double Kwik Cot is the largest. I must say that my own double bed at home is the same size.
This is a really heavy-duty steel construction, and with a heavy-duty 600D bed deck fabric. This all can support up to 500 lb (227 kg) of weight.
In the video above you have seen that the person presses the flaps which cover the metal joints. So all the bed surface is pleasant canvas, you will not touch metal at any point, and you also have some extra padding in the head sections as shown in the picture below.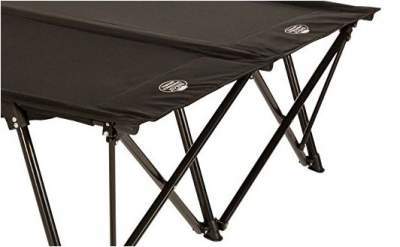 Now about the bars. First, observe that there are no end-bars. This is really good and typical for this type of collapsible cots. This means that all 85 inches (216 cm) are the true size for sleeping. This is great news for really tall people.
Second, there is a central longitudinal bar under the canvas, but this is the only one, and it is in the middle. So you have indeed two very wide spaces without any pressure point whatsoever.
Using it in a tent
This Double Cot will fit in any family-type tent, so options are numerous. But if you are interested in the smallest tents where it can fit, then think about standard 3-person or 4-person tents, or simply tarps.
So here are a few options I would recommend:
From tarps, I see the Kelty Mirada Tarp as a really great option.
In any case, although the cot occupies a huge space, you have also a huge space underneath it to store your equipment. So this is not a lost space like in the case when you simply put a pad on the tent floor and sleep on the ground.
The cot is with 9 feet on the ground, all protected with plastic caps, so the weight is well distributed and there should be no problem with the tent floor.
What pad to use
It may be convenient to use single pads, this is a large cot and you will easily find something suitable for you and your partner, just have a look here.
But you might want to try double pads as well, there are many options available on Amazon.
What bags to use
Here again, you can use single bags, but you might want to know that there are great double bags for couples. See here a long list of double bags.
Note also that there are great Teton Sports double bags, really affordable and comfortable:

Winter use
For cold weather, you will need some insulation. But remember that you are off the ground and you need far less insulation than when you sleep on the ground.
I would warmly recommend this pad by Exped. It has a small R-value, but it is thin and you can fold it, which effectively doubles the insulation.
More options with insulated pads are available here.
My rating, pros & cons
There are many reviews, and people were mostly complaining about the central bar which effectively separates you from the partner.
The Amazon price of this huge double cot is available in the link.
There are more than 600 reviews by users on Amazon only, so clearly, this is a popular tool and it has been on the market for a long time already, at least 5 years or so. See below how I rate it:
My rating breakdown of the Kamp-Rite Double Kwik Cot
Weight -

7.4/10

Size -

9.9/10

Capacity -

7/10

Packed size -

8.8/10

Ease of use & features -

9.7/10
Summary
My overall rating of this great product is Excellent:
Pros
• Great price.
• Great size.
• Very easy setup.
• Very comfortable.
• Very reliable.
• Durable materials.
• No end bars.
• All metal surfaces covered.
Cons
• Central bar complaints.
Specifications
Weight: 33 lb (15 kg).
Capacity: 500 lb (227 kg).
Dimensions (L x W x H): 85 x 55 x 19 in (216 x 140 x 48 cm).
Folded size & shipping size (L x D): 42 x 11 in (107 x 28 cm).
Heavy-duty, powder-coated frame.
Heavy-duty 600D fabric.
Mesh storage hammock underneath the cot.
Padded head section.
Included: heavy duty 600D carry bag.
Possible alternatives
Note that the same brand Kamp-Rite has several double tent-cots, those are structures with tents attached to the double cot. So here is a collapsible cot-tent of that kind, just to know. You do not have to worry about a tent, it is already included. So the cot is not in the tent; it is the tent on the cot.
Summary
To summarize this Kamp-Rite Double Kwik Cot Review, if you are a particularly tall person and you need a double camping bed, you will not find anything larger. This is it. The bed is very reliable and affordable.
As far as I know, it has been on the market for over 5 years now. So all is known about it, and it has stood the test of the time, see more in the link below.
But you might want also to compare this cot with the KingCamp Double Camping Cot built in the same style. Thank you for reading, please let me know if you have any question or comment. I wish you a nice day.