---
The Zempire Speedy Twin Campbed is very easy to use, purely folding and without assembly, it is also very compact, and with a very good price tag.
---
Key features & benefits
Compact.
No assembly, single-action fold and unfold.
Affordable.
Integrated pillows.
Pad straps.
Carry bag.
Steel frame.
---
Overview
This Zempire Speedy Twin Campbed is all one single piece, so there is no assembly and you open it and close in seconds. You will see this in the video below. This is behind the word Speedy in the name.
The picture below shows how the legs fold or unfold underneath the cot. In the same move, the cot collapses or expands width-vise.

For transportation, it folds into a tube that measures only 38.6 x 9.8 x 5.9 inches (98 x 25 x 15 cm), see the picture below. You have a carry bag included to keep it safe from dust, it is equipped with carry straps and glow zip pullers.
Materials
This is a strong and stable powder coated steel construction with 22 mm tubes and steel joints. They claim this is a rust-resistant technology.
Below you can see its outward angled legs, so it is stable to lateral movement. Its 9 feet are equipped with plastic caps. This is a floor friendly design, but the feet are narrow, so if you use it in a tent it is best to add something for protection.

Numerous X-crossed anti-sway support bars are added for additional stability, see how they look: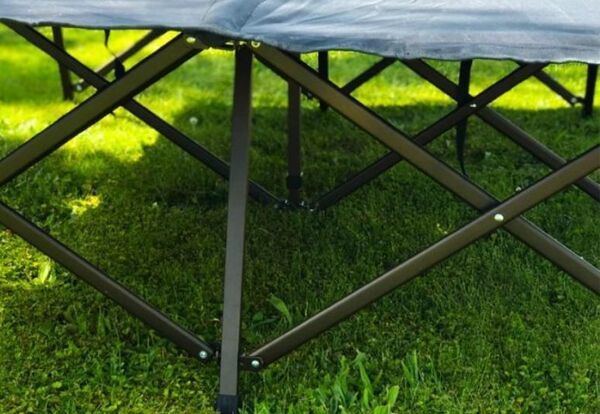 The fabric is a 600D Poly-Oxford. So this is quite typical denier value for cots. The same material is used for the carry bag as well. Double stitching is on pole sleeves where most stress is expected.
The cot comes with integrated pillows, they are pleasant and plush and probably good enough for back sleepers. Note that the same feature is available also in the Outwell Posadas Foldaway Bed Double.
Observe also the corner straps, one is shown below, that are added to keep a sleeping pad in place.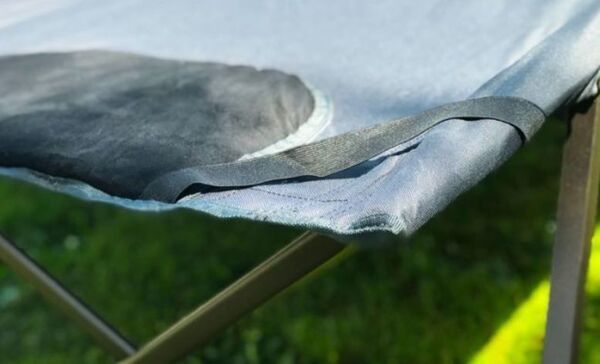 Speaking about a sleeping pad, you do not need it if you sleep in a warm environment. You can use it only for extra comfort.
But if you are in a cooler environment, you will need a pad. However, you are off the ground so you need far less insulation in any case. They have their own available, the Zempire Slumberlite Pro 10 cm Double Self Inflating Mat.
Please see a bit more in this video:
---
Who is it for
Regarding the capacity, you have 220 + 220 lb (100 + 100 kg). So this is modest but still a bit more than in its competitor HI-GEAR Double Folding Campbed that is built in the same style.
Regarding the dimensions, they are shown below, so I would say it is wide enough but the length is less impressive. Though, note that there are no bars in the head and feet areas, so the length is fully usable.

You can see also that the cot is quite high, so you have plenty of storage capacity underneath it.
Regarding the weight, with its 29.8 lb (13.52 kg) this is not a light item. But you have two cots in one.
You have already seen its packed and I would describe it as excellent in view of the fact that this is a cot for two adults.
Regarding the price, if you are familiar with this brand, then you know that prices of their products can be steep. But here you have a double-wide cot with a truly great price.
---
Specifications
Weight: 29.8 lb (13.52 kg).
Capacity: 220 + 220 lb (100 + 100 kg).
Dimensions (L x W x H): 76 x 52 x 18.5 in (193 x 132 x 47 cm).
Folded dimensions: 38.6 x 9.8 x 5.9 in (98 x 25 x 15 cm).
Frame: steel.
---
Rating, pros & cons
Below you can see how this cot stands against my standard rating criteria. You can rate it from your side as well.
Reliable, easy to use, and affordable cot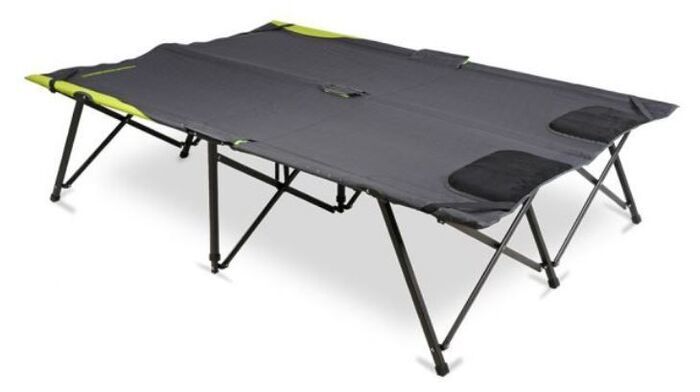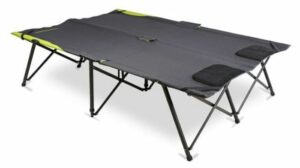 Product Name: Zempire Speedy Twin Campbed
Product Description: The Zempire Speedy Twin Campbed Is Very Easy to Use Single Action Folding Cot Without Assembly. It Is also Very Compact, and with a Very Good Price Tag.
Brand: Zempire
SKU: 0000099329235
Weight -

7.8/10

Dimensions -

8.3/10

Packed size -

9/10

Capacity -

7/10

Ease of use & features -

9.6/10
Summary
The cot stands well in all the rating criteria, so the overall rating is very good.
Pros
Very good price.
Easy to use.
Compact.
---
Final thoughts
So this Zempire Speedy Twin Campbed is indeed well-built as expected from this brand. It is very easy to use, stable and reliable.
Integrated pillows and corner straps for a pad are very useful. The carry bag is also nicely designed. The price is more than fair. Fully recommended. I have included it in my list of best double cots for camping.
Best places to buy:
For more options, please check under the category Double Cots, you will find them many here in the site.
Bookmark this site and visit it when you find time, this will keep you informed, you have new texts added here on a regular basis. Let me know if you have questions, there is a comment box below. Thank you for reading and have a nice day.