---
Insta-Bed Ez Queen Raised Air Mattress with NeverFlat pump is an incredibly comfortable air bed with two electric pumps and an elegant carry bag.
---
Where to buy
This bed is available on Amazon. I have noticed it on a few of their regional stores. So check the link, you might find it in your Amazon store and save on shipping.
Note that as of the moment of writing this text, the bed is more affordable on Amazon than on the site of the manufacturer.
---
Key features
Double size.
Very thick air mattress.
Two electric pumps.
Automatic pressure adjustment system.
---
What is Insta-Bed EZ Queen bed
This Insta-Bed EZ Queen is a double size bed with a very thick air mattress 9.5 inches (24 cm), and with an automatic self-inflating system. So I had plenty of reasons to include it in my list with best cots with air mattress.
The word Raised in the name should imply that you have a platform (frame) to which the air mattress is fixed. But this word is also used for different air mattresses that are without a platform yet they are built extra thick so you are high above the ground.
This is a folding design so everything is one single piece, including the carry bag, and in the video below you will see how it is deployed and also packed away.
The bed is large and quite high, the bed deck is 22 inches (56 cm) above the ground. So the feeling is as if you are using your standard queen size bed at home.
NeverFlat pump & primary electric pump
So here you have the mentioned NeverFlat system, this is an extra pump which is here to automatically inflate the bed if the pressure drops. It has sensors that give the signal when the pump will start and add some air. It is designed to work silently and if it is activated, this will not disturb you when you sleep.
If you want to disable it, you simply unplug the system from the power. Have seen people asking about this.
But you also have the primary pump which inflates or deflates your airbed in less than 2 minutes. It switches off automatically when the job is finished.
After setting your desired comfort level, you can choose one of the three (plush, medium or firm), everything is automatically regulated.
Carry bag
As mentioned, the carry bag is preattached to the structure, so you open it and leave under the bed. You will see how this works in the video below.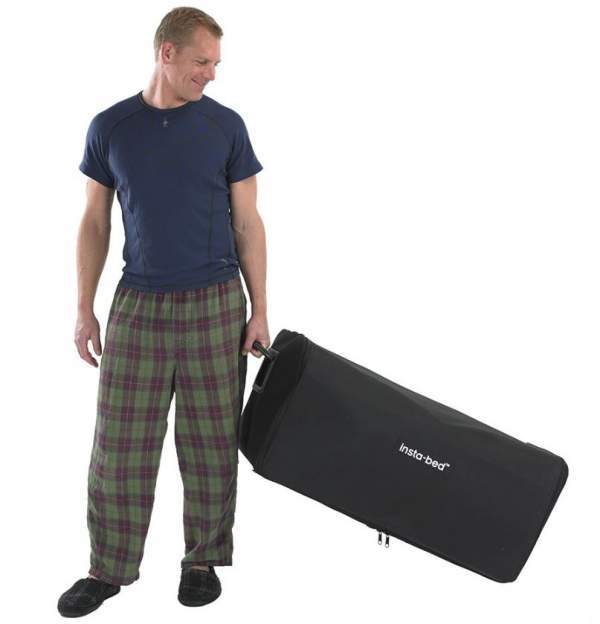 ---
Who is Insta-Bed Ez for
Capacity-wise, officially this bed supports up to 500 lb (227 kg) of weight. This is a lot but bear in mind that this is a bed for two users, though this should be enough for most couples. I have included it in my list of best double cots.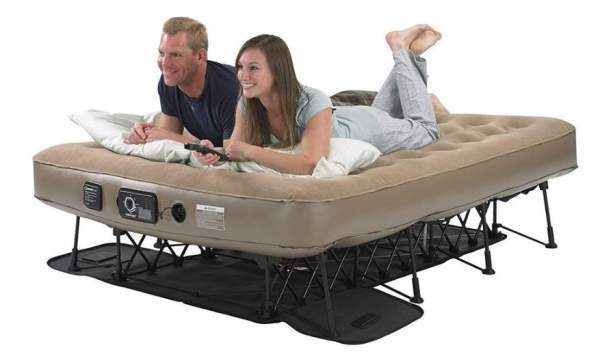 Size-wise, the bed is large, it offers 78 x 60 inches (198 x 152 cm). This is lots of space, quite enough for two people. There are no bars around so this all is a useful length and width.
Weight-wise, this is a heavy item that weighs 48.9 lb (22.2 kg). But the weight is normal for such a type and size, you will see how it compares with yet another similar item, there is a comparison table below.
The packed size is around 37 x 18 x 17 inches (94 x 46 x 43 cm). So this is a bulky item. In view of its weight, if you transport it to a trailhead hotel or to your camping place, you will definitely need a car.
This bed can be used at home as an emergency item, for sudden guests, etc. It is so comfortable and large enough for most of the potential users. But you can also use it as a camping bed if you are in a camp with electric power. Many camping tents come with an electric cable port for such a purpose.
---
Materials & Construction
The frame is steel and with many feet, if I am not wrong there are 28 of them, two inner rows with 10 feet and one row on each side with another 4 feet. So the structure is very stable and balanced. The deck is very pleasant and soft, some sort of synthetic that looks brushed and soft.
The feet are with plastic so this is a floor-friendly design. Even if you use it in a large floored family camping tent, you should have no issues with the floor, the weight is distributed to so many feet, and the feet are wide.
I have seen somebody asking if the air mattress can be removed. So it can, but this is not designed to be removed. There are built-in plastic buttons on the bottom and they slide into some plastic holders on the frame. You have to rotate the holder to open it a bit.
---
My rating, pros & cons, price
The daily updated Amazon price for this cot is given below, so this is an expensive item but it is with great features and very comfortable.
Please see how I rate it:
My rating breakdown of the Insta-Bed Ez Queen Raised Air Mattress:
Weight -

6.2/10

Size -

8.9/10

Capacity -

7/10

Packed size -

8.2/10

Ease of use & features -

9.7/10
Summary
My overall rating of this cot is Very Good, but see also the pros & cons below.
Pros
Great dimensions.
Self-regulating pressure pump.
Very soft and pleasant.
Elegant carry bag.
Cons
Large when packed.
Heavy.
---
Specifications
Weight: 48.9 lb (22.2 kg).
Weight capacity: 500 lb (227 kg).
Air bed dimensions: 78 x 60 x 9.5 in (198 x 152 x 24 cm).
Packed size: 37 x 18 x 17 in (94 x 46 x 43 cm).
Total height: 22 in (56 cm).
---
Insta-Bed EZ Queen Raised Air Mattress vs Ivation EZ Bed
I have decided to show this bed side by side with the Ivation EZ bed which is also described here in the site. They look similar but the latter is a self-deploying design while the former is not. On the other hand, the Insta-Bed has the NeverFlat pump which you do not have in the Ivation EZ bed. The prices are similar.
37 x 18 x 17
(94 x 46 x 43)

26 x 21 x 16
(66 x 53 x 41)

---
Final thoughts
So this Insta-Bed Ez Queen Raised Air Mattress with NeverFlat pump is with such a descriptive name which tells you several of its great features. They built it nicely and although it is a bit bulky and heavy, it is quite easy to use if you do not have to transport it, otherwise it will take some space in the car trunk.

You might want to compare this bed with this Serta EZ Bed Queen Size built in the same style. If you would rather have something that is not inflatable, please check my list of cots with mattress included.
Please note that this is not a sponsored post and we are not paid by the brand. Let us know if you have any question or comment, there is a comment box below.

---