---
Here you have a list of the best double sleeping pads for camping with cots, tent-cots, and for a car camping in general. Several of them are insulated and with huge R-values.   
---
Why this list of double sleeping pads
There are many double cots and double tent cots presented here in the site, and with some of them, you might want to use a pad. In warmer conditions, this may be only for more comfort, but in a cooler environment, this may be compulsory.
Being off-the-ground on such a double cot means that you need less insulation than when you sleep on the ground, so you might not need a pad with an exceptionally high R-value. This is because the air under the cot will take around 40-50 times less warmth from the body as compared when you sleep on a pad on the ground.
Now, you still have a sleeping bag, but the bag's insulation loses its insulation property when pressed by your body, and this is why you still may need a pad. Note, the pads described below in the text can be nicely combined with double sleeping bags presented in my other text. So imagine such a great combination of a double cot (or tent-cot) plus a double pad and a double bag.
Of course, you can always use a single pad and a single bag even if you sleep on a double cot. But if you have a partner or you just want more comfort, you might want to use all double and have full comfort in the camp.
These double pads can certainly be used also on the ground in a larger family camping tent. So in any case, this is about car camping because you either use a double cot in a larger tent or a double tent-cot, and those items are usually heavy and suitable only for places with a motorized access.
With this in mind, you will want the most comfortable options and reliable options, and the double pads below are exactly in such categories.
---
My list of the best double sleeping pads for car camping
The pads are listed alphabetically so the numbers are not for ranking:
The list includes:
Inflatable double camping pads. Here you have both insulated and uninsulated types.
Self-inflating double pads. Here too you have the same, insulated and uninsulated.
---
1. ALPS Mountaineering Lightweight Self-Inflating Double Air Pad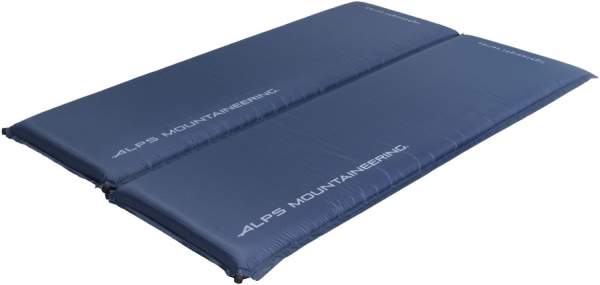 This Alps Mountaineering pad is here due to several good reasons. Obviously, this is a double sleeping pad and its size is such that it will fit most of the double cots and double tent-cots. But the design is very clever and you can split it into two separate single pads and use for two separate single cots or tent-cots.
You can also fold it and use as an extra thick solo sleeping pad. This is due to a Velcro connection which you have between the two pads. In this case, you can sleep in any winter conditions regardless of how cold it may be.
The R-value is very high 6.9. This is equivalent to the temperature -26 F (-32 C). When you fold it, this R-value is twice higher, so now you realize why I am saying that you would be safe with it anywhere.
Here are a few more numbers that you might want to have. The weight is 9 lb 7 oz (4.28 kg) and the dimensions are (L x W x D) 75 x 47 x 3 inches (191 x 119 x 7.6 cm) as a double sleeping pad, and 75 x 23.5 x 3 inches (191 x 60 x 7.6 cm) as a single; if you fold it you have 6 inches (15.2 cm) thickness.
The two parts are packed separately in their carry bags and the packed size for each is 27 x 7.5 inches (69 x 19 cm).

---
2. Big Agnes Hinman Double Wide sleeping pad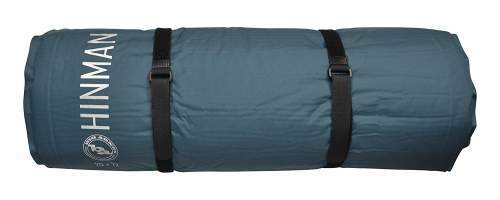 This is a self-inflating pad and its temperature rating is rating -22 °F (-30°C) and this corresponds to the R-value of 6 to 7. Clearly, this will keep you warm even in winter conditions.
The pad is not particularly thick when you compare it with other pads here in the list, so you have "only" 2.5 inches (6.35 cm) which is just perfect if you use it on a double camping cot. Now, the dimensions are 78 x 50 inches (198 x 127 cm) so this is suitable for almost all double cots and double tent-cots presented here in the site, but it is not suitable for the Tangkula Double tent-cot which is a bit narrower.
This pad is particularly stable and does not shake too much, this is partly due to its modest thickness but also more due to a high-density open-cell foam used in its construction. The external material is a pleasant and quiet PU-coated polyester.

---
3. Exped AirMat HL Duo Inflatable Sleeping Pad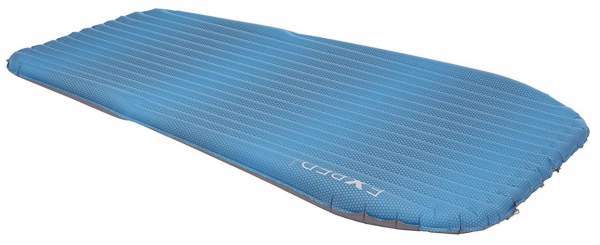 As the name suggests, this is an inflatable pad, and it is incredibly lightweight. It is built in two sizes M and LW and the M size weighs only 1.54 lb (700 g).
Clearly, this pad is so lightweight that you can use it in your tent-cot but when needed you can also take it on the trail and use even as a solo pad.
The pad is for a warm weather camping so you do not have insulation here. The declared R-value is 1.9 and this is good enough for temperatures as low as 39 °F (4 °C).
Note also that the pad is incredibly packable. It reduces to 7.9 x 4.7 inches (20 x 12 cm), so imagine it will not take much space regardless of how you transport it. Please follow the link for more.

---
4. Exped MegaMat Duo 10 Insulated Self-Inflating Sleeping Pad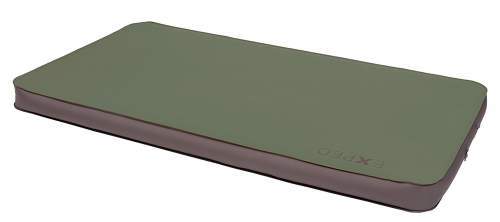 This is an extraordinary double sleeping pad in many ways. The number 10 in the name tells you its thickness, so you have 10 cm open-cell PU foam, which is Oekotex 100 certified. This implies that the pad is self-inflating, so just leave the valve open and let it do the job for you. The open cells in the foam will suck the air in.
Its R-value is impressive 9.5 which makes it suitable for the temperatures as low as -54.4 °F (-48 °C).
The dimensions are 77.6 x 52 inches (197 x 132 cm) so you will need a really wide double cot if you are going to use it that way. The pad is heavy, 163.3 oz (4.63 kg), but it is built for comfort and protection, not to carry it around. Note that they give 5 years warranty for this item.

It packs to 27.6 x 11.8 inches (70 x 30 cm). The materials are very durable  50D polyester on the top and 75D on the bottom. You have a Mini Pump included. Please see more in this video by Exped:
---
5. Exped SIM Comfort Duo 7.5 Sleeping Pad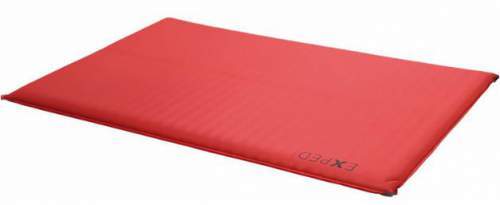 This is a self-inflating pad, and it is designed for 4 seasons. This is obvious when you see its impressive R-value which is 6.4. This corresponds to temperatures -18 °F (-28 °C). But remember this implies sleeping on the ground, so on the cot, it can take even lower temperatures.
The dimensions are such that it offers plenty of space for two adults, and you have 77.6 x 49.2 inches (197 x 125 cm). So this pad will fit nicely in the Kamp-Rite Double and Kamp-Rite Compact Double tent-cots, as well as in the Winterial Oversize tent-cot. It is also suitable for the Outsunny Double Cot, KingCamp double cot, and Kamp-Rite Double Kwik cot.
One peculiar feature of this pad is that you can fold it and use as a single pad when you have no space for a double pad. But you should also know that such a double layer increases its R-value twice. In such a use, you can sleep anywhere with this pad. So as you realize, this is an incredibly versatile option.
Now, how do you fold it? There are Velcro tabs that run along its sides, so when you fold it, you press them together and it will stay in place. But equally important, these same Velcro tabs allow you to attach it to another pad (when you sleep on the floor) and you can make a huge sleeping platform in a larger family camping tent. This is a brilliant design.
The pad is 3 inches (7.6 cm) thick so imagine if you fold it how incredible this may look.
It weighs 7 lb 4.8 oz (3.31 kg) so obviously, this is a car camping tool and most suitable for the purpose which you have here i.e. to be used with cots.
It has inflation and deflation valves separately so it is easy to make it ready or to pack it when you are ready to go.
This is an incredibly durable pad and it has received a perfect score from Amazon customers, 5.0/5, simply unbelievable.

---
6. Kelty Tru.Comfort Camp Bed Double-Wide Inflatable Sleeping Pad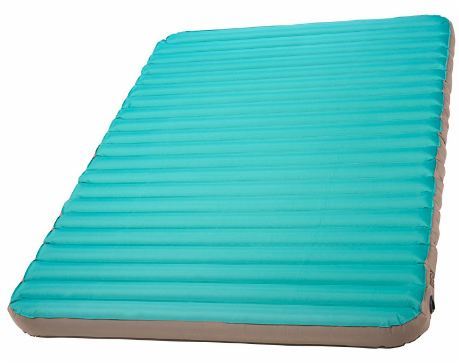 This is an inflatable pad of a particular type, so its carry bag doubles as the inflation bag. As you can imagine it would be a hard work to inflate this large structure with your lungs. This is why you use the carry bag which is equipped with a valve that fits the valve on the pad. It has a roll-top closure so you open it, trap the air in it, and then press it out into the pad. This is similar to the Exped pad's system above.
The pad is very large indeed so you have 78 x 57 inches (198 x 145 cm). It is a great choice to use together with the KingCamp double cot, and Kamp-Rite Double Kwik cot.
This is also a very thick pad, so you have 4.75 inches (12 cm) and you realize why they use the words "camp bed" in the name. As you see from the picture, the pad is constructed with transverse baffles, and this makes it quite stable. So you have no bouncing effect so typical for the pads with longitudinal baffles.
The pad comes with some insulation but they do not provide the R-value, so I would say this is quite enough for a cot for 2-season camping.

---
7. KingCamp 2 Person Camping Sleeping Pad with Built-in Pillow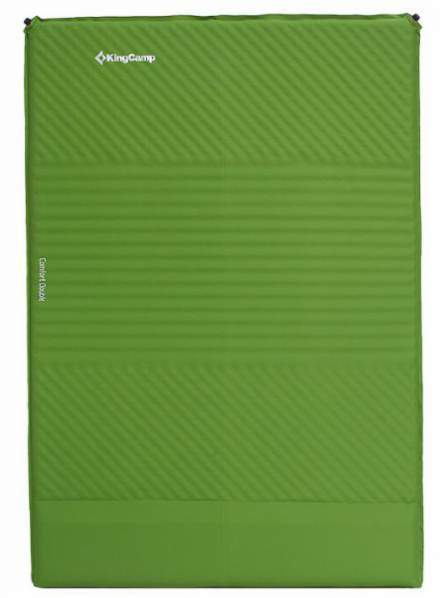 This is a budget-friendly option for those who need a double pad for occasional use and for summer camping. This is a self-inflating type with open-cell foam in the pad. Note that they do not provide the temperature rating, but you have the foam inside and some insulation is definitely there. It may be just enough for what you need when you sleep on a cot.
The size is 78 x 51.2 inches (198 x 130 cm) and the thickness is quite modest 1.6 inches (4 cm) in the main part and 2.6 inches (6.6 cm) in the head area. Such a thickness does not make it very comfortable for sleeping on the ground, but on a double cot or a double tent-cot, it will be perfect.
The built-in pillow is 6.6 cm only, so not much of a pillow really, and you will surely need some extra pillow with this pad. But it has some interesting features, like the triple-zone comfort pattern design which you can see in the picture above. The idea behind this design is slightly similar to a more advanced system that you have in the Klymit pads below. It implies a different softness and support in different areas.
The weight is 8.7 lb (3.95 kg) and it packs to 26.2 x 13.6 inches (67 x 35 cm).

---
8. Klymit Double V Pad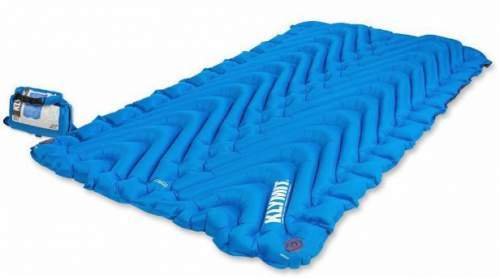 Here you have the iconic V-shaped baffles in a very popular pad. These diagonal patterns are introduced in all pads of this brand. They incorporate the best features of both transverse and longitudinal baffles designs.
So this is an inflatable pad without insulation, good enough for summer camping and even for late spring and early autumn, similar to the Kelty's pad. Note that here too the stuff sack doubles as the pump sack.
But observe that this pad is considerably smaller. So you have dimensions 74 x 47 inches (188 x 119 cm). This makes it very suitable for shorter double cots like the Outsunny Double Wide Cot. You can also use it in some double tent-cots like the Tankgula Double, Winterial Oversize, Kamp-Rite Compact Double, and Kamp-Rite Double tent-cot.
It is less thick than the Kelty's pad, so you have 3 inches 7.6 cm, but you should know that this pad includes what they call the Body Mapping Technology. So it is very stable and very comfortable, with more support where it is more needed, a clever design in many ways.
It packs well to only 9 x 5 inches (23 x 12.7 cm), and it has some minor R-Value of 1.6. This implies the temperature lower limit of 46 °F (8 °C), and this puts it in the same group with the Kelty's pad. The weight is 40.5 oz (1.1 kg) so this is a very lightweight tool.

---
9. Klymit Insulated Double V Pad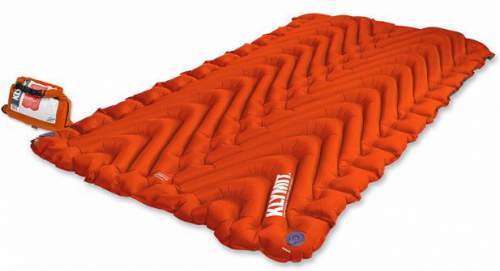 As the name of this pad suggests, here you have the insulated variant of the Klymit Double V pad. So the effective R-value for this pad is 4.4. This 4.4 which you have for this pad roughly corresponds to the temperatures 10 to 5 °F (-12 to -15 °C).
This insulation affects its weight, so now you have a pad that weighs 52 oz (1.47 kg). The insulation increases also the volume, so the packed size is a bit bigger and it packs to 12 x 7 inches (30.5 x 17.8 cm) which is again quite extraordinary.
The dimensions are exactly the same so again you have 74 x 47 inches (188 x 119 cm) and the thickness is 3 inches (7.6 cm). So it is suitable for the same double cots and double tent-cots as the non-insulated version above. The color is different as you realize from the picture.

---
10. Therm-a-Rest NeoAir Camper Duo Sleeping Pad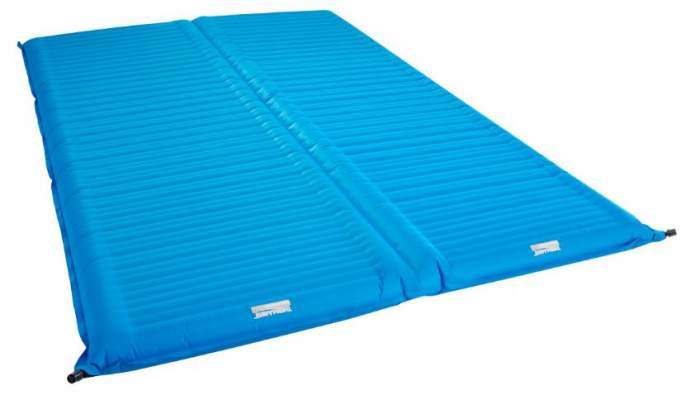 When you have so many great double sleeping pads in the list, you might ask what new one can expect in yet another pad with such a size. Well, this Therm-a-Rest NeoAir Camper Duo Sleeping Pad still has something unique and this is the dual-chamber design.
So this is a double-wide pad but the two halves are separated and you inflate them separately. There are separate valves for each of them. This is good for several reasons. Each of the users can inflate his/her part independently. This is particularly important when you have two partners of a very different weight, so this increases comfort. Also, bouncing is reduced when the other person rolls on his/her part which again adds to the comfort.
Here are a few numbers: the weight is 4 lb 2 oz (1.87 kg), the size is 77 x 50 inches (196 x 127 cm), and the R-value is 2.2.

---
Final thoughts – how to choose
So this is a really great list of double sleeping pads for camping; the pads are given here with cots camping in mind, but they are more versatile than that. You can use them any way you want. Almost all of them are great pads for sleeping on the floor as well in large family camping tents.
Obviously, you have a big difference in the prices here, roughly in the range $100 – 370. So this might be one of the parameters to check first.
The other is related to the use of the pad. If you plan to use it with a double cot or a double tent-cot, you have to check the dimensions first. Some of the tent-cots, like the Cabela Double, are so big that they will accommodate any pad at all. But this does not hold for all of them, see for example the Tangula Double Tent Cot which is a bit narrow. The same holds for the double cots which you will use in your camping tent; you will notice that some are shorter than others, like the Outsunny Double Cot.
Versatility is also one of the factors to consider. In this sense, I particularly love the Exped SIM Comfort Duo 7.5 Sleeping Pad because you can fold it so nicely and then use on single cots as well. This is a great design. But the most versatile is clearly the Alps Mountaineering Double pad because you can use it as two single pads as well.
The Klymit pads are a story for itself. Those are the most famous on the market in general, and nothing can go wrong with such great designs. This is the best value for the money for sure; I am not biased here, this is just the fact.
If this is about a really cold camping environment, then think about those with the highest R-values. Note that they can equally well be used for summer camping as well; those are not heaters, they just insulate you from the ground.
So, thank you for reading. Please let me know if you have any question or comment; there is a comment box below. I wish you a great day. 

---