---
This Coleman Airbed Cot Twin review is about a complete outdoor or indoor sleep system with a cot, air pad, cover, side table, and pump.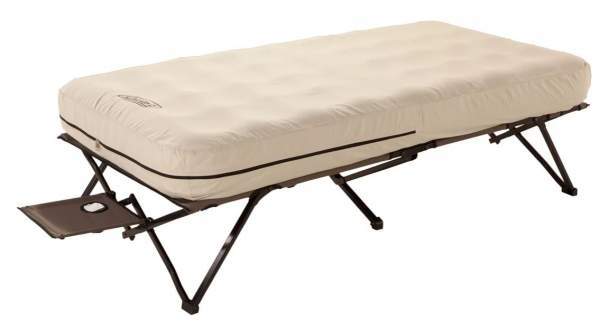 Key features & benefits
Incredible price.
3-in-1 system.
Very comfortable.
Side table with cup holder.
Included pump.
Strong construction.
Double Lock Valve on the air pad.
Pad cover/sleeve included.
---
Coleman Twin Cot – who is it for
With the length of 74 inches (188 cm), this camping bed is formally recommended for people up to 6 feet (183 cm) tall.
The name might suggest it is for two people, but its width is "only" 40 inches (102 cm), so use it as a solo tool and you will have a great camping bed.
But this is also a nice bed for two kids, or eventually for a mother with a small child.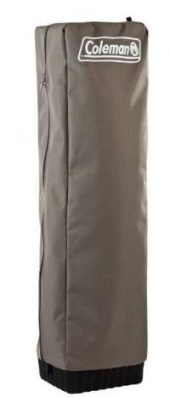 Note, this is a folding cot. This means it packs nicely to only one relatively large dimension, 38 x 11 x 9 in (97 x 28 x 23 cm), see the picture. So transporting it in a car and also storing at home is very easy.
I guess it is still too large to be transported on a motorbike; for such a use you might want to check this impressive list of collapsible cots.
This is a heavy tool, 30.8 in (14 kg) so not meant to be carried a long distance. Though you have a nice carry bag and moving it around should not be a problem. Here are a few ideas about possible places to use this system:
Here are a few ideas about possible situations for using this system:
regular camping places,
trailhead hotels,
summer open-air music festivals,
vacations in general,
for sudden overnight guests, and for any emergency situation at home.
Note, this is a 3-season camping bed. If you plan to use it in a cold environment, consider adding some extra insulation. There are very thin pads that can add good enough insulation because they can be folded once or even twice, and they do not add height (the bed is already high enough). See this Exped MultiMat as a great example.
---
Fitting in the tent
The width is such that it fits any 2-person hiking or camping tent. This holds even if you use the side table attached to the bed. Note, the side table can be detached if you have no space for it.
However, its height of 23.5 inches (60 cm) is such that it may be too high for many ordinary low tents. But no worry, there are nice options available on the market. See this great Kelty Mirada tent and also the Camp Cabin from the same brand, those are perfect shelters for such a king-size bed.
But there is a good side of its height; you can store a lot of stuff under the bed. Even a small dog can sleep under the bed. So in any case, the rest of the tent will be free space, no stuff around. This is not so when you use a sleeping pad on the floor, most of the space in the tent is used for it.
The legs are with protective plastic caps, but there are so many of them and it is advisable to be careful in order to preserve the tent floor. Though, I haven's seen anybody complaining about this issue.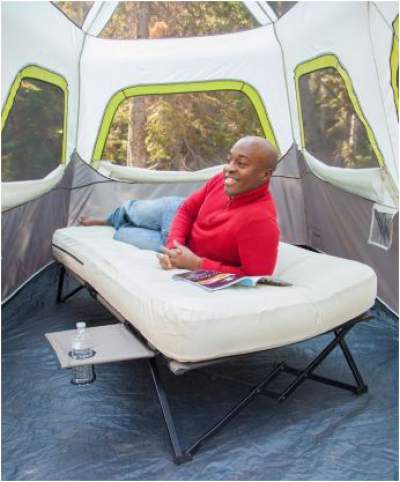 The Twin cot is so affordable, so if you have a really big camping tent, think about using two of the cots together for you and your partner.
---
Description
This Twin cot looks like a smaller brother of the Queen cot. This is a very sturdy and stable construction with a steel collapsible frame. It will not shake when you roll on the bed, and you feel stable on it.
This feeling of stability is only increased by the sewn-in cover which really keeps the air mattress in place, and this in spite of such a mattress which is probably more than 5 inches (12 cm) thick.
Note that this is a 3-in-1 system, so you can use both the cot and the mattress separately, as well as together. Even if it happens to have the mattress flat, after all this is an inflatable tool, you still have a pleasant wide bed. But indeed the mattress is quite durable and not so easy to get punctured.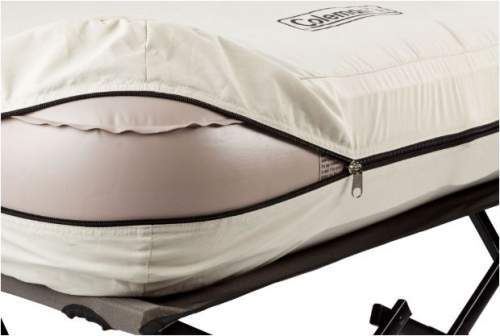 What exactly is included
Here is what you get for $60:
A very wide fully collapsible cot.
Durable air mattress.
One side-table with a cup holder. This can be attached on any side of the bed.
A pump that works on batteries.
A sewn-in cover with a zipper which acts as a sleeve and keeps the mattress in place.
A strong carry bag.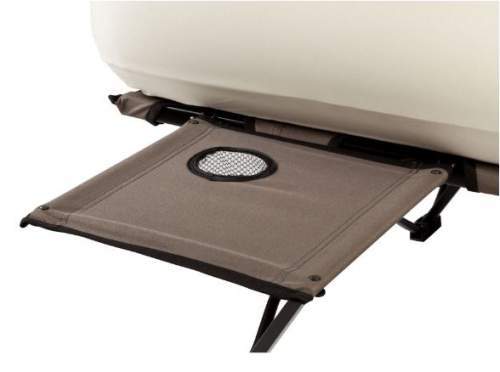 How to set it up
You simply unfold the bed and it pops up, no tools are needed. The bed fabric and the mattress cover are permanently attached to the frame. If you use it in a tent, it is best to put the mattress in the sewn-in sleeve before you inflate it.
No worry if you cannot spread the mattress completely inside the cover, the air will do this as soon as you start pumping. So zip it in the sleeve and only leave the opening for the pump. When you start the pump, it will inflate it in less than 3 minutes. You need D batteries for the pump, they are not included but they will last very long.
When you have finished with sleeping and want to pack the system, it is necessary to remove the pad from the sleeve so that you can store it properly in the carry bag.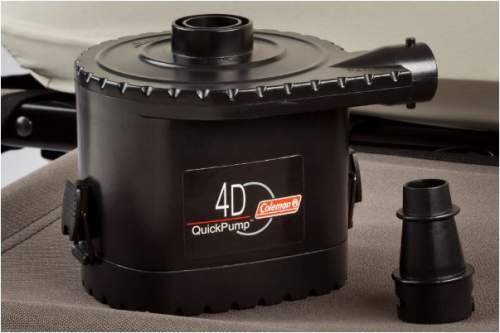 ---
Coleman Twin Cot in the context
If you search the Internet, you will notice that currently, Coleman sells cots either with foam mattresses (three or four models available) or with air mattresses. The latter group includes also the Coleman Queen size cot and a modified version with built-in pump.
There are some other brands available, like this Zinus cot with foam mattress, but they look to me more for home use as spare beds rather than outdoor camping tools.
So all information about this type of cots is available here in the site, and all these models are presented in detail in my separate reviews. See also my list of all Coleman cots currently available on the market.
---
Pros & cons, my rating, price
The cot is definitely not lightweight, but it is not designed to be carried around. The pad sleeve/cover is sewn in, and its purpose is to keep the air mattress in place. Pity they did not use Velcro or something similar to make it removable for washing.
The daily updated Amazon-US price is given below. Note that you can have it shipped for free, this is an Amazon Prime Product. But this is also an Amazon's Choice item, which means recommended by the seller, and ready to ship immediately. The Coleman Cot Air Bed Twin is a very popular tool and there are thousands of customers' reports available throughout the Internet. If you go to Amazon you will see close to 3000 of them, and rating is generally high. See below my own rating breakdown for this camping system:
My rating breakdown of the Coleman Twin Airbed Cot
Weight -

5/10

Size -

9/10

Capacity -

7.5/10

Packed size -

7.8/10

Ease of use & features -

9.8/10
Summary
My overall rating of this cot is Very Good. But I have some objections, see below.
Pros
• Extraordinary price.
• Complete sleep system.
• Very easy setup.
• Very comfortable.
• Very reliable.
• Durable materials.
• Nicely packable.
Cons
• Heavy.
• The pad cover not removable.
---
Specifications
Weight: 30.8 in (14 kg).
Dimensions: 74 x 40 x 23.5 in (188 x 102 x 60 cm).
Packed size: 38 x 11 x 9 in (97 x 28 x 23 cm).
Weight capacity: 300 lb (136 kg).
For people up to 6 ft (183 cm).
1-year limited warranty.
Carry bag included.
AirTight system is factory-tested.
ComfortStrong coil system for better support.
Double Lock valve is dual-sealed.
Included 4D pump (batteries sold separately).
Side table with cup holder.
Sewn-in cover/sleeve.
Strong folding steel frame.
---
Summary
So to conclude this Coleman Airbed Cot Twin review, this is a very nicely constructed system that has been on the market for a number of years already. So this is something that has been tested in practice by many users already.
I use the word system because it includes so many things, and this all for some $60 or so which is hard to believe. I can strongly recommend this cot for any 3-season outdoor use or for indoor use.
Best places to buy:
Note again that all Coleman cots available on the market are presented in my separate text; you can see most of them also in the links below.
I hope the text has been useful to you, and if this is so, please share it with others. Thank you for reading, let me know if you have any question or comment, there is a comment box below. I wish you a pleasant day.

---