---
The Outwell Centuple Double Sleep System includes an easy to use double-wide cot and a pleasant cotton cover with an integrated pad.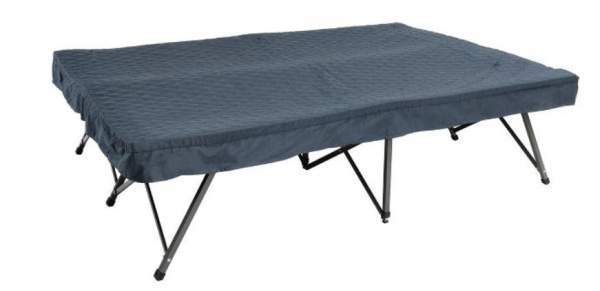 ---
Key features & benefits
Double-wide folding cot.
Insulated mattress.
Machine washable cotton cover.
---
What is in the name
Outwell brand has had this set for years, from what I remember they first launched their red Centuple. But even this presented here has also been on the market for a number of years already.
This is an awarded design, and the word System in the name implies that you have the following elements:
A folding double-wide cot.
A bed top that includes two separate pieces, a cover with a skirt and a zipper on its underside, and a pad inside. See how this looks: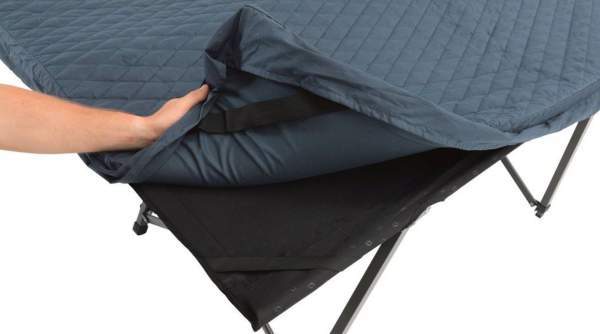 You pack the two pieces separately as shown in the picture below. The inner pad you remove only if you want to wash the cover which is machine washable.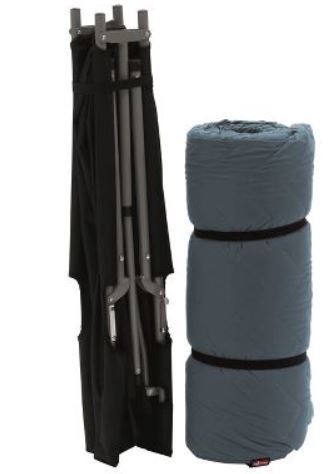 The cot is easy to use and this is all pre-attached so you open and close it easily, no assembly is needed.
Materials
The frame is steel and it includes 9 legs with plastic caps on their feet. As you realize from the picture below, the feet are narrow and I would not use the bed in a floored family camping tent without some extra protection.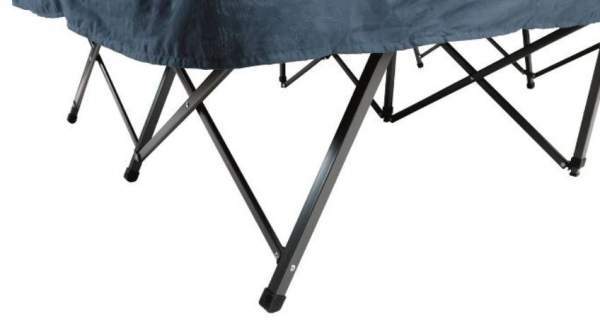 The bed fabric is a 300D x 300D 100% polyester. The top cover is a weaved cotton 100%, and the bottom is a non-woven 100% polyester. There is a skirt around and this is a 100% cotton.
The insulation inside includes a PU foam 16 kg/m³, plus a filling which is Tencel, 60% lyocell microfiber 200 g/m² and 40% polyester.
These are PFC free materials. Because of all these features, I have included it in my list of padded cots.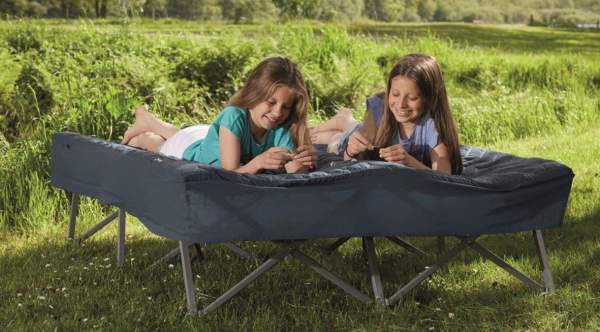 ---
Who is it for
Regarding the capacity, this bed is designed to support two users with a combined weight of 551 lb (250 kg). This is moderate for a double bed, but no doubt this should be enough for most of potential couples.
Regarding the dimensions, you have (L x W x H) 76.4 x 52.8 x 18.9 inches (194 x 134 x 48 cm). So the bed is quite wide and this is enough for two users.
The length is normal for a camping bed. Note that there are no bars on the head and feet sides, so you are safe from pressure spots, and the mentioned length is a true useful length.
There is a central bar here, just to know if you plan to use it solo, you have to sleep on one side or the other.
Observe the height, so this is a standard height for a bed, and you have a huge space underneath the bed to store lots of your camping gear. I have all the good reasons for including it in my list of best double camping cots.
Regarding the weight, this set is heavy, but this should be normal to expect in view of what it includes. So the total weight is 35.5 lb (16.1 kg).
You have seen how it folds, and below you will see its packed dimensions. So the set needs some space in the car trunk, but this is for two people and the pad is included.
Using this system in a tent
You do not need a separate pad, what you have here should be enough for all seasons. They do not provide R-value for the pad but you have insulation and you are off the ground.
---
Specifications
Weight: 35.5 lb (16.1 kg).
Capacity (both beds together): 551 lb (250 kg).
Dimensions (L x W x H): 76.4 x 52.8 x 18.9 in (194 x 134 x 48 cm).
Folded dimensions:
– Cot: 38.2 x 10.6 x 7.9 in (97 x 27 x 20 cm).
– Mattress (L x D): 27.6 x 11.8 10 in (70 x 30 cm).
Frame: steel.
Pad included.
---
Rating, pros & cons
Below you can see how this set stands against my standard criteria used for camping cots. You can rate it yourself, there is a rating bar below.
Functional sleeping system for 2 people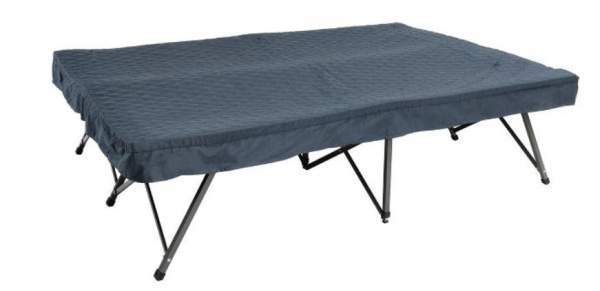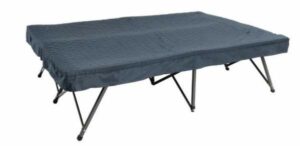 Product Name: Outwell Centuple Double Sleep System
Product Description: The Outwell Centuple Double Sleep System Includes an Easy to Use Double-Wide Folding Cot and a Pleasant Cotton Cover with an Integrated Pad.
Brand: Outwell
SKU: B081TJ82ZZ
MPN: 5709388104250
Weight -

7.2/10

Size -

8.3/10

Capacity -

7.5/10

Packed size -

7.8/10

Ease of use -

9.5/10
Summary
This set scores well in all rating criteria so the overall rating is Very Good.
Pros
Complete sleeping set.
No need for a pad.
Easy to use.
Pleasant cover.
Cons
On the heavy side.
Bulky.
---
Final thoughts
So this Outwell Centuple Double Sleep System is a complete outdoor sleeping set with lots of space for two adults. It is insulated, easy to maintain and clean, and pleasant with its cotton cover.
It can be used also as an emergency bed and for sudden guests. It is included in my list of folding cots with mattresses. Fully recommended.
Best places to buy:
For more options, please check under the category Double Cots, you will find them many here in the site. There is yet another double cot here from the same brand, the Outwell Posadas Foldaway Bed Double.
Bookmark this site and visit it when you find time, this will keep you informed, you have new texts added here on a regular basis. Let me know if you have questions, there is a comment box below. Thank you for reading and have a nice day.