---
The Coleman Queen Frame Airbed Cot with Side Tables and Built-In Pump is a new version of the popular Queen size cot, with a different pump construction.
---
Key benefits & bonuses
A complete sleep system.
Included 2 side tables with cup holders.
Mattress sleeve/cover included.
Integrated built-in pump.
Very large and comfortable.
Strong construction.

---
Who is it for
If you plan to use this cot as a camping tool, then clearly you should be strong enough to move it around from the car to the tent.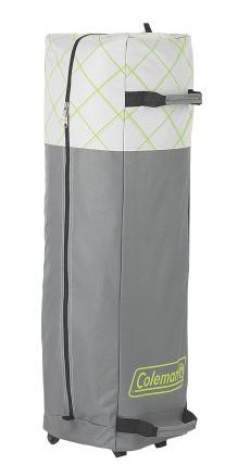 The length of this cot is such that it is good enough for people below 6 ft. Being so heavy and big, I can see it used:
at regular camping places,
in trailhead hotels,
as a spare bed for sudden guests at home.
The cot is with a very thick and durable air mattress and a sturdy construction with a capacity of 500 lb (227 kg). Similar to the Queen size cot from the same brand, this is the widest of double size cots currently available on the market.
Note also that both the cot and the mattress can be used separately, and together of course, so this is a true 3-in-1 system.
---
How about fitting in the tent
You will need a big tent for this cot, and first that comes to my mind are these two very new tents, both launched on the market in 2017, the Kelty Mirada tent and the Kelty Camp Cabin.
Even if your tent is relatively small, note that you have a lot of space under the cot. So here you can put all your gear, and make space for a dog if you have it with you.
The feet are numerous and all protected by plastic caps. So this should be fine for the tent floor or for the floor at home.
---
What is included
This cot may look expensive, but it is incredibly comfortable and this comfort has a price. But this aside, please see what you get for $256 (this is the current price at the moment of writing the text, please check the links):
A very wide and fully collapsible cot.
Durable air mattress.
Two side tables with cup holders.
Integrated electric pump with its AC cord.
A sewn-in cover (sleeve) with a zipper that keeps the mattress in place.
A strong carry bag.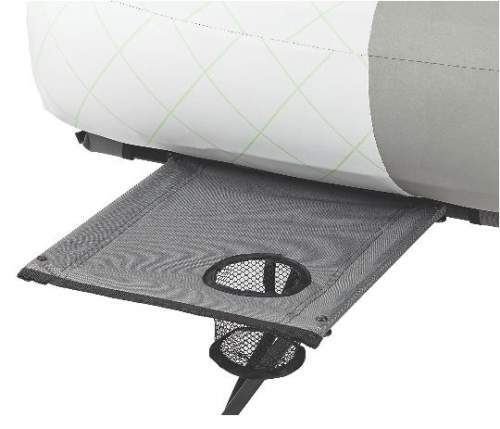 ---
How to set the system up
This is a collapsible system, so when you unfold it, the bed pops up, you will need no tools. The bed fabric and mattress sleeve are permanently attached to the frame, but the side tables are removable and the same is with the mattress.
Normally it is best to put the mattress in the sewn-in sleeve before you inflate it. The pump both inflates and deflates the mattress, it is very quick and efficient both ways.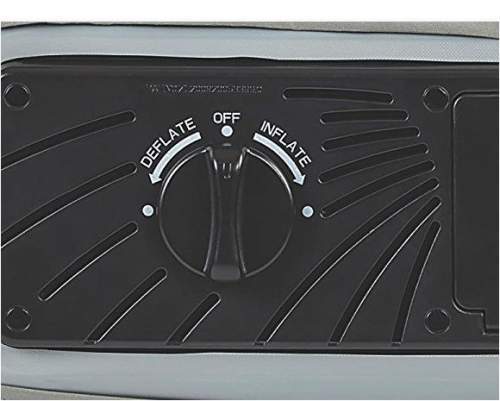 After the camping, first, deflate the pad and remove it, and fold it properly. Folded bed and the mattress can easily be stored back in the carry bag, it is built big enough.
---
My rating, pros & cons
The cot comes with a built-in pump but it also has a port that fits the usual Coleman external battery-operated pump if needed. So the mattress can be inflated even at places without AC power. Please see how I rate this cot:
My rating breakdown of the Coleman Queen Frame Airbed Cot
Weight -

6.5/10

Size -

9.3/10

Capacity -

7/10

Packed size -

9/10

Ease of use & features -

9.9/10
Summary
My overall rating of this cot is Very Good:
Pros
• Complete sleep system.
• Very comfortable.
• Very reliable.
• Very durable.
• Great capacity.
• Great size.
• Built-in pump.
Cons
• Heavy.
• The pad cover not removable.
• Expensive.
---
Specifications
Weight: 45.4 lb (20.6 kg).
Capacity: 500 lb (227 kg).
Dimensions (L x W x H): 78 x 59 x 22 in (198 x 150 x 56 cm).
Packed size: 39.6 x 10.5 x 10 in (101 x 27 x 25 cm).
Built-in Swift Lift performance 120-Volt air pump.
For people up to 6 feet (183 cm) tall.
Double queen airbed.
Heavy-duty strong steel frame.
Warranty: 1-year.
Comfort Strong coil system for better support.
Air Tight system factory-tested to be leak-free.
Side tables with cup holders.
---
How about competitors?
Well, at the moment of writing this text, I do not know about any system comparable to this. There were some tools a few years back, but they are not available any longer.
So all other options similar to this are the mentioned Queen Cot and the Twin Cot from the same brand, but the latter is considerably smaller.
This new Coleman Queen Frame Airbed Cot is slightly heavier than the Queen Cot, but surprisingly the Queen Cot's capacity is bigger. I rank the new cot below the Queen Cot mainly due to a much higher price and the weight.
---
Summary
So this was my overview of the Coleman Queen Frame Airbed Cot with Side Tables and Built-In Pump, this is a completely new tool on the market, no doubt equally comfortable as the popular existing Queen Cot. But this is a bit advanced model, with the built-in electric pump which inflates and deflates the air mattress.
This all is built from durable materials, the mattress is incredibly comfortable and most importantly stable due to the zippered sleeve that keeps it firmly in place. Great tool and I can fully recommend it, assuming that you can handle its weight.

Note that all presently available Coleman camping cots are listed in my separate text and presented in various reviews in the site. If you need something totally different, perhaps for hiking and backpacking, please see this impressive list.
Thank you for reading. Please use the comment box below in the case of comments and questions. I wish you a nice day.