---
Serta EZ Bed Queen Size is very large and soft, equipped with a Never Flat Pump to maintain the pressure, plus a primary pump for inflation and deflation.
---
Key features
Self-deploying system.
Primary pump for self-deploying and inflating.
Secondary pump for keeping the pressure constant.
Great carry bag.
Steel frame.
---
Where to buy
This inflatable raised bed is available on Amazon. I have noticed it on a few of their stores globally, so follow the link and you might find it on your regional store and save on shipping.
---
So what is Serta EZ Queen Size bed about
There are several of such raised collapsible queen size beds with air mattresses here in the site. You will see a few of them in the comparison table below. So Serta EZ is similar to them but there are some differences.
This is a self-deploying folding design with two pumps. The primary pump deploys the bed and inflates the mattress and it will be ready by itself, you have nothing to do after you unpack it. In this sense, it is very similar to the Ivation EZ bed.
But it also has what they call NeverFlat secondary pump system, and this makes it similar to the Insta-Bed Ez. This Never Flat pump system monitors the pressure and it engages whenever the pressure is changed and keeps it at your desired chosen level. Note that it is almost silent. The off-setting on the primary pump will disengage the secondary pump as well. In view of these nice features, I have added it to my list of beds with air mattress.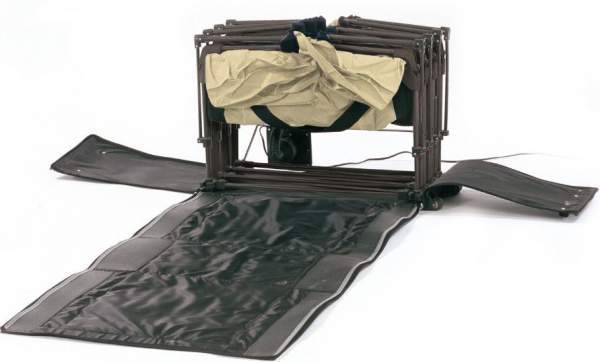 ---
Who is it for
Size-wise, with the bed's dimensions 78 x 60 inches (198 x 152 cm) this is enough space for two adults. There are no bars around so this is all useful area. I have added it to my list with double camping beds.
The declared capacity of the bed is quite modest, it is 45o lb (204 kg). The King version which they have is with 600 lb capacity.
Weight-wise, this is a heavy item, but the weight is similar to all other beds of this type on the market. It weighs 50 lb (22.7) and it is also bulky when packed, 34 x 22 x 15 inches (86 x 56 x 38 cm).
But its carry bag is nicely designed with wheels and a handle, see the picture. So you can keep the bed clean from dust when not in use. Obviously, if you plan to use it for camping you will need a car.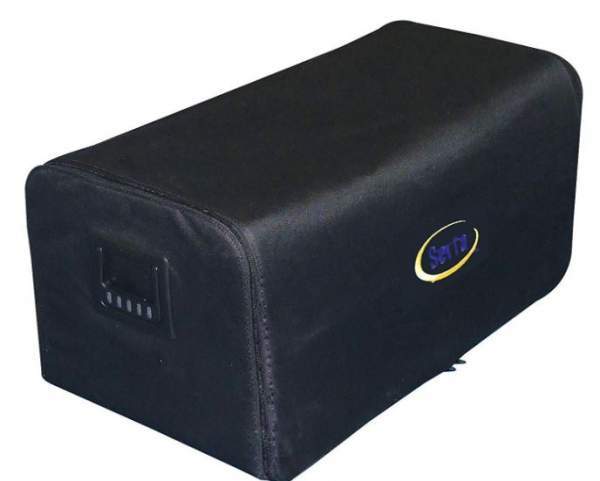 As you realize from the pictures, when the bag is unzipped it remains underneath the bed when it is deployed, and it is attached to the bed all the time. So the bed expands along the bag's fabric and the floor is always protected in the process of deploying.
---
Materials & Construction
The frame is steel and the bed has a few tens of legs and support bars, so it is surprising that the capacity is not bigger. I guess it comes to the mattress when the capacity is in question.
But the mattress itself is nicely built with 48 circular coils inside, so this is not just an air balloon, the structure is very strong. The surface is very soft to touch.
The mentioned pumps allow you to regulate softness, you have several options which you can see in the picture: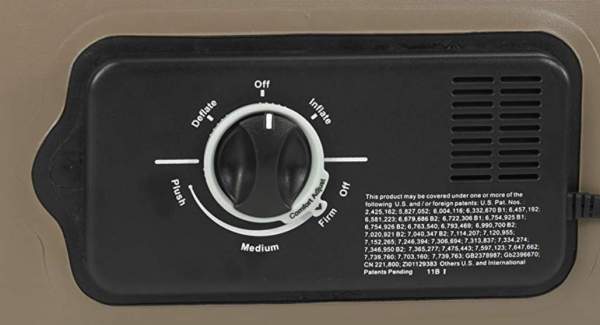 Using the bed in a tent
Clearly, you would need a very large family camping tent for such a bed. Such tents are normally floored but this is not a problem in view of so many legs which you have here and so large feet. The weight is distributed and you can use the bed without danger for the tent's floor.
If the tent is big enough for such a bed, you will always be able to set it up directly inside the tent.
---
My rating, pros & cons, price
The bed is on Amazon with the price shown in the link below, so not exactly an affordable item. It is much more expensive than its competitors, but this is an Amazon Prime product and you can have it shipped for free.
Please see how I rate it against the criteria used for all the cots here in the site:
My rating of the Serta EZ Queen size bed:
Weight -

6.2/10

Size -

8.9/10

Capacity -

7/10

Packed size -

8/10

Ease of use & features -

9.8/10
Summary
My overall rating of this double cot is Very Good:
Pros
Self-regulating pressure pump.
Very soft and pleasant.
Elegant carry bag.
Sturdy construction.
Cons
Large when packed.
Heavy.
Expensive.
---
Specifications
Weight: 50 lb (22.7 kg).
Capacity (queen size): 45o lb (204 kg).
Total dimensions (L x W x H): 78 x 60 x 22 in (198 x 152 x 56 cm).
Packed size: 34 x 22 x 15 in (86 x 56 x 38 cm).
Frame: steel.
---
Serta EZ Queen Size Bed vs Competitors
In the table below is this Serta EZ bed side by side with two others built in the same style.  The differences are insignificant in everything except in how the pumps work. The Ivation bed has one pump and the other two beds have them two. But there is also the deployment differences. Both Serta and Ivation beds deploy automatically. Please follow the links for more:
34 x 22 x 15
(86 x 56 x 38)

26 x 21 x 16
(66 x 53 x 41)

37 x 18 x 17
(94 x 46 x 43)

---
Final thoughts
So this Serta EZ Bed Queen Size is very easy to use if you disregard the weight and the packed size. The two pumps will do almost all the job for you. Only when you take it away and it is deflated, you push the folded frame back to the starting position and then zip the bag around it. My only true objection is about the price, but if you can afford it you will have a nice spare bed at home.

If you would rather have a bed with foam, please check my list with cots with mattresses and also the list of padded cots.
Note that this is not a sponsored text and I am not paid by the brand. Let us know if you have any experience with this bed, there is a comment box below.

---