---
If you are looking for the best backpacking cot, this text is for you. I present lightweight collapsible cots available on the market. These are all portable tools that pack to a very small size. Please keep reading.
---
What is a collapsible camping cot
To explain terminology first, a collapsible camp cot is a cot that is packed and carried in a relatively small carry bag, typically some 50 cm long and 15 -20 cm diameter. From this, you realize what makes them so different from folding camping cots which remain quite large in size even when they are packed.
But this is not the only difference. As you will see below, such collapsible cots can be surprisingly lightweight so that they can be used as hiking or backpacking tools. This holds in particular if you dislike hammocks, or you will be setting your camps in areas where using hammocks is not possible.
---
Why carrying a cot on a backpacking tour
When you think about backpacking (or hiking), you know it is about carrying everything on your back, so the grams count. A cot adds weight, so is it worth the effort? The answer is yes, definitely. Here is why:
Sleeping on the ground can never be as comfortable as sleeping on a cot. If you have tried both, you know this well. A cot is always more comfortable than a typical pad used on the ground.
A cot keeps you away from bugs, at least to some extent. This is of a particular importance if you use a tarp.
You do not feel the ground regardless of what you have under the cot, rock, a mud, or anything else.
You do not need any sort of ground cloth.
You lose far more warmth to a cold ground than to the air, to be specific, about 40 – 55 times more, dependent on the type of ground. This is a bit of physics, my profession, and you can see more about this here. So if you sleep off the ground, on a cot, you need less bottom insulation. A thin closed-cell foam pad may be good enough. This may save some weight, to compensate for the cot; such pads are usually very lightweight.
The weight can further be reduced in combination with a bottomless sleeping bag. If you are not familiar with the terminology, those are bags without insulation on the bottom side. The reason behind such a design is that insulation materials, when compressed, lose their insulating properties.
Or you can use a bag with dual insulation rate. So these details can compensate for the extra weight caused by the cot, and you will have a full comfort a cot can offer.
---
My list of best backpack portable cots
Here are all the cots sorted by weight from lighter to heavier:
---
1. Helinox Lite Cot

This cot is described in detail in my separate review, so please follow the link so see more. Here, I give only a few basic facts for comparison with other cots.
• Very easy to set up.
• Sturdy and stable construction.
• Bed size 72.8 x 23.6 inches (185 x 60 cm).
• Quite small packed size 20.9 x 5.1 inches (53 x 13 cm).
• Versatile.
• Portable.
• Ultra lightweight option 2.8 lb (1.3 kg).
Helinox Cot Lite is at this position in the list because of its weight which is great but it is relatively small, bear this in mind if you are a tall person.

---
2. Yahill Ultralight Folding Portable Cot
This is yet another ultra-lightweight option, portable and collapsible, and you need no extra tool for its setup.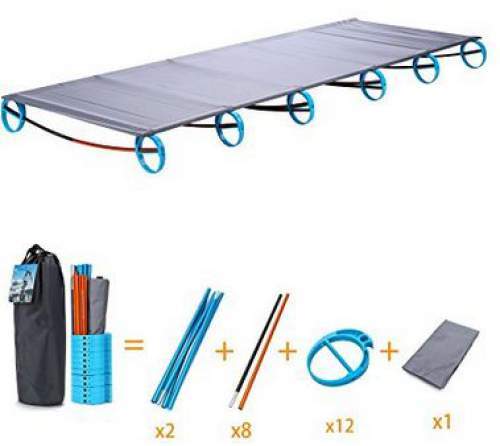 Extra holes of the cloth are designed for people who are very heavy, so that more tubes and legs can be ordered and used for extra support.
• Ultra-lightweight 3 lb (1.36 kg).
• Load: 220 lb (100 kg).
• Quite small packed size 16 x 4.7 inches (41 x 12 cm).
• Portable.
• Dimensions 70.8 x 22.8 inches (180 x 58 cm).
• Materials: aluminum alloy; anti-tear PV oxford material; strengthened nylon.

---
3. Thermarest LuxuryLite UltraLite Cot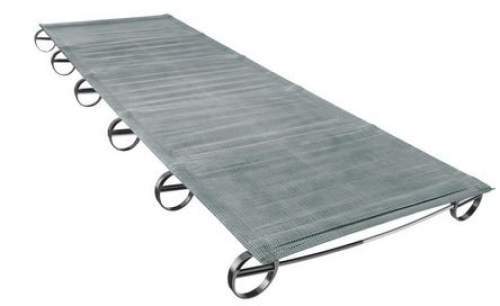 This cot is a part of a set which includes a tent and cot in the combination called tent-cot, but it can certainly be used as a cot in a tent. In fact, in both combinations, you have a very lightweight backpacking tool. See the setup procedure in this video:
The cot is described in my separate text so please follow the link.
• The weight is 3.6 lb (1.53 kg).
• It packs nicely to a very small volume 17 x 5 inches (43 x 13 cm).
• The dimensions are 77x 26 inches (196 x 66 cm).
• The setup is not particularly simple and it takes some time.

---
4. CAMEL CROWN Folding Camping Cot

This cot weighs 3.5 lb (1.6 kg) and its packed size is excellent (L x D) 15.7 x 4.7 in (40 x 12 cm). The bed size is quite typical 74.8 x 23.6 inches (190 x 60 cm).
The legs are with the bow technology, you can see them in the picture. There are 12 feet and 8 bars that connect them, so the setup takes some time. Note that this is a very affordable cot.

---
5. Therm-a-Rest LuxuryLite Mesh Cot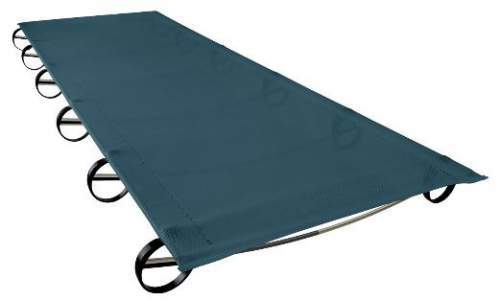 This cot is obviously very similar to the UltraLite model above, from the same brand and with the same construction. You might want to know that this is a USA-made tool.
This cot comes in 3 sizes:
– R: 72 x 24 x 4.5 in (183 x 61 x 11.4 cm).
– L: 77 x 26 x 4.5 in (196 x 66 x 11.4 cm).
– XL: 77 x 30 x 4.5 in (196 x 76 x 11.4 cm).
Weight:
– R: 3 lb 9 oz (1.62 kg).
– L: 3 lb 15 oz (1.8 kg).
– XL: 4 lb 7 oz (2.01 kg).
Packed dimensions (L x D): 18 x 6 in (46 x 15 cm).
Weight capacity: 325 lb (148 kg).
Cot material: PVC mesh.
Frame: aluminum.

---
6. G2 GO2GETHER Camping Cots Tent Bed

This G2 cot is quite new on the market and it is becoming very popular. When you see its weight, packed size, and the price you realize why. So the cot weighs only 4 lb (1.8 kg) and its packed size is 23 x 5.7 x 5.7 inches (58 x 14.5 x 14.5 cm).
This is a fully collapsible cot with a sturdy aluminum frame and with bars instead of feet, similar to several models here in the list. The bed size is quite good and it measures 75 x 26.5 inches (191 x 67 cm). Please follow the link to check for the updated price.

---
7. ATEPA Ultralight Compact Camping Cot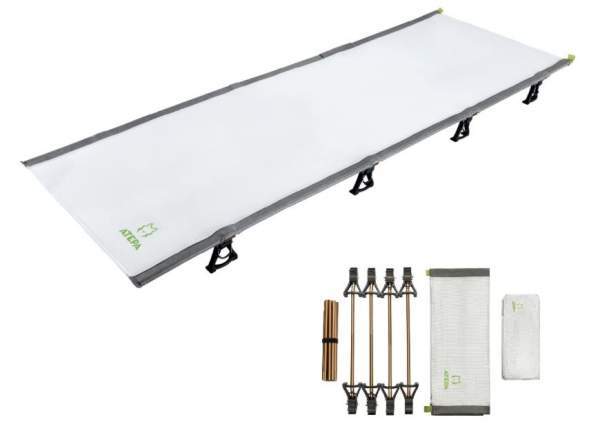 ATEPA Ultralight Compact Camping Cot is what its name says, ultralight with its 4.41 lb (2 kg) of weight. It is also nicely collapsible and ultra-packable, and this makes it backpack-portable item suitable even for hikers and backpackers.
You have a carry bag included, the setup is very easy and you can do this in a couple of minutes. Note also that it is very affordable.

---
8. Big Agnes Helinox Cot One V2
The V2 in the name of this cot indicates that this is an upgraded version of a popular outdoor tool. This is a high quality, ultra-lightweight, strong, and collapsible camping bed, with only 4.4 lb (2 kg) of weight. This makes it very much suitable for backpacking and hiking.
The setup is very easy, without any extra tool. The two side poles sections, and the three bar-legs, are constructed with shock cords, so you cannot lose them.
The price at the moment of writing this text is $300. The Cot One V2 is described in detail in my separate text so please follow the link:

---
9. Alps Mountaineering Ready Lite Cot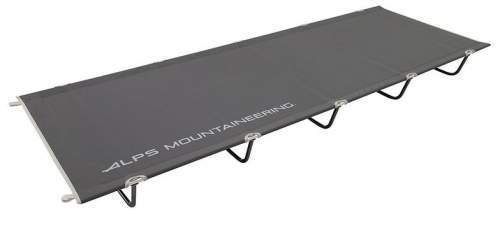 This is a very sturdy and stable construction, with 5 bar legs, so you can be sure it will not sink on any terrain. It gives 19 cm of clearance from the cold ground.
The cot packs nicely to a small carry size, suitable to store at home, to put in the car trunk, and to carry attached to the pack.
• Weight: 4 lb 13 oz (2.18 kg).
• Dimension (L x W x H): 78 x 28 x 7.5 in (198 x 71 x 19 cm).
• Weight capacity: 300 lb (136 kg).
• Carry bag size: 17 x 7 in (43 x 18 cm).
• Materials:
– Durable 7000 series aluminum frame.
– 420D polyester honeycomb ripstop fabric.
• Current Amazon price: $160.

---
10. DESERT WALKER Camping Cot
This Desert Waker cot may look a bit too heavy to carry in the pack, it weighs 4.9 lb (2.23 kg) without the leg extensions shown in the picture. But its weight capacity is incredible 440 lb (200 kg) and I have added it also to my list of cots for heavy people.
The mentioned extensions can be ordered separately. So what you have here is a backpack-portable and versatile cot. Please follow the link for more.

---
11. Helinox Cot Max

The Cot Max is heavier than the other cots presented above, but you will notice it provides far more space than any other. So this is a tool for tall people. It is described in my separate review.
This is a great tool with many great features summarized as follows:
• Very easy to set up, no tools needed.
• Sturdy and stable construction.
• Quite small packed size.
• Versatile.
• Portable.
• The weight is 5.9 lb (2.7 kg).

---
12. Helinox Cot One Convertible Insulated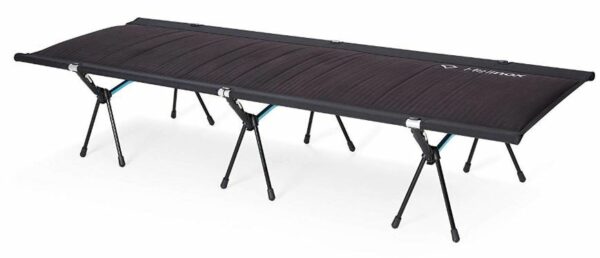 This cot is low in the list because it weighs 6 lb 4 oz (2.86 kg). So it may look heavy for this list but think twice. This is a unique item on the market.
What you see above are removable legs that can be ordered separately. The cot comes with an integrated self-inflating pad with an R-value 5. So this is a 2-in-1 system with the top quality cot and a pad. They give a 5-year warranty for it.
The capacity is 320 lb (145 kg) and the bed size is 74.5 x 26.5 inches (190 x 68 cm).

---
Summary & Editor's Choice cot
To conclude this text about the best backpacking cot in the season 2019, what you have here is an impressive list of very different tools with respect to the price and construction.
So how to choose? A few more tips:
If the price is essential, the 

Yahill Ultralight is without a match. It is incredibly lightweight as well, but it is rather small.

If the cot is for a heavy and tall person, then your first choice should be the Helinox Cot Max, or the XL version of the Therm-a-Rest LuxuryLite Mesh Cot.
If you sleep on the back, any of the cots will be great for you. But if you are a side-sleeper and tend to have a fetal-type position, you will have issues with the sidebars. In that case, go for a wide cot.
Editor's Choice
Helinox Lite Cot


Product Name: Helinox Lite Cot
Product Description: Looking for an ultralight and ultra-compact backpacking cot? This Helinox Lite Cot is for you. This is a top-quality item from a reliable brand.
Brand: Helinox
Weight -

9.9/10

Bed size -

8.1/10

Capacity -

7/10

Packed size -

9.9/10

Ease of use & features -

8/10

Price -

7.5/10
Overall rating
Based on the given specific rating criteria, the overall rating is Very Good:
Pros
Incredibly lightweight.
Great packed size.
Easy setup.
Excellent warranty conditions.
Cons
Not very large.
Expensive.
These are backpack-portable tools, but those are not the lightest options on the market. Check my exclusive list with ultra-lightweight backpacking cots if you need something for extended tours.
If you need something large and comfortable for camping with a car or motorbike access, please check my text with extra large camping cots.
Thank you for reading. I hope the text has been useful. It will be great to hear from you, so please use the comment box below. Have a nice day.