---
This Thermarest cot tent review is about an ultra lightweight outdoor sleeping tool for one person, suitable for any outdoor activity. It comes in two separate parts containing the tent and the cot.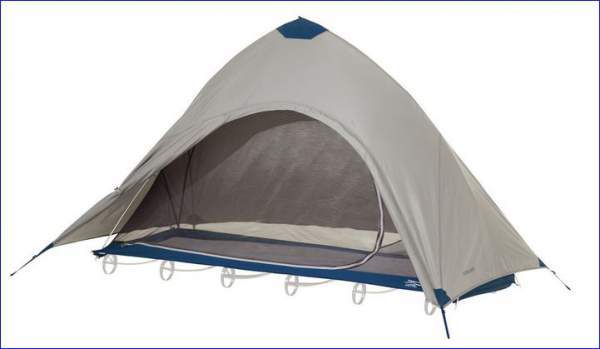 ---
Main benefits
Extraordinary lightweight system: 2.66 kg both tent and cot.
Both tent and cot are collapsible to very small packed sizes.
This is a tool with 3-in-1 features. Both tent and cot can be used separately.
The system is completely portable in a backpack.

---
Description
As mentioned above, this is an ultra lightweight set which is without a match in this industry. The system which you have here is difficult to compare with any other model described in this site. This is mainly because what you have here is completely portable, unlike any other available on the market.
Typically what you have with tent cots are relatively heavy structures which are great when used in a camp with car access, but in general, they are not portable. However, with 5 lb 14 oz (2.66 kg) this Thermarest cot tent can be carried, so it can indeed be used by hikers and mountaineers.
Because the tent and the cot are separately packed, you have a true 3-in-1 system. So you can use the tent completely separately if you are on a long tour and want to save weight.
The cot alone can be used in any environment, outdoor and at home, or as a bed in emergency situations.
---
Tent specifications & features

The tent comes with the top fabric which provides a complete shelter from insects, and you also have a rain fly included to protect you from elements.
The package includes a pole which gives you an unusually high dome, with the peak at 140 cm. This is rarely seen in any tent of this type. The attachment of the tent to the pole is through hooks and velcro tabs. To attach it to the cot you will use straps that are available. You will see details in the video below.
The package includes 4 stakes which you will use in the usual way to fix the tent to the ground.
Here are all specifications regarding the tent:
Two sizes, R and L/XL.
One person tent cot.
Freestanding.
Tent weight:
– R: 2 lbs 10 oz (1.2 kg).
– L/XL: 2 lbs 12 oz (1.25 kg).
Color: gray.
Width:
– R: 24 in (61 cm).
– L/XL: 30 in (76 cm).
Length:
– R: 72 in (183 cm).
– L/XL: 77 in (196 cm).
Tent packed size:
– R: 6 x 18.5 in (15 x 47 cm).
– L/XL: 6 x 18.5 (15 x 47 cm).
Top fabric: 70 D polyester ripstop.
Rainfly fabric: 70 D polyester ripstop.
Mesh: nylon.
Floor fabric: nylon mesh.
Peak height (both sizes): 55 in (140 cm).
Rain fly with 1500 mm waterproof rating.
Doors: 1.
Poles: 1.
Stakes: 4.
---
How to set up the tent

In this video you can see the procedure of setting the tent up, have a look:
---
The cot: Thermarest LuxuryLite UltraLite Cot

There are several types of Thermarest cots available on the market. Here I give data for one of them, the Thermarest LuxuryLite UltraLite Cot.
This is Thermarest's BowFrame technology, their patented BowFrame design, and presently this is the lightest cot available on the market. This makes it suitable even for backpackers.
---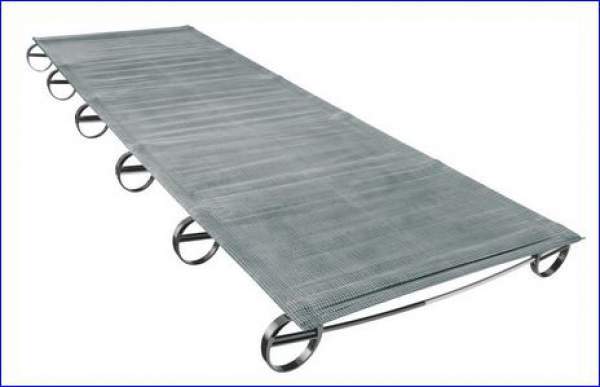 ---
From the video below you will realize that it is incredibly packable. You can attach it to any backpack or carry it inside of it. Note, the cot can be ordered separately, check here.
In the same time, this is a very durable construction with strong polyester feet and with anodized aluminum poles. The top cover is waterproof stretch-free polyester.
The setup may look complicated (see the video below) but in fact, this is a three-minute process without any additional tools, a truly unique design. In any case, I feel it is indeed worth the efforts.
In 2017 Therm-a-Rest has launched a new version of this incredible cot, so you can see my full review here.
---
---
Here is the summary of specifications for the cot:
Two sizes: R, L.
Packed weight:
– R: 3 lbs (1.36 kg).
– L: 3 lbs 6 oz (1.53).
Color: gray.
Weight:
– R: 2 lbs 12 oz (1.25 kg).
– L: 3 lbs 2 oz (1.42 kg).
Width:
– R: 24 in (61 cm).
– L: 26 in (66 cm).
Length:
– R: 72 in (183 cm).
– L: 77 in (196 cm).
Packed size:
– R: 16 x 5 in (41 x 13 cm).
– L: 17 x 5 in (43 x 13 cm).
Capacity: 325 lbs.
Top fabric: ultralight polyester ripstop.
Country of origin: USA.
---
How to set up the cot
In this video, you can see how to set up the cot:
If this is not enough, here is one more:
---
Pros & cons
My summary of possible cons and pros for this Therm-a-Rest tent cot is as follows:
Cons
Quite short bed & tent.

Not so simple procedure of setting up the cot.
Pros
Complete protection from elements.
Comfortable sleeping.
Everything collapsible.
Extraordinary lightweight.
This tent cot is made quite short, hard to understand why they made it that way. So for most people the only option is to choose the L model.
But the cot has been very popular, and at Amazon it has received a huge number of reviews, presently almost one hundred. The average rate is 4.2/5.
I wish to stress that this cot has been subject to real testing in the field. There are several reports available here, so please have a look. Do not be confused with the name Cascade Designs which you see in these reports; this is the name of the company which actually owns Therm-a-Rest (or Thermarest).
---
Comparison with competitors

Thermarest cot tent is quite unique and there are no many models on the market to compare it. Nevertheless, in this table I give its data side by side with some other models.
For Thermarest I use data for the L/XL model, and as you see it is still considerably shorter than the other models. But see the weight and the height.
| | | | | |
| --- | --- | --- | --- | --- |
| | Bed size, inches (cm) | Tent Height, inches (cm) | Packed size inches (cm) | Weight, lb (kg) |
| Therma Rest* | 26 x 77 (66 x 196) | 55.12 (140) | Separate parts, see above. | 5 lb 14 oz (2.66) |
| OUTAD tent cot | 78.7 x 26 (200 x 66) | 45.3 (115) | 19.7 x 5.9 x 5.9 (50 x 15 x 15) | 5.84 (2.65) |
| KR oversize | 32 x 90 (81 x 229) | 36 (91) | 36 x 34 x 7 (92 x 86 x 18) | 34 (15.4) |
| KR Compact Collapsible | 29 x 79 (74 x 201) | 39 (99) | 43 x 10 x 9 (109 x 25 x 23) | 25 (11.3) |
*This is for L model.
KR = Kamp Rite.
The most similar model in the table is the OUTAD tent cot, so please follow the link to see some more details about it.
---
Conclusion
So to conclude this Thermarest cot tent review, what you have here is a completely innovative and unique system, a 3-in-1 tool, packable and portable. I can fully recommend this tool. Note that this is not the only portable tent-cot of this type, see also this FUNS Off Ground tool and also this Uboway tent cot.
If this tent cot concept is completely new to you, you can read here a bit about advantages of this system.
Therm-a-Rest is a renown outdoor equipment company which has been in this industry for almost half a century. This is the company which became world famous for the invention of self-inflating mattresses.

I hope this text has been useful to you, perhaps it could be useful for others as well, so please share it.
Thank you for reading. It will be great to have some comment from you, there is a comment box below. Have a nice day and pleasant camping.


---