---
ATEPA Ultralight Compact Camping Cot is a collapsible backpack-portable and ultra-packable structure with a carry bag included, and at a great price.
---
Key features & benefits
Excellent packed size.
Collapsible design.
Very light cot.
Carry bag included.
Very good price.
---
What this is about
This Atepa Cot is a collapsible structure so this has both good and bad sides. The good is that its packed size 14 x 5.1 x 5.1 inches (36 x 13 x 13 cm) is excellent so you can attach it to the backpack. This is behind the word Compact in its name.
The bad is that it needs a simple assembly when you want to sleep on it. All the elements are shown in the pictures above, so you have:
Two shock-corded side bars.
Four shock-corded legs.
Bed fabric.
Carry bag, see the picture.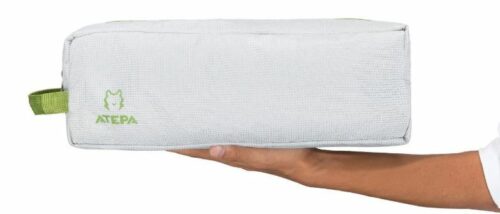 The side bars and the legs contain many pieces but they are chock corded and you cannot lose any of them, and there is nothing to guess when you set the cot up.
Attaching the legs to the side bars is easy, you have a locking mechanism on one side, no force is required and anybody can do this, see the picture.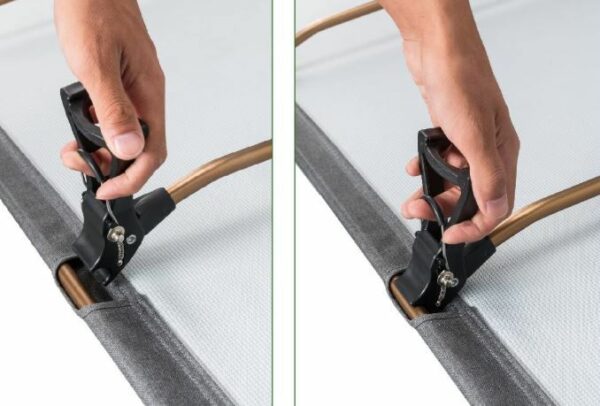 Bonuses
The cot comes with a side storage pouch (shown below) to keep your small items close at hand and off the ground.
There are also two straps that are preattached to the cot and they keep a sleeping pad in place (if you use it).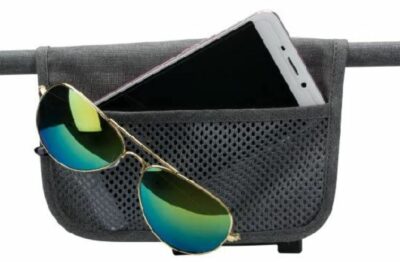 Materials
All the metal parts are an ultra-strong 7075 aviation aluminum alloy, and the fabric is a comfortable 420D oxford cloth.

---
Who is this ATEPA Ultralight Camping Cot for
Regarding the weight, I use the word 'Ultralight' because it is part of the name of this cot. Indeed, with its 4.41 lb (2 kg) of weight, this is a very light cot and I have included it in my list of backpack-portable backpacking cots. But it is not in my list of ultralight backpacking cots that includes cots lighter than 3 pounds.
You have already seen its incredible packed size, so you can carry it attached to the pack or you can transport it on a bicycle, in a kayak, etc.
Regarding the size, with 75 x 25 inches (190.5 x 63.5 cm) bed size, this cot is quite typical for such a type. The length should be good for many users, but if you are a very tall person, better check these cots for tall people.
Note that there are no end bars, so the given length is the true useful length. But the width is less impressive, this in particular because those side bars take a few centimeters.
Regarding the weight capacity, with the declared number of 265 lb (120 kg) this is quite typical and no doubt good enough for the majority of users. But again, if you are a very heavy person check this list of cots for heavy people.
Using this cot in a tent
The cot is 4.7 inches (12 cm) high, so this is enough to elevate you above the ground, and at the same time, this is low enough that the cot can fit in practically any tent no matter how low it is. This is why it is included in my list of low camping cots.
The gap underneath the cot is small but this may be good enough to store some gear like poles, ropes, ice axe, and similar stuff. So even with such a low cot you can save the space in a tent.
Note also that the feet are very wide and the weight is distributed, so this is a floor-friendly design, see the picture below.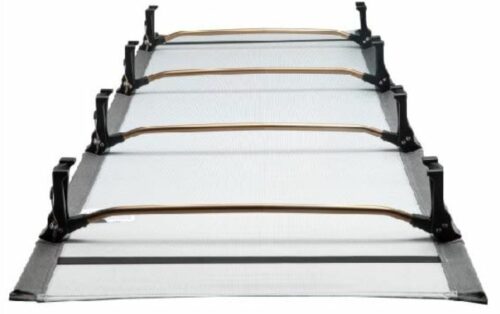 As you see from the picture above the bars underneath the bed are profiled so that you will never touch them. When you position the legs, tension is created in the bed surface.
How about a sleeping pad?
If this is about summer camping, you do not need any pad except for more comfort if you wish. In a cooler environment, you will need something, but being off the ground you need far less insulation than when you sleep on the ground.
Please see more in this video:
---
Rating and pros & cons
Below is the summary of my rating against the same criteria used for all the cots here in the site. This allows for easy comparison. My only objection is the width but this is indeed quite typical for such cots.
My rating of the ATEPA Ultralight Compact Camping Cot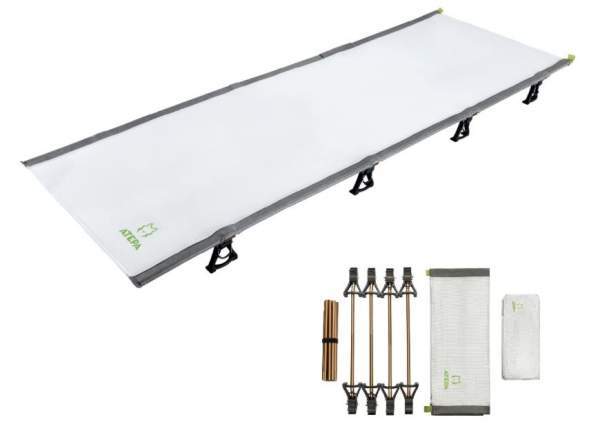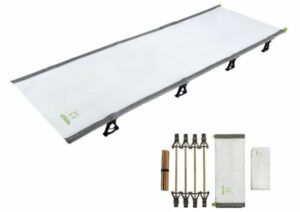 Product Name: ATEPA Ultralight Compact Camping Cot
Product Description: ATEPA Ultralight Camping Cot is a collapsible backpack-portable and ultra-packable structure with a carry bag and at a great price.
Brand: Atepa
SKU: B075F3GWHC
Weight -

9.8/10

Size -

8.1/10

Capacity -

7/10

Packed size -

10/10

Ease of use & features -

8.2/10
Summary
My overall rating of this cot is Excellent:
Pros
Excellent packed size.
Very light.
Easy to use.
Good price.
Carry bag.
---
Specifications
Weight: 4.41 lb (2 kg).
Dimensions (L x W x H): 75 x 25 x 4.7 in (190.5 x 63.5 x 12 cm).
Capacity: 265 lb (120 kg).
Packed size: 14 x 5.1 x 5.1 in (36 x 13 x 13 cm).
---
Final thoughts
In the conclusion of this ATEPA Ultralight Compact Camping Cot review, I wish to stress again its incredible packed size and its excellent weight.
This is a cot suitable for various outdoor activities like camping, hunting, hiking, trekking, for a road trip, etc. At home, you can use it as an emergency bed and a bed for sudden guests, and also for office nap.

If you need more options, just search a bit under the category Cots here in the site. You will find them many and in all sizes and designs. You might want to check also this Yolafe Detachable Camping Cot. For a taller cot, check this MOON LENCE Folding Camping Cot.
Note that we add texts regularly, so bookmark this site and stay informed. Subscribe for our weekly newsletter, there is a subscription form below. Have a nice day.