---
The Ascend Lightweight Cot is a collapsible and ultra compact backpack portable outdoor bed with a carry bag included.
---
Key features & benefits
Collapsible design.
Very light.
Ultra compact.
---
What this is about
This Ascend Lightweight Cot is a new version of a cot that has been around for a while. So this is a completely different cot and it is unclear to me why they use the same name.
You have a collapsible construction, and this means it needs a simple assembly. On the other hand, this also implies that it packs in a small volume for transportation. The picture below shows its included carry bag that measures only 15.9 x 6.1 x 5.5 inches (40.4 x 15.5 x 14 cm). So this is an ultra compact package.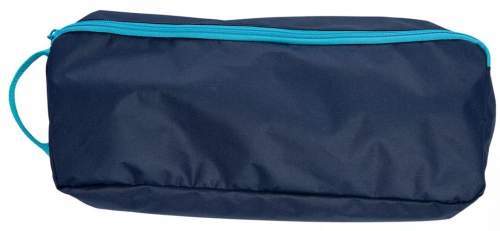 The materials
All metal parts are an anodized-aluminum, and this includes side bars plus 5 folding shock-corded legs. The legs are with a pair of wide plastic feet each, so the weight is distributed and the cot can be used even in a floored tent. The fabric is a water-resistant polyester.
---
Who is it for
Regarding the capacity, it is quite modest, 250 lb (113 kg). This should work for most of potential users, but if you need much more, please check my list of cots for heavy people.
Regarding the dimensions, they describe it as roomy but the cot is quite short and the width is moderate. The dimensions are (L x W x H) 73 x 24 x 5.5 inches (185 x 61 x 14 cm). 
But there are no end bars here so the length is a true useful length. The side bars take a few centimeters, just to know.
The cot is quite low so it can fit in any tent, regardless of how small and low it may be. You still have lots of space to store some elongated and thin items under the bed. I have included it in my list of very low camping cots.
Regarding the weight, the cot is what its name says, very lightweight or better to say almost ultralight with its 4 lb 7 oz (2.01 kg). So if sleeping on the ground is not an option for you, think about using this cot on the trail.
You have already seen its packed size which is impressive, so you realize that it can be transported even on a bicycle, and you can carry it attached to a backpack.
Regarding the price, it is a bit steep perhaps because it is new on the market, this may change when you read the text. There are links below so check from your side.
---
Specifications
Weight: 4 lb 7 oz (2.01 kg).
Capacity: 250 lb (113 kg).
Dimensions (L x W x H): 73 x 24 x 5.5 in (185 x 61 x 14 cm).
Folded dimensions: 15.9 x 6.1 x 5.5 in (40.4 x 15.5 x 14 cm).
Frame: aluminum.
---
Rating, pros & cons
Below is summarized my rating and some pros and cons. You can rate the cot from your side, there is a rating bar for this purpose.
Collapsible, very light and ultra compact cot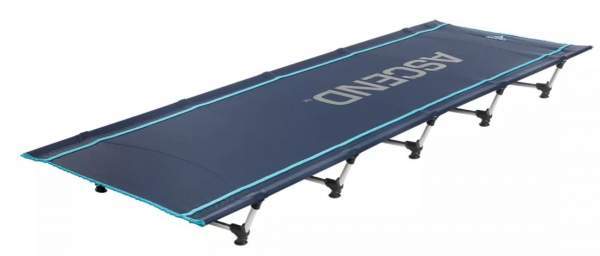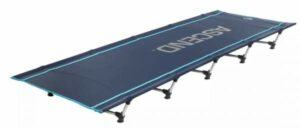 Product Name: Ascend Lightweight Cot
Product Description: The Ascend Lightweight Cot Is a Collapsible and Very Compact Backpack Portable Outdoor Bed, Easy to Use, and with a Carry Bag Included.
Brand: Ascend
SKU: 2963735
MPN: 100112968
Weight -

9.7/10

Size -

8.1/10

Capacity -

7/10

Packed size -

9.9/10

Ease of use & features -

8.2/10
Summary
The packed size and weight of this cot are extraordinary, but its size and capacity are less impressive.
Pros
Very light.
Ultra compact.
Carry bag included.
---
Final thoughts
So this Ascend Lightweight Cot requires some simple assembly, and this means putting the side bars into the sleeves and the attaching the 5 legs. This all is easily done and without extra tools.
There is nothing unique here, the structure is similar to many other products of this type, but the cot is ultra compact and very light. I have included it in my list of backpacking cots.
Best places to buy:
For more options, please check under the category Collapsible Cots, you will find them many here in the site.
Bookmark this site and visit it when you find time, this will keep you informed, you have new texts added here on a regular basis. Let me know if you have questions, there is a comment box below. Thank you for reading and have a nice day.