---
The Terra Hiker Ultra-Lightweight Camping Cot is an incredible combination of features, only 1.36 kg (3 lb) of weight and 250 kg (550 lb) capacity, and price. This is a versatile tool for outdoor and home use.
Key features & benefits
Ultra-lightweight, 1.36 kg (3 lb) only.
Huge capacity.
Very long.
Very easy setup.
Great packed size.
Incredibly versatile.
Reasonable price.

Who is it for
It may be hard to find any outdoor activity where this cot wouldn't fit. It is so nicely packable, ultra-lightweight, and easy to use that it will be great for various outdoor activities like hiking, kayaking, cycling, climbing, mountaineering, and even backpackers can use it.
If you are a hard-core UL backpacker you might be against such tools, but there are even lighter cots out there, perhaps it is time to have a look.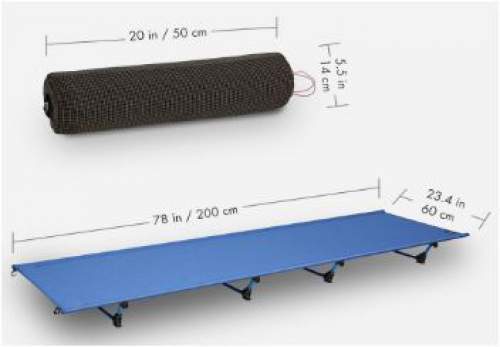 This cot packs to such a small size, 20 x 5.5 inches (50 x 14 cm) only, so it does not take much space regardless of where you keep it at home and how you transport it outdoor. You can transport it:
in a travel suitcase,
attached to a backpack,
on a motorbike
on a bicycle,
in a car.
The cot can be used at any regular camping place, at trailheads hotels, summer camps, by scouts, at open-air music festivals, vacations, beaches, at sports manifestations.
How about at home? Definitely so, this is a great tool to have for sudden overnight guests, and for your kids' sleepovers, or to put in your room when the kid wants to join parents, as they tend to do occasionally.
This cot has an incredible weight capacity, so it is suitable even for extra heavy people.
Fitting in a tent
With the height of only 5 inches (13 cm), and in view of its bed size, the Terra Hiker Camping Cot can fit even in the lowest solo tents, for example, the tents like the Eureka Solitaire Bivy Tent, Catoma Badger, or Snugpak Ionosphere 1 tent.
Such a height does not allow for storing much stuff under the cot, but your poles, an ax, and similar objects can easily fit there so that they are not on your way. A more luxurious combination is a 2-person tent used solo with such a cot, eventually also with your dog.
Two cots of this type can easily fit a 2-person tent, so if you are a couple check this Kelty Gunnison 2 tent which is with 89 x 51 inches (226 x 130 cm) floor size, or this Mountainsmith Morrison Evo 2 Tent with similar dimensions. For more people, this Kelty Camp Cabin 4 may serve as an outdoor castle.
Observe the feet design in this cot, shown farther below. You have plastic caps, 8 of them in total, so the weight is distributed nicely, no danger for the tent floor whatsoever. They are also fairly wide and will not sink.
Can you use it in all seasons
Yes, you can, in the summertime you can sleep without any pad, but having something under you will make it more comfortable. There are many inflatable pads available on the market.
In the wintertime, you will need some insulated pad. But sleeping off the ground on such a cot requires less insulation than sleeping on the ground. This is because you have air under you, and it is known that you lose around 50 times less body warmth to the air than to the ground. So you might need less R-value in your insulated pad when you sleep on the cot, and you may save some money on the pad.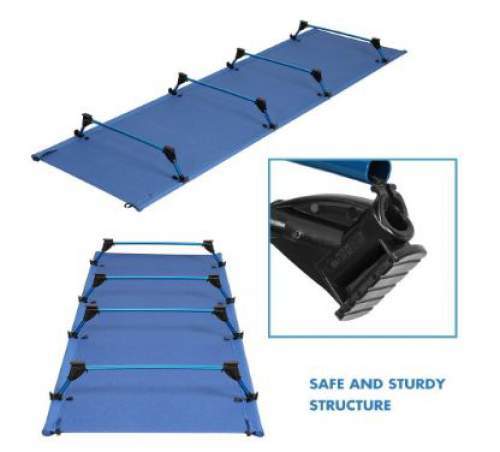 What is included
You have a nice carry bag with instructions printed on the canvas.
4 bars with legs, all shock-corded, no way to lose anything or mix things up. They are shown above.
Two sets of 5 shock-corded segments of the side bars. So when assembled they create 2 side poles.
Bed canvas.
How to set it up
The setup is incredibly easy due to its ingenious design. In this video, you will see every step. This young lady sets it up in a couple of minutes without any tool or brute force. And yes, she dismantled it as well, so you can see it all:
Have you noticed how easily it fits back to its carry bag? So indeed, they designed it nicely in every aspect.
I am a stomach sleeper and side sleeper, so I would not mind having a wider surface, but this is almost OK even for me. Observe also that you do not have end bars, so all 2 meters of the length of the cot are for you.
The capacity of this tiny cot is simply incredible, 550 lb (250 kg), so it is suitable even for truly heavy people. See how they demonstrate it:

Specifications
Weight: 3 lb (1.36 kg).
Capacity: 550 lb (250 kg).
Dimensions (L x W x H): 78 x 24 x 5 in (198 x 60 cm x 13 cm).
Folded size (L x D): 20 x 5.5 in (50 x 14 cm).
Surface to weight ratio (m²/kg): 0.88.
Durable construction.
Waterproof and stretch-free Oxford fabric.
Superior 7001 aircraft-grade aluminum alloy frame.
Summary
So to conclude this Terra Hiker Ultra-Lightweight Camping Cot review, I must say I am impressed with the design and features of this tool, and my rating reflects this.
It is great in every aspect, so the resulting average rating is very high. I can warmly recommend this cot.

Note that there are many ultra-lightweight cots described in this site, so please see this text and check also iUcar Cot. On the other hand, if you need something heavier and with mattress see this long list of foldable cots with mattresses.
Thank you for reading. Please let me know if you have a question or comment, there is a comment box below. I wish you a pleasant day.

---