---
This Therm-A-Rest LuxuryLite Mesh Cot review is one in the series about ultra lightweight collapsible camping cots. With the weight in the range 1.62 – 2.01 kg for its three sizes, this cot is a perfect backpacking tool, and this is why I included it in my list of cots suitable for backpackers and hikers.
Key benefits
Ultra-lightweight.
Nicely packable.
Versatile.
---
LuxuryLite Mesh Cot – description
This cot is a great option for off-the-ground sleeping and it can be used on practically every surface. You have 4.5 inches (11.4 cm) of clearance between you and the ground, so you will be fine regardless of the type of the ground. Since you have air under the bed, as usual with such tools, you need far less insulation from below as compared with the case of sleeping on a cold ground.

As you can see from the specifications below, this cot is extremely compact. It packs nicely and it is easy to store it at home and in the car, and the same holds when you carry it on a motorbike and on a backpack.
What you have here is a patented BowFrame Technology. The frame is designed to eliminate painful crossbars and squeaky joints. Anodized aluminum is used for poles and durable nylon is used for feet. The sleeping surface is s breathable fabric that allows for excellent ventilation. This all is designed to stand up to heavy use and to support a weight of up to 325 lb (147 kg).
The cot comes with a deluxe carry case that allows you to keep cot feet and bows assembled, resulting in fewer pieces for a fast set up, see the picture below. Assembling the cot can be done under 3 minutes, but some practice is needed, with no extra tools required. You can see this in the video below.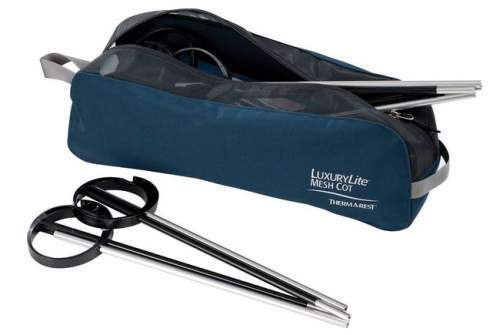 It is worth stressing that the cot is offered in an expanded range of sizes, 3 in total, see in specifications below, so you can buy a proper size for you in order to avoid a necessary weight when using the cot as a backpacking or hiking tool.
I already mentioned versatility as a key benefit. So indeed, this is a great tool for outdoor sleeping regardless of your activity.
In this video, you can see how to set up the Therm-A-Rest LuxuryLite Mesh Cot:
---
Pros and cons, my rating
Rating by Amazon customers for the LuxuryLite Mesh Cot is quite good, and there are many reports with valuable information about it. Please see how I rate this cot.
My rating of the LuxuryLite Mesh Cot
Weight -

9.8/10

Size -

8.4/10

Capacity -

8/10

Packed size -

9.9/10

Ease of use & features -

7.5/10

Price -

7.5/10
Summary
My overall rating of this cot is Excellent:
Pros
• Very versatile.
• Very stable construction.
• Very comfortable.
• Quite small packed size.
• Portable.
Cons
• Not particularly easy to setup.
---
Specifications
Purpose: camping, hiking, backpacking.
Three sizes: R, L, XL
– R: 72 x 24 x 4.5 inches (183 x 61 x 11.4 cm).
– L: 77 x 26 x 4.5 inches (196 x 66 x 11.4 cm).
– XL: 77 x 30 x 4.5 inches (196 x 76 x 11.4 cm).
Weight:
– R: 3 lb 9 oz (1.62 kg).
– L: 3 lb 15 oz (1.81 kg).
– XL: 4 lb 7 oz (2.01 kg).
Weight capacity: 325 lb (147 kg).
Packed size (L x D): 18 x 6 inches (46 x 15 cm).
Materials:
– 500D scrim with vinyl coating.
– Aluminum frame.
Color: blue.
Made in USA.
---
Extra combination: Therm-a-Rest LuxuryLite Cot Warmer
With the Therm-a-Rest Cot Warmer you have a three-season insulation with minimal bulk and weight. This Warmer features ThermaCapture Radiant Heat Technology, and it increases the cot's temperature performance by 10-15 degrees. So, it takes you effectively from 1 to 3 season warmth.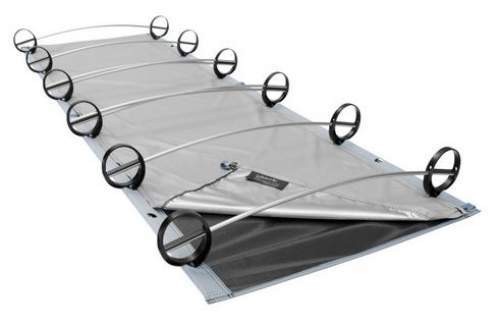 The reflective lining is very lightweight and packable, and it attaches easily to the underside of the cot. For this, you have six elasticized hooks. It comes with its own stuff sack.
Dimensions:
-R: 21 x 72 in (53 x 183 cm).
– L: 22.5 x 78 in (57 x 198 cm).
– XL: 28.5 x 78 in (72 x 198 cm).
Weight:
– R: 2.6 oz (74 g).
– L: 3 oz (85 g).
– XL: 3.2 oz (91 g).
---
Summary
All in all, the Therm-A-Rest LuxuryLite Mesh Cot is an ideal solution for off-the-ground sleeping comfort. The cot has been on the market for many years already, updated and improved, and it is easier to set up than ever.
This is a very versatile tool and I can fully recommend it for any outdoor activity as well as for emergency situations, and for home use.
If you feel this cot is not suitable to you, please see this list of backpacking cots. But if you need some foldable and heavier tool for camping with car access, please check this text with several quite unique cots.

Thank you for reading. It will be great to hear from you, so please use the comment box below. I wish you a pleasant day.

---