---
What Is Helinox Cot Max? The quick answer to this question is: this is an extended but lightweight, 2.7 kg (5.9 lb) only, collapsible and portable camping tool for taller and bigger people. Need more details? Please keep reading.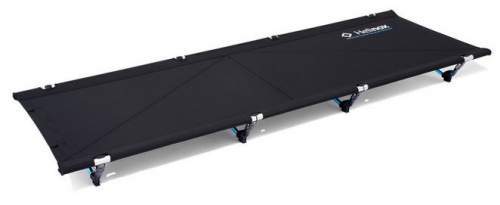 ---
Benefits & key features
Very large.
Very strong construction.
Easy to set up.
Very comfortable.
Completely collapsible.
---
Cot Max stretcher- ideal for tall people
In this Cot Max you have a surface that is 210 cm x 75 cm, a great option for taller and bigger people.
The Cot Max is also light as well, but the construction is strong, there are four sets of legs here.
Construction and elements
What you have here are aluminum press-fit poles that are interconnected just like tent poles. So they fit into each other easily and make the setup really easy.
When you set the two side poles, you slide them into the fabric base. After that, you add the four foot bars. This all is done in a couple of minutes and without any extra tools. There is a lever locking system that provides tension to the bed surface. You will be able to see this in the video below.

As you see from the picture above, the feet are with a large surface, there are many of them, and this is good for stability and the cot is less likely to sink into the ground. Even if the feet sink, the blue bars which interconnect them will prevent more sinking.
The Cot Max offers enough space between you and the cold ground, you have 16 cm (6.3 in). This saves you from investing in expensive sleeping pads because the air under you definitely takes less body warmth than any ground; you can read more about this in my separate text.
The cot comes in a nicely designed carry bag with attachment elements and grab handless. So you can secure it to your motorbike, or to your pack if you use it as your hiking and backpacking tool.
Please see this short video about the Helinox Cot Max camp cot:
---
My rating, price, pros & cons
The cot is expensive, see Amazon's price below, but this is a really comfortable tool. Bear in mind also what I mentioned above; sleeping on a cot is always better than on the ground. You lose far less warmth when you are on the cot, therefore you do not need an expensive pad with a big R-factor.
So you might be doing fine with any inflatable pad, and as you can imagine, there is far less chance for damaging such a pad when you are on a cot instead of on the ground.
In a relatively warm environment, you might not need a pad at all, so this is to bear in mind if you find this cot heavy (for eventual hiking and backpacking use). So, deduct the pad weight from the cot weight to see where you are.

What I like in this item is the fact that it packs to such a small size, just a tube of 58 cm length and some 16 cm in diameter. This is great for transport, and for storing the cot at home.
This cot can be used as a backpacking tool as well. Perhaps it is a bit too heavy for this, but think about the comfort it provides.
Note also that this cot may save you from carrying a sitting chair; well, sitting on this cot may not be as comfortable as sitting on a chair, but it will serve the purpose. Even a lightweight chair comes with more than 600 grams of weight. Please see how I rate this cot.
My rating of the Helinox Cot Max
Weight -

9.4/10

Size -

9.8/10

Capacity -

8/10

Packed size -

9.6/10

Ease of use & features -

8/10
Summary
My overall rating of this quality cot is Very Good:
Pros
• Huge space.
• Very easy to setup.
• Sturdy and stable construction.
• Quite small packed size.
• Versatile.
• Portable.
---
Specifications
Weight: 2.7 kg (5.9 lb).
Length: 210 cm (82.7 in).
Width: 75 cm (29.5 in).
Height: 16 cm (6.3 in).
Packed size: 58 x 16 cm (23 x 6.3 in).
Capacity: 145 kg (320 lb).
Tension system: lever locking.
Frame: TH72M alloy by DAC.
Warranty: 5 years.
---
Summary
So to conclude this text about the Helinox Cot Max camp cot, I have no doubt this is a great and very reliable tool, which I can fully recommend to anybody.
I mentioned its versatility. By this, I mean that this cot can be used in emergency situations at home, not only for camping. If your kids have somebody staying overnight, this is a great solution for such occasions.
I can definitely see this cot as a hiking tool for overnight adventures, or even as a backpacking tool. Yes, it may look heavy for this purpose, but think about not carrying a pad if you are using it at mild temperatures, and not carrying a camp chair as well. But if you need something lighter, see this Helinox Cot Lite or this Kingcamp Cot.
So what do you think about this cot? I love to hear from you, so please use the comment box below.