---
Moon Lence Portable Ultralight Compact Camping Cot Bed is a lightweight portable and very affordable tool suitable for any outdoor activity and for home use. With 4.1 lb (1.86 kg) and nice packed size, it can be carried as a backpacking tool.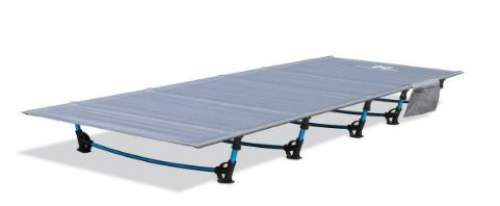 Key features & benefits
Great price.
Bonus sewn-in storage pouch hanging by the bed's side.
Very lightweight.
Backpack portable.
Stuff sack doubles as a pillow.
Nicely packable.
Very versatile, suitable for outdoor and home use.

What is in the name
The word 'portable' in the name indicates the fact that this is indeed a very lightweight camping cot; with 4.1 lb (1.86 kg) it can be carried attached to a backpack. So I have included it in the category of backpack portable cots here in the site, as well as to backpacking cots.
It is also very 'compact' as its name suggests; when packed it reduces to a tube which is 14.9 x 6.3 inches (38 x 16 cm). The cot is obviously also collapsible type, so it stores in its carry bag. But it is in the group of those that are incredibly easy to set up, more below.
These features determine its best use as described in the next section.
Note that they have changed the name recently, so it is now available under the name  MOON LENCE Camping Cot for Adults.
Who is it for
In view of its weight and packed size, the Moon Lence Portable Camping Cot is clearly incredibly versatile, suitable for outdoor and home use.
It is lightweight enough to be carried as a hiking, backpacking, and mountaineering tool, at least for some relatively shorter excursions. It is definitely small enough also to pack it on your bicycle.
If you plan to use it at places with a car or motorbike access, then there are no limits of possibilities. It is a great tool for regular camping, to use it at trailhead hotels, beaches, at any open-air gatherings (music festivals, concerts, etc.).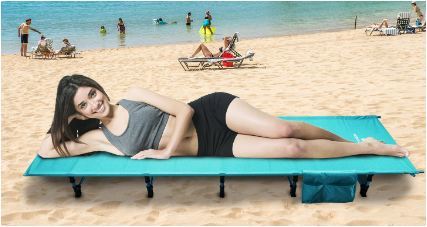 For home use, it is obvious; put it in the closet in its nice stuff sack and use when you have sleepovers, or for any other emergency situation. The same is for office use, it will not take much space and it will be very useful when you need some rest.
Further reducing the weight
You can see in the pictures that it comes with 5 support bars with 2 feet each. If you are not a heavy person, you can try to omit one bar and shed the weight, I am sure this option will work.
If you feel it is heavy, you may reduce the weight also by not carrying any sleeping pad. In warm conditions, you will not need it. You are off the ground.
Yet another option is to use it with a tarp instead of a regular tent; tarps are considerably lighter. See some great models here.
What is included
The package includes the following items:
2 shock-corded side bars,
5 shock-corded support rods,
1 bed cloth,
1 pillow case which doubles as the stuff sack.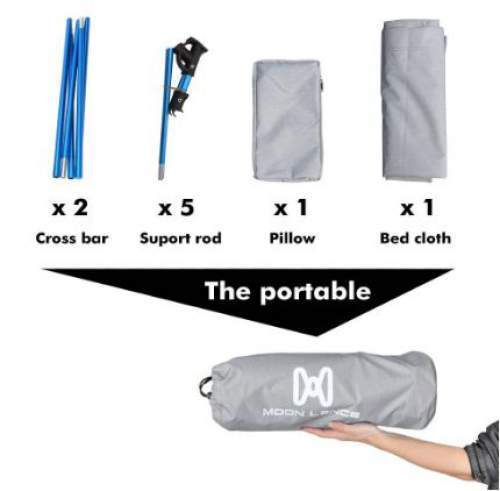 Description & setup
With 420D, the bed fabric is strong enough to support 350 lb (159 kg), and you have three color options to choose, see the pictures around. The deck is with two side sleeves where you put the shock-corded heavy-duty aluminum side bars. These sleeves are with openings where you attach the legs.
I like the fact that the deck comes with the sewn-in storage pouch shown below, where you can put small items during the night so that you always know where they are.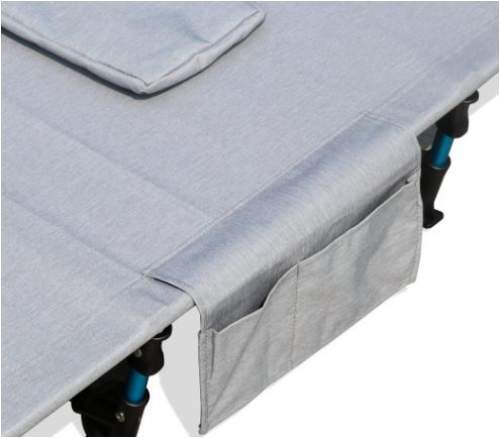 The support bars which you can see above are also shock-corded, so the plastic feet are permanently connected and you cannot lose any of them.
The setup is incredibly simple, completely the same as in the case of the OUTAD cot, so please check the video which is available there. You will not need any tool and all is done in a couple of minutes, see the pictures: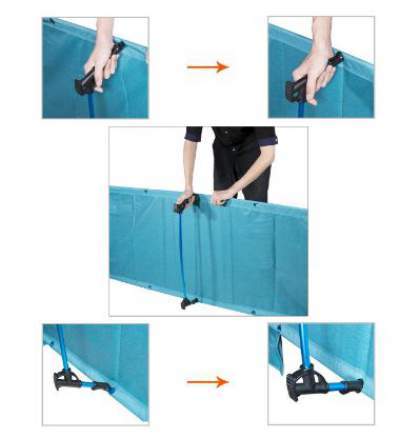 This is a stable structure with 10 feet on the ground. You realize also that there are no end bars, so you will not have any pressure points on your legs. The support bars are well below the deck and there is no chance to touch them regardless of how you sleep. So this is a comfortable design.
It does not sink into the ground, and even if this happens (on the sand as shown in the picture far above), the support bars will take over the weight and any further sinking will stop.
Using the cot in tents
The picture below shows the legs and feet system. As you realize, there are so many of them, so the weight is distributed; the feet are plastic and they will not damage the tent floor.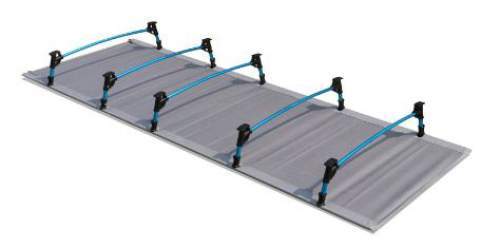 You have seen above that the cot has a bonus pouch that hangs by its side. This is possible because it is with a good clearance from the ground. So indeed you have 17 cm (6.7 in), this is high enough to store some pieces of equipment like poles, axes, books, etc.
This is the advantage of sleeping on a cot, if you put a sleeping pad on the ground, you have lost any storage area in a small tent.
The size of the cot is such that it will fit even the solo tents, and this included also those that are very low, see some of them here. Since you are off the ground, you will need far less insulation in the wintertime; in the summertime you may manage without any pad.
My rating, pros & cons
The width of this cot is 70 cm (27.5 in), so it is suitable for any type of sleeper. But if you are a very tall person you might want to check some other models, like this ALPS Mountaineering Ready Lite Cot, or Helinox Cot Max; but they are heavier.
The daily updated price is in the link below. Observe that this is an Amazon Prime product.
See how I rate this cot:
My rating breakdown of the Moon Lence Portable Ultralight Compact Camping Cot Bed
Weight -

9.8/10

Size -

8.4/10

Capacity -

8/10

Packed size -

9.9/10

Ease of use & features -

8.2/10
Summary
My overall rating of this cot is Excellent:
Pros
• Quite a wide cot.
• Very lightweight.
• Comfortable.
• Nicely packable.
• Very reliable.
• Versatile.
• Great price.
• Very easy to use.
Specifications
Type: completely collapsible, backpack portable.
Weight: 4.1 lb (1.86 kg).
Capacity: 350 lb (159 kg).
Dimensions (L x W x H): 74.8 x 27.5 x 6.7 in (190 x 70 x 17 cm).
Folding size (L x D): 14.9 x 6.3 in (38 x 16 cm); note this is the size of the pillow/stuff sack as well.
Colors: 3, blue, green, gray.
Frame: durable and heavy-duty 7075 aluminum alloy bracket
Bed deck: 420D thickening polyester fabric.
Summary
To conclude this Moon Lence Portable Ultralight Compact Camping Cot Bed review, this tool is not so much different from some other models available on the market, and the new similar tools of this type appear almost daily.
But this cot is a nice combination of the weight and size, not to forget the great price of course, and its bonus storage pouch which also makes the difference. It is lightweight enough to be carried in the backpack and still with an impressive capacity. I can fully recommend it.

This cot is not the lightest on the market, if you need something strictly for backpacking please check this text.
Thank you for reading. Please let me know if you have any comment or question, there is a comment box below. Have a nice day.

---