---
This G2 GO2GETHER Camping Cots Tent Bed Review is about a very lightweight and nicely packable backpack-portable camping cot with a great bed size and an affordable price.
---
Key features & benefits
Completely collapsible.
Easy setup.
Very lightweight & backpack portable.
Nicely packable.
Affordable.
---
Where to buy
Check on Amazon, with their stores on several continents they offer the best shipping conditions and prices.
---
What type of cot is this
This G2 GO2GETHER cot is one of the fully collapsible cots which packs nicely in its carry bag and you can carry it attached to your backpack. Being collapsible implies that it needs some simple assembly but this is done easily in a few minutes and without any extra tool.
All the elements are shown in the picture below and they include:
the carry bag,
3 shock-corded legs/bars,
2 shock-corded side bars,
the bed deck.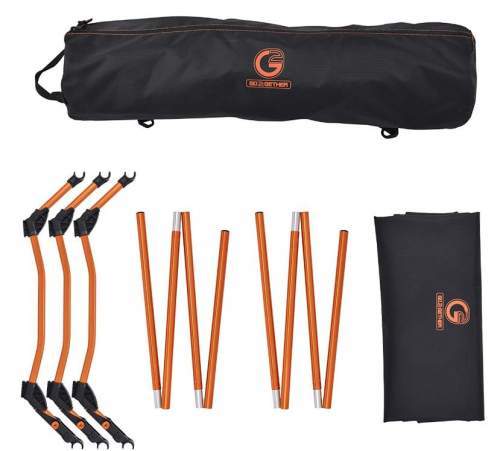 Setup
You start by passing the 2 side bars through the sleeves on the sides and then add the legs/bars one by one. You have a sort of a handle on one side of each of the legs, see the picture below. They serve to give some tension and lock the legs in place.
With such a C-shaped connection to the side bars it is important that the ground is flat to avoid legs snapping when you turn on the bed. There is a short video on Amazon below the description of this cot so have a look, you will see how it is assembled.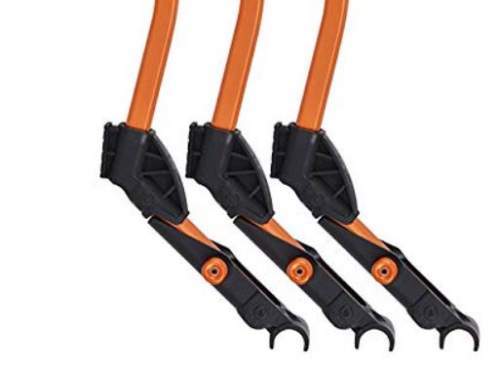 ---
Who is it for
Capacity-wise, the cot supports the weight of up to 260 lb (118 kg) which is quite a modest but typical capacity. So if you need something with a bigger capacity, please check my list of cots for heavy people.
Weight-wise, this is an impressive cot. It weighs only 4 lb (1.8 kg) and I have included it in my list of backpacking cots. You should know that the side rails are thick, around one inch in the diameter, so such a great weight is really surprising.
But if this cot is still too heavy for you, check my exclusive list of ultralight backpacking cots all below 3 lb (1.36 kg).
Size-wise, the bed deck is 75 x 26.5 inches (191 x 67 cm) so these are quite good numbers. But if you are a tall person you will need something longer, so please check this list with cots for tall people, all of them are longer than 210 cm.
The packed size is around 23 x 5.7 x 5.7 inches (58 x 14.5 x 14.5 cm). In view of the weight given above, you realize that this cot can easily be transported attached to the pack, on a bicycle, on a motorbike, etc.
So this is a very versatile item which you can use for a variety of outdoor activities. But it will serve you well as an extra bed at home in the case of sudden guests. The carry bag will keep it clean from dust regardless of where you store it.
---
Materials & construction
You have already seen above what this cot includes, so here just to stress that the metal parts are an ultra-strong aluminum alloy and the bed deck is a heavy-duty tear-resistant ripstop polyester. The same material is used for the nicely designed carry bag.
Using the cot in a tent
This is a floor-friendly design with plastic feet on the legs so it will not damage the floor if you use it in a floored tent. You can see it in the picture:

Note that the bed deck is 6.5 inches (17 cm) above the ground so you can use this cot even in very low solo tents. On the other hand, this clearance is high enough to store various items from your gear, like trekking poles, shoes and boots, and similar stuff. You do not have this if you use a pad only and sleep on the ground.
So a cot of this type very effectively increases comfort in a tent, you sleep off the ground and you have a storage area.
Using a sleeping pad with the cot
For summer camping you do not need it except for more comfort. For a colder environment, you can use some moderate R-value sleeping pad. Being off the ground implies that you need less insulation in general.
---
My rating, pros & cons
I have seen people complaining about legs that sometimes snap and my guess is that this is because of an uneven ground under the feet. So if you are worried about something like this, then choose a different design. Check for example this World Outdoor Products Big Bear Compact Rollup Camping Cot or Byer of Maine TLC 7000 Cot. Such cots cannot snap.
The Amazon price for this cot is given in the link, so this is a real bargain for such an item.
There is a number of reports by Amazon customers and the cot has received a very good rating. See how I rate it for several parameters used for all the cots here in the site:
My rating of the G2 GO2GETHER Camping Cot:
Weight -

9.8/10

Size -

8.3/10

Capacity -

7/10

Packed size -

9.8/10

Ease of use & features -

8/10
Summary
My overall rating of this cot is Excellent:
Pros
Easy setup.
Quality materials.
Very good price.
Great weight.
Great packed size.
Carry bag.
---
Specifications
Type: collapsible cot.
Best use: hiking, mountaineering, climbing, fishing, biking, travel.
Weight: 4 lb (1.8 kg).
Capacity: 260 lb (118 kg).
Dimensions (L x W x H): 75 x 26.5 x 6.5 in (191 x 67 x 17 cm).
Packed size: 23 x 5.7 x 5.7 in (58 x 14.5 x 14.5 cm).
---
G2 GO2GETHER Camping Bed vs Competitors
I have decided to show you this cot side by side with two top-rated cots from other brands that are built in the same style. But one is from my list of ultra-light backpacking cots and the other is slightly heavier than the GO2Gether Cot but also a backpack-portable cot. With this you can see what to expect regarding the dimensions and prices. Please follow the links for updates:
23 x 5.7 x 5.7
(58 x 14.5 x 14.5)

16.9 x 5.5 x 5.5 (43 x 14 x 14)

Big Agnes Helinox Cot Lite
20.9 x 5.1 x 5.1
(53 x 13 x 13)

---
Final thoughts
So to summarize this G2 GO2GETHER Camping Cots Bed review, they have built a nice cot, the weight and packed size are great, the size is reasonable and the same holds for the price. There is not much one could object to such a product.

If you need something more packable, check this Hitorhike Camping Cot. For more options, please check my text with best backpacking cots.
Note that this is NOT a sponsored post, I am not paid by the brand or related to them in any way. I am only expressing my own unbiased view of this product.
Thank you for reading. Please let us know if you have any experience with this cot, there is a comment box below. I wish you a nice day. 

---