---
CAMEL CROWN Folding Camping Cot is a lightweight, backpack portable, nicely packable, and very affordable outdoor item. Please keep reading.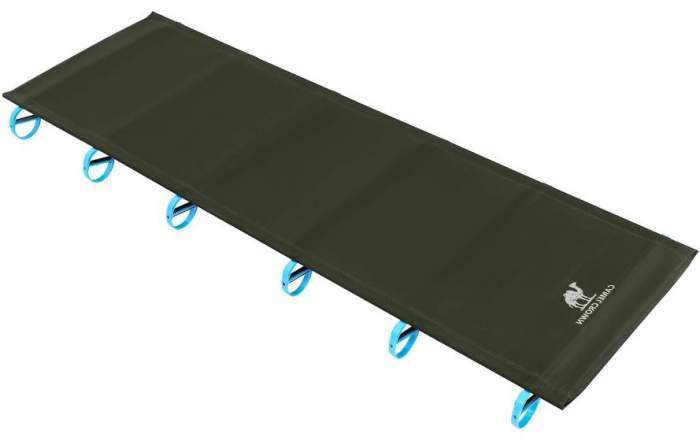 ---
Key features
Lightweight.
Backpack portable.
Great packed size.
Great price.
Carry bag included.
---
Where to buy
This cot is available on Amazon, so follow the link and benefit from their efficient shipping service.
---
What type of cot is this
The name of this cot in the title above is used as suggested by the manufacturer. But the word folding is not completely accurate, it would be more appropriate to describe it as a collapsible cot. This is because it needs assembly when you want to use it, and you dismantle it into many pieces when you pack it, see the picture which shows all the elements: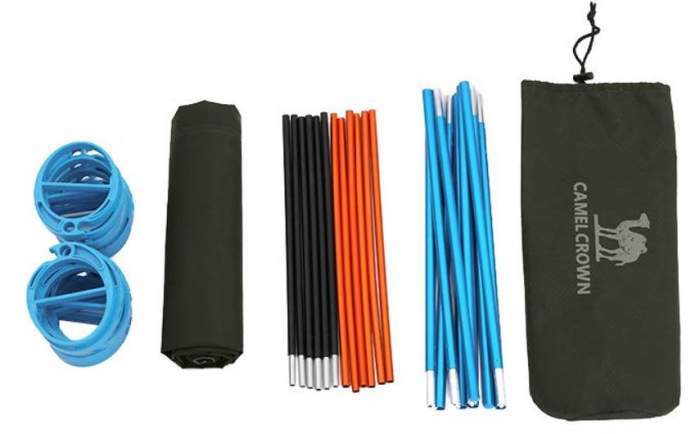 So what you see above from left to right are the following elements:
12 Circular legs.
The bed deck.
8 Cross poles.
Two side poles.
Carry bag.
What you have here is a bow technology similar to some other tents here in the site like this Therm-A-Rest LuxuryLite Mesh Cot and also their new version of the cot.
---
Who is it for
Weight-wise, with its 3.5 lb (1.6 kg) of weight, this is a cot in the group of very lightweight cots and I have added it to my list of backpacking cots. There are just a few lighter cots on the market at the moment of writing this text.
Capacity-wise, they claim that it can easily support the weight of 275 lb (125 kg). So this should be fine for most of the users.
Size-wise, the bed dimensions are 74.8 x 23.6 inches (190 x 60 cm).  The length is reasonable for such an ultralight cot, but it is a bit narrow. Note also that there are no end-bars here, so the whole length is a useful length.
The packed size is very good, 15.7 x 4.7 in (40 x 12 cm), and you will see how this compares with some of its competitors, there is a comparison table below. So you can easily attach it to the backpack, and you can also transport it on a bicycle, motorbike, in a kayak, and in a car of course. The picture below shows how small this cot is when packed.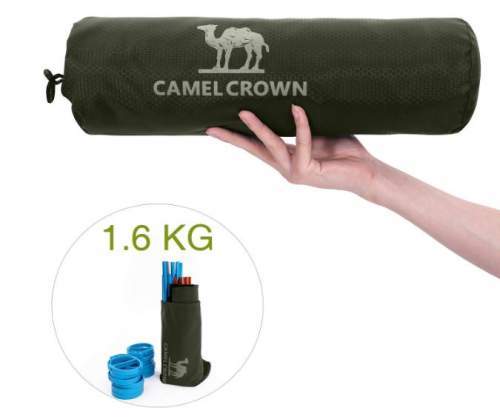 ---
Materials & Construction
The frame is a 7075/7001 aluminum alloy and this holds for the side rails and for the bows under the bed. The circular legs are nylon, and the bed fabric is a high-quality polyester.
Setup
So when you start setting this cot up, you begin by adding the side rails into the sleeves on the bed deck. Then you start to form the legs, note that the two central legs are with dual bars and they are twisted, while those closer to the end are with one bar.  When this is done you start adding the legs to the bed, the pictures below will guide you: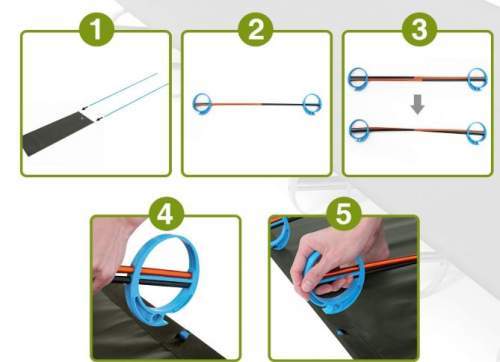 Bear in mind that this can take some time, some 20 minutes more or less,  so do not plan to do this in rush, when it is raining, or when it is becoming dark. If you need something faster, check this TravelChair Sleeptite Cot.
Using this cot in a tent
This is a low cot, you have only 10 cm clearance from the ground. This is enough to avoid moisture accumulated by condensation during the night, and also to sleep comfortably above any sharp object under the tent. You can still store some flat items under the bed, like an ice axe, poles, or your shoes. With such a height, this cot will fit in any solo tent.
Being above the ground, you do not need any pad for summer camping. In a cold environment, you can use some insulation, but this is always less than what you would need to sleep on a pad on the ground.
Note that there are 12 feet and they are not sharp, so the weight is nicely distributed and there should be no issues with the tent floor. The same holds if you use this cot as a spare bed at home, there will be no damages or scratches on the floor. It is very low so it is included in my list of low camping cots.
---
My rating, pros & cons
This is a very affordable cot, a true bargain for such an item. My rating is as follows, based on several criteria used for all the cots here in the site:
My rating of the CAMEL CROWN Camping Cot:
Weight -

9.8/10

Size -

8.1/10

Capacity -

7.5/10

Packed size -

10/10

Ease of use & features -

7.5/10
Summary
My overall rating of this cot is Excellent:
Pros
Very good price.
Incredible weight.
Great packed size.
---
Specifications
Weight: 3.5 lb (1.6 kg).
Capacity: 275 lb (125 kg).
Dimensions (L x W x H): 74.8 x 23.6 x 3.9 in (190 x 60 x 10 cm).
Packed size (L x D): 15.7 x 4.7 in (40 x 12 cm).
---
CAMEL CROWN Camping Cot vs Competitors
I have decided to show you this Camel Crown Cot side by side with one that is among the lightest on the market and one that is slightly heavier than this Camel Crown Cot. This might help in understanding its features. As you realize, it is in between the two for several parameters. There are huge differences in the price, so please follow the links for more details.
---
Final thoughts
In the summary of this CAMEL CROWN Folding Camping Cot review, I would stress again that this is a versatile cot that you can use anywhere. It is good for hiking and backpacking, hunting, for ordinary camping, to use at a beach, in the courtyard. You might want to have such an item as an extra bed for sudden guests. Above all, this is so affordable cot.

Please note that this is not a sponsored text and I am not paid by the manufacturer. There is a comment box below so do use it in the case of questions or comments. I wish you a nice day.

---