---
ALPS Mountaineering Ready Lite Cot is described as a pack-friendly sleep solution for outdoor use. It is a very large yet lightweight portable and collapsible camping cot.
Key benefits
Very easy setup.
Lightweight.
Very large.
Nicely packable.

What type is this
The ALPS Mountaineering Ready Lite Cot is in the group of collapsible cots. But even within this group you have two types:
a) Cots that do not need assembly and open like an umbrella. They are relatively heavy and not portable in the backpack, you can see one here.
b) Cots that need assembly. These are the lightest on the market and some are so ultra lightweight that can be used as backpacking tools. So the ALPS Mountaineering Ready Lite Cotis in this group of portable cots that need assembly, but setting it up is very easy.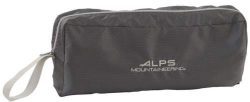 Note also that the term 'portable' is used on the Internet for various types of cots. Sometimes these are cots that you can move around in the camp, or from the car to the camp, but they are still heavy, and I also use this term sometimes only because this is how they are described on various sites.
But in this site, I have a separate category of backpack portable cots which include those that can indeed be carried attached to the backpack or in the backpack.
Who is it for
The weight of this cot is 5.25 lb (2.38 kg), and its packed size is very small,  28 x 7 inches (71 x 18 cm). So these numbers pretty much determine its possible purpose. This is an incredibly versatile tool.
It may be a bit heavy for backpackers and hikers, but carrying it may be worth the effort in view of the comfort you have and its weight capacity which is 300 lb (136 kg). So it may not be perfect for very extended tours, but it is good for shorter outdoor trips.
It is ideal for any outdoor use where you do not have to carry it attached to the backpack. So there are many activities of that type, like cycling, kayaking, it is great for motorbikers, and for any camping at places with a car access.
This cot is ideal also for summer camps, open-air music festivals, rock concerts, etc.
It is great also for home use, just store it in the closet, it will not take much space, and it will be very useful in the case of sleepovers or for any other emergency situation.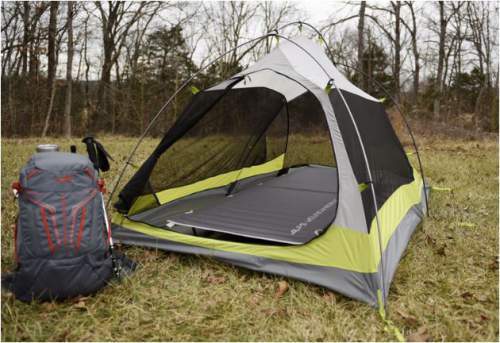 Design and setup
This is a great cot, so great that I have added it in the list of cots for very heavy people, as well as in the list of backpacking cots although it is on the heavy side for such a use.
It looks incredible that this tiny cot is with such a weight capacity, but this is due to its very simple design. You have the top canvas, two side bars, and five legs which are in fact W-shape bars.
This cot is a bit similar to the Kamp-Rite Economy Cot which is described in my another text, and the setup procedure is similar. But the ALPS Mountaineering Ready Lite Cot is considerably larger and lighter, and adding legs is far easier.
Setting this cot up and dismantling it is very easy. You put the segments of the side bars into the side sleeves in the fabric, and then attach the four bar legs to it. This attachment is made easy because of the C-shape profiles on both ends of the leg bars, see the picture below. So they hold firmly around the side bars.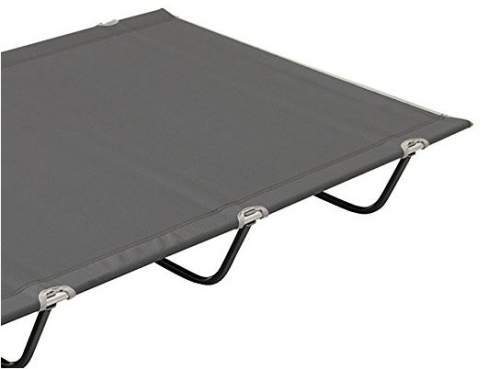 This is all done in a couple of minutes, no tool of any kind is needed.
Note, this cot should not be mixed with yet another cot from the same brand, the ALPS Mountaineering Lightweight Cot which is in the same style but there are important differences. The Ready Lite Cot presented here is far more advanced.
Ultra-lightweight option
The cot is with 5 bar legs and with a big capacity. So if you are a very lightweight person, you might experiment a bit and remove one or even two legs. This will dramatically reduce the weight.
Using the Ready Lite Cot in a tent
The ALPS Mountaineering Ready Lite Cot is perfect for any solo tent, and I mean this literally. It will fit even in the lowest tents like the Eureka Solitaire Bivy Tent, Catoma Badger, or Snugpak Ionosphere 1 tent. It is low, only 7.5 inches (19 cm), so the height will never be an issue, and the same is with the bed size.
These 19 centimeters of clearance under the cot may be used for a bit of storage area, at least for items like poles, axes, rope, and any similar or small object in general.
The legs in the shape of W-bars are floor-friendly, so there is no danger of damages regardless of the surface under the tent, and they do not tend to sink in the ground.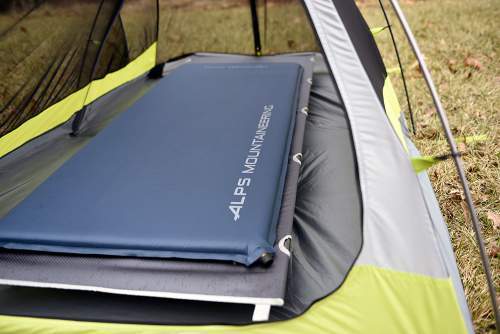 How about insulation – 4 season use
In the summertime, you will not need anything. But you can always add some inflatable pad for comfort.
For a cold environment, you will need some insulation pad. But remember, you are off the ground, so the air is under you, and you need far less insulation. This is because air takes around 50 times less body warmth than the ground, dependent on the ground of course. So you may save on insulation, no need for extremely high R-value in the pad.
My rating, pros & cons
Please see below how I rate this cot against my standard set of criteria:
My rating breakdown of the ALPS Mountaineering Ready Lite Cot
Weight -

9.6/10

Size -

9.2/10

Capacity -

7.5/10

Packed size -

10/10

Ease of use & features -

8/10
Summary
My overall rating of this cot is Excellent:
Pros
Nicely packable.
Very comfortable.
Very reliable.
Versatile.
Easy to use.
Very large cot.
Carry bag included.
Specifications
Weight: 5.25 lb (2.38 kg).
Capacity: 300 lb (136 kg).
Dimensions (L x W x H): 78 x 28 x 7.5 in (198 x 71 x 19 cm).
Packed size: 17 x 7 in (43 x 18 cm).
Durable 7000 series aluminum frame.
Fabric: 420D polyester honeycomb ripstop.
Summary
To conclude this ALPS Mountaineering Ready Lite Cot review, what you have here is a tool that is exceptional in many ways. It is lightweight for its capacity and size, top quality, with an easy setup, but it comes at a price. In any case, I can warmly recommend it for outdoor and home use.
You might want to check also this Big Bear Compact cot, which is smaller in size, and also this Slumberjack Low Cot with a unique legs system.

So it depends on what you need and on the purpose of the cot. If this is only for home use, then perhaps you might consider some of those foldable cots with mattresses, they would be a far better option. But for carrying it outdoors, this is a great tool. Yet remember, there are far lighter cots available on the market.
Thank you for reading. I love to hear from you, so please use the comment box below. Have a nice day.


---