---
There are two versions of the Yahill Ultralight Folding Bed Portable Cot currently available on the market, the Original Cot the New Cot. Both are nicely packable and affordable.
So what is this all about
They have made a mess with these two cots, both are available under the same name and at the same place on Amazon, though they use the terms Original Cot and New Cot for the two models.
The main differences between the Yahill Original Cot and the New Cot
These two cots are substantially different in many ways:
The Original Cot is ultra-lightweight, but quite small. Its legs are ring-shaped, and the bars connecting them are bow-frame technology, see the picture below.
The New Cot is considerably heavier but still lightweight. It is larger (but not much) and with a completely different legs design shown below.
The prices are different; the New Cot is more expensive, but still with a great price.
The New Cot is also with a bigger capacity, but not much.
The New Cot is far easier to set up.
So below I am going to present them separately and then I shall say a few words about features that apply to both models.
---
The Original Yahill Ultralight Folding Bed Portable Cot
This cot is so ultra lightweight that I have included it in the list of backpacking cots presented in the site. See now a bit more about it.
Key benefits
Ultra-lightweight; one of the lightest on the market.
Suitable for backpackers.
Incredibly versatile.
Very good price.
Very packable.
Reliable.
It offers the possibility of adding extra legs for support, for heavy people.

Who is the original cot for
In view of its weight which is only 3 lb (1.36 kg), this cot is worth the effort of carrying it even on shorter backpacking tours. This also implies it is suitable for hikers, mountaineers, and literally any outdoor activity. It is good for kayakers, hunters, cyclists, etc.
If you need something to carry on your motorbike or in the car and to use at any camping place, this is the right tool for you. Its packed size is incredibly small, only 16 x 4.7 inches (41 x 12 cm), so you will not notice it in the car trunk.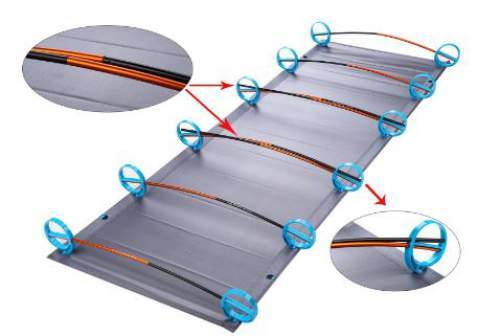 For home use, this cot is nice to have as a spare bed for sudden guests or your kids' sleepovers. It will not take much space in the closet, and it is truly affordable.
Setup
The setup is easy when you know how to do this, but it takes some time, and it is best not to do this in a hurry. You do not need any tool whatsoever.
Adding sidebars is similar to any other cot, but the circular feet and bows connecting them need some practice.
What is included
It is best to see the picture below, it clearly shows all the elements, and all of them can nicely be stored in the included carry bag: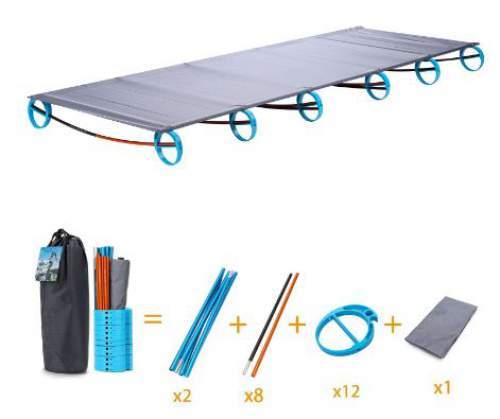 So here you see the following: the bed canvas, circular rings, bow-frame bars, side bars, and the carry bag.
My rating, pros & cons, price
The daily updated price on Amazon is given below. So as you see it is incredibly affordable. Note also this is an Amazon Prime product.
Note that the cot comes with extra holes in the cloth, designed for very heavy people so that more tubes and legs can be ordered and used for extra support. See how I rate this cot:
My rating of the Original Yahill Ultralight Cot
Weight -

9.6/10

Size -

8.1/10

Capacity -

7/10

Packed size -

9.9/10

Ease of use & features -

8/10
Summary
My overall rating for this cot is Excellent:
Pros
• Ultra lightweight.
• Ultra packable.
• Ultra versatile.
• Comfortable.
• Very reliable.
• Very good price.
Cons
• Quite small.
• Setup takes some time.
Specifications – original cot
Weight: 3 lb (1.36 kg).
Capacity: 220 lb (100 kg); but remember you can add more legs and bars for support.
Bed size: 70.8 x 22.8 in (180 x 58 cm).
Height: 3.9 in (10 cm).
Packed size: 16 x 4.7 in (41 x 12 cm).
Frame: aluminum alloy.
Bed fabric: anti-tear PV Oxford material, strengthened nylon.
---
Yahill Portable Cot – New version
Key benefits
Lightweight and backpack-portable.
Very versatile.
Reasonable price.
Very packable.
Reliable.
Larger than the Original Cot.
Greater capacity.
Pillow included.
Very easy setup.
All bars shock-corded, no chance to lose anything or to mix things.

Who is the new cot for
This cot is heavier than the Original Cot, so this partly affects its versatility, but only in the sense that it is a bit heavy to carry in the backpack. But if you love the comfort it offers, it is worth the effort. So yes, it can be used even for shorter hiking tours.
It is perfect for any other outdoor activity where you do not carry it in on your back. So all activities mentioned for the Orginal Cot apply here as well.
The same is for the home use, in fact, even more so because its setup is considerably easier. So again, put it in the closet and use when you need it, for guests or for any other emergency situation.
Setup
Setting this cot is considerably easier than the Original Cot. All bars are shock-corded and attaching the legs is very easy, without any tool again and without brute force.
The procedure is exactly the same as in the case of the OUTAD Camp cot, I gave a video there so please have a look.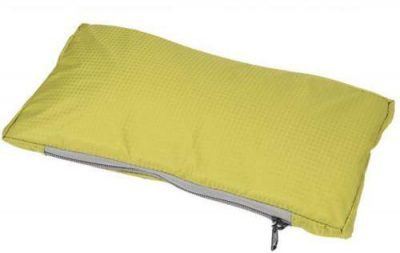 What is included
It is best again to see the picture, all elements are shown: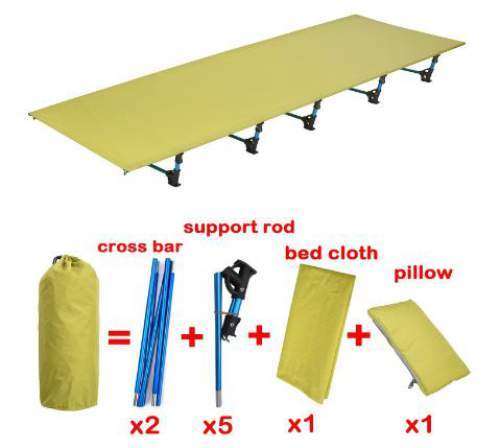 The elements include the following: the carry bag, the side bars, the cross bars which connect feet, the bed canvas, and the bonus pillow.
This cot is larger than the Original cot. But if you are a very tall person please check here.
Specifications – New version
Weight: 4.73 lb (2.15 kg).
Capacity: 264 lb (120 kg).
Dimensions (L x W x H): 75 x 27.5 x 6.5 in (190.5 x 70 x 17 cm).
Packed size (L x D): 16.5 x 6 in (41 x 15 cm).
Fabric: anti-tear and waterproof polyester fiber.
Frame: 7005 aluminum alloy poles.
Multi-use pillow included.
Storage bag included.
---
Ultra-lightweight options – for both cots
The New Cot is with 5 bars, each having 2 feet. But if you are a lightweight person you might try it with 3 bars only and save a lot of weight. There are cots from other brands that are designed with 3 bars only, so this one should work the same way.
The same holds for the Original Cot, one pair of feet together with the associated bow can be omitted and it can become even lighter.
Using it in a tent – for both cots
The cots are very low, 3.9 inches (10 cm) the Original Cot, and 6.5 inches (17 cm) the New Cot. So they definitely fit in any solo tent, even in the lowest presently available on the market like these: Winterial solo tent, Catoma Badger tent, Eureka Solitaire tent. You could even use them in the Aqua Quest Bivy.
So naturally, then you can use them in any bigger tent as well. You have enough clearance from the cold ground and you can even store some small pieces of gear under the cot. This you can never do if you are sleeping on the pad on the ground.
The legs design in both cots is such that they will no damage tent floor. Eventual sinking in the soft ground should be minimal in both cases. Even if the feet somewhat sink, the bars in between them would then take over the pressure and prevent further sinking. So this is a tent-friendly design in general.
Note that with such a cot you do not need a pad in the summertime and in most cases in the 3-season use in general.
How about insulation
In the case of a cold environment, in winter conditions or if you use such a cot at high altitudes like those above 3000 meters in the Alps where I normally go (just preparing for a tour in Austria), you will need some insulation.
So it is up to you what to choose, but if you are undecided please have a look here, there are many top-notch insulated pads presented in detail.
But you should know that, quite generally, when you are off the ground you need far less insulation than when you sleep on a pad on the ground. This is because when you are on the cot, you have air under you, and air conductivity is around 50 times less than the conductivity of the ground (there are different numbers for rock, ice, ordinary soil, etc., this is just a rough value). So you may save on pads, no need to invest in those with a very high R-value.
Other great features in both cots
Note that the construction of both cots includes only side bars, while there are no end bars. So the whole bed surface is a useful space and no pressure points on your legs.
Also for both cots, there are no bars at any point close to the bed deck from below; so again no pressure points on your body.
Yet another good thing with these two cots is that you can order practically all elements separately, as you can see in this link. So in the case of damage or if you just lose some of its small pieces (of the Original Cot), no worry it is available.
---
Summary
So to conclude this Yahill Ultralight Folding Bed Portable Cot review, it remains unclear to me why they sell these two cots under the same name. They are very different and with a slightly different purpose.
But in any case, both of these tools are really great, good for tents and tarps as outdoor tools, or as extra beds at home. So check carefully their features and see what suits you best.

If you are looking for a cot for backpacking, please see these impressive ultralight models. But if you need something more traditional, for camping and with a mattress integrated, here is a long list of great models.
Thank you for reading. Please let me know if you have any comment or question, there is a comment box below. I wish you a pleasant day.