---
Ultralight Backpacking Cots presented here are all with the weight below 3 pounds (1.36 kg). So these are truly portable tools suitable for backpackers, hikers, mountaineers, and for any other outdoor activity. 
All ultra lightweight backpacking cots side by side
I give them here ordered by weight:
As you see, all the cots are with the weight in the narrow range 1.18 – 1.36 kg (2.6 – 3 lb). So clearly the competition is strong in this industry and they are competing for the top position.
*Note, these models come in two sizes R and L, but the L versions are slightly heavier and do not belong to this weight group below 3 lb.
Two main types
It is easy to get lost when you have plenty of options. To make the choice easier, you should know that all models belong to two very different groups:
a) The models with shock-corded bar-legs. Here you have the models 1, 2 and 4.
All models in this group have legs with bars so it is easy to recognize it. The bars and the legs are interconnected so you cannot lose them, and setting the cot up and collapsing it is incredibly simple.
All models in this group are assembled in the same way, so you can see this video about Helinox cot (which is not included in the list, it is a bit heavier than the cots given here), but the procedure is the same:
b) The models with bow frame design. This you have in the models 3 and 5.
The BowFrame is patented design launched by Therm-a-Rest some 5 years ago, and you can see it used in the cot number 5 here in the list. You can recognize it easily because of the circular legs design. This is a tension spring system with the cot's bow poles designed to flex until the middle of the pole contacts the ground.
The setup procedure for all cots of this type is the same and you can see it in the video related to the model 5 below in the text.
Who are they for
These are all collapsible and portable models so they are incredibly versatile. Here are just a few ideas about their best use:
They are ideal for outdoor and indoor use.

Can be used as leisure beds.

Can be used under the tent and have a so-called tent-cot tool.

Can be used as ambulance stretchers.

As emergency tools at home or anywhere.
For sudden overnight guests.
At any camping place.
On seaside vacation places and on beaches.
For fishing and kayaking.
These are great backpacking and hiking tools.
Great tools for motorbikers.
Great tools for summer festivals and summer camps.
These are great gifts for anybody and in particular for those who enjoy going outdoor.
The cots add weight so why using them
This is an addition because of reactions after adding the link to Facebook. So yes, a cot adds weight but you get the following:
Comfort. This is the matter of choice.
As already mentioned elsewhere in the site, you lose 50 times body warmth to the ground than to the air. So by sleeping on the cot, you have air under you and you need far less insulation from below, if any. Hence, you save money on pads.
You can put the tent on the cot, this is the basic idea about tent-cots. So with this, you save the tent from the ground, no issues with ground water, and you do not need a footprint.
---
Pros & Cons for all models
My summary looks as follows:
Good

Less good
• Very reasonable prices (most of the time).
• Comfortable – no end bars.
• Versatile tools.
• Easy setup, no tools required.
• Very packable.
• All are portable.
• All with a great capacity.


• 

 All are relatively short.
As you see from the table above, the length is in the range 180-185 cm (71 – 73 inches) for all of them (except the L version of the FUNS cot and the Therm-a-Rest cots which do not belong to this weight group). So bear this in mind if you are a tall person; you might want also to check my another text where you can see some longer models but slightly heavier.
All models are without head and foot bars, this makes a lot of difference as you surely know if you have ever used such a cot, so these tool are really comfortable.
The prices are truly reasonable for most of them, and the only exception is the Therm-a-Rest cot which is considerably more expensive, around $220; but compare this with $40 for the YaeKoo (the model 3 in the list).
---
1. Desert Walker backpacking and camping cot
All cots presented here are ultra lightweight, and this Desert Walker's Cot is the champion with its 2.6 pounds (1.18 kg). It is with a truly remarkable capacity of 440 pounds (200 kg).
This is a very stable construction with for leg bars, so you have 8 points on the ground. The setup is extremely easy, in a couple of minutes literally, in particular after you practice a bit with it, and you need no tool for this. The bars prevent the bed from sinking into the soft ground, a good feature.
You essentially slide the poles in the sleeves and attach the feet, all is self-evident.
The cot is good enough regardless if you are a side sleeper or a back sleeper. The length is typical, but bear in mind it is 185 cm, if you are a very tall person.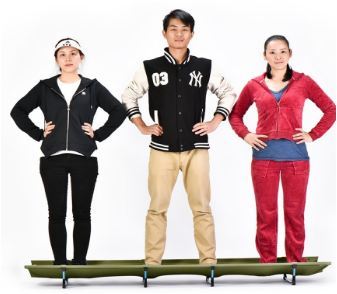 This is an excellent tool by all means, far easier to setup than some other tools presented here. It is nicely collapsible and packable and it comes with a nice carry bag.
The Amazon price at the moment if writing this text is $135, I would say quite reasonable for such a tool.

Weight: 2.6 lb (1.18 kg).
Capacity: 440 lb (200 kg).

Dimensions: 73 x 23.5 x 6 in (185 x 60 x 15 cm).

7001 aerospace aluminum alloy poles and frame.

Bed fabric: composite fabric, waterproof, tear-proof, and excellent ventilation.
---
2. OUTAD Cot
This is a 73 x 24 inches (185 x 61 cm) cot with an impressive 440 lb (200 kg) capacity and with the weight of 1.2 kg (2.64 lb) only. It is practically the same as the Desert Walker model above, with the same design which includes 4 bars with legs, so 8 points on the ground. My guess is they came from the same factory in China and are just sold under different names.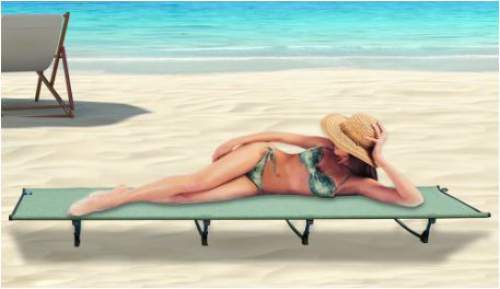 The packed size of this cot is (W x D) 19 x 3.9 inches (48 x 10 cm). A nice carry bag is included. So clearly it can easily be carried attached to the pack or transported on a motorbike or in the car. The cot has received a few customers' reports on Amazon, with the average rating 4.0 – 4.6/5, dependent on the seller.
The current Amazon price at the moment of writing this text is in the range $105 -124.
The setup is the same as in the Desert Walker model above, quick and easy, no tools required. All done in a couple of minutes. All pieces are shock-corded so you cannot lose them and this is also what makes the setup easy, no need to guess what goes where: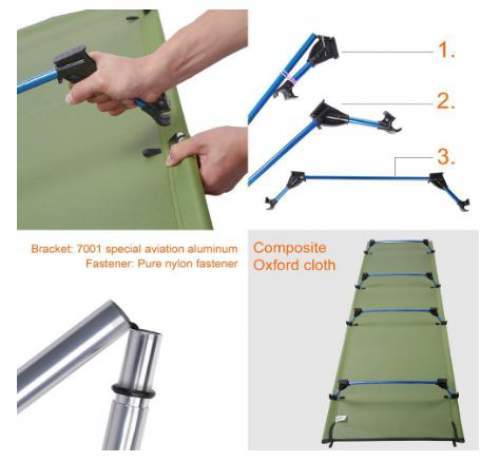 Specifications
Weight: 2.64 lb (1200 g)
Dimensions: 73 x 24 x 6 in (185 x 60 x 15 cm).
Color: Grey, Army green, Purple.
Bed bracket: 7001 special aviation aluminum.
Bed fabric: composite waterproof and breathable fabric.
Bed Fasteners: Nylon.
A 15 cm ground clearance for a more comfortable sleep.

---
3. YaeKoo Outdoor Portable Folding Cot
This is a completely different concept from the group b) mentioned above, see the circular legs, ultra lightweight of course. All elements are separated, no shock cords except in the sidebars, and the setup takes more time. No need for any extra tool. In the model 5 below I give a video with the setup procedure, it is completely the same with the YaeKoo cot here.
The poles which make the frame and bars are aviation aluminum alloy, the bed fabric is anti-tear PV oxford cloth and reinforced nylon
. As the picture above suggests, all is nicely packable in the included carry bag which is of the size (W x D) 40 x 12 cm. So here again you have a tool which can be carried around even as a backpacking piece.
The Amazon price for this cot is simply incredible, only $40. The average customers rating is very respectable 4.2/5.
The elements of the system are all shown in the picture below, can you believe this all is only 1.3 kg: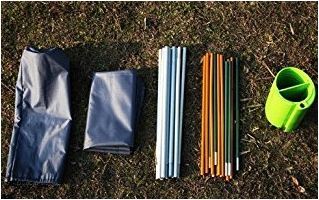 Specifications
Weight: 2.87 lb (1.3 kg).
Dimensions: 70.9 x 22.8 x 3.9 in (180 x 58 x 10 cm).
Capacity: 330 lb (150 kg).
Folded size: 40 x 12 cm.
Color: purple.

---
4. FUNS Off Ground Camp Cot
This model is available in two sizes, regular (R) and large (L), see the numbers in the specifications below. This is again the type similar to the models 1 and 2 above (the group a), with shock-corded elements.
Similar to all other models, this cot is also nicely packable as the picture shows, it breaks down to 19 x 5 x 4 inches carry bag. Setting it up and taking down is a breeze, just a couple of minutes.
The fabric is 100% 500D high strength oxford waterproof cloth, and the metal elements are 7075 aluminum.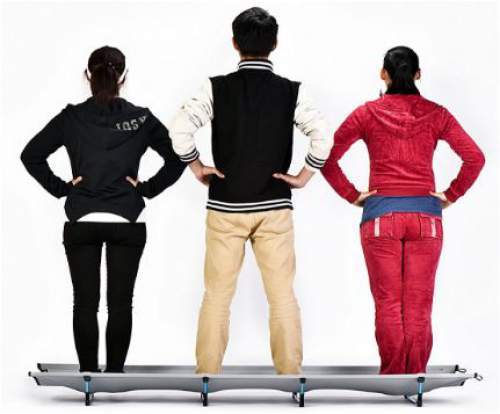 The picture above is similar to those shown in the previous text, they like to show it to demonstrate the great capacity of these tools. But observe the people, these are the same as in the picture for the Desert Walker cot (number 1) above. No doubt, the cot comes from the same house, but it does not matter. It only tells you that there are no essential differences between these models.
The current Amazon prices are $105 for the R size and $130 for the L size. There are only a couple of customers reports, with 5.0/5 average rating.
Specifications
Weight: 2.87 lb (1.3 kg) for the R size.
Capacity: 440 lb (200 kg).
Dimensions:
– R: 73 x 24 in (185 x 60 cm).
– L: 79 x 26 in (200 x 66).
Packed size: 19 x 5 x 4 in (48 x 13 x 10 cm).

---
5. Therm-a-Rest LuxuryLite UltraLite Cot
This cot is presented in detail in my another text as a part of a tent-cot combination. So please follow the link to see more.
The cot comes in two sizes, R and L. This tool has been on the market for some time already (at least 5 years or so) and it has received a huge number of customers' reports, with the average rating 4.2/5.
Here is the video which shows the setup:
---
Summary
So to conclude these Ultralight Backpacking Cots Reviews, all the models belong to two distinct groups and this should be the first thing to know if you are undecided. The weight difference is practically negligible.
The setup of those from the group a) is considerably faster and easier, this is yet another fact to bear in mind.
But the YaeKoo model (the number 3 above) is from the group b) and it is with the price without a match.
If you need standard camping beds for heavy people please visit this page. Note that there are double cots available as well, so have a look in my another text.
So good luck in your search, I hope this text has been useful. Please let me know if you have any question or comment, there is a comment box below. Here below are links to all these models and a few more.


---