---
If you want an ultra-compact and very light outdoor bed, this Naturehike Ultralight Folding Camping Cot Bed with its 330 lb capacity is for you. Keep reading.

---
Key features & benefits
Ultra-compact.
Ver light.
Carry bag.
Great price.
---
What is in the name
The word 'Ultralight' in the title is part of the cot's name. So the cot is indeed very light with its 4.85 lb (2.2 kg) and my rating for the weight is high, but this is not an ultralight outdoor cot. To realize this, I would suggest that you check my separate list of ultralight backpacking cots.
They also use the word 'Folding' in the name, but this cot is not a folding cot, this is a true collapsible cot. This means that it has several separate parts (the picture below) and it needs a simple assembly. But this is all done in several minutes and without any extra tool.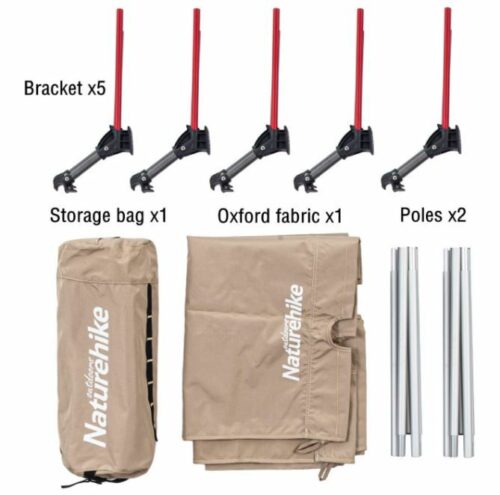 So the picture above shows its 5 legs, 2 side poles, the bed deck, and the carry bag.
Note that its collapsible design is behind its exceptionally small packed size, the carry bag measures only (L x D) 18 x 6.3 inches (46 x 16 cm). You will hardly find a folding cot that packs so small.
Note that they have yet another cot on the market with a similar name, but the legs design is very different.
The materials
They use a 7075 aluminum alloy and all the tubes are shock-corded, see the picture below. So you can never lose any part and setting the cot up is very easy.
The fabric is Oxford polyester, breathable, and easy to maintain and to clean. They have added pool loops at the end of the sleeves (the picture below) so this is very useful when you want to put the side pole in place or when you want to remove it.

The picture below shows the side view so you get some idea of how the frame and legs look. Note that you have 5.9 inches (15 cm) clearance between you and the ground. This is low enough that the cot fits in practically any tent, yet it still provides very useful storage space. As you know, you do not have such a luxury in the tent when you sleep on the ground.

Note also that the feet are a floor-friendly design, so you will never have issues with the tent floor.
---
Who is it for
Regarding the weight, you have already seen it, so the cot is very light and it is backpack portable. It is added to my list of backpacking cots.
The packed size is also exceptionally good, it is short enough to be carried attached to the pack, on a bicycle, in a kayak, or on a motorbike.
Regarding the bed size, you have (length x width) 74.8 x 25.6 inches (190 x 65 cm) so the cot can be described as moderate. You have seen in the pictures above that there are no end bars, so the mentioned length is the true useful length. But if you are a very tall person this will still not be enough so check our separate list with cots for very tall people.
Regarding the capacity, the cot officially supports up to 330 lb (150 kg). So this is quite a lot and it is enough for most of the users. But see these cots for very heavy people if you are a big person.
Regarding the price, the cot is very affordable and this is a great value for the money.

---
Specifications
Type: collapsible cot.
Weight: 4.85 lb (2.2 kg).
Capacity: 330 lb (150 kg).
Bed size: 74.8 x 25.6 in (190 x 65 cm).
Height: 5.9 in (15 cm).
Packed size (L x D): 18 x 6.3 in (46 x 16 cm).
Warranty: They have a 'no questions asked' policy. They claim that you have a full refund and a replacement for the first 30 days if it doesn't meet your expectations.
---
Ratings, pros & cons
Below you can see how I rate the cot against my standard set of criteria, so you can easily compare it with other cots of this type here in the site:
Ultra-compact & very light collapsible cot


Product Name: Naturehike Ultralight Folding Camping Cot Bed
Product Description: If You Want an Ultra-Compact and Very Light Outdoor Bed, This Naturehike Ultralight Folding Camping Cot Bed with its 330 Lbs Capacity Is the One.
Brand: Naturehike
SKU: B087RDH9P9
Weight -

9.6/10

Size -

8.3/10

Capacity -

8/10

Packed size -

9.9/10

Ease of use & features -

8.2/10
Summary
You have seen all the features of this cot, so the overall rating is well-deserved Excellent.
Pros
Ultra-compact.
Very light.
Very good capacity.
Carry bag.
Great price.
---
Final thoughts
In the summary of this Naturehike Ultralight Folding Camping Cot Bed review, I wish to stress again its incredible packed size, and its weight. This together with its capacity and bed size makes it a very versatile cot.
You can use it for camping, hiking, fishing, as a bed for office naps, and as a spare bed at home. Fully recommended. It is included in my list of very low camping cots.

Please check under the category Camping Cots if you need more options, you will find it in all possible shapes. See this Mountain Summit Gear Horizon Easy-Set Cot that is also collapsible but with some unique features.
Bookmark this site, this will keep you informed because we add texts here on a regular basis. Thank you for reading and have a nice day.