---
The GCI Outdoor Legz-Up Lounger Chair is a unique portable design with a folding footrest and 4 independent different backrest positions.
---
Key features & benefits
Folding chair.
Backpack style carry system.
Adjustable footrest.
Reclining backrest.
Headrest.
Head pillow & feet pillow.
Patented design.
---
What this GCI Outdoor Legz-Up Lounger Chair is about
Perhaps it is best to stress that the letters CGI mean 'great chair innovations' because this is what you have here, as usual with this brand. They use the word Lounger in the name but this chair is more than that.
So this is a very easy to use folding chair which you open and close in seconds. There is no assembly, and it comes ready to use. For transportation it folds and becomes very thin, but the other two dimensions are substantial, see the picture below. The folded size is 36 x 27.2 x 5.9 inches (91 x 69 x 15 cm).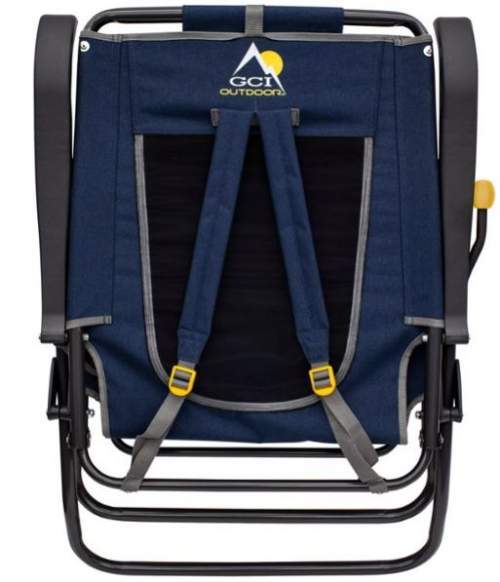 From the picture you also realize that it is equipped with shoulder straps so you can carry this chair backpack style. See how this looks: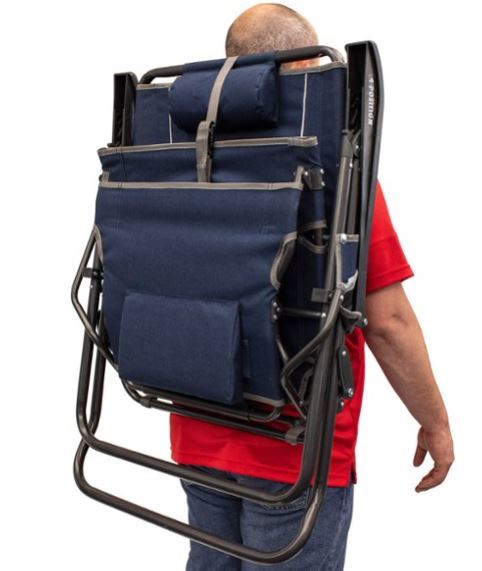 Footrest
This is a chair with a folding footrest. The top picture above shows that the footrest can be folded under the chair so you can use the chair as the usual camping chair for sitting and dining.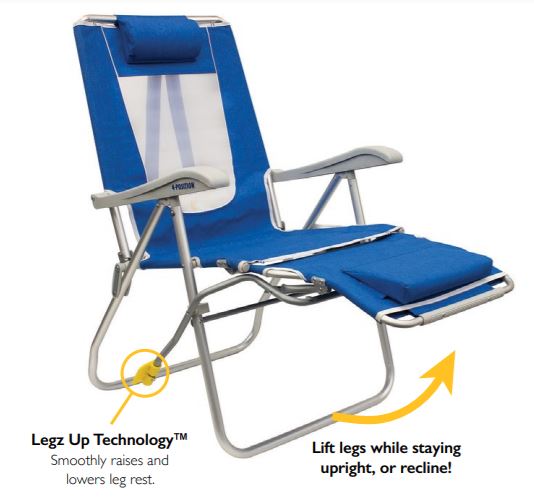 But you can also raise the footrest as shown below, there is a handle with the yellow cap for this purpose. As you see, the backrest can remain in the same position.
Observe that you have a pleasant padding on the footrest and also on the top of the chair.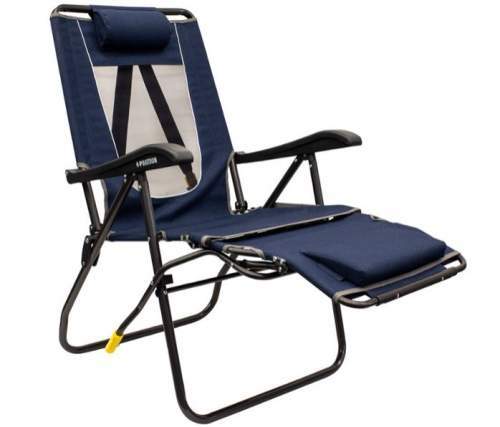 Reclining design
You can also combine the positions of the footrest with the adjustable backrest. The chair allows for for 4 different positions. So this is a recliner and I have added it to my list of best reclining camping chairs.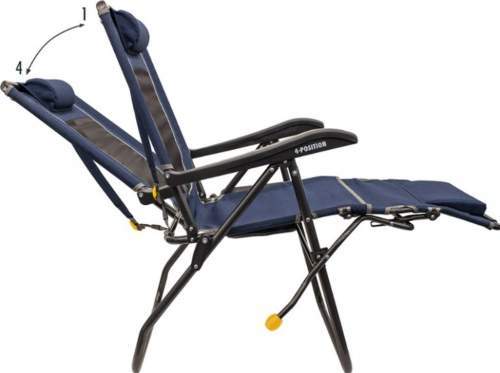 When reclined and with the footrest raised up as in the picture, it looks like a standard lounge chair. So you know now why this word is used here.
But the footrest raise independent on the recline is a unique and patented feature here. This is what sets it apart from similar lounge chairs on the market.
Materials
The frame with all those tubes is a steel, and the fabric is a PVC-backed polyester. There is a large mesh-section on the backrest, so this is a ventilated construction suitable for warm weather use.
Note that the armrests are solid and with some plastic covers. The legs are such that you can use this chair anywhere and it will not sink in a soft ground. There are also storage elements on the side, see what you get: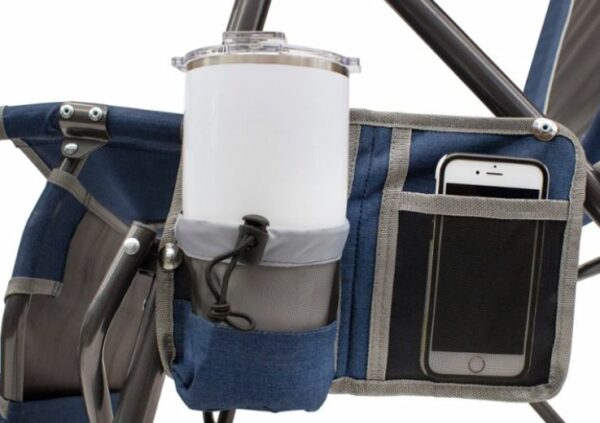 ---
Who is it for
Regarding the capacity, I would describe it as rather modest, the official capacity is 250 lb (113 kg). One would expect more from a chair of such a size.
Regarding the dimensions, it is huge, the numbers are given below. Note that the seat is moderately high, it is 18.7 inches (47 cm) above the ground.
Regarding the weight, it may look heavy but the dimensions are enormous, and the chair has so many useful elements, so the weight is justified. Its packed size is not the best detail, but at least it remains thin when folded.
Regarding the price, I think it is fair for such a large and feature-rich chair. There is a link below so check from your side.
---
Specifications
Weight: 11.6 lb (5.26 kg).
Capacity: 250 lb (113 kg).
Dimensions (L x W x H): 39.7 x 27 x 43 in (101 x 69 x 109 cm).
Folded dimensions: 36 x 27.2 x 5.9 in (91 x 69 x 15 cm).
Seat height: 18.7 in (47 cm).
Frame: steel.
---
Rating, pros & cons
Below is summarized my rating and some pros and cons. You can rate the chair from your side, there is a rating bar for this purpose.
Unique design and great features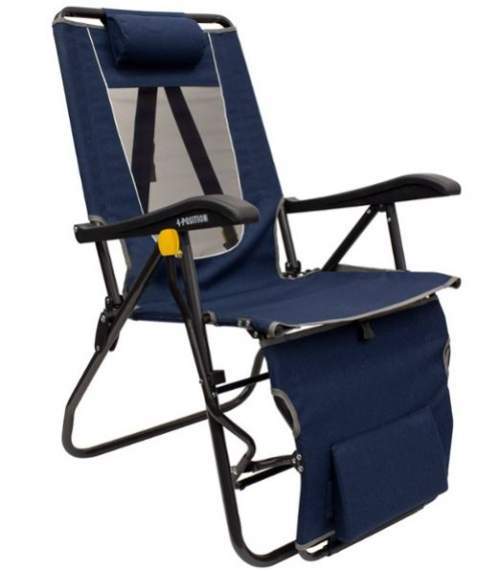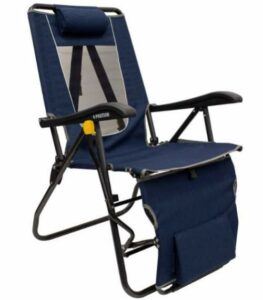 Product Name: GCI Outdoor Legz-Up Lounger Chair
Product Description: The GCI Outdoor Legz-Up Lounger Chair Is a Unique Portable Design with a Folding Padded Footrest and 4 Independent Different Backrest Positions.
Brand: GCI Outdoor
SKU: 205045
Weight -

5/10

Dimensions -

10/10

Packed size -

1.5/10

Capacity -

7/10

Comfort -

9.7/10

Craftsmanship -

9.5/10
Summary
The rating criteria here are all either maximum or minimum, but the overall value is not bad.
Pros
Recliner.
Headrest.
Footrest.
Solid armrests.
Huge dimensions.
Quality craftsmanship.
Cons
Bulky.
Heavy.
Modest capacity.
---
Final thoughts
So the GCI Outdoor Legz-Up Lounger Chair comes with truly great and useful features, no need to repeat, you have seen them all above. This is yet another great product of this globally known brand. Fully recommended. It is included in my list of best camping chairs with a footrest.
Best places to buy:
For more options, please check under the category Camping Chairs, you will find them many here in the site, and in all sizes and shapes.
Bookmark this site and visit it when you find time, this will keep you informed, you have new texts added here on a regular basis. Let me know if you have questions, there is a comment box below. Thank you for reading and have a nice day.