---
This Republic of Durable Goods Chill Master Portable Folding Camping Hammock with Stand is an incredible all-inclusive outdoor sleeping system with many elements for full outdoor protection.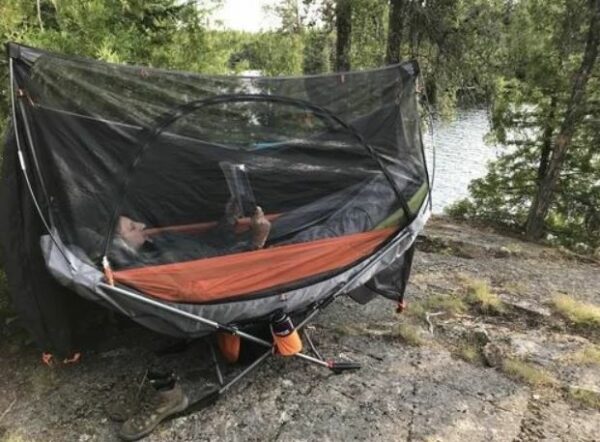 ---
Key features & benefits
Complete system for outdoor sleeping.
Many elements in the package.
Unique collapsible design.
Full protection.
Versatile.
Fully freestanding.
Steel & fiberglass poles.
Carry bags for the components and for the whole system.
---
What this Chill Master Portable Folding Camping Hammock with Stand is about
Here you have an incredible outdoor sleeping system, and it is definitely completely unique on the market. It was available on Amazon under the name Republic of Durable Goods Samsara Camping Hammock, but it disappeared recently.
My guess is that this is because of the current situation in the world and the fact that Amazon is not able to deal with the increased number of orders. People are buying online more due to the virus, and Amazon has to prioritize shipments.
In any case, this is a fully collapsible structure, and this means it packs nicely to a relatively small size, yet it also needs assembly. But the point is, it has many elements (see the picture below), and you do not need them all whenever you use this set.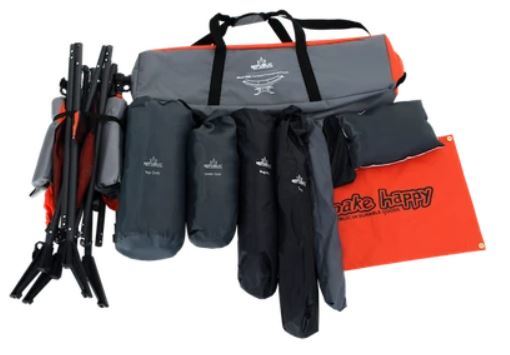 Versatile structure – what is this really?
To realize the meaning of the word 'versatile', here is how you can understand this system:
You can use the hammock (Mock One) as a hanging cot inside a bigger tent. There is not much difference when you compare it with standard cots, though it does swing a bit when you sit on it. But it is also much higher than standard cots, and it is shaped like a hammock of course.
You can use the hammock with the net canopy and have protection from insects. In this case it is similar to the Therm-a-Rest LuxuryLite Cot Bug Shelter.
With the added tarp + canopy, this is similar to any of the tent-cots (or cot-tents) here in the site. You could compare it with this Therm-a-rest Cot Tent.
So what is it after all? I would say it is a bit of everything. But most importantly, this is a self-supporting and freestanding system at least when this is about its Mock One component, and you can use it on any terrain.
In fact, even after you add the canopy, it is still fully freestanding. With the tarp added, you have to stake it of course.
What exactly is included?
You have the following main elements included in this Chill Master Bundle:
The Mock One hammock with its all elements, see the picture below.
Padded headrests on both ends, visible in the picture.
UPF 50+ Sunshade. This is a removable and adjustable part, shown in the picture.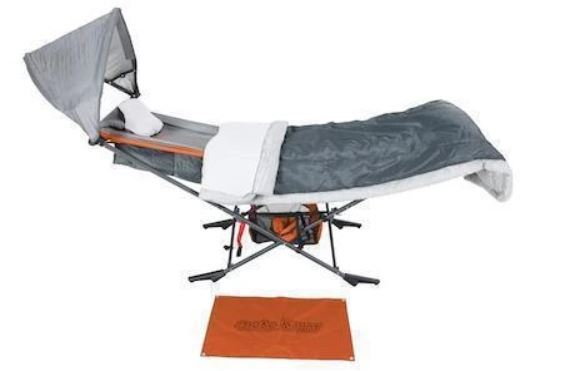 A rain tarp (they call it Happiness Tarp).
A net (canopy) for bugs (Mock'Squito Net), with its own poles.
Quilts for warmth. This includes two of them, the Top Quilt and Underquilt.
A large basket underneath the bed.
Bottle holders.
A pillow.
J-stakes & guylines.
Several smaller bags for the components + the main carry bag.
It's a lot of components here as you see. Now you realize why I am using the terms like 'sleeping system' or 'sleeping set', this is far more than just a folding hammock. But I have included it in my list of best folding hammocks. See below a bit more about all these elements.
---
The freestanding hammock – Mock One
So all is based on the bed and this is the Mock ONE presented in our separate text. But see how to use it alone:
Note that the video shows it without its own canopy which you also have here. You can read more about it in my separate text.
---
The Mock'Squito Net
They have added full protection from insects, so see how this is used:
The Mock'Squito Net looks just like a canopy of a summer camping tent, It provides visibility 360-degrees around, and you have full protection from bugs. The picture below shows it attached to the hammock, with its two zippered doors and fiberglass poles that create an A-shaped frame similar to classic tents.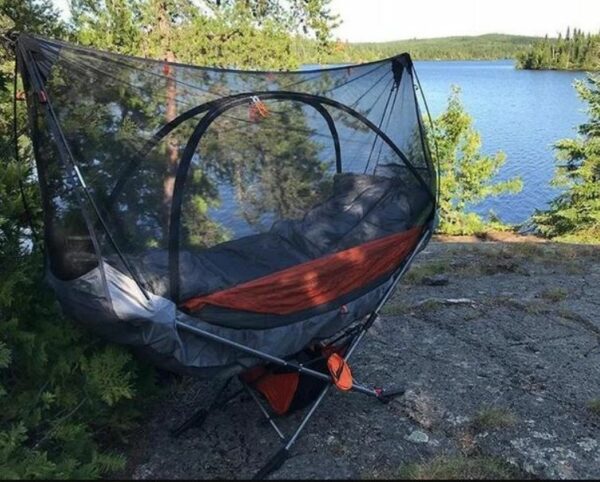 Below are the most important dimensions with the canopy added, so it is 203 cm long and 152 cm tall. Observe that the footprint is really small so it does not require lots of flat space to set it up. It is only 36 x 25 inches or so (91 x 64 cm).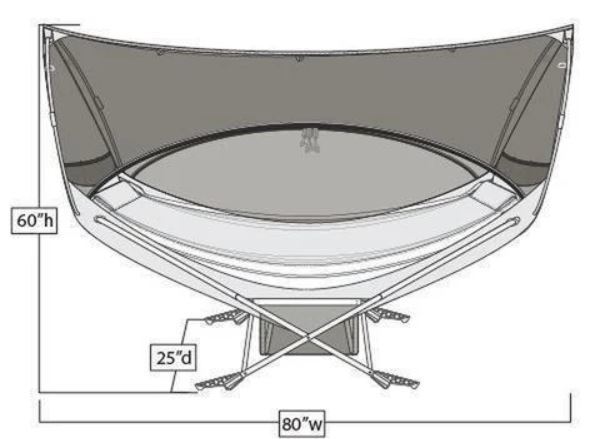 Note that you have mesh pockets on both ends, plus several elastic hooks for hanging personal items.
What is easy to overlook is the fact that this is not just a mesh canopy, this is a fully enclosed structure that goes underneath the whole hanging bed. So its bottom is a polyester taffeta and the canopy is mesh. You can see this in the picture: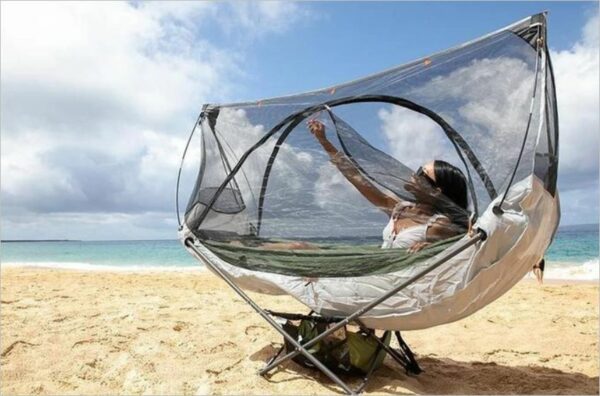 In other words, you are fully protected from crawling and flying insects, and it also gives a bit of protection from drafts underneath the cot. This looks just like the inner part of the tent that has its own floor and canopy above.
This Net is available on the manufacturer's site and you can also order it here separately.
Canopy specifications
Size: 75 x 40 in (191 x 102 cm).
Packed size (L x D): 22 x 5 in (56 x 13 cm).
Weight: 26 oz (737 g).
Materials:
– No See-um mesh canopy.
– 190T polyester bottom.
– #8 nylon zippers.
– 4 Fiberglass poles.
Carry bag.
---
Mock Tarp
So this is the next level of protection, you have a huge tarp added for protection against elements:
They call it Happiness Tarp and it can be used together with the Mock'Squito Net and it is partly supported by the Net's poles. You have stakes and guylines included in the package to secure it against winds and rain.
You will see its size in the specifications below, so it covers and protects the hammock completely. It has some extra poles for awning, more below. The picture below shows how excellent it looks. You can make it closed on several sides to have some privacy so it looks almost like a tent.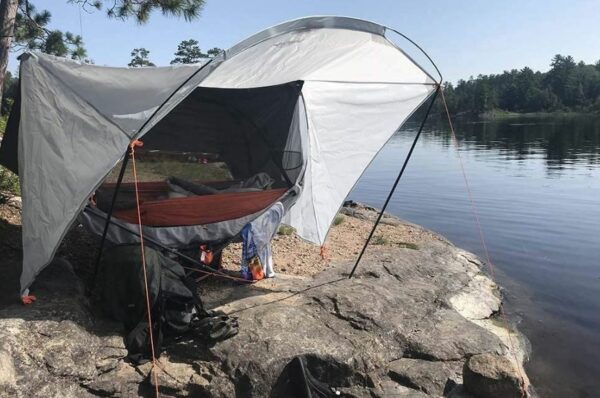 This tarp can be ordered separately here if you already have their Mock One hammock.
Tarp's specifications
Size: 170 x 101 in (432 x 256 cm).
Compressed packed size (L x D): 25 x 6 in (64 x 15 cm).
Weight: 41 oz (1.16 kg).
Materials:
– 190T polyester with a 3000 mm waterproof rating.
– Reflective nylon.
---
Top Quilt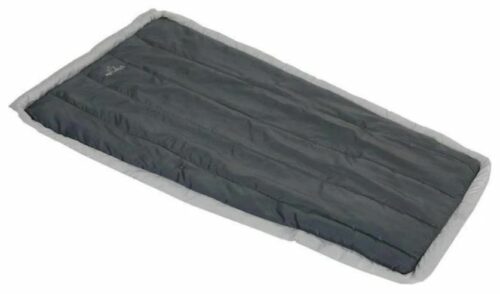 This Top Deck Quilt provides a layer of warmth. Note that it attaches to the Mock ONE frame with toggles on double-elastic straps and this keeps it in place.
The picture above shows its edge baffles to capture your body heat. The top layer is waterproof and this prevents dew and other moisture from getting in. The picture below shows how it looks on the Mock One hammock.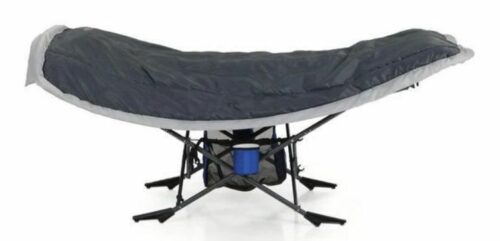 Top quilt specifications
Size: 74 x 40 in. (191 x 102 cm).
Packed size (L x D): 15 x 8 in (38 x 20 cm).
Weight: 29 oz (822 g).
Temperature insulation rating: 40 degrees F (4 C) polyester fill.
Materials:
– Waterproof and breathable 190T polyester shell.
– Brushed 190T polyester liner.
Carry bag.
---
Suspended under quilt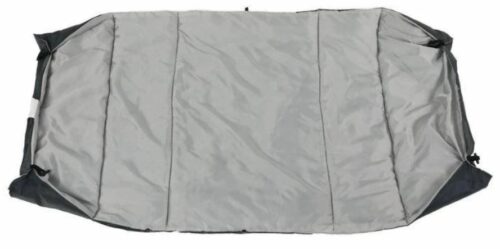 So this is an extra layer that attaches underneath the hammock to avoid the "cold butt syndrome".  The picture below shows how it hangs suspended underneath the hammock. This means that its own fill inside is not compressed, it maintains its loft and traps the air, so this all insulates you from the cool air underneath. Its underside is waterproof just like the top quilt's upper side.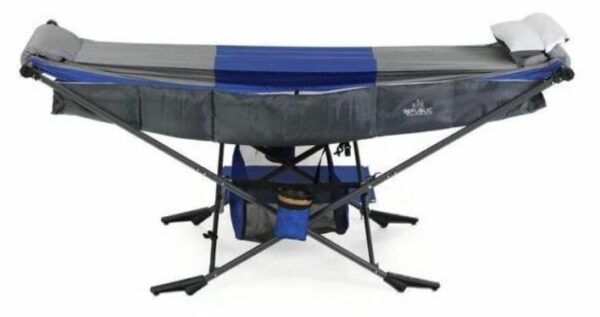 Note that this quilt comes with a specific pillow that attaches to the hammock end-pads so that it does not slip down behind your back. You can see it in the picture above.
The two quilts combined (the Top Quilt and the Underbelly) are supposed to keep you warm down to 40 degrees F (4 C). Note that you can always add some extra if you feel cold.

Specifications for the underquilt
Size: 57 x 33 in (145 x 84 cm).
Compressed packed size (quilt + pillow) (L x D): 15 x 6 in (38 x 15 cm).
Weight: 11 oz (312 g).
Temperature insulation rating: 40 degrees F (4 C).
Materials:
– Polyester fill.
– Shell: 190T polyester with 3000 mm waterproofing.
– Inner fabric – 190T polyester.
Specifications for the pillow
Size: 11 x 7 in (28 x 18 cm).
Material: 190T polyester.
---
Who is it for
Regarding the weight, there are many elements here and you can add them up to get some idea. They did not provide the exact number, so I asked them and got an answer that the total weight is 29 lb (13.2 kg).
The Mock One alone weighs 14.5 lb (6.6 kg). So the total weight looks very reasonable for what you get but clearly this is for places with a car access.
To get at least some idea if this is heavy or not, you can compare it with this versatile Tangkula 1-Person Tent Cot which is, of course, a very different system and with a real bed, yet with many elements. It weighs 30 lb (13.6 kg).
Regarding the packed size, the Chill Master camping system comes with a duffel bag that measures 34 x 11 x 9 inches (86 x 28 x 23 cm), see the picture. So I would say this is great in view of all the stuff.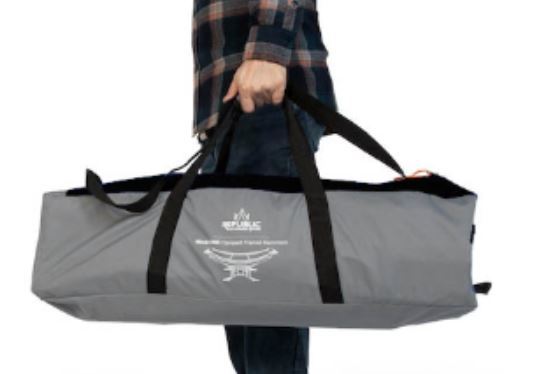 Regarding the dimensions, the Mock ONE hammock is officially for people up to 6'4" (193 cm), but this holds only if you do not use the canopy.
With the canopy and tarp, you should be well below this body height to avoid touching the net. In general, I find this system rather short and you can realize this from the videos above.
Regarding the weight capacity, this is all about the Mock One's capacity, and here you have 250 lb (113 kg). This is moderate but not for very heavy users.
Regarding climates and seasons, this will all depend on which elements of this system you are using.
For example, you can use the Mock One alone in any winter tent and use it in any weather conditions.
But if this is about the complete system, I see it best suited for 2-season camping, and this means summer, late spring, and early autumn.
With such a tarp you should avoid windy places, so this is a system for quiet weather camping and picnics.
---
Accessories
So you have seen, this is a complete system, but they have a few more useful elements that you can add to it.
Carry Wrap with shoulder strap for the hammock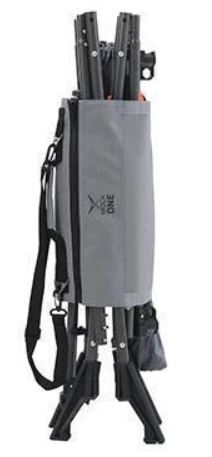 This is suitable for carrying ONLY the Mock ONE if you use it separately from the set. It is then easier and more compact. It comes with a #10 plastic zipper, a padded carry handle, and a shoulder strap, see the picture: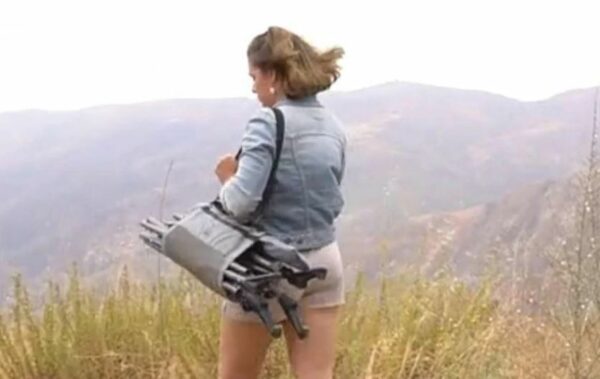 The wrap is built from a waterproof fabric for versatile use. You can use it to cover the foot end of the Mock ONE, you can set it on the ground as a foot mat, store your bag on it, let a tiny pet sleep on it, etc. It can be ordered here.
Big Sticks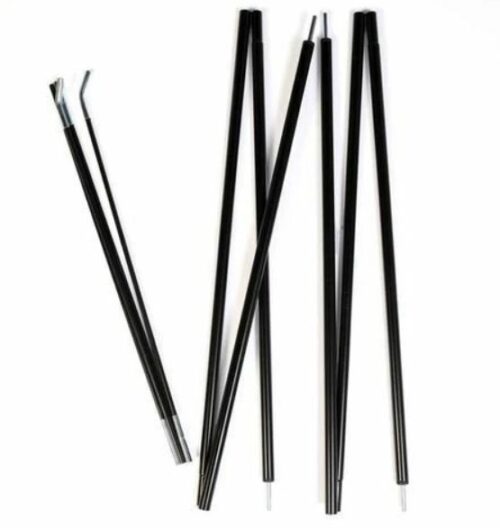 I already mentioned these three poles (two vertical steel poles and one fiberglass rod). With them, you can create a 6 feet heigh awning at the front, and you will have enough space to put a chair under the awning.
Note that you can use these poles at different positions around and you can customize the structure. You can order them here.
Big Sticks specifications
Packed size (L x D): 25.5 x 3.5 in (65 x 9 cm).
Weight: 27 oz (765 g).
Material: 2 steel and 1 fiberglass.
Carry bag.
---
My rating, pros & cons
Actually, it is not easy to properly rate this item because there is nothing similar on the market to compare. I have my standard set of formulas and criteria so I apply them consistently here as well, this is why some of the rating numbers are low.
If you like all that you see here, you might disregard some elements of the rating, but bear in mind the declared capacity and the weight of this system.
My rating of the Republic of Durable Goods Chill Master Portable Folding Camping Hammock with Stand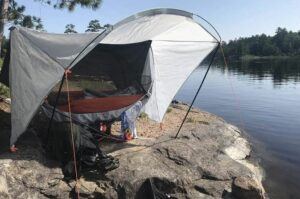 Product Name: Republic of Durable Goods Chill Master Portable Folding Camping Hammock with Stand
Product Description: This Republic of Durable Goods Chill Master Portable Folding Camping Hammock with Stand is an incredible all-inclusive outdoor sleeping system with many elements for full outdoor protection.
Brand: Republic of Durable Goods
SKU: B085H8K654
Weight -

8.5/10

Size -

7.9/10

Capacity -

7/10

Packed size -

8.8/10

Ease of use & features -

9/10
Summary
My overall rating for this unique sleeping system is Very Good:
Pros
Incredibly functional.
Versatile.
Quality craftsmanship.
Nicely packable.
Very reasonable weight.
Totally unique.
Cons
Expensive.
Needs assembly.
Short.
---
Final thoughts
In summary of this Republic of Durable Goods Chill Master Portable Folding Camping Hammock with Stand review, I must say that I am very impressed with this product. After all that you have seen above, you might have the same feeling. It is unique and so incredibly versatile. Fully recommended.
If you would rather have just a hammock, check our separate text about the Hammock (Mock One) shown here. Please check also under the category Folding Hammocks if you need more options.
Note that we add texts regularly so bookmark this site and visit occasionally. Thank you for reading and have a nice day.